THINGS TO DO IN JAIPUR – INDIA'S PINK CITY
Jaipur, which means "Victory City," is the capital of Rajasthan province and is one of India's most diverse and fascinating cities. One of the three stops on India's Golden Triangle tourist circuit, the things to do in Jaipur are great for people who don't have a lot of time to spend in India. The other two stops are New Delhi and Agra (where the Taj Mahal is located). If you're unable to see all three, we recommend that you skip New Delhi and spend time 1 or 2 days on a Jaipur itinerary.
Note:
Before departing for your trip to India, we definitely recommend reading the following two articles:
– Our Life in India Guide (General information about the country: what kind of place is it for travelers, religion, caste system, misconceptions about cleanliness and everything you need to know before you go)
– Our India Travel Guide (budget, route, alerts, as well as suggestions and preparation tips before you go)
For those of you who don't have a lot of time in India, we recommend doing the Golden Triangle tourism circuit, which includes  Agra & Delhi.
Old Pink City
Jaipur is known as India's pink city (to read about India's blue city Jodhpur, click here). All the buildings in the city are a hue of pink and have been that way since the 1870s, when the Maharaja was trying to impress the English King on his visit to India.
The color pink was chosen as it represents hospitality, and there is even a decree that every building must be pink (for us, a lot of the buildings seemed to be an orange color, but you get the point 😉 ).
At that time in history, India had been colonized by the British, so it was a big deal when Victoria and Albert came to visit. It was easy to enforce such a decree during the reign of Maharaja Sawai Ram Singh, who was the most powerful ruler in Rajasthan. But it's interesting to note that this regulation is still in place today and it's become such a significant part of the cultural heritage of Jaipur, despite the fact that the provinces have long gained independence.
THINGS TO DO IN JAIPUR: PLACES TO SEE
Click here to open Google Maps.
Nahargarh Fort
Visiting this fort, which dates back to 1734, is one of the popular things to do in Jaipur for watching the sunset. This is also a popular picnicking spot for locals. In order to get up to the fort, you have to walk two kilometers uphill. Entrance is 30 Rupees, and 70 Rupees if you want to take a picture. Open between 10 am – 5 pm.
Click here for the location.
City Palace
This is a complex that contains a palace and a mix of Rajastani and Babur architecture, complete with a courtyard and garden. The palace has two entrance: the main one is Virendra Pol, and the other is Udai Pol.
If you go in through the main entrance, then you'll see Mubarak Mahal, which is a combination of Islamic, European, and Rajasthani architecture. At the entrance, you'll see the Armory and Textile Museum. The Arms Museum occupies another part of the palace.
After the main garden, you'll see the seven-story Chandra Mahal, which was where the Maharajas lived. Diwan-i-Aam features manuscripts, and the Diwan-e-Khas, which was a private hall where the king greeted guests, has two massive vessels that are 1.6 meters in size. Maharana Madho Sing, a very strict Hindu, took the water of the Ganges River in these giant vessels with him when he visited England.
The doors to the Pitam Niwas Chowk Courtyard represent the four seasons. The peacock motif on the autumn gate is well known.
Entrance fee: 300 Rupees for adults and 200 Rupees for children 15 years and younger. If you want to take photos, it's 50 Rupees. Open from 9:30 am – 5 pm. Click here for the location.
Hawa Mahal
Jaipur's most interesting building is located at the backend of the City Palace: a 5-story palace called the Hawa Mahal, or the "Palace of Winds" or "Palace of the Breeze."
The front of the building faces the busiest street in the city. The palace was made out of sandstone in 1799 by Maharana Pratap Singh and has 953 small windows, a balcony, and a thin folding screen. The women of the palace used to watch festivals from here or just look out onto the street in the shade. It's obvious that Iran has influenced the city both in its architecture and the way of living.
When you head to the top of the hill, you'll have a view of the City Palace, Jantar Mantar, and the Sireh Deori Bazaar. Website.  It is open from Saturday to Thursday between 9 am – 4:30 pm. Entry fee is 50 Rupees. Click here for the location.
Jal Mahal
The Jal Mahal is a fascinating structure that rises out of the Man Sagar, which is a dam lake. At the time of construction in 1799, there was no dam. The emperors of the period used it as a hunting lodge.
In the 18th century, a dam was built to keep the rainwater at bay, maybe you've guessed what's happened now ;). There is more to the building than meets the eye. Although it's not visible from the outside, four floors are underwater! Until recently, there were boat tours that went around the palace, but the tours were banned. Click here for the location.
Jantar Mantar
Maharaja Sawai Jai Singh's biggest passion was astronomy. So he built five observatories to calculate the seasons, stars, and solar and lunar eclipses. One is in Delhi, and one is in Jaipur. The Jaipur observatory, which dates back to 1728, is located right next to the City Palace. Maharaja Sawai Jai Singh even sent men overseas to learn how to build this structure.
It's open between 9 am – 4:30 pm. Entry is 100 Rupees. It's 100 more Rupees if you want a guided tour, which is something that we recommend. Click here for the location.
Albert Hall Museum
If you remember, earlier in the article we said that King Albert visited Jaipur – this museum was built in his honor in 1876. It's the oldest museum in the Rajasthan province, and it's currently being used as the Rajasthan State Museum.
Maharaja Sawai Ram Singh first started construction on the building and thought it was going to be a government building for administrative purposes. However, Maharaja Madho Singh II decided that this building needed to be a museum. The museum has a rich collection of carpets, ivory objects, precious stones, statues, crystal works, and oil paintings.
Click here for their website. Open every day between 9 am and 5 pm and 7 pm to 10 pm. Entrance fee is 300 Rupees for an adult ticket, and 150 for students. Website. Click here for the location.
Amber Castle
Situated on a hill 13 kilometers away from the center of Jaipur, the castle was built in 1592 by Maharaja Man Singh, a military officer. The dynasty continued its reign until around the 16th century. As the Maharajas built close relationships with the Mongols, you can see traces of their influence in the capital Amber and its Amber Castle.
You'll either have to ride on the back of a camel or take a 4×4 in order to get to the castle, but both are adventurous things to do in Jaipur! Visiting hours 9 am to 5:30 pm. Entry fee is 150 Rupees. Click here for the location.
Galtaji (Monkey Temple)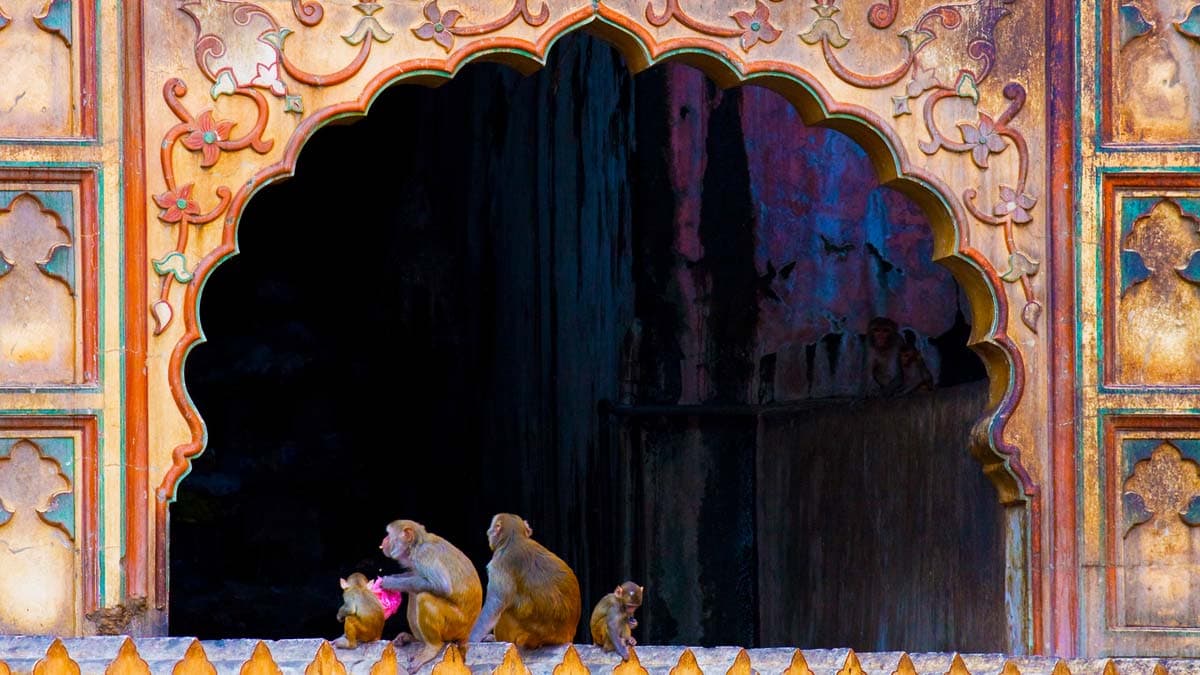 Located 20 minutes away by car from the center of the city of Jaipur, Galtaji is known as the Monkey Temple as this temple houses hundreds of, you guessed it, monkeys. At the entrance of the temple, you can buy peanuts to feed them – but be careful! If they spot food, 50 will come running in your direction. Many Hindu pilgrims come here to worship, so it might get a little crowded, but it still makes a fun addition to any Jaipur itinerary. Click here for the location.
We suggest you read about Religion in India and What Hinduism is here.
Kites at Sunset
As the sun sets in Jaipur, many people throughout the city fly kites. Everyone has a kite on hand. If you want, you can just ask someone, and they'll lend you their kite. Really!
Jaipur Elephant Farms
We were quite shocked when we saw an elephant going down a side road when we were waiting in traffic. Shocked! Everyone was acting normal – our driver signaled and gave way.
A note about riding elephants: Elephants are some of the smartest and most emotional animals in the world, and the training that they go through is often very cruel. The only reason why this practice hasn't come to an end is that tourists want to see and ride elephants. Please don't ride elephants and support this cruelty! There are much more humane ways of interacting with these majestic creatures. For instance, volunteering at rehabilitation centers is a great way to do this. We've already written about this in our Thailand Travel Guide.
We also wrote about volunteering with Help in Suffering at the Maharani Farm located in Durgapura. It's an animal clinic open to volunteers, though minimum commitment starts at three months. They also have volunteer positions for longer periods of time like 6 and 12 months. If you're planning to stay in India for a longer period, this is something to think about. It's a great idea if you're a student and you're looking for a meaningful way to spend your summer vacation.
RESTAURANTS IN JAIPUR
Handi
This restaurant has been awarded the title "The Best North Indian Cuisine Restaurant." Of course, this title brings a lot of tourists with it. Nevertheless, it's still the best place to taste traditional and authentic Indian cuisine when it comes to things to do in Jaipur. We recommend that you try the chicken biryani, lamb handi, and the Afghan chicken. If there's room, try to get a table on the terrace. Address: Maya Mansion, Opposite GPO, MI Road Website Tel: 91 141 491 7115. Click here for the location.
1135 AD
If you want to spend an authentic night experiencing what life would have been like during the Rajput dynasty, then 1135 AD is the place for you. The dynasty was founded in 1135 AD, hence the name of the restaurant. Since the restaurant is located in the fort itself, there are several rooms and sections. Some are only available through reservation, while others are more plain and modest.
Address:
Amer Road, Amer Kila
Tel:
02663271521. Click
here
for the location.
Steam
This is one of the best places to go for the Mediterranean or Lebanese cuisine. The restaurant is located in a renovated station left from the Victorian era. We recommend that you try one of their pizzas or calzones. Address: Rambagh Palace, Bhawani Singh Road, Rambagh. Tel: +91 141 238 5700. Click here for the location.
OTB On The Bar BQ
This is a very modern resto-lounge where everyone can easily find something to eat for themselves. Here, you'll be able to choose from buttered chicken, BBQ options, hamburgers, pizzas, as well as nachos. This is ideal for a Friday night. Address: Rooftop, Crystal Court Mall, Malviya Nagar. Website. Tel: +91 141 511 5555. Click here for the location.
Samode Haveli
This is a traditional Jaipur mansion with a lovely courtyard, and it's the perfect escape from the city. It's also a restaurant in a luxury hotel called Samode. Here, you'll be able to find options like buttered chicken, dal makhni, and laal maans. Address: Near Jorawar Singh Gate, Gangapole. Website. Phone: +91 141 263 2407. Click here for the location.
Bar Palladio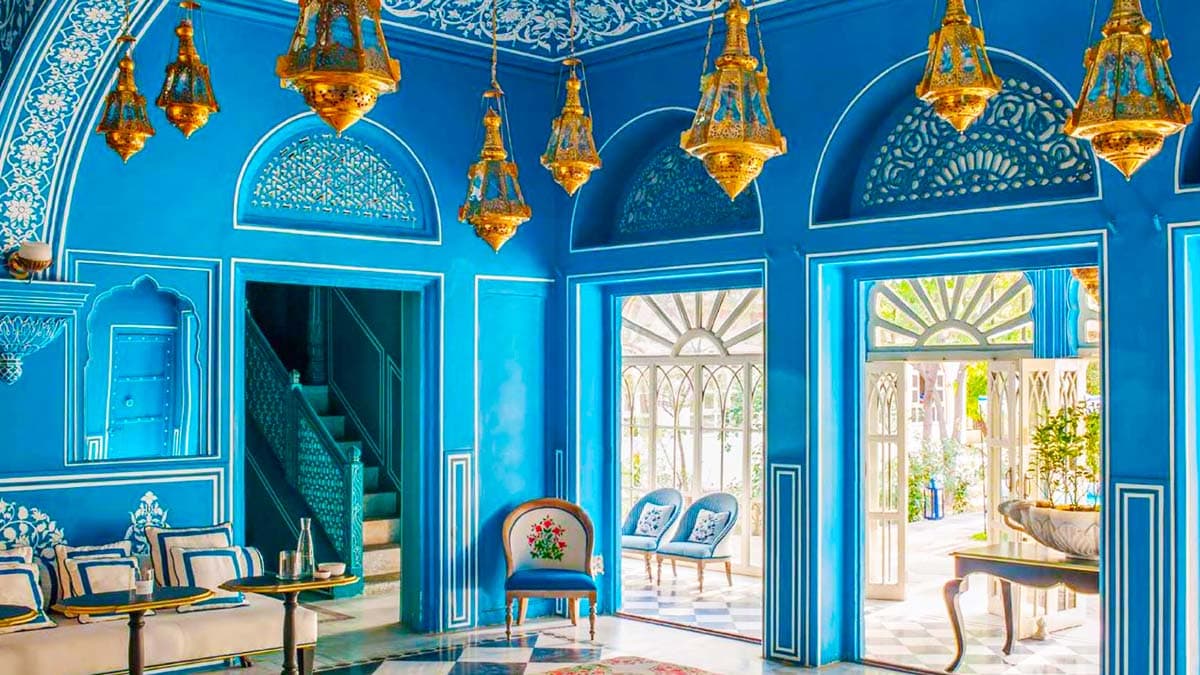 Bar Palladio has some of the best interior design and would be an interesting addition to any designer's Jaipur itinerary. This is also a resto-lounge with orientalist decor. Located in the Narain Niwas Palace Hotel, this is a very romantic place where you'll be able to order Italian food such as spaghetti and tiramisu as well as simple snacks like fries if you just wanna peep the interior. Address: Kanota Bagh, Bhag Singh Road, Adarsh ​​Nagar. Website. Phone: +91 141 256 5556. Click here for the location.
CAFES IN JAIPUR
Zolocrust
Zolocrust is a café-restaurant that has an open kitchen and is open 24/7. You can see the food made in front of your eyes. There's salad, pizza, pasta, snacks, and interesting cakes and pies on the menu. Address: Lobby Level, Hotel Clarks Amer, Jawaharlal Nehru Marg. Website. Tel: 91 93524 98150. Click here for the location.
Taruveda
You'll be able to find organic food here and will love the photos that decorate the walls of this bistro. They also sell homemade products as well, and they offer a wide variety of vegan options from all over the world, including sushi, waffles and crepes, falafels, hummus, and tofu burgers. Address: 1st Floor, Sunraj Villa, 2 Mysore House, Jacob Road, Madrampura, Civil Lines. Website. Phone: 91 141 222 2644. Click here for the location.
Mamu's Infusion
This is a very friendly family-run cafe that has a colorful and vibrant atmosphere. Here, you'll be able to order classic cafe menu including enchiladas, falafel, penne, and ravioli. Address: 101, 1st Floor, Mangalam Ambition Tower, Subhash Marg, C Scheme. Website. Telephone: 91 141 510 8290. Click here for the location.
HOTELS IN JAIPUR
Samode Haveli
Built in the style of Rajasthan architecture, this luxurious and authentic hotel used to be a family home. The hotel's restaurant is a great place to go as you'll find the best service in town there, and some of the most delicious Indian food in Jaipur. Click here for more details and to make a reservation.
Fairmont Jaipur
This is another luxury option in Jaipur. It's like an Indian palace, and it has its own restaurants, pool, and spa. Click here for more details and to make a reservation.
Radisson Jaipur City Center
This is a bit more of a modest option, but you'll still be comfortable here. The hotel's restaurant is one of the most popular for Chinese and Thai food. Click here for more details and to make a reservation.
Other Hotel Options
Click here for other hotel options in Jaipur.
WHERE IS JAIPUR?
Jaipur is a city in Rajasthan province of India. Jaipur is located in the northwestern part of Jaipur and west of Agra.
Jaipur is located:
335 kilometers from Jodhpur, about 5 hours 45 minutes by car, 4 hours 45 minutes by train.
238 kilometers from Agra, about 4 hours and 20 minutes by car, 3 hours and 40 minutes by train.
269 ​​kilometers from New Delhi, about 5 hours and 10 minutes by car, and 5 hours and 5 minutes by train.
GETTING TO JAIPUR
You probably won't be able to find many international flights to Jaipur, so the best thing to do is to book a flight to Delhi.
From Delhi, Jaipur is only 270 kilometers away by car, meaning that it takes around 5 hours and 10 minutes by car and by train. You can buy a ticket for the Ashram Express from Delhi to Jaipur.
You can also use the train to go to neighboring cities. You can use the Superfast Express to go from Jodhpur to Jaipur and the Shatabdi Express to go from Agra to Jaipur.
 _ . _
Hope you enjoyed our list of things to do in Jaipur. For our other city guides, you can check our India Travel Guide.