HONEYMOON HOTELS & VILLAS IN BALI
For honeymoon destinations, you can't do much better than Bali. So for our own honeymoon in fact, that's where we decided to go. For those who are new to us we are travel bloggers who have traveled to 70+ countries. And since we were researching for our own honeymoon, you can be assured that we trawled through all honeymoon hotels in Bali, eventually compiling a selection of the hotels and villas on the island that deliver in terms of ambience, vibe, service, and location.
There are so many paradisical hotel choises that staying in a random place would mean missing a major highlight of Bali. Almost all the honeymoon hotels in Bali we discovered were equipped with their own infinity pools, floating breakfast trays, and legendary spas overlooking lush, tropical forests – meaning that solving the dilemna of choosing where to stay is a task in itself.
Start Here to Get Your Bali Trip Underway
Before you confirm anything, make sure you check out our article, Everything About Bali – Budget & Travel & Honeymoon Info. This article is jam-packed with where to go, how long to spend, what to look out for, and dozens of other tidbits to keep in mind to get the most out of your visit.
Not On Honeymoon?
That's fine, many come to Bali only to experience the luxury of staying at these incredible hotels. So if you want to treat yourself, then you've come to the right place, as we have a number of places to recommend.
Budget Tip
Staying in a top hotel in each city over your stay will probably stretch your wallet a little too far. So if you don't have the budget to hop between honeymoon hotels in Bali, we advise selecting one or two hotels from this list, and interspersing your stay with more affordable accommodation. Click on the links below to check out the best decently-priced options in each of Bali's cities.
Service Tip
Makes sure to email your hotel to tell that you are on your honeymoon. Sometimes they will prepare you a small surprise like a fruit basket. However since half of the tourist on the island is on their honeymoon, and therefore you are no special, they mostly make swans with the towels. Still worth a try. 🙂
Seminyak Honeymoon Hotels
Ziva A Boutique Villa $$$
The Ziva A Boutique Villa, made up of various villa complexes, offers a choice between one and three-room villas with their own private pools. Located just 15 minutes from Petitenget Beach and 10 minutes from Seminyak Square, the hotel's own chef is available to serve food direct to your accommodation, while in the morning you can enjoy your own floating tray breakfast. The hotel also offers airport transfer for an extra fee. Details and Reservations
Kubu Kayu Villas $$$$
On Seminyak Beach, just 3 kilometers from the Petitenget Temple, is located the Kubu Kayu Villas, a single villa with its own pool and balcony overlooking the garden. The hotel provides airport pick-up for an extra fee, and doesn't allow pets. Datils and Reservations
Villas Sabbia $$$
The Villas Saddia is an expansive villa with its own pool located a brisk kilometer walk from Seminyak Beach and the famous Ku De Ta Beach Club. The surrounding area is full of dining options, while the establishment itself offers free airport pick-up. Details and Reservations
For our recommendations for affordable hotel options from Seminyak, check out:
Ubud Honeymoon Hotels
Bambu Indah $$$$$

Bambu Indah is located around a 20 minute car ride from Ubud, and probably offers one of  the city's (if not the island's) most luxurious hotel settings. The hotel's entirely organic design is the work of the Ibuku Design company, who have a penchant for giving traditional Balinese architecture a refined twist. Each room is unique, with everything from the pool to the garden totally natural and organic. However, we should warn you that this is the kind of place you don't book a few months in advance – try a whole year. The hotel provides all sorts of services according to your needs, from airport pick-up to yoga classes. As for the catering, aside from a free afternoon tea, the restaurant provides a plethora of Balinese and traditional Indonesian dishes. The restaurant is so tasty, it invites non-guests, too. Details and Reservations
The Kayon Resort $$$$
The Kayon Resort is 5 star hotel located just 10 minutes from the Ubud Palace and a 15 minute drive from the Monkey Forest, nestled in the rainforests of Ubud overlooking the beautiful scenery of the ancient Petanu River. The hotel has 6 rooms overlooking the valley and 12 overlooking the river, along with 5 private villages kitted out with their own pool. The gardens of the resort are awash with flowers and trees native to the island. The hotel offers a multitude of services, from airport pick-up to floating tray breakfasts. One can enjoy free yoga classes in the morning, walks through the paddy fields, and evening happy hours. Details and Reservations
Hanging Gardens $$$$$
The Hanging Gardens offers a stunning view of the River Ayung as well as one of Bali's most breath-taking infinity pools. The hotel, which offers floating breakfast trays, is made up of 44 private villas. Each one offers a mix of modern and traditional Balinese design, with elegant and sophisticated interiors. The river-side spa is an ideal place to treat yourself and unwind. Plus, the hotel is full of biking and trekking paths, hosts an expansive library, and offers delightful services such as free afternoon tea. Shuttles are available to the airport and Ubud city center. Details and Reservations
For more of our budget recommendations from Ubud, check out:
Uluwatu Honeymoon Hotels
Bvlgari Resort Bali $$$$$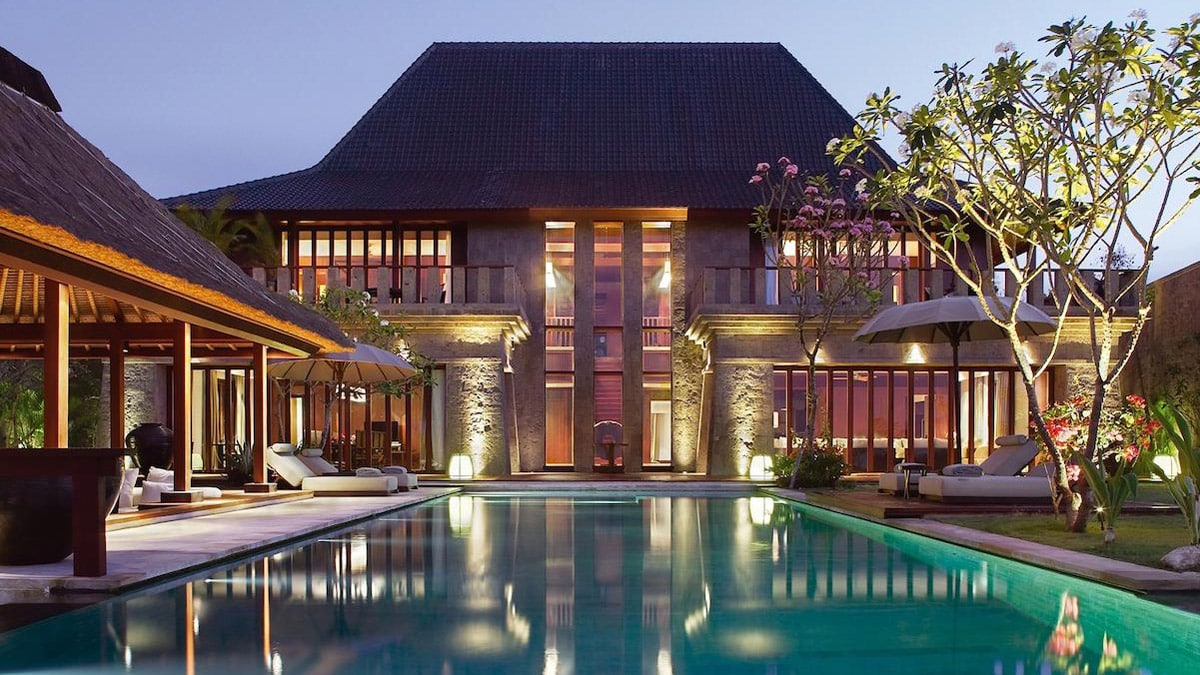 The Bulgari Resort Hotel is located 4 kilometers from Padang Padang Beach, 5 kilometers from Dreamland Beach, and 4 kilometers from the Uluwatu Temple, just 150 meters above sea level on top of a hill offering remarkable ocean views. The hotel is equipped with private sunbathing terraces and luxury villas with their own private pools. Plus, the establishment has its very own infinity pool, as well as a private beach accessible via cable car. Airport pick-up is also available. Details and Reservations
Renaissance Bali Uluwatu Resort & Spa $$$
The Renaissance Bali Uluwatu Resort & Spa is a 5 star resort hotel located just 3.4 kilometers from Dreamland Beach, 7 kilometers from the Uluwatu Temple, and 5 kilometers from Padang Padang Beach, equipped with its own fitness and spa center. The hotel serves an open buffet breakfast every morning, and offers a happy hour four evenings a week. AA free shuttle service also runs to the airport and Pandawa Beach's Roosterfish Beach Club. Details and Reservations
Suarga Padang Padang $$$$
Suarga Padang Padang is located 2.7 kilometers from the Uluwatu Temple and has the distinction of having being been constructed entirely from sustainable materials. All elements used in its construction are forged from recyclable materials such as wood and bamboo. Plus, it runs entirely on solar power. So if you are looking out for honeymoon hotels in Bali that don't weigh on your conscious with exessiveness, then this is the hotel for you. The hotel has two open-air swimming pools, a lounge bar, and a restaurant offering panoramic views of the sea. Shuttles to the airport are also provided. Details and Reservations
Click to find out our recommendations for affordable places to stay in Uluwatu:
Canggu Honeymoon Hotels
Own Villa $$$$
Own Villa Bali lies along the river a short, 10-minute ride from Seminyak Square and 20 minutes from the Tanah Lot Temple. The complex is made up of 4-star villas constructed in a completely ecologically-friendly way, complete with the roof style traditional to the South Sumatra region. Each villa is set amongst sumptuous natural beauty with its own private terrace and gazebo. Should you wish, the hotel also provides yoga classes and a massage service. Airport pick-up is available for a fee. Details and Reservations
The Eco Gypsy Houses $$$$
The Eco Gypsy Houses are a group of four traditional, hand-built, wooden homes located 3.3 kilometers from Berawa Beach, 2.3 kilometers from Batu Bolong Beach, 1.7 kilometers from Echo Beach, and 4.2 kilometers from the Vue Beach Club. The complex boasts eco-friendly facilities and is characterized by ethnic influences in its style and layout, making it a good choice for thosehoneymoon hotels in Bali. The establishment hosts a typical regional breakfast every morning, and while each home is equipped with its own kitchen, for an extra fee, you can have the hotel chef bring meals right to you. Airport transfer is also available. Details and Reservations
Check out our budget accommodation recommendations from Canggu at the link below:
Nusa Dua Honeymoon Hotels
The Royal Santrian $$$$$
On the banks of the Nusa Dua Beach lie the villas of the Royal Santrian. This complex, replete with sea-view restaurant and pool bar, has plenty to offer, with floating tray breakfasts, free afternoon tea, and minibars with countless scrumptious free delights. The sea-side Allspice Restaurant serves a mix of Japanese, Thai and Western cuisine – unless, of course, you'd prefer to barbecue outside your own home. The facility also provides a spa and massage services, and cooking and yoga classes are also free to join – which gives the Royal Santrian an edge over other honeymoon hotels in Bali. The hotel provides free airport pick-up.  Details and Reservations
Lovina Honeymoon Hotels
Damai Lovina Villas $$$$
The Damai Lovina Villas are a group of 8 villas overlooking Lovina Bay from a distance of just 3.5 kilometers. The establishment also includes a restaurant serving European and Asian cuisine using all-organic ingredients sourced from the hotel's own farm. The surrounding area is rich in activity option, with organised treks through the woods and dolphin-spotting by boat, making it rare among honeymoon hotels in Bali in that guests are not limited to the none-the-less extensive facilities of their hotels. The complex organizes airport transfer. Plus, it's worth noting that the Damai Lovina was voted a Tripadvisor champ or 2017. Details and Reservations
Karangasem Honeymoon Hotels
Hideout Beehive $$$$
The Hideout Beehive is made up of three, riverside, bamboo homes overlooking rice paddies from the slopes of the Gunung Agung volcano. Hideout Bali, Hideout Lighthouse and the Hideout Beehive; each accommodation can host 2-3 people – but don't expect the height of luxury – this is a setting that is perfect for those who would prefer a more rustic choice among honeymoon hotels in Bali. As the nearest village is around 500 meters away, there aren't many dining options within quick reach. Should you like, you can cook for yourself in your home or organize a home catering service. However, we have to add that the internet signal can get a little weak. Details and Reservations
Camaya Bali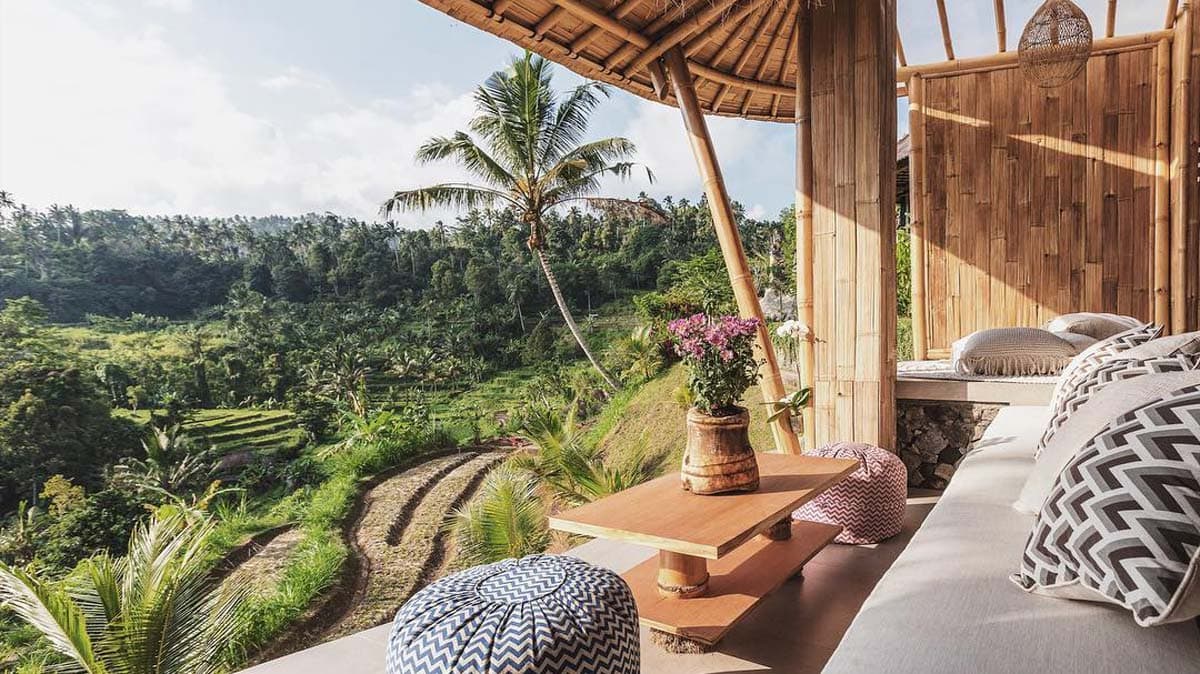 How would you like to awaken in an enchanting bamboo home, rising to the sight of rice paddies stretching out to the horizon, completely alone, surrounded by nature? Honeymoon hotels in Bali don't come much cosier than this. The complex features just two bamboo homes available. The first, Suboya, can easily accommodate four people. Nirvana, meanwhile, is cosy enough for two. There are no restaurants in easy reach, but if you wish, you can organize a catering service to deliver meals right to your home. Details and Reservations.
Nusa Penida Honeymoon Hotels
The Mesare Resort $$$
This hotel, located 3 kilometers from the Peguyangan Waterfall, features an infinity pool and has 14 rooms overlooking cotton fields, forests, and mountains. For an additional fee, one can enjoy an airport pick-up service, meditation and yoga classes, and spa and aromatherapy sessions. The hotel also includes a restaurant and bar specializing in Balinese dishes, while in the morning, guests are greeted with a traditional, American-style breakfast of the kind not available in all honeymoon hotels in Bali. Details and Reservations
Find out more about our budget recommendations from Nusa Penida:
Nusa Lembongan Honeymoon Hotels
353 Degrees North $$$$$
353 Degrees North is an incredible hillside hotel overlooking the ocean and volcano on Lembogan Island just a 15 minute walking distance from Mushroom Bay. If you seek a calm, peaceful, and quiet setting for your choice of honeymoon hotels in Bali, then this is the place for you. For an extra fee, airport pick-up and catering can be provided. Details and Reservations.
Asmara Villa $$$$$
Asmara Villa is a traditional home built in the Javanese Joglo style, set along a hillside overlooking the ocean on Ceningan Island between Nusa Lembongan and Nusa Penida. A stay here allows for special access to Secret Point Beach and Mahana Point surfing area. The two-story villa houses two bedrooms overlooking the garden and infinity pool. All cleaning and dining services at the hotel are included in the price, but for an added fee, one can enjoy a selection of day trips not organized by all honeymoon hotels in Bali, and even enjoy a private massage service at the hotel. Airport transfer is not included. Details and Reservations
To check out our list of bargain recommendations from Nusa Lembongan, check out:
WHERE TO STAY IN NUSA LEMBONGAN
WHERE TO FIND THESE HONEYMOON HOTELS IN BALI
Click to check out the locations on GoogleMaps.
Honeymoon Hotels in Bali
[column size=one_half position=first ]1. The Damai
2. Camaya Bali
3. Hideout Bali
4. The Kayon Resort Ubud
5. Wapa di Ume
6. Bambu Indah Resort
7. The Eco Gypsy House
8. Own Villa
9. Kubu Kayu Villa
10. Ziva a Boutique Villa[/column][column size=one_half position=last ]11. Villas Sabbia
12. The Royal Santrian Luxury Beach Villas
13. Renaissance Bali Uluwatu Resort & Spa
14. Bvlgari Resort
15. Melali – Bingin
16. Suarga Padang Padang
17. 353 Degrees North
18. Asmara Villa
19. Penida Bambu Green Villas
20. The Mesare Resort
21. Rumah Pohon "Tree House"[/column]