If you are looking for a hip but not commercialized, cool but not snobby, refined but also cozy beach vacation in Turkey, Antalya's charming beach town of Kas is the place. Take it from a Turkish travel blogger who has been all along the country's coast: Kas, has unparalleled beauty, unique offerings and a chill vibe that are quite unmatched.
First of all, it is nothing like the rest of Antalya. Let's put it this way: Antalya is THE most popular tourist destination in the country. If Antalya is the top model of the country– always in the spotlight, catering to mass tourism– then Kas is the free-spirited artist boyfriend. With a smaller fan base of his own, he's a little boho, incredibly charming, appeals to young professionals and hasn't gone mainstream (yet). Far from posh, he's accessible and classy in an intellectual way, and perfectly content to live on the sidelines of his partner's glory.
Kas is hard to get to but once you arrive there are amazing things to do. I mean, where else in the world can you kayak over an antique sunken city and dive with sea turtles in the same day? Kas also has some of the best nightlife and eating options in Antalya. Its cobblestoned streets are lined with bustling cafes and restaurants, live music venues and small bars.
It is also home to some of the most picturesque beaches in the country, including the awe-inspiring Kaputas. Pristine nature, dreamy sands, once-in-a-lifetime activities, yummy food, great people – in short, Kas has it all.
In this blog, we will share all the information you need for a great trip to Kas. Let's start with:
What is the best time to go to Kas?
Summer is the high season for Kas. It will be crowded and very hot, but still nice. However, it is even better April-June and Sept-November.
How to get to Kas?
Kas is under the jurisdiction of Antalya but it is so far from the city that flying to Dalaman Airport instead of Antalya makes more sense.
Antalya Airport to Kas takes 3 hr 20 min by car.
Dalaman Airport to Kas takes 2hr 15 min by car.
Either way, getting to Kas isn't exactly a piece of cake and, actually, that is something we are very grateful for since it keeps Kas, Antalya just the way it is.
You can take a shuttle to Kas from the airport or rent a car. I like to rent a car because it gives me more freedom in the town as well.
How long in Kas?
The minimum you should consider is 3 days, because getting to Kas takes a lot of time. You can even spend another 2 or 3 days discovering the surroundings of Kas, Antalya. If you are coming in the summer, there are a ton of things to do in and around Kas. You won't get bored before a week's out.
BEST THINGS TO DO IN KAS, TURKEY
You can view the map by zooming in.
Places to See
Kaputaş Beach
Kaleköy Village
Kaş City Center
Meis
Uzun Çarşı
Kaş Camping
Saklıkent Canyon
Düşler Akademisi
Patara Beach
Kaş Panorama
Where to Eat
Pell's
HiJazz
Echo Bar
Gagarin
No 11 Bar
L'Apéro Kaş
1. Swim at Kas' Gorgeous Beaches
The beaches in Kas have this special tone of turquoise that makes them ridiculously beautiful. Nope, we didn't use Photoshop or filters in any of these pictures; it's just the way it is. You will have an urge to stop the car and swim in every bay you drive past.
Of course, you'll have to see Kaputas, which is Kas's most famous beach. However, it gets crowded during the peak season, so you might want to explore other options as well. You can always drive along the shore until you find some isolated spot, but most people prefer beaches with facilities. It is nice to have a cafe and a toilet around.
We made a list of the Best Beaches in Kas, Turkey.
On top of that, we've listed out the Antalya Beaches – Where To Swim In Antalya. Number 1 on the map.
2. Canoe Over the Ancient City of Simena in Kekova
If you still haven't made up your mind about whether or not Turkey inhabits one of the most beautiful and varied geographies in the world, then you have to see this (and of course, the Gulf of Gokova, Artvin, Kars, and Cappadocia).
A big earthquake that struck the ancient city of Simena flooded it. Tombs are sticking up out of the water, and you can paddle above walls and among churches and houses built on hills that have been turned into islands. Because the historical artifacts here have often been plundered, you are not allowed to swim in the area, and boats aren't allowed to stop here, but they can sail past without a problem. You can take a boat tour from Demre. (We will also talk about boat tours in the rest of the article).
But the best way to visit this place is by canoeing. There are daily tours that take you on a tour of the ancient city and the nearby cave as well as to Kalekoy. If you prefer something with a little more adventure, then you can take a couple of days to camp out on the beach or stay a couple of nights. There are a few adventure companies that organize tours on demand. We booked with Bougainville Travel.
3. Dive with Caretta Turtles & Fish
The ground, rocks and water in Kas are all precious. The ancient city springs forth from the water, and it's hands-down the best diving spot in Turkey. Unfortunately, diving in the country typically ends in frustration. You probably won't see colorful fish – if any at all.
But thanks to Kas' untouched ecosystem, you are very likely to see both fish and sea turtles. And because the waters are so warm, there are also semi-tropical fish. The waters here also offer a sunken ship and tank and an impressive underwater valley. There are a thousand companies you can dive with, but we've already compiled a list in our article on Scuba Diving in Kas, Turkey.
4. Kalekoy Is One Of Turkey's Most Special Villages
Kalekoy is a small and quiet village that can only be reached by water. This is actually a peninsula, but there is no connection outside of a footpath, so you'll have to take a boat in order to reach it. This means all the women in the village are boat captains. 😉
The locals settled in the historic remains of Lycia and Byzantium, and they have lived there for centuries. So the village has a very ancient and unique feel to it. The Koc family (who owns one of the biggest holding companies in Turkey) also has a house here.
There are a couple of restaurants and hotels but, aside from that, there's not much else. It's still a must-see place on our list of things to do in Kas, Turkey. The castle, which the city is named after, boasts a spectacular view of the area. The best thing to do here is to eat ice cream and watch the sunset. If you're planning to go on one of the boat or canoe tours we mentioned above, then Kalekoy will already be on the route. Number 2 on the map.
5. Join the October 29 Republic Day Celebrations
Every October 29th, we celebrate the foundation of the Turkish Republic and the best celebrations happen in Kas, Turkey. How the people of Kas came to have the best celebration culture goes a long way back.
Even today, it is difficult to reach Kas and it was even more so in the old days. Because Kas wasn't well connected, the people of Kas celebrated the declaration of the republic after hearing about it two days later. That day, they gathered in the center of the square and burned a great fire. The fire was large enough to be seen from the islands. A group of 150-200 people gathered around, shared a meal and celebrated by singing traditional Turkish songs for hours.
This tradition has been going on with the same enthusiasm for the past 94 years. For this reason, we think it's interesting to be in Kas to see the celebration as it has been nearly a century before. Number 3 on the map.
6. Our Favorite Breakfast Place in Istanbul Moved to Kas – Don't Miss Out!
For those of you who think that all Turkish breakfast is the same, we recommend that you try Pell's. You won't be disappointed. The little touches make a big difference. Pell's used to be located in Cihangir, a neighborhood in Istanbul, and we used to be regulars. The owner of the place, Pelin, then moved to Kas and left us nowhere to go on Sundays. 😉
The new place in Kas is adorable and is located in the garden of a historic house under three lemon trees. This provides for natural relief from the summer heat – and you can cool down even more with a Bacardi cocktail they make right in front of you using one of the lemons from the trees. We also recommend dinner – the roasted red pepper and salted greens salad and some goat cheese puree.
Sometimes the venue might turn into an open-air jazz concert, or a neighborhood pub with Balkan music blaring, or a venue for tastings that can turn into a gourmet event. The Demirhindili, Sari Hindi, Gul, and Adacayli Peri Dudagi cocktails are made by the owner herself with great care. It is open from 9 am until 2 in the morning. Highly recommended! Address: Andifli Mahallesi, Topcu Sokak, No: 20, 07580. Tel: (0242) 836 43 82. Click here for the location. Number 1 on the map.
7. Opt for an Adrenaline Rush and Try Canyoning
Canyoning is one of the most amusing and adrenaline-filled nature activities – not just in Kas, Turkey too. Canyoning involves some canyon trekking, a bit of climbing, and jumping into rivers or ravines (as you can see in the photo). Kas is one of the few ideal places in the world where you can do this and, more importantly, there are regular canyoning tours.
The most experienced outdoor companies for this are Bougainville and Dragoman. They'll supply you with all the technical equipment you need, but you'll need to bring your own outdoor boots. It's not necessary, but we recommend that you also bring your own sports gloves.
8. A Kas Classic: Jazz Nights
Kas is the type of place where you can swim in the sea all day, get a little buzz from sipping on a bit of raki (an anise seed liquor) and relax while listening to some jazz. For that, you can check out these spots:
Hi Jazz
Jazz music has a different kind of story in Kas, Turkey. This place is home to this story, and it's one of the few places that only does live performances. Hi Jazz exhibits rock jazz blues as well as other types of alternative music and has hosted many big names in Turkey such as Ediz Hafizoglu, Feti Caglayan, Suleyman Bagcioglu, Tumer Dalgakiran, Ercan Temel, Fatma Baba, Sinem Yilmaz. It's a great option to listen to quality live music while sipping on beer. Address: Andifli Mahallesi, Zumrut Sk. Click here for the location. Number 2 on the map.
Echo Bar
Echo is housed in an excellent historic stone building and is one of the more famous performance bars in Kas. The bar, which has a large space, also hosts famous Turkish names and groups throughout the summer. A few of the names include Yeni Turku, Birsen Tezer, Bulent Ortacgil, Jehan Babur, Sibel Köse, Can Gox, Yuzyuzeyken Konusuruz, Sarp Maden and Adamlar. There is a garden where you can drink and talk before the concerts begin. Address: Andifli Mahallesi, Kas, 07580. Website. Phone: 0539 633 32 46. Click here for the location. Number 3 on the map.
9. Night Life (You Can Catch Up with Your Sleep on the Beach the Next Day)
Gagarin
This is a calm, laid-back rock bar. It's also the hippest place in Kas. Here, they host a lot of famous DJ names. Aylin Aslim – who is the owner of the place and came to Kas only two years ago – plays and allows DJ friends who visit to play as well. You are likely to encounter someone new every time you go. If you start the night with a bacon hamburger while enjoying the serene scene of the Kas marina, then you won't feel hungover the next day – no matter how crazy the night got. That's what everyone says. The cocktail menu is also quite nice. We recommend trying Tourist Omer. Address: İskele Geçidi Sokak No: 2 Andifli Mahallesi, 07580. Tel: 0531 838 78 64. Click here for the location. Number 4 on the map.
No:11
In Kas, Turkey, the bars are very close to each other, almost in a line formation. No. 11 is a very beautiful place right in the middle. They have a lot of cocktails, and we recommend Gelincik Vodka and Damla Sakizli Vodka Shot. Another favorite is the Pear Martini. The staff working there have obviously been in the tourism sector for years and know how to make you comfortable. They also play nostalgic Turkish pop music a couple of times a week. This is one of the places that's so popular people are spilling out into the streets. Address: Terzi Sk.No: 1 Andifli Mahallesi. Tel: +90 536 482 43 32. Click here for the location. Number 5 on the map.
10. Visit the Island of Meis and Eat Some Octopus
"We don't see Meis as a Greek island… it's a part of us. It's our neighborhood. The land has borders but not our hearts," said Uncle Mehmet, one of the inhabitants of Kas. People who live in Meis often come to Kas to visit people and to shop. Locals from Kas also frequently go to Meis thanks to the regular transportation offered by ferry boats. The scene in Meis is idyllic with rows of colorful wooden houses and octopi drying in the sun.
Meis is a small Greek island that's located directly opposite of Kas. There are about 400 people who live there, and there are churches, museums and "the blue cave." As the second-biggest cave in Europe, the Blue Grotto is at the back of the island. In peak season, a ferry goes out there daily, but it only runs once a week during the winter.
The companies that arrange for these tours are located in the Kas square. One is called Kahramanlar Turizm and the other is Meis Express. Ticket prices range from 75 TL to 150 TL. If you don't have a Schengen Visa (and need one), then you'll need to hand over your documents a couple of days in advance in order to go to Meis. Number 4 on the map.
11. Hang Around the Uzun Bazaar
If you're unsure what you should buy while in Kas, Turkey, we'll tell you: handmade silver jewelry, Lycian carpets, kilims, glass artwork, wooden carved figures and local designer's clothes.
You might be happy to know that the vendors in Kas bazaar have a different attitude than the vendors in other tourist areas. Nobody working in the market is jumping on you to try and sell you something, but they are always there to help if you need anything. Number 5 on the map.
12. Enjoy the Sea at Kas Camping
We'll tell it to you straight – Kas Camping is a bit expensive for camping, but it's one of our favorite camping grounds in Kas, Turkey even, as the concept is very well thought out. It's also right on the water and calm and in a convenient location. Be sure to contact them ahead of time to learn about prices, as they change seasonally.
You can come with your own tent or caravan, or stay in the bungalows. There are communal bathrooms, and there is a cafe which healthy options like granola and Turkish summer classics such as watermelon and white cheese. Sometimes they host yoga camps. Even if you're not staying here, you can still come to hang out. Click here for the location. Number 6 on the map.
Those of you who like camping can check out our post on the Best Camp Sites in Turkey.
13. See Saklikent Canyon
Saklikent Canyon is a good alternative to escape from the heat of Kas during the summer with its cool waters. The canyon runs 18 kilometers and reaches a height of 200 meters and has narrow passages. The Esen River flows through the canyon and gives life to a huge pine forest, which is now under protection.
There are several businesses in the canyon. Some older women sell gözleme (Turkish-style pancake) in front of their houses and men sell walking shoes. For those of you who have traveled around Turkey, this is a familiar site. 🙂 The canyon offers a lot of adventure, but if you do set out for it, make sure to bring water and wear (or buy) proper shoes. It's definitely not a place where you can get by wearing flip-flops.
There are also companies in Kas that organize tours to the canyon, but you can also go on your own with a car and park. The tours going there usually spend 1-2 hours. We recommend Bougainville or Dragoman. Click here for location. Number 7 on the map.
14. Walk the Lycian Way, One of the Top 10 Most Beautiful Walks
Kill three birds with one stone on the Lycian Way: Trekking, mysterious ruins and fantastic views abound on this historically significant and famous long-distance trail in southern Turkey. The massive 535-km route starts in Fethiye and crosses through to Antalya, hugging the coast of what was known as Ancient Lycia (hence, the name). The trail is often included on many a top-10 hiking list, and we recommend hiking a small portion of it.
The more time you set aside for the Lycian way, the better. Nowadays, many say to plan for four days for some of the trek (hiking the full trail takes on average 29 days), but you can even plan for one day, and you won't regret it! We suggest you start either in Demre or Hoyran. Even if you're unable to hike the path, we recommend that you drive up to see the landscape, views and ruins it has to offer.
If you start in Demre…
Demre, which is home to the ancient city of Myra, the St. Nicholas Church and tasty blue crabs, is 40 minutes away from Kas, Antalya. St. Nicholas Church is an important pilgrimage stop for many Orthodox Christians, and the church hosts activities celebrating St Nick every year on December 6th. Even the logo for the Demre municipality is a Santa Claus.
And now about those blue crabs – you'll be happy to hear that you can easily find them served in Demre. Click here for Demre's location. Number 8 on the map.
If you want to spend a few days on the trail and would rather not camp, the Hoyran Wedre Hotel is a pleasant pit stop for walkers and harcore hikers alike, even just for a lunch.
What's so great about Lycia?
The Ancient Lycians had no kings, instead, it was a matriarchal society. Many small settlements would come together to decide who would rule over them. In other words, they built the first democracy in the world. 😉
During times of war, young people and doctors who were deemed valuable were sent into the mountains so they could start a new settlement once the fighting was over. We would have known much more about the civilization if a violent earthquake hadn't inundated the area.
15. Try out Coasteering, You Won't Find Another Place to do it!
Coasteering is one of the most entertaining sports that brings the sea and rocks together. Essentially, you explore a rocky coastline by swimming, climbing and jumping – no boats or rafts. Of course, the difficulty level varies according to which route you take, but we can say that tours in Kas, Turkey are suitable for beginners. If you are afraid of water or heights, then this might not be for you. Someone who has difficulty jumping into the water from a height of one meter might hold back the entire group.
16. Volunteer at the Dreams Academy (Dusler Akademisi)
Düşler Akademisi/Dreams Academy helps socially disadvantaged people to participate in society. At their Kas Campus, they've created opportunities people with disabilities, Roma and any disadvantaged individuals – but they've also displayed an understanding for the environment that is rare in Turkey by producing their own electricity and engaging in ecological agriculture. And they've done all this with the support of volunteers.
It's also well known that they take good care of their volunteers. You can get more information about volunteering from their website. Click here for the location. Number 9 on the map.
17. Explore Ancient Cities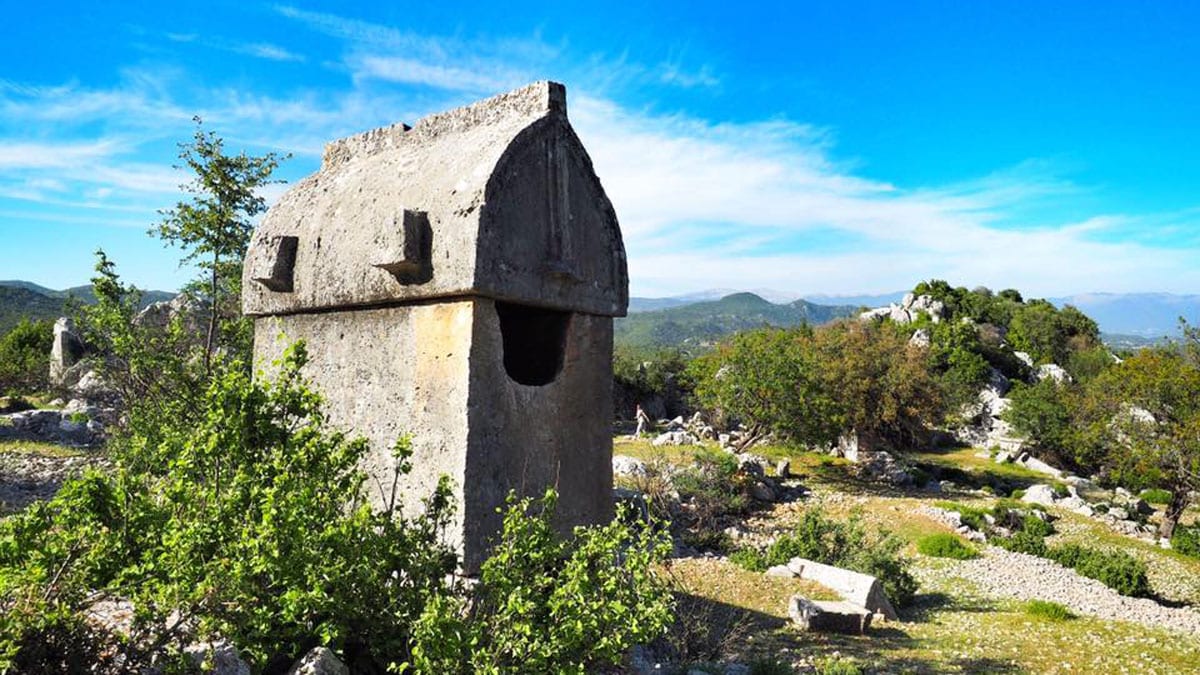 Take a break from the sea, sand and sun to explore the historical riches of this unique geography. Although the ancient cities here are not as well known as other places such as Ephesus, Aspendos and Hierapolis, there are some worth seeing on the border of Kas-Kalkan. We recommend checking out the Antiphellos Antique Theater, Xanthos Antique City and Patara Antique City. To find out more information, head over to our Places To See In Kas post.
18. Take a Boat Tour
One of the best ways to explore Kas and its surroundings is by boat, and we recommend that you spend at least one day on a boat tour. Boats depart from the old harbor.
Kekova tours usually include a full-day boat trip with meals. Kekova is a place visited and preferred by thousands of visitors to Kas, Turkey, and the tours vary between 70 TL and 100 TL per person.
What to expect on the boat tour:
Each tour follows roughly the same outline. The boat departs early in the morning and first goes to Inonu Bay, where you'll be able to see a canyon and cave. Then, you'll go to Aquarium Bay. Here, you'll be able to snorkel and see the gradually increasing sea life in the area. You'll eat lunch, then head to Tersane Bay where many historical artifacts ended up in the sea after large earthquakes hit the area.
You can swim around. After that, you'll go to Kalekoy where you'll spend an hour or two and eat some fabulous homemade ice cream. There are only three types of ice cream (but it changes from time to time) – peach, banana, and hazelnut – which are all absolutely delicious. All the ingredients that go into the ice cream are made locally. Then, the boat will take you to Ucagiz, which is a charming fisherman's bay. The journey ends around 6 p.m.
19. Try Your Hand at Paragliding
As soon as you're in Kas, you'll notice the number of colorful parachutes in the sky.  If you want to try, you'll need to get in touch with Fly Lycia Paragliding. They put you on a minibus 9 kilometers up Kirdavli Peak or Asas Mountain at an altitude of 600 meters. After training, they give you suits for flying, and you'll be paired with a pilot before taking off. You can pay extra for videos and photos.
20. Swim at the Caretta Turtle Beach in Patara