Lush greenery and subtropical climes make Olympos Turkey's very own attempt at Thailand – it's certainly one of the first destinations of young Turkish backpackers looking to cut the umbilical cord. 😉 With its hippie atmosphere, tree house accommodations and beaches alongside ancient ruins, you can get a taste of the flame of everlasting youth (on top of the eternal flame of the Chimera) at this boho Antalya junction.
Nestled amongst the natural backdrop of Antalya province's Mediterranean coast, it is a bohemian sanctuary full of tree house bungalows and Lycian ruins. It is also the nesting site of Caretta Caretta sea turtles, and if you are traveling in Turkey, you should know that this is your cue for an epic beach.
Due to its natural and historic importance, the area is under protection, making it an earthly bit of paradise. Protection means, no resorts, no luxury hotels, but  cute little shacks and tree houses instead. This has made Olympos a favorite mostly among backpackers. Instead of the leathery, tanned wealthy expats in Antalya's resort towns, here are the 20-something-year-old Turks with weird patterns left from too much carefree time in the sun wearing hemp jewelry and flip-flops. But that's half the charm of Olympos, Turkey!
As 2 local travel experts, we have prepared a complete Olympos travel guide for you. Here you will find, what to do, where to stay and hang out and more, things you shouldn' miss and more.
How Long in Olympos
There are a lot of things to do in Olympos from checking out the fire coming from the mountains or adventure tours. You can easily keep yourself busy for a few days. We recommend 2 to 4 days in Olympos.
Olympos' Tree Houses
Olympos, Turkey, was put on the map back in the 2000s thanks to Kadir'in Yeri (Kadir's Tree Houses). The village became the apple of every backpacker's eye, both locally and internationally.
People from all corners of the world would come here to get a good night's sleep after swimming in some of the world's most beautiful (but frigid) waters alongside loggerhead sea turtles. At that time, you'd hear more English than Turkish while sitting around the campfire at night. Nowadays, foreigners keep coming but it is mostly the young Turks that dominate the crowd.
THINGS TO DO IN OLYMPOS
You can view the map by zooming in.
Places to See
Olympos Beach
Adrasan Beach
Olympos Ancient City
Chimera
Atölye Duende
Kadir's Tree Houses
Olympos Rockclimbing
Olympos Diving Center
Olympos Quad Safari
Olympos Cable Car
Phaselis Antik Kenti
Ulupınar
Kekova
Suluada
Where to Eat
Hangar Bar
Bull Bar
Orange Bar
Cafe Cactus
A little precursory Olympos, Turkey, travel planning tip: spend one day diving, one day rock climbing, one day at the beach and one day on an ATV safari. This will give you built in sleeping time, even as late as 1:00 or 2:00 pm in case you get one of those pesky hangovers. 😉
While we listed all the classic spots here, we also put a ♡ beside our top picks in Olympos.
1. Share the Sea with Loggerhead (Caretta Caretta) Sea Turtles ♡
Olympos Beach was clearly invented to cleanse the soul with its crystal clear blue water – which can be icy cold at times – and its mountain backdrop. In this tranquil setting, you can hear the sound of crickets. Another regular on the beach is the loggerhead, or caretta caretta, sea turtle.
There are a few things that you need to be sensitive about to protect these creatures, which are in danger of going extinct:
Let the Loggerheads ("Caretta Caretta") hang out here. Loggerheads bury their eggs for 2 months and when they have completed their development, they hatch at night. Sunbeds and umbrellas aren't allowed on the beach to protect the eggs buried under the rocks. It's really important that you show the same respect to their living space. Please do not allow your child to dig into the pebbles, make sure your dog is on a leash, and you don't dig into the ground with an umbrella or a shovel.
If you spend time on the beach at night, make sure you don't speak or listen to music too loudly or shine too much light, otherwise you'll scare the baby turtles. All these things can mess with their sense of direction, and they might never find their way to the sea. 🙁
It's prohibited to enter the beach by car, which is which is why parking lots are located at the entrance of the beach.
There are no facilities, this includes changing rooms and showers. The beach only belongs to nature and has rocks and small pebbles instead of sand, meaning that the water is always clear. When we went, we brought a folding chair and shoes you can wear in the sea. If you are thinking of going by car, then you too can go prepared.
Entrance Fees for Olympos Beach: Since your accommodation won't be right on the beach, you'll probably have to walk 5-10 minutes depending on where you're staying. When you go to beach, you'll have to buy tickets to walk through the ancient city. If you have a car, you will find parking on the right side after entering the museum.Click here for the location. Number

1

on the map.
2. Don't be Lazy, Go to Adrasan ♡
Adrasan Beach is about a 20-minute car ride from Olympos, Turkey. There are plenty of hotels and cafes. Unlike Olympos Beach, Adrasan has a lot of sand. You'll also be able to find different types of activities like water sports at the beach. Click here for the location. Number 2 on the map.
3. Rent a Canoe from Olympos Beach ♡
I think we can agree that canoeing is both relaxing and fun (and if not, who are you!?). Make sure to be careful of the sun's rays here and put on plenty of sunscreen, unless you like the lobster look. Expect a line, but it'll move fast.
If you row a little past the edge of the cliffs, you'll come across a small cave-like pit. This is an excellent place to take photos, and you can peep the pink rocks in the water.
4. Explore the Ancient City of Olympos
The ancient city of Olympos was much more expansive than the remains you see when you go to the beach – it was a massive city! Before it was just Olympos, Turkey, it was one of the most important cities of the ancient Lycian Civilization and a very important place in maritime trade.
In fact, Olympos Harbor was even known as pirate center: The leader of the Cilician pirates, Zeniketes, used the city as a base. This was around 43 AD, which marked the beginning of the Roman Empire in a definite sense. Nevertheless, the place was still prone to pirate attacks even though it became part of the Roman Empire in 78 BC. This lasted until the Ottomans dominated the sea.
The river here divided the city in two. A canal was built off this river and used as a port, and a bridge was also built.
Still being uncovered
Those who lived in this city at the time made temples, hammams, churches, theaters, fortifications and wide streets. Based on this, we could easily say that there was a lot of city infrastructure already in place. However, the remains unearthed by archaeologists don't reflect that. Because of this, work by the Olympos Ancient City Excavation Team is still ongoing. If you ask us, you'll be able to easily see the old city in an hour before heading to the beach.
Entrance Fee and Hours of Operation for Olympos Ancient City
Hours of operation are 8:00 am to 7:00 pm between April 15 and October 2 and 8:00 am to 5:00 pm from October 3 to April 14.  The card gives you access to both the museum and the beach. Click here for the location. Number 3 on the map.
5. See the Eternal Flames of Chimera at Yanartaş ♡
We've come to the best part! You might be asking why you should go see a fire while in Olympos, Turkey, when we humans have already harnessed the power of flame. But not like this.
Yanartaş is a flame that burns on its own and never dies. Of course, there's a story behind this. The most famous legend is as follows: The Lycian king, Bellerophontes, was tasked with killing a monster that breathes fire, called the Chimera. Bellerophontes attacked and killed the monster while on his winged horse, Pegasus. Chimera is buried, and but the flames from its mouth still shoot from the ground. (We know the real, just as cool culprit behind the flames, though. It's a natural gas leak.)
The best time to visit Yanartaş is close to sunset, as you'll be able to enjoy the surrounding scenery. We also recommend going at night as the effect it creates is incredible. With no city lights around, you'll see millions of stars staring back at you when you look at the night sky. On our trip here, we made sure to bring wine and marshmallows with us. We roasted the marshmallows on the open fire and ate them with wine under the stars. While this all makes for a very nice experience, you should be on the lookout for scorpions.
Getting to Yanartaş
Another important aspect we should mention is transportation. Don't believe anyone and get fooled into walking to Yanartaş. We already made that mistake! Under normal conditions, Çıralı is 4 kilometers away or a half an hour walk, and Olympos is an hour and a half walk. But these aren't normal conditions as the roads are very desolate and dark (if going at night).
Instead, you should be able to find a service bus or car in front of your accommodation that leaves at 9 pm. You can always get in touch with Dursun Abi, who works hard to make sure that everyone has a fantastic experience at Yanartaş (05322374000).
I said "climb," because you will have to walk uphill about half an hour to reach Yanartaş. This part is a bit of a struggle, and seeing the burning rocks is your reward. Doing this climb and ultimately being able to experience this atmosphere does your mind and soul some good. Also, make to bring along the right pair of shoes for the climb as well as a flashlight. Click here for the location. Number 4 on the map.
6. Boat Tour 💔
Being able to be out at sea here is without a doubt a dream, but it quickly becomes a 💔 when daytrippers come into the picture. Our recommendation would be for you to rent your own boat, but if you lack the funds, you shouldn't have to go without experiencing the sparkling waters here.
Boat tours are usually held on Fridays and Saturdays. There are several tour operators, so the prices and times might differ. We suggest that you check with reception wherever you're staying as some hostels or hotels might operate their own boats, which might be helpful when it comes to prices.
Boat trips starting from Olympos, Turkey, visit fewer coves than other tours. Boat tours departing from Adrasan take off from Adrasan Yacht Harbor and cover several coves such as Suluada, Akseki Bay, Sazak Bay and Korsan Bay.
We did not go, but the most popular tours are the ones offered by Yusuf Captain's Suluada boat. If you do not have a car and you're staying in Olympos, then they'll pick you up and take you to the boat. Contact: Suluada Boat Tours Adrasan Yacht Marina, Adrasan, Tel: 0 536 864 23 62.
7. Moonlight Boat Tour in Olympos
If you have not yet died and gone to heaven from the romanticism offered by Olympos, Turkey, this boat tour might be the final blow. If you want to take part, then you should arrange it a day in advance. Tours are available for groups or just for two people depending on what you'd like to do. Captain Yusuf also provides this service.
We didn't go ourselves, but we would love it if those of you did could share your experiences and tips in the comments below.
8. Check out the Handmade Goods Sold at Stalls and Shops
Olympos, Turkey, is renowned for its handmade home decor products and its various stalls and small shops. You should take a look at the original pieces you'll be able to find here.
Duende Studio
This place has a sweet and interesting owner who makes all the items sold here by hand, including bracelets, magnets, cuffs, small household items, and everything else you can think of. Everything is made out of glass, wood and other interesting things. I even saw necklaces made from real cinnamon and a bracelet made from an olive branch!
I loved that each piece had a different concept and its own unique beauty. This is the perfect place to buy a gift. Located between Deep Green Bungalows and Cafe Cactus. Click here for location. Number 5 on the map.
9. Hang out at Kadir's Tree Houses (Symbol of Olympos) ♡
We did not meet Mr. Kadir ourselves, but he's famous for making Olympos what it is today. Olympos, Turkey, became famous because of his magnificent complex of tree houses, which was how it became known as a bohemian hang-out spot and distinguished it from thousands of other beautiful places in Antalya. Even if you don't plan on staying in the tree houses here, you should stop by, especially at night. Click here for the location. Number 6 on the map.
10. Trekking in Olympos
Trekking is one of the best sports here, but we do not recommend doing it during the summer heat. If you want to go trekking, then you can do the Adrasan-Olympos stretch in a day as it makes up 13 kilometers of the Lycian Way. The stretch starts in Adrasan and goes through Adrasan Plain ending in Olympos, Turkey. Depending on where you are staying, you can join trekking groups and choose different tracks. The routes of each trekking group vary. You should get info from where you're staying.
11. Rock Climbing in Olympos ♡
There are many areas and nature clubs around Olympos that are good for climbing. One of the most well-known is the Olympos Rock Climbing at Kadir's Tree Houses. (This may change depending on where you're staying.)
Here, you'll be able to find all the necessary supplies and gear for climbers at each level. The fee depends on which trail you decide to go on and the number of people in your group. For more information: www.olymposrockclimbing.com Click here for the location. Number 7 on the map.
12. Diving
There are also many spots for diving in Olympos, Turkey. The oldest is a center owned by Kadir's Tree Houses. The diving boat is located in Adrasan, which has all the necessary equipment. They do dives two times a day (morning and evening) between April 23rd and October 31st. For more information: olymposdiving.com.
Keep in mind that Kaş, which is known as Turkey's best place for diving, is also on the border of Antalya. You can read more about it in our Scuba Diving In Kas post. Number 8 on the map.
13. Bike or ATV Rental
You can rent bikes or ATVs from Olymposquad Safari, which is located immediately to your left once you pass Kadir's Tree House in Olympos, Turkey. They also offer tours of the area. Instagram: olymposquadsafari Click here for the location. Number 9 on the map.
Note: We also recommend that you read the comments about any company before booking with them.
14. Paragliding at Tahtalı Mountain
If you happen to be close to the mountain, then you can ride to the summit of Tahtali Mountain by cable car. There's a paragliding company called Escape Adventures at the top, which allows you to see all the beauty offered by Antalya in one go.
Another nice thing about choosing Tahtalı is that it's the highest spot for paragliding. Fear not, you don't need to be experienced at all – all the pilots are part of the Turkish National Team of pilots, and they're all experts. So it's up to you whether or not you'll experience the stunning scenery from above :). Of course, nothing is that easy, and there are some conditions you must meet before going:
First, there are age, weight and height restrictions. You have to be at least 5 years old, and men cannot weigh more than 110 kg and women 90 kg. You can't be taller than 2 meters.
You can't go paragliding if you have heart problems, respiratory illnesses, epilepsy problems or if you are pregnant.
The company provides everything you need except for running shoes, and you can take your camera and a phone with you during the flight. It's worth pointing out that the company does not accept any responsibility if you lose any personal possessions during the trip.
What to expect on your flight
The length of the flight will vary depending on your weight and the weather that particular day. A person weighing 70 kilos could fly for about 35 minutes in good weather conditions. The maximum flight time is 60 minutes. Don't leave paragliding to the last day of your vacation as your departure time may change according to the weather. You'll also need to make a reservation.
All the landings are done on Tekirova Beach, but if the entire group is staying at the same hotel, then they'll land at a beach close to the hotel. Times for taking off and landing – which are set based on when the cable cars bring people up to the summit – are all on the website. For more information: http://escape.com.tr/EN.aspx Tel: +90 252 617 02 83. Email: info@escape.com.tr
15. Ride the Cable Car to Tahtalı Mountain and Take In the View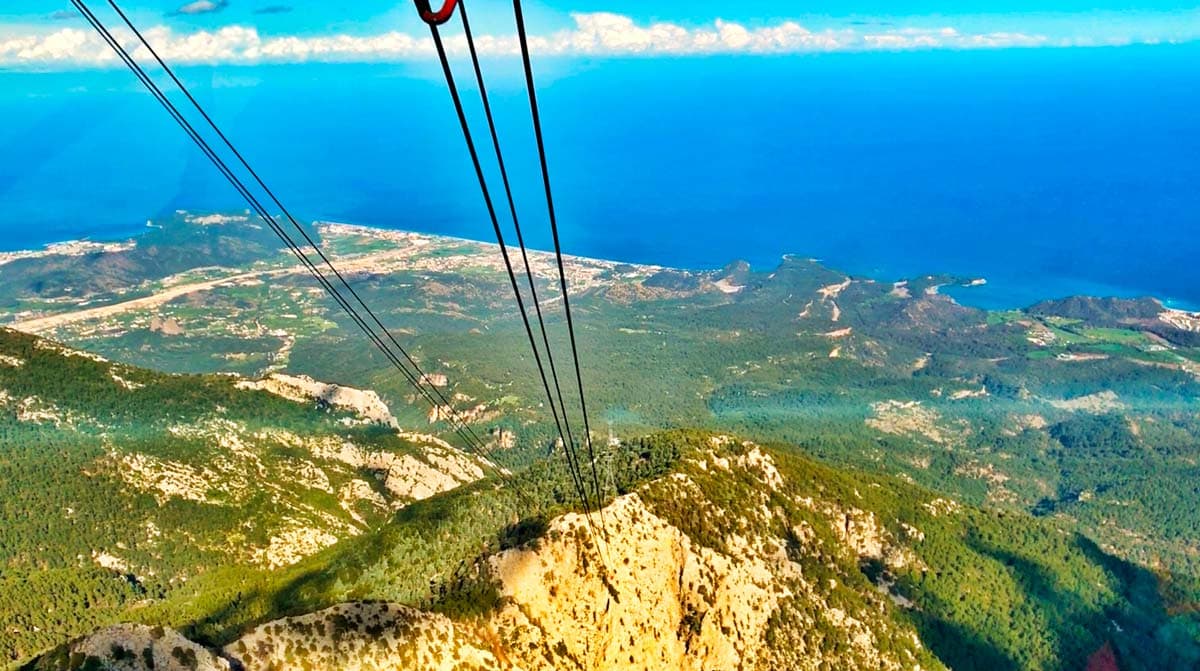 We don't want to make money for the people who cut down 600 trees and cleared the top of the mountain to construct this cable car. We are hesitant about even writing this on our list of things near Olympos, Turkey, so we'll turn it over to you to make a decision with just the information below.
Prices and Hours of Operation for the Tahtalı Cable Car
For transportation, they offer their own shuttle service daily from Beldibi, Göynük, Kemer, Kiriş, Çamyuva and Tekirova, and Wednesdays and Saturdays from Kundu and Antalya.
From the 5M Migros in Antalya, head to the Tekirova Public Transportation Stop, which is located the first right after Migros. You'll need to get on the Kemer Express Bus (Kemer Ekspres Otobüsü), which will leave you at the main gate of the Olympos Cable Car. You can spend time on the summit until 7:00 pm. Click here for the location. Number 10 on the map.
PLACES TO SEE NEAR OLYMPOS, TURKEY
Antalya is one of Turkey's most idyllic places. We thought that maybe you would want some info on areas surrounding Olympos if you've come this far in your trip prep.
1. Ancient City of Phaselis
Phaselis was an important port city like Olympos and is located 35 kilometers from Antalya and 15 kilometers from Kemer. As a peninsula, Phaselis is home to three ports – one in the southwest, one on the northeast and the other in the north.
In 690 AD, it was first founded as a colony of Rhodes. An interesting fact about this city was that they met Alexander the Great with a golden crown instead of resisting and fighting against him. Most of the remains of this city are from Roman times. The remains include the harbor, the castle walls, the Temple of Zeus, the King Antonius Caravella road and a theater with 20 rows of seats.
It is suggested that the 24-meter-wide street was used as a stadium as evidence suggests athletic competitions took place here. The street was wide and short, which seems to fit the description. The earliest find here is a perfume bottle that dates back to 600 BC. The other important artifacts are remains from two different hamams in the city's square. It is also possible to get there by sea. Click here for the location. Number 11 on the map.
2. Stick your Feet in the Icy Cold Waters of Ulupınar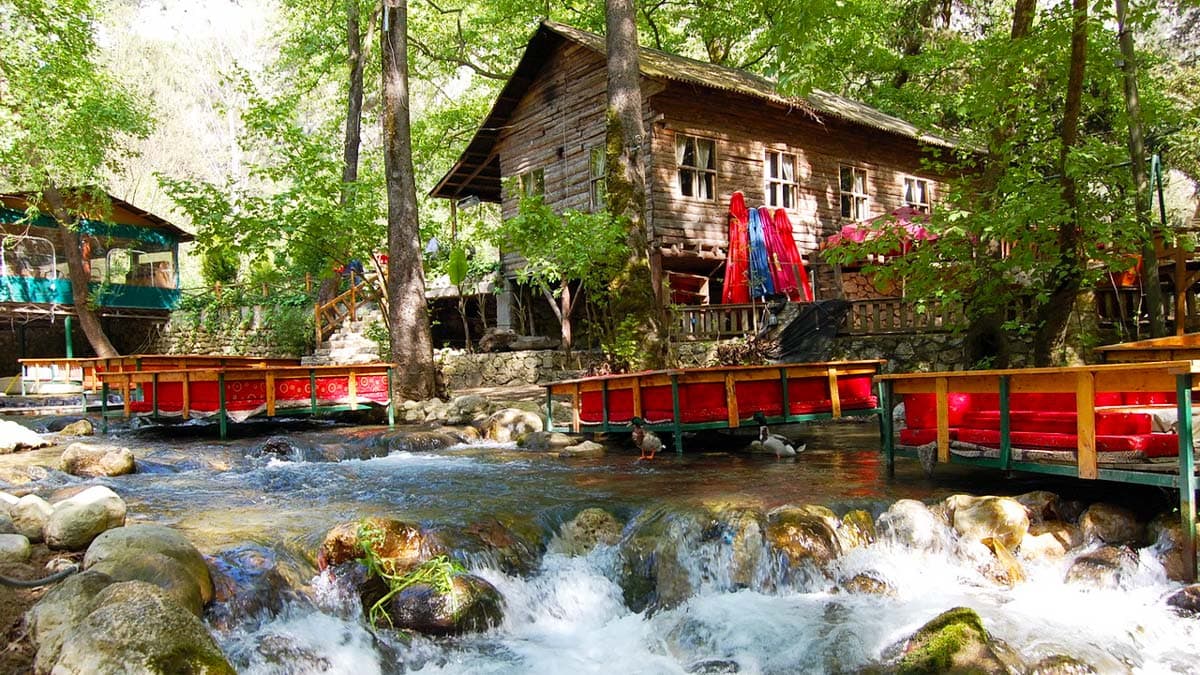 After the scorching temperatures in Antalya and Olympos, Turkey, you'll be able to cool down at Ulupınar and breathe in its fresh pine scent. There are many different types of restaurants to choose from that have gazebos overlooking waterfalls or streams. Being here fits the bill of what it means to be in nature, with the sound of the water set against the backdrop of the refreshing greenery. If you want, you can bring your own pole and catch trout.
Getting to Ulupınar
Ulupınar is 70 kilometers from Antalya and 27 kilometers from Kemer. You'll know you're here if coming from the Antalya-Kumluca highway right before the turn to Çıralı. You can get to Ulupınar from the Antalya bus station with the service provided by Çiçek Tur. The journey is about half an hour by car from Kemer.
Even though we were not able to eat there ourselves, we can recommend Ulupınar Tropik Restaurant. You can enjoy a pleasant lunch with the waterfall running under your feet. Address: Ulupınar Mahallesi, 07980 Kemer / Antalya, Tel: 0532 616 20 01, Website: ulupinartropik.com Click here for the location. Number 12 on the map.
3. Go to Kekova Either by Land or By Sea
Can you swim in the sky? Yes, you can, just look at the picture above!
The rocky island of Kekova, also known as the Sunken Civilization, contains historical remains that were flooded after earthquakes that occurred after ancient times. Divers were constantly examining these remains, and, in 1990, the site was declared a site where unauthorized diving or swimming was banned.
These prohibitions were later lifted in areas where there were no historical remnants. In other words, it's possible for you to swim in the sky of this civilization. You can also come here by boat. Swimming is still prohibited in sites deemed to be of historical importance, so boats don't stop in those places.
If you want, you can see Kekova by arranging for boat tours in Olympos or Adrasan. You can also set up adventure tours arranged in Kaş (it's also possible to rent a canoe). Click here for the location. Number 13 on the map.
4. Adrasan's Maldives: Suluada
If Olympos, Turkey, is a bit like Thailand, then the tiny island between Adrasan and Gelidonia, Suluada, is as pure and beautiful as the Maldives. The reason it's been able to retain its untouched beauty is that no one has settled on it yet. The island also has its own fresh water source.
You can only get to the island via the boat tours mentioned above or by renting a fishing boat. We weren't able to take part of a boat tour and couldn't make it to Suluada, but the above photo can offer just as much of a recommendation as we can! Most of the tour operators offer trips to the island. The most organized one is www.suluadatekneturu.com. Click here for the location. Number 14 on the map.
5. Lycian Way
The Lycian Way is a historic footpath that is 540 kilometers long and covers 19 ancient cities. People hike it in about a month or so, but definitely not in the extreme heat of summer. It's a great a way to come back to yourself and functions as a sort of life detox. The Lycian Way is one of the world's best trekking routes, and it also passes through Olympos, Turkey. Here, you can find some of the most beautiful places where history and nature are intertwined. The path, which extends from Fethiye to Antalya, is generally rocky and has a lot of pebbles.
The best time for hiking the Lycian Way is in spring or autumn because when the weather heats up, it can even be hard to just get from Olympos to the beach. If you are planning to walk, then it's beneficial to know your body and mind. Ultimately, it'll give you a new perspective.
The "Lycian Way Guide" is a book that includes what you need to know before and during your walk. You'll be able to learn all the necessary equipment you'll need to bring along, as well as day-to-day schedules, as well as information about the ancient cities you are passing through. We recommend getting a copy if you'd like to hike all or a large portion of the trail. Click here for the website.
WHAT TO EAT AND DRINK IN OLYMPOS
Melon Ice Cream
Melon ice cream is the perfect treat for honey dew lovers! You should be able to find a Mr. Hüseyin after a short walk on the beach to buy this cheap and light dessert. You must try this at some point before you leave Olympos – Turkey even.
NIGHTLIFE IN OLYMPOS
Hangar Bar
This venue is at the entrance of Kadir's Tree Houses, and it's operated by the very same. It is open air, with a bar in the middle. Here, you can pass time in Olympos, Turkey, while watching a live music concert before going to the Bull Bar. Even if you are not staying at the Tree Houses, you are welcome and there is no entry fee. Address: Yazır Mahallesi, Yazir Mevkii Kadir's Tree House, Kadir's Tree House, Olympos, Antalya, 07350. Tel: +90 242 892 12 50.  Click here for the location. Number 1 on the map.
Bull Bar (Öküz Bar)
Bull Bar is also located at Kadir's Tree Houses, and there is no charge for guests staying at the hotel. Excellent for people who like dancing and music, it has impressive decor to boot. Address: Yazir Mah, Olympos, Antalya 07350. Tel: 0 533354 99 41. Click here for the location. Number 2 on the map.
Orange Bar
Another bar that we would consider upbeat is Orange, though it's in more of a disco style. Generally, when there are concerts in Olympos, this is where it all happens. It has concert space as well. There is an entrance fee. Address: Yazır Mahallesi, Olympos, Antalya, 07350. Tel: 0554 484 12 65.  Click here for the location. Number 3 on the map.
Cafe Cactus
Unlike its name, Cactus is a very comfortable spot to listen to pleasant music or dance. You can sit outside at wooden tables and sip on a drink while listening to quality music. Furthermore, you can bring food from wherever and eat it there. Once the live music outside finishes, you can head inside to dance the night away. There's no entry fee.
Perge Pilsner Beer at Cactus
Don't let the name of this beer confuse you – Perge refers to the entire region, not just the ancient city. This beer is considered Turkey's first domestic beer. Unlike its competitors, Perge was the first to use spring water. As for its taste, it's much smoother and goes down easier than other beers you'll find in Turkey. It's certainly worth a try, and you can find it at Cafe Cactus.
Address: Yazır Mahallesi, Yazir Village Olympos, Antalya 07350. Phone: (0242) 892 10 55. Click here for the location. It's right next to Olympos Deep Green Bungalows. Number 4 on the map.
HOTELS & HOSTELS IN OLYMPOS
Tree Houses in Olympos, Turkey
As we mentioned earlier, Olympos became famous for its tree houses. From its beaches to its facilities to its people, everything about Olympos is steeped in nature. 🙂 You'll be seeing the world only in green and blue by the time you leave. Here, you won't find any artificial buildings made out of concrete as everything is made from what you find in the earth. If you ask us where you should stay in Olympos, then we say that you should stay at places that take your breath away. Below, you can find the most popular tree houses here.
Note: It would be wise to bring cash along, even though we were able to use our credit cards. If there were any ATMs, we didn't see them. There is a market about 10 steps from the center, and you'll be able to find everything you need there during the summer holidays.
Kadir's Tree Houses (Kadir'in Yeri)
We've said it enough times, but once more can't hurt. These are the most famous tree houses in Olympos, Turkey. Kadir Kaya – who founded the place – built the tree houses 31 years ago! He made something out of nothing at a time when there was no electricity in the area.
Kadir's Tree Houses are internationally known: The Washington Post voted it one of the most interesting places to see in 2010, TNT voted it as Best Hostel in the World in 2000, and the Los Angeles Times in 2011 recognized it as one of the coolest hostels in the world. We can say that this was the first place in Turkey to introduce the concept of tree houses in the accommodation scene.
We think this is a must-see, as its livelier than other places in the area, and you'll be able to see the father of tree-house tourism in Turkey. The only downside is that it's a bit further away from the sea than other places you can stay. Click here for detailed information and to make a reservation.
Türkmen Tree Houses
This is a complex of tree houses among orange and pomegranate trees located much closer to the sea. Turkmen Tree Houses offers a quieter and calmer location. They offer half board, which is accommodation, breakfast and dinner. There also offer a la carte food options. Click here for detailed information and to make a reservation.
Sheriff Olympos Pansiyon
This is a hostel made up of bungalow houses in an orange garden. The accommodation capacity is higher than other places in Olympos, Turkey. There is a large patio located among the trees. For more information: www.olympospansiyon.com/index.php Website. Click here for the location.
CAMPING AT OLYMPOS
The good news is that there are tons of options for people who like being out in nature and enjoy camping. We've gone ahead and listed some of the best camping sites below, but for more options in the surrounding area and provinces, then you can check out Turkey's Top 25 Campsites.
Olympos Mocamp
Mocamp is on the list of best campsites in Olympos – Turkey as well. There is an option of staying in a camper or tent, as well as bungalows with air conditioning and showers. On the campground, you can make use of the shower, kitchen, restroom, laundry, electricity, dishwasher and a fridge. Address: Kas Olympos Mocamp – 2 kilometers on the way to Kalkan. For further information: www.kasolympos.com. Tel: 90 242 836 2252 / +90 544 236 0329. E-mail: orhan@kasolympos.com. Click here for the location.
CAMPING AT ÇIRALI
Çıralı Camping
Showers, wifi, electricity, chairs, tables and cleaning services are available. You can stay among the pine and orange trees and sleep either in tents or a camper. For more information, please visit www.ciralicamping.com. Click here for the location.
Engin Pansiyon Camping
Here you'll find a campsite with a large garden. If you do not have a tent, you can rent a tent and camp there. You can also stay in a camper. For more information: www.enginpansiyon.com. Click here for the location.
WHERE IS OLYMPOS, TURKEY?
Olympos is a region connected to the Kumluca district of Antalya.
Olympos is approximately 85 kilometers from Antalya, and it'll take you about an hour and a half to get there by car.
Istanbul is 777 kilometers from Olympos, and it takes about 9 and a half hours by car.
Adana is 727 kilometers from Olympos if going by way of Konya, but 632 kilometers if you're following the shore.
HOW TO GET TO OLYMPOS, TURKEY
Plane from Istanbul or other major cities
Domestic airlines that'll take you to Antalya Airport from Istanbul are Turkish Airlines, Pegasus, Onur Air and Sun Express. Once in Antalya, you'll have to take the Havaş airport shuttle to the Antalya Bus Station (otogar in Turkish) and get on another bus going to Olympos.
If you would like to rent a car from Antalya Airport, you can get one from Enterprise, Hertz, Avis, Budget and many others. You can rent a car and follow the route we've listed below.
Coming by Car from Antalya or Kas
Follow the Kemer/Kumluca signs to leave the city. You'll come to a fork in the road with Olympos on the left-hand side. You'll continue for 9 kilometers and see a sign that says Olympos is 3 kilometers away.
If you're coming from Kaş, you'll head in the direction of Antalya from Kumluca for 20 kilometers and you'll see a sign for Olympos. You'll go for another 9 kilometers, and you'll see a sign on your left side saying that Olympos is 3 kilometers away.
---
We thank Gizem Uçar for reporting the latest news from Olympos, Turkey!