TOP THINGS TO DO IN UBUD – 21 THINGS YOU MUST NOT MISS
Ubud is the most loved place in Bali and it is full of things to do. When I first visited in 2005, it was obvious why one would fall in love with this place: It was authentic, wild and healing. 13 years later, after one too many Instagram posts and the global success of the book and movie Eat, Pray, Love, I came to find a different Ubud. Congested, covered in exhaust, urbanized & commercialized, pretty much cashing in while the attention lasts.
Walking down the streets, you will find more smoothie bars, stylish yoga shops, and western fare than anything authentically Indonesian. However, despite the cultural invasion, it has been going through its legacy of being the cultural center of Bali still lives on today.
It was Ubud's art scene that made Bali an international star. In the 19th century, the lords of Bali gathered many artists and craftsman in Ubud. However, it wasn't until Walter Spies, a German artist and art teacher and foreign painters Willem Hofker and Rudolf Bonnet started bringing international celebrities (Charlie Chaplin among them) to train in Balinese arts that tourism jumped.
In the 1960s the Dutch painter Arie Smith catalyzed the rush to Bali as he led the new art movement called Young Artists. Bali was already attracting people worldwide but the absence of international flights to Bali was keeping mass tourism at the gates. Once the Ngurah Rai International Airport started welcoming foreigners, Bali saw itself transforming rapidly.
Long story short; Ubud is an important place to visit. Try sparing at least 2 days to see Ubud. Here we shortlisted the best things to do in Ubud so you don't get lost in the sea of options.
Tip: Thanks to its central location, it makes sense to use Ubud as your base for your day trips to north and west of the island. See our Bali Itinerary for planning ideas.
So here are our top recommendations for Ubud: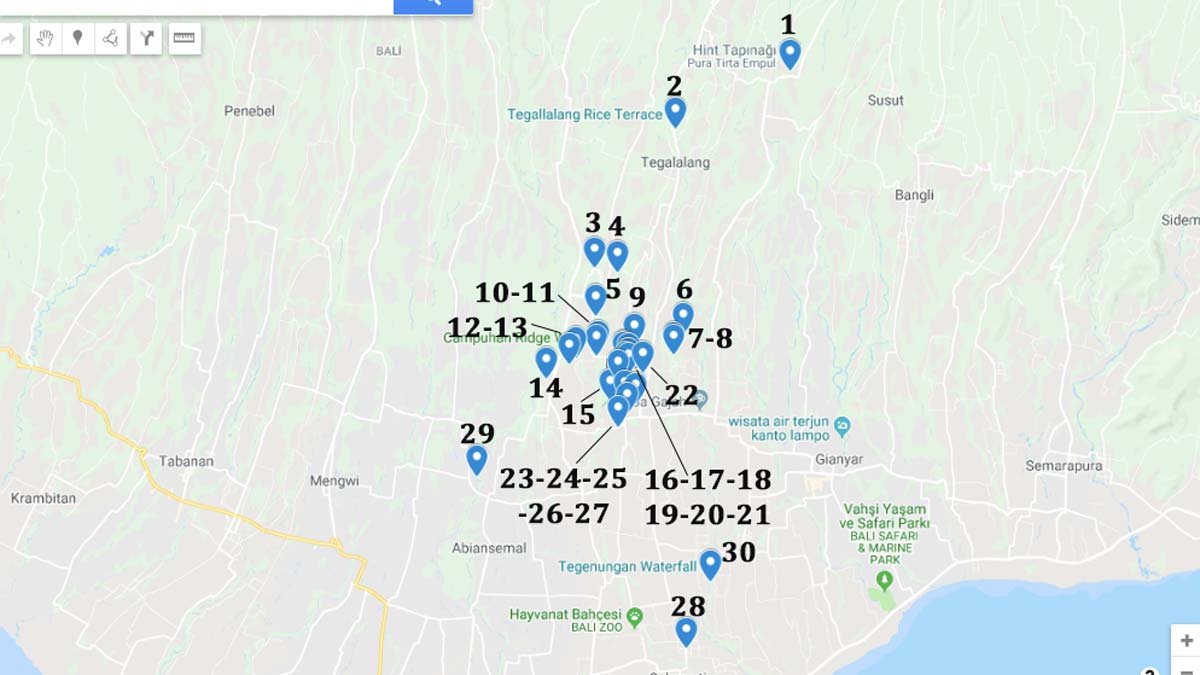 In order to open the map on GoogleMaps, Click here.
[column size=one_half position=first ]1. Tirta Empul
2. Tegallalang Rice Terrace
3. Ubud Traditional Spa
4. Jungle Fish Bali
5. Neka Art Museum
6. Ketuts Bali Cooking Class
7. Jeding Bali Cooking
8. Periuk Bali Cooking Class
9. Chez Monique Silversmith Classes
10. Campuhan Ridge Walk
11. The Blanco Renaissance Museum
12. Wayan Gama Painting
13. Moksa Plant-based Restaurant & Permaculture Garden
14. Bambu Indah Resort
15. Sacred Monkey Forest Sanctuary[/column][column size=one_half position=last ]16. Ubud Palace
17. Art Market
18. Tukies Coconut Shop
19. Nyoman Warta Batik Class
20. Restaurant Locavore
21. Night Rooster Bar
22. Sayuri Healing Food Cafe
23. Laughing Buddha Bar
24. The Melting Pot Saloon
25. The Yoga Barn
26. Agung Rai Museum of Art
27. Nyoman Jendra – Artist
28. Sukawati Art Market
29. Fivelements
30. Tegenungan Waterfall
[/column]
1. Tegalalang & Jatiluwih Rice Terraces

Rice is called "the gift of God" in Bali. It is the most important building block of the Balinese culture as it kept them alive and thriving for centuries. Still today a good part of the day is spent on the fields, constantly grooming and harvesting. This dedication to rice penetrated into the culture, daily practices, religion, making it just as much of a part of the cultural landscape as the physical.
As their survival depended heavily on rice, they put a lot of thought and effort into growing it. In the 9th century, they created an irrigation system called subak that carries water from water temples to the farthest fields. It has been used for centuries through collective effort. Religious philosophies assure democratic and egalitarian farming practices in harmony with nature, the realms of the spirit and the human world.
Most famous are the Tegalalang and Jatiluwih Rice Terraces. Both are on the UNESCO World Heritage list. For best photographs, be there at sunrise. Keep in mind that it gets unbearably hot around 10 am. If you are trying to choose between them, go for Tegalalang. Click for location.
Hiking in the rice fields – A great way to explore the countryside is to trek through the rice fields with a local guide. The guide will explain you about rice and Balinese culture while trekking through wonderful sceneries. Some tours also stop at coffee farms for a tasting.
2. Bali Swing

Tourists most desired Bali photo: The swing. It started in Ubud and quickly spread all around the island. Now they are everywhere. The most popular one is the Bali Swing but the lines are long. A swing package is 35 USD including swings of different heights, food & beverages. If you are going to Tegalalang I have some good news; you don't need to far for the ride. There are plenty of them in and around the rice fields. To see all the popular swings check out our Bali Swings article.
3. Monkey Forest
https://instagram.com/p/BpFIvsRgZgA/
Tegalalang Rice Terraces and Monkey Forest are the 2 most popular things to do in Ubud. The forest is home to 1.000 free roaming monkeys which makes it a very fun place to visit. It is also a place of cultural importance. Every day locals dress up to present offerings at the 3 temples inside the forest. The temples date back to 14th century, making it the oldest temples in Indonesia. The temples are built upon the Balinese Tri Hita Karana philosophy which says that: "To be well, you need to be in harmony with gods, other people, and nature".
Monkeys are taken very well care of but it doesn't mean that they are domesticated. So, you should avoid contact with them. They are usually friendly but when they get aggressive, they get aggressive. Never look them in the eye. Eye contact flips them off as they interpret it as a threat. They are also curious beings. They will reach for your stuff, especially food, bottles, cans, shiny objects like earrings, sunglasses, and a hat or anything dangling. Make sure to put them away before entering the forest. If they steal anything from you contact the staff. They will usually bribe them with peanuts or fruits to get it back. If they attempt to climb on you, don't panic. They are not attacking you, they are just being curious. Don't let him stay on you as some may carry rabies. Click for location.
4. Ubud Palace
Ubud Palace is the home of the royal family since the beginning of the 1800's. Its official name is Puri Saren Agung. You might have heard of the word "puri" before as it means "royal palaces" in Balinese.
It is situated right on the on main Jalan Raya Ubud road where all the cafes and boutiques are cluttered. It is so central that even if you don't intentionally go to Ubud Palace, you will end up having seen it. It is considered to be one of the finest products of Balinese architecture with its ornaments, angkul-angkul traditional gates, statues, and garden. If you are lucky, you can catch a dramatic performance at night. Click for location.
5. Campuhan Ridge Walk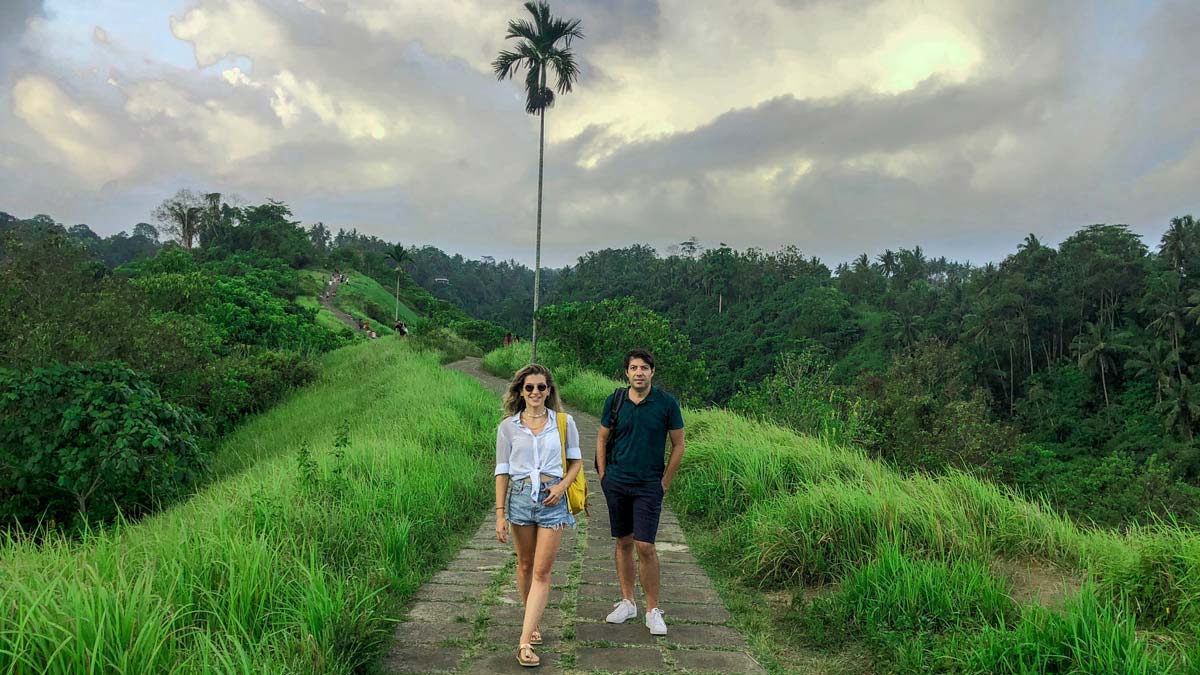 One of the locals and expats favorite things to do in Ubud is to take a walk in Campuhan Ridge. It serves the function of a park in big cities. Ubud is very urbanized. Although it is surrounded by forests, dense vegetation makes it difficult to have public green areas. Lovers go to Campuhan Ridge for a stroll, some walk their dogs, others go there for a run. As the name implies it is on the ridge of a hill, which makes it quite scenic but also exposed to the sun. Therefore, it is best to go there either early morning or late afternoon.
It takes around 1,5-2 hours to walk the whole thing. Many people say Ubud has a special energy and Campuhan is especially said to have immense spiritual powers. The name Ubud is derived from the word "ubad", which means medicine in Balinese referring to the healing properties of the plants that grow here. It is still a pilgrimage site for many Hindus. Click for location.
6. Don't Just Stay Anywhere. Stay In A Truly Special Place
You shouldn't treat accommodation as a place to sleep in Ubud as some hotels are the Ubud experience itself. I am talking about floating breakfast, infinity pools in the jungle, one of a kind fairy tale land kind of structures and rice field views. Here is our favorite hotels for all budgets: Best Ubud Hotels
7. Balinese Art & Museums

As we mentioned above, Bali owes its fame to the art & culture scene in Ubud. It is no surprise that Bali's best museums are in Ubud. Therefore, we can say checking out at least one museum is a top priority here.
Neka Art Museum
It started as the private collection of Wayan Suteja Neka in 1976 who is still personally present in the museum to guide you around. The collection is varied enough to take you through the stages of transformation of Balinese art. In exhibit A you will find fine examples of the traditional art that inspired the foreigners to come here. Exhibit B is dedicated to the period of early influences of western techniques (shadow, perspective, etc) on Balinese painting.
There is another building called Arie Smit Pavilion where the works of Dutch-born Indonesian painter Arie Smit are shown. When he moved Bali in 1960, he started a new wave called the Young Artist Movement. It blended contemporary expressionist styles, which in vogue in the west at the time, with traditional Balinese subjects like village life. There are more exhibits in the museum where you can find photos of Bali dating back to the 1930s and the owner's most loved dagger collection. Make note that the museum is not located in the center but in the village of Kedewatan. Click for location.
Agung Rai Museum Of Art (ARMA)
ARMA the private collection of another art lover Anak Agung Gde Rai. In ARMA you can find the works of Walter Spies, Rudolf Bonnet and Adrian Le Mayeur who are frequently credited for revolutionizing Balinese art and local contemporary artists like Nyoman Lempad Raden Saleh and Affandi. Agung Rai also serves as a culture & art house. During week days between 3 and 5 pm and on Sundays between 10.30 and 12,  you can catch live dance performances. They also host Balinese art workshops like weaving & batik and so on. The museum is 3 km away from the center and on the way to Denpasar. Click for location.
Blanco Renaissance Museum
One of the many artists that came to Ubud for inspiration was the Philippine-born Don Antonio Blanco. He built a house on a hilltop overlooking the beautiful view of the Campuhan Valley. You can visit his and his son's works in his own very house, in the company of his family who still runs the place. His house is a mix of Spanish and Balinese influences reflecting his background. Due to the pornographic content of some of his work, it may not be suitable for children. Click for location.
8. Acquire A Balinese Skill
Ubud is the best place to pick up a local skill.
Cooking School
Balinese food is nice but taking a Balinese cooking class is even nicer because the food becomes more than what is on the plate. Most classes start with a market tour where you are introduced to local ingredients and life in Bali. They even teach you how to prepare an offering to get your blessing for the day. Some schools stop at a farm or at their garden to let you pick up herbs and vegetables. Finally, the cooking begins. Generally, you are taught 6 to 8 dishes (some can be just spice mixes or paste) and dropped off at your hotel.
There are a ton of cooking schools, some take a half day, some take full,  some have different themes (see food, vegan, even medicinal) for each day of the week. The durations change between 3 to 6 hours and the prices can vary from 25 to 70 USD. But most are around 30-40 USD. So you have to do your research to find the right one for you. Here are the top 3 conquerors of Tripadvisor: Jeding Bali Cooking, Ketut's Bali Cooking Class and Periuk Bali Cooking Class. Finally, check out Sayuri for raw cooking workshops and chef training.
Batik Classes

Batik is the art and craft of decorating cloth with the help of dye and hot wax. In Bali, it is a tradition with a long history. You can make your own wearable pieces at Nyoman Warta's or the pieces to hang them on your wall.
Silver Jewelry Workshop
In Bali many professions get passed on from father to son. Gold and silversmithing are two of them. For centuries, the villages of the Gianyar regency, particularly Celuk, Mas and Ubud have been mastering the art of jewelry making. Now some offer workshops in their atelier. It feels very rewarding because you actually make yourself a wearable piece of jewelry in 2-3 hours. Chez Monique is a popular choice.
9. Hang Out At Ubud's Beach Club Jungle Fish
If you think Ubud would miss out on the fun of beach bars just because it is inland, you are wrong. Jungle Fish may not have a beach, but the forest view brings magical feeling. The pool actually belongs to Chapung Sebali hotel but it is run as a beach club. The food & drink selection is good too. A lot of people also come here to take the iconic Ubud shot of the infinity pool with the jungle. Click for location.
10. Eat At Michelin Starred Locavore

I guess stating that 'Locavore has a Michelin star and it is rated in the best 50 restaurants of Asia' should get your attention. The name says it all: Locavore is "a person who makes an effort to eat food that is grown, raised or produced locally, usually within 100 miles of home". Even the plates and utensils are sourced locally. Dutch-born chef Eelke Plasmeijer fuses local produce and foreign cooking techniques to create a stimulating culinary experience. The presentations are so beautiful that you can't get yourself to eat it. Unlike other fine-dining restaurants in Bali, the atmosphere is laid-back and there is no dress code. Dinner at Locavore is one of our favorite things to do in Ubud.
Price: They offer a 2 tasting menu:  'locavore' and the vegetarian 'herbivore'.  5-course Locavore menu is around 55 USD, 7-course is 60 USD. 5-course herbivore is 47 USD and 7-course is 55 USD. Plus 10% tax and 11% service. You can add on a wine-pairing too.
Reservations: It is booked out months in advance but there are also last minute cancellations. It is a good idea to show up in the restaurant to ask if they have an opening for that moment. Otherwise, you can book here. To book a table you need to give your credit card information but they are very accommodating about changes and cancellations. Click for location.
11. Eat The Best Coconut Ice Cream Of Your Life At Tukies

Believe me, it will surpass all the coconut ice creams you had in your whole life. It is unbelievably good. They also have other coconut desserts to offer. Also, remember that it is the only place where you can find properly chilled fresh coconut which is interestingly a rare commodity in Ubud. Click for location.
12. Stay or Dine At Bambu Indah

The Hardy family owns Ibuku Design firm which makes whimsical buildings from natural materials and Bambu Indah is their masterpiece. They construct only with bamboo and defy traditional design norms of classic hotels. They called it an 'eco lifestyle hotel' where there are no manicured gardens and infinity pools but natural swimming ponds and farming fields. Each room is unique. Some are century-old Javanese wedding houses that they bought here, some are fairytale creations they made with bamboo.
If you can find a room, do not miss out on this wonderful experience. If you can't, you can always book a table at its restaurant and visit the complex. Remember that, the bamboo construction means cracks for bugs and no sound isolation, but it is all fine. It is a 20 min drive from the chaotic center of Ubud for which you will be grateful for. Click for location.
13. Commission Art

Wanna feel like the Medici family for a day? In Ubud, you can commission a painting for your home. 🙂 There are several artists that do made-to-order paintings. The two with the most references are Nyoman Jendra and Wayan Gama. The delivery time depends on how full their hands are and how much detail you requested. They both come from a family of painters and create blindingly detailed works of art. Prices depend on the size & detail of the painting. They also give painting classes in their studios if you are interested.
Contact Nyoman Jendra: +62 818-565-759, Click for location.
Contact Wayan Gama:  +62 817-9707-182, Click for location.
14. Watch The Kecak Dance

Kecak Dance is a religious ritual that depicts the Hindu epic Ramayana in form of theatre and dance. It is quite interesting for understanding how religion and art interact in Bali and also quite eye-opening to see such a different form of artistic expression. With that said, some people find it boring after 10-15 minutes. To be able to enjoy you need to understand what the epic is about. Otherwise, you won't be able to follow it:
The Ramayana Epic
Virtuous prince Rama married to Sida. Unfortunately, just before he ascends to the throne, his father ends up banishing him due to a promise he made long ago. He takes his wife and brother Lakshman to lead a life in the forest. Ravana, the king of demons, watches Sida in the forest and falls in love with her beauty. He decides to capture her. Ravana tells his right hand to disguise as a golden deer to distract Rama and his brother Lakshman away from Sida. Lakshman draws a protective circle around Sida and tells her not to leave it. Ravana disguises as a bagger and asks Sida for a drink. She leaves the circle to get him water and gets kidnapped.
Monkeys and bears join to search for Sida who Ravana heas been trying to seduce in vain for 10 months. The monkey king Hanuman brings Sida the ring of Rama, to assure her that he is alive an looking for her. Monkeys and bears build a bridge to cross to Ravana's evil kingdom. In the battle Lakshman gets wounded so Hanuman goes to the Himalayas to get medicinal plants for him. Ravana is killed and Sida is rescued but Rama doesn't believe she has been faithful to him. She walks on fire to prove herself. As the fire turns to flowers she is acquitted.
When and Where To Watch The Kecak Dance In Ubud
The Uluwatu Temple which is in Uluwatu might be the most atmospheric place to watch the Kecak Dance but as the cultural center of Bali Ubud has the most options:
| | | | |
| --- | --- | --- | --- |
| Day | Venue | Time | Price / Per Person |
| Mon | Junjungan Village | 18:30 | 75.000 IDR |
| | Dalem Temple Ubud | 19:30 | 80.000 IDR |
| Tue | Taman Sari Temple Ubud | 19:30 | 75.000 IDR |
| Wed | Padang Tegal Kaja | 19:00 | 75.000 IDR |
| | Temple Batukaru | 19:30 | 80.000 IDR |
| | Dalem Taman Kaja Temple | 19:30 | 75.000 IDR |
| Thur | Puri Agung Peliatan | 18:45 | 75.000 IDR |
| | Batukaru Temple | 19:30 | 75.000 IDR |
| | Taman Sari Temple | 19:30 | 75.000 IDR |
| Fri | Padang Kertha Temple | 19:00 | 75.000 IDR |
| | Dalem Ubud Temple | 19:30 | 80.000 IDR |
| Sat | Padang Tegal Kaja | 19:00 | 75.000 IDR |
| | Dalem Taman Kaja Temple | 19:30 | 75.000 IDR |
| Sun | Padang Tegal Kaja | 19:00 | 75.000 IDR |
| | Batukaru Temple | 19:00 | 75.000 IDR |
15. Yoga Barn

Yoga Barn is a world-famous yoga school. It is known for having raised many internationally renowned yoga instructors. It has a big campus in central Ubud where they offer classes for all levels from yoga teacher training to vinyasa as well as holistic therapies such as Chinese medicine, acupuncture, ayurvedic massages… There are many yoga centers in Ubud. What makes Yoga Barns special is the community around it. It is as much about socializing as yoga. It is a lot of expat's home in Ubud where they build a new family and get updated on what's going around. They have a cafe on campus and another one 10 mins away called Kafe which as a super healthy menu. Even if you completed every item on our things to do in Ubud list, you can spend months in Ubud, just doing yoga. Click for location.
16. Ubud Night Life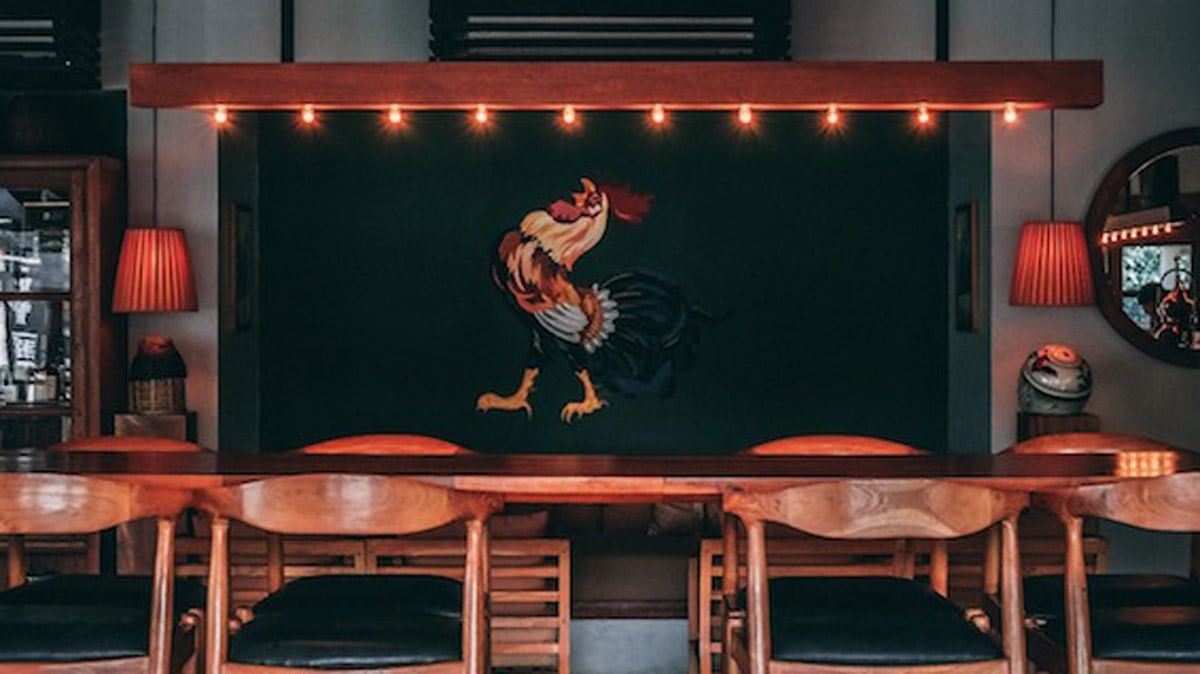 Bali isn't somewhere you go to party. Ubud even less so. There is a big yoga crowd Ubud and they like to pace themselves with the sun. Early morning meditations, sun salutations means no late nights. So the nightlife of Ubud isn't as lively as some other town's. Most places, even bars close at midnight.
– However, there is a bar worth postponing your detox for: Night Rooster. The best cocktails in town. You won't be surprised to hear that it is owned by Eelke Plasmeijer, the chef of Locavore. It is in the center of Ubud. Click for location.
– Yoga Barn host the best parties in town but most are alcohol-free. Technically it is called a "Ecstatic Dance Class" as dancing can be the most relieving form of meditation. It is the best place to go wild. They have a capacity of 150 people and tickets gets sold out fast. You need to go to Yoga Barn amphitheater early morning to get in the queue but the session starts at 17.30. They also have a family version on Sunday mornings at 9.00.
– Laughing Buddha Bar – Live music, dance, and booze. Click for location.
– If you gave up on a partying and willing to settle for game saloon, you can go to The Melting Pot. Pool tables, ping-pong tables, darts & junk food. Click for location.
17. Shopping

In Bali, you will see so many beautiful things that you will get shopping crazy.
– If you want to buy furniture and decorative pieces for your home, the road from Ubud center to Tegalalang Rice Terraces is lined with plenty of shops. If it is too big to fit your luggage, they will ship it to your home.
– If you want to buy scarves, rattan bags, hand-woven baskets, statues, wood carvings or any other artisanal piece, you can head to Ubud Art Market. Sukawati Art Market is known to be cheaper and to have more options but the quality in Ubud is said to be better. Products come from neighboring villages where the profession has been passed on from generation to generation. It is open from 8 am to 6 pm every day. Click for location.
18. Get A Massage
It is obvious why massages are on every top things to do in Ubud or Bali list, the real question is where to get them. As I have told in our Top 28 Things To Do In Bali article while the quality of the massage itself may not change all that much between a good street spa and a luxury spa but the experience does change quite a bit. It is definitely worth treating yourself in a luxury spa at least once but it doesn't necessarily have to be in Ubud. You can always go back to the street spas.
– For a quality low-cost massage go to Ubud Traditional Spa. They are by far the best spa in Ubud. Click for location.
– For a more pampering experience go to Fivelements which is around 25 mins away from Ubud. They are an award-winning healing center. Click for location. We went to Kayumanis for a luxury treat. Although the facility and the service were great, the quality of the massage was disappointing. Udaya Resort & Spa might be a better alternative.
19. Eat At Moksa, The Raw Miracle Worker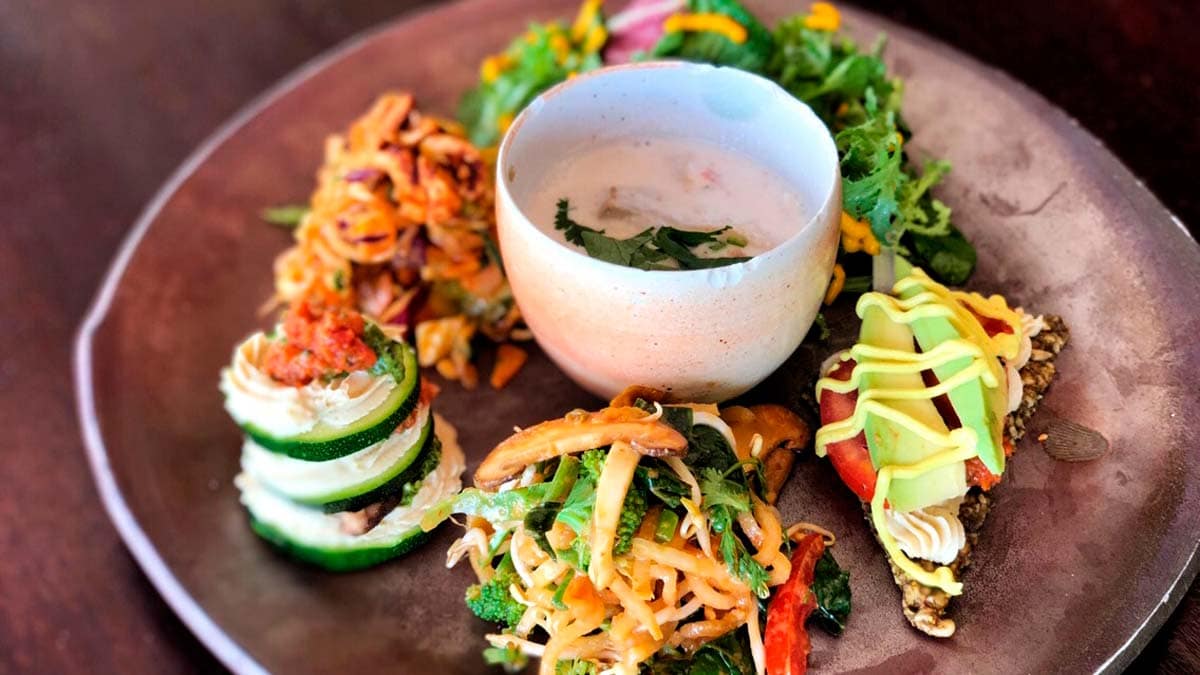 Moksa doesn't have a star in the hall of fame of restaurants like Locavore but it is a promising heir to the throne of Ubud's best eats. It is a plant-based restaurant that can impress even a stubborn carnivore. Ubud has a lot of healthy food options but Moksa is different in the way it offers raw and holistic food. It has a peaceful garden, away from the hectic city center. The ingrendients come from their garden which is near the restaurant. They are open from 10 am to 9 pm but the kitchen closes at 8.30.  They also offer raw cooking classes every Wed and Fri. If you are going there the first time, order the sampling plate you see in the photo above. Click for location.
20. Ride A Sky Bike
Do you know you can ride through the Tegalalang Rice Fields on a flying bike? Such a delightful experience! There are two types of bikes: Single and tandem. If you ride a single bike, the price is 350.000 IDR which is approximately 25 USD. Tandem bike's price is approximately 42 USD.
You can also start to explore the Tegalalang Rice Fields from here. Click for location.
21. Other Things To Do In Ubud

Tirta Empul – Half an hour drive from Ubud is the holy mountain spring, Tirta Empul. It might be interesting to watch the Balinese get cleansed in the purification bath of the temple. After presenting their offering and prayers to gods, they get in the pool to let the showers purify them. Click for location.
Spiritual Healers – Thanks to Eat, Pray, Love, spiritual healers are high in demand in Ubud. They are said to have access to the wisdom and energy of the Spirit and to use it to guide and heal others like shamans. I am a skeptic so I didn't go but if you believe in it you might benefit from it.
Rafting – Rafting isn't something special to Bali but some people like to spare time for it anyways. There are 2-hour or 5-hour rafting adventures. The rapids are beginner level which makes it a little dull for 5 hours.
Tegenungan Waterfall – If you are going to Bedugul region to see the waterfalls, than just skip it. Otherwise, you should see at least one waterfall in Bali and this is the most famous one near Ubud. Click for location.
Travel Tips
Ubud's central location makes it a good base for your travels to north and east Bali. You can leave your luggage at your hotel and travel with daypacks.
– If you are planning on visiting Lempuyang and Tirta Gangga in the East, it is easily doable as a day-trip from Ubud. However, if you are also planning on going diving in Amed, you will need more days.
– If you are planning on visiting the waterfalls, selfie parks of the Bedugul region and Pura Bratan, it is also doable as a day trip from Bali. If you want to watch the dolphins in Lovina, you need to be there early in the morning. Lovina is about 2-2,5 hours from Ubud. If you are out of time and if your body can tolerate a VERY long day with little sleep, you can try to squeeze it all into one day. We recommend not to. It makes more sense to spread the program over 2 days.
Follow Us On Instagram
View this post on Instagram