THINGS TO DO IN UDAIPUR IN 24 HOURS (JAMES BOND WAS FILMED HERE!)
Udaipur is one of the popular stops if you are touring Rajasthan. In this blog you will find the top things to do in Udaipur, carefully planned to fit in 24 hours.
Udaipur is known as the Venice of the East and India's city of lakes. Some parts of Octopussy, the 1983's hit Bond movie, was filmed here.
It has everything you need for a Bond movie; an exotic culture, classy palaces and romantic settings for the biggest heartbreaker of all times. Here is a clip from Octopussy to refresh your memory:
https://www.youtube.com/watch?v=Zbl3n2qQ-iQ
You'll only need to set aside one day, as the two most important things to do in Udaipur are to take a boat trip up the Pichola River and to explore the City Palace.
Before we dive into things to do in Udaipur, let's stop at some things you should know before coming to India:
Note:
Before departing for your trip to India, we definitely recommend reading the following two articles:
– Our Life in India Guide (General information about the country: what kind of place is it for travelers, religion, caste system, misconceptions about cleanliness and everything you need to know before you go)
– Our India Travel Guide (budget, route, alerts, as well as suggestions and preparation tips before you go)
THINGS TO DO IN UDAIPUR

Click here to view a map on Google Maps
If you find yourself rushing from one place to the other, you need to consider sacrificing one of the sights to enjoy others. If that comes to be the case, we suggest you drop Monsoon Palace of your list because it is far away from the rest of the things to do in Udaipur and there is not much to see.
If it still feels too tight, you can also skip Jagat Singh Temple. It is a very nice place to see but you can take some comfort in thinking you are traveling through India, you visit tons of temples anyways.
The big must on the itinerary
City Palace
Measuring at a length of 224 meters and a height of 30 meters, the City Palace is the largest in Rajasthan province and the most popular of the things to do in Udaipur. The palace is a masterpiece with its intricately decorated domes, towers and balconies.
Construction on the palace began during the rule of Udai Singh II, who founded the city, but every Maharana added something, which is noticeable in the architecture.
The entrance of the palace is through a gated and arched road. There are two gates: the first is called Bari Pol and was made in 1600 and the second is called Tripolia Pol, constructed in 1725. During the reign of the Maharanas, the arched entrance was weighed, and the weight in gold was distributed to the people.
You'll be able to find the ticket office at this point, and you can buy an audio guide for 200 rupees here. If you prefer, you can get a tour guide for 100-150 Rupees.
Touring the palace
Checking out the palace is one of the top things to do in Udaipur, so it's good to have an idea what's there. The best places of the palace are exhibited within the City Palace Museum, where you'll also be able to see the peacock mosaics. An adult ticket is 50 rupees and 30 for children, but it's 200 rupees if you want to take pictures. It's open between 9:30 am – 4:30 pm.
You'll pass through the Ganesh Deori which is decorated with Japanese ceramics to get to the Raj Aangan, which is the oldest structure in the palace and is considered the King's Courtyard. It's been said that this is where a monk told the city's founder Udai Singh to build a city.
In the Badi Mahal, there is a pool in the middle of a marble courtyard built in the Babur style. From the miniature paintings in the area, it seems as if this place was used as an entertainment area for the royal family in ancient times, particularly during the Holi festival.
The Dilkhush Mahal, which was built in the 1620s, has two rooms with doors made out of ivory and images that portrayed hunting scenes. The palace's armory is now a museum that displays a collection of Rajput weapons such as arrows, shields, ceremonial scepters and war drums.
In 1877, Maharana Sajjan Singh ordered rare crystals from England but, unfortunately, he died before they arrived. The crystals were forgotten for about 110 years, but they are now on the mezzanine floor of the Fatehpraksh Palace in the Durbar Hall. Click here for the location.
Boat Tour on Lake Pichola
The second most popular thing to do in Udaipur is visiting Lake Pichola.
Like Jodhpur, Udaipur was founded in 1559 in the Marwar region, and it's known for the remains of its old city walls on the eastern side of the lake. Lake Pichola is 4 km long and 3 km wide. There are also two islands on the lake: Jagmandir and Janiwas, which is where the Lake Palace was built.
Because it's shallow, the river water often dries up during a drought, but it divides Udaipur into two. The City Palace is located on the eastern side of the lake. You'll be able to see people on the northern side of the palace washing themselves and doing laundry in the lake, which is quite a sight.
When we went, there was construction work underway to build a path alongside the river for walking or cycling – once constructed these will surely be fun things to do in Udaipur as well!
A 30-minute boat trip on Lake Pichola is 100 rupees for children and 200 for adults. If you want to take a longer trip for an hour, then it's 150 for children and 300 for adults. The boats depart every 30 minutes from the breakwater at the City Palace between 9:30 am – 5:00 pm. This is the lake's deepest spot.
The longer boat tour goes to Jagmandir Island. There is a company called MM Travels that offers a trip on a motorboat or a paddle boat. Twenty minutes on the paddle boat is 75 rupees, and 20 minutes on the motorboat is 450 rupees. These boats depart from Lal Ghat (Lal Gate) next to the Jagat Niwas Hotel.
Lake Palace
The Lake Palace located on Jagniwas Island in Lake Pichola was the setting for James Bond's film "Octopussy." Experiencing a bit of the Bond atmosphere and dining at the palace are both exciting things to do in Udaipur.
The palace was built in 1754 as Jagat Singh's summer house, but it now operates as a luxury hotel. If you're not a customer of the hotel, then you can only go by reserving lunch or dinner in advance at its Neel Kamal Restaurant (see its details in the below What To Eat section). Some boats leave from the breakwater in front of the City Palace to the island. Click here for the location.
Monsoon Palace
This palace is famous for its wonderful view of the city. The palace built by Sajjan Singh in the late 19th century and was originally designed as a sort of observation tower to identify monsoon clouds, but was later used as a hunting lodge.
It is currently under state control, but there is nothing to see in it. As far as being a part of our list of things to do in Udaipur, it is mostly used as a viewpoint to watch the sunset. Click here for the location.
Jagdish Temple
Located only 150 meters from the City Palace, this sacred temple was built by Jagat Singh II in 1651. Open 2 pm, 4 pm – 10:30 pm. Click here for the location.
We suggest you read about Religion in India and What Hinduism is here.
SHOPPING IN UDAIPUR
Vegetable & Fruit Market
The vegetable-fruit market of Udaipur has sellers who are predominantly women. Here, you'll be able to find anything and everything you need, as well as discover certain fruits and vegetables you've never seen before! Who knew one of the things to do in Udaipur would be a scavenger hunt 😉 We can guarantee the market will offer some colorful photo opportunities. Click here for the location.
The Miniature Artist Family
Don't let the fact that we listed miniature in the shopping section misguide you into thinking it is just an opportunity to decorate your home. Indeed, it is one of the most important things to do in Udaipur along with visiting the City Palace and Pichola Lake.
The miniature art of "Pichhwai" has been practiced by the same family members for generations.  Today, the most famous miniature artist continues this art form with the support of the princes themselves.
The artist uses brushes made out of fur from a squirrel's tail or a camel's eyelashes for the miniatures, each of which is finely crafted and can take months to complete. So miniatures are among the most precious things you can buy while in India.
Some pieces of work might be expensive as they are big and have tons of details, but you can find something within your price range. If you're willing to negotiate, then you can even work your way down to 50%. We did our shopping at Brahma Arts & Textiles.
Address: Manak Chowk City Palace 313001. Tel: 0091 2942422842. Click here for the location.
Ganesh Handicraft Emporium
This is the best place to go to if you are tired of shopping in a bazaar and would like to shop without being crowded or hassled. As the name implies, this is a shop that specializes in traditional Indian handicrafts. Website. Click here for the location.
Bada Bazaar
This is Udaipur's main market, where you'll be able to find handbags, wallets, sandals, silver and camel bone jewelry, and textiles from Rajasthan at reasonable prices. Click here for the location.
WHAT TO EAT IN UDAIPUR
Eating well is a major factor in our enjoyment of a place. Below, you'll be able to read our recommendation about where to eat in Udaipur, but we've compiled another article about where to eat in India.
Neel Kamal Restaurant
This is a fine-dining restaurant located in the Taj Hotel at the Lake Palace. You'll need to make a reservation before going, but it's definitely a luxe experience as far as things to do in Udaipur. This restaurant is a great example of nobility with its elegant decorations.
It has Udaipur royal dishes on the menu and features live classical music. There are boats specifically for the island and the restaurant that leave the port in front of the City Palace.
Address: Taj Lake Palace. Tel: +91 294 242 8800. Click here for the location.
Upré by 1559 AD
Located inside the Pichola Hotel, this is a terrace restaurant that has views of Udaipur's historical skyline, including the City Palace and Lake Palace. Here, you'll be able to find both local and international cuisine while enjoying a calm and relaxing atmosphere.
Address: Lake Pichola Hotel, outside Chandpole, Near Hanuman Ghat. Website. Tel: +91 294 243 1197. Click here for the location.
Savage Garden
If experiencing some lesser-known hipster sites is on your list of things to do in Udaipur, then this spot is for you. Small, minimalist and blue, they are famous for their soups, homemade pasta and stuffed chicken with sweet and sour sauce. They also have homemade Indian wine.
Address: 22 Inside Chandpole. Tel: +91 294 242 5440. Click here for the location.
Udai Art Café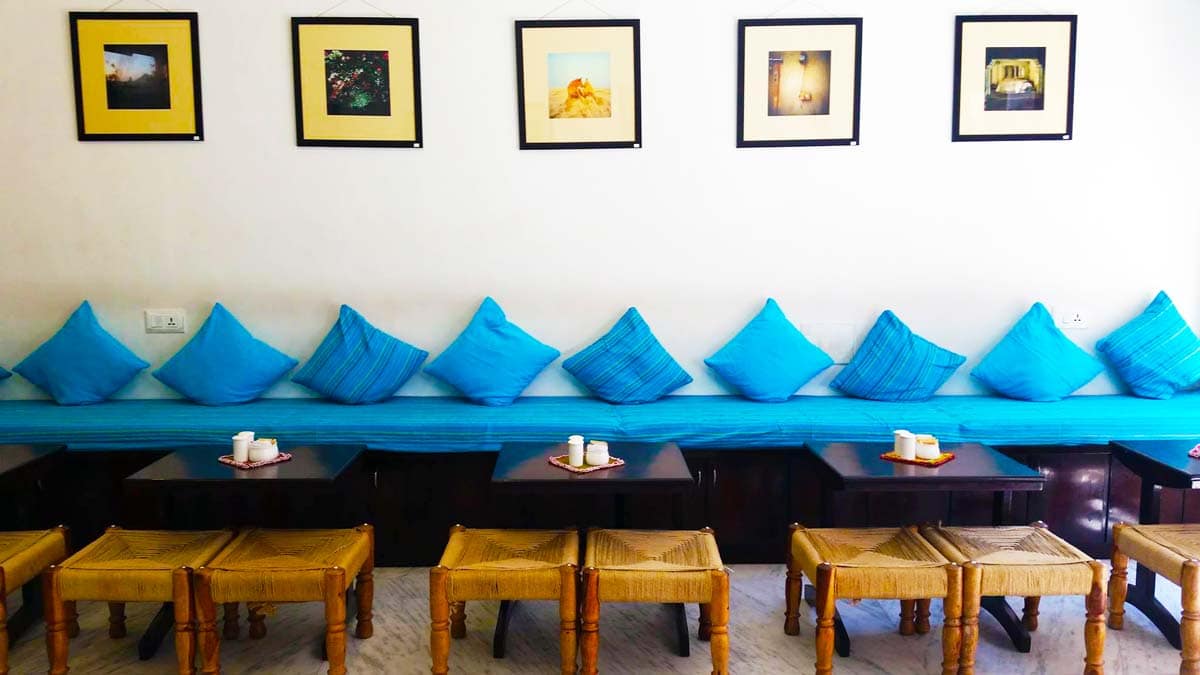 This is one of Udaipur's hip cafes. This is the best place to find coffee in Udaipur, and it's run by a Greek photographer who came to India as a tourist and decided to settle down. You'll also be able to find crepes, omelets, grilled cheese and sandwiches here.
Address: Gangor Ghat Road, Lal Ghat Intersection, Near Jagdish Temple. Website. Phone: +91 294 512 0789. Click here for the location.
ACCOMMODATION IN UDAIPUR
Taj Lake Palace
If you want the ultimate experience when it comes to luxurious things to do in Udaipur – though it's a bit expensive to stay in the city's most magnificent and elegant building – it's worth it. Click here for more details and to make a reservation
Udai Kothi
This hotel has received a lot of international acclaim. It was voted by the New York Times as the best wedding venue, by the National Geographic Traveller as the hotel with the best boutique restaurant in India, and ranked 21 by UrbanNista & Co as having one of the world's sexiest rooftop pools. Click here for more details and to make a reservation
goStops Udaipur
An affordable hostel in Udaipur for backpackers. Click here for more details and to make a reservation
Other Accommodation Options
Click here for other hotel options in Udaipur.
WHERE IS UDAIPUR?
Udaipur is one of the cities in Rajasthan province in central India. It is located in India's northwest and is southwest of New Delhi. The closest major cities are Jodhpur and Jaipur.
Udaipur is located,
260 km from Jodhpur, about 4 hours and 43 minutes by car,
393 kilometers from Jaipur, about 6 hours and 20 minutes by train,
632 kilometers from Agra, about 10 hours and 35 minutes by car,
651 kilometers from New Delhi, about 11 hours and 9 minutes by car,
760 kilometers from Mumbai, about 12 hours and 43 minutes by train.
TRANSPORT TO UDAIPUR
There aren't that many direct flights to Udaipur from European cities, which is why it might be a better idea to first fly to a major city in India and then make your way to Udaipur. If you are flying from New Delhi to Udaipur, you can fly directly with a flight from IndiGo, Jet Airways or Air India, which will take about 1 hour and 15 minutes.
For those who want to go by train, the Chetak Express and express train from Delhi S Rohilla Station in New Delhi takes about 12 hours and 10 minutes.
 _ . _
Hope you enjoyed our list of things to do in Udaipur. For our other city guides, you can check our India Travel Guide.