WHERE TO EAT IN BALI – HIP RESTAURANTS & FOOD TRENDS
So where to eat in Bali? For other destinations, it seems to follow conventional wisdom that all one has to do is tick off a check-list of local delicacies – but for Bali, it's not so simple. After all, Bali is literally a haven of trendy eateries at the cutting edge of global food trends.
This being the case, visitors to Bali ought to follow an itinerary based on the one-of-a-kind type of eateries there are available; namely, 1 ) Those serving Indonesian cuisine, 2) Trend Bali cafes & bars, 3) Floating breakfast places, 4) Health and vegan diners, 5) Smoothie bowl cafes, and 6) Michelin star restaurants. In the following article, we've compiled a bunch of handy hints on the best of each of these categories.
Number One Dining Tips
– First of all, make sure to visit each one of the three venues featured in our list of Trend Cafes & Bars. Plus, of the beach clubs we recommend below, you have to try at least one or two. These are the types of places that will mark a milestone on your Bali adventure.
– Thanks to Instagram, Bali is almost synonymous with the smoothie bowl. These are a must-try for your trip – and some of the best on offer are featured in our article.
– Of the Michelin star restaurants featured below, you should definitely try one that suits your budget. Our favorite was Locavore.
– Bali is a healthy food-nut's paradise, without doubt – yet nothing beats Moksha in Ubud.
– Traditional Balinese cuisine is available all over the island. In fact, this will probably cover most of your lunch time dining options.
– Floating breakfasts are another tourist treat in Bali made big via Instagram. Get the low-down on the floating trays below.
1) Balinese Cuisine
Warungs are local, decently-priced restaurants serving local dishes, as well as various international cuisine. Most have recently transformed into rather trendy cafes – with WiFi available in most. If you are looking for a top-notch Balinese restaurant, then Bale Udang is the place. It serves all varieties of Balinese dishes but it is most famous for seafood. The portions are very big so go easy when you are ordering. The venue of the restaurant is very special, too. If you book in advance you can get a bale on the water as the ones in the photo.
Here are some Balinese specialties you should try to spare room for
Nasi Campur – This is a traditional rice-based Balinese dish. The rice in placed in the middle and topped with varies tapas-style extras. All food in Bali is served with rice.
Nasi Goreng – Rice fried with vegetables and egg. If you like, you can also have chicken or meat added into the mix.
Gado Gado – Vegetables in peanut source.
Bebek Betutu – This is duck fried in spices. The dish is not too hot, though.
2) Trendy Cafes & Bars
Typically, when you are seeking out dining recommendations, it's the quality of the food which holds the key. However, the weird thing about Bali is that, given the food is never bad anywhere you go, restaurants and cafes here tend to compete on the basis of who can offer you the most wondrous, magical atmosphere possible. We've compiled a list of some of the most enchanting below – but try out the top three in particular.
Motel Mexicola, Seminyak

Believe us, photographs don't do this place justice at all. All we will say is that, if you have just one night in Seminyak, make this your choice for evening dinner. The Mexican food is all  very well, but it's the atmosphere that makes this place Bali's best. To understand why, seeing is really believing.
The place simply offers a fun, original, cool, and super trendy location. Unfortunately, dropping by unannounced is not an option unless you don't mind waiting in line for while, so be sure to book in advance. Also make sure you arrive for dinner, rather than lunch – and there are certainly better places for night life. The place simply comes alive at dinner time, squarely. Website Click here for location.
La Favela, Seminyak

This is yet another place whose beauty and vibe just can't be captured on film. As the name implies, La Favela is run by a Spaniard, and thus has an unabashed flamenco theme – creating a super sexy vibe that avoids cliché. And in typical Spanish style, the tables only begin to fill up from around 22.30, with patrons soon switching effortlessly from dinner to cocktails.
As we say, if you have just one night in Seminyak, grab a bite to eat at Mexicola, and then head toward La Favela for something to drink. Normally there's no need to worry about dress codes, but if you are in the mood, then this is somewhere you can strut your heels. And we insist, this is really a place for evening fun. It's also worth mentioning that this place puts on the best Halloween Party the island has to offer. Website Click here for location.
La Laguna, Canggu
The owner of La Favela in fact owns four other successful venues, including La Laguna. The other two include La Brisa Beach Bar and La Plancha, but these are no match for La Laguna and La Favela.
Just as in La Favela, La Laguna has a Spanish theme – this time with a gypsy twist, to the extent that the garden has its own gypsy caravan with tarot readers inside. There's no pool, but you are already located right on the shore, making this a great place to enjoy the sunset – so arrive before night falls. Website Click here for location.
View this post on Instagram
Trendy Beach Clubs
Some of the trendiest places in Bali are the beach clubs. Sunsets are epic in Bali and chilling at a beach club at sunset is on every Top Things To Do In Bali list. It is unthinkable to leave Bali without getting tipsy in an infinity pool across the ocean. There is no cover charge but you are expected to eat and drink inside which you do with pleasure. There are many beach clubs to choose from.  You can check out the best ones here: Best Beach Clubs & Sunset Bars In Bali
Smoothie Bowl Craze
Bali's many accommodation options have breakfast included, serving up a mix of egg and fruits every morning. This can get a little same-y after a while, so your mind will naturally wonder to what's being served up at the cafes outside your hotel. Most of these places have breakfast menus at the ready throughout the day, with an amazing selection including everything from waffles to avocado toast, with the most popular option being the super healthy Smoothie Bowls. Bali is full with places serving these fruit and coconut cereals, which began as Smoothie Bowls sprinkled with chia seeds. As for finding the best, most popular places – don't worry, the following list should have you covered:
Nalu Bowls, Uluwatu
Nalu is Bali's most popular Smoothie Bowl place, and has four outlets located around Bali in Seminyak, Canggu, Bukit, and Berawa – each offering nothing but pure Smoothie Bowls on the menu.
The problem is, that despite this many options of Smoothie Bowl goodness, the place itself isn't so amazing to sit and eat at, and we expected a slightly more comfy, welcoming atmosphere. The outlet featured in the photo above, in Uluwatu, however, offered a more chill, surfer-friendly vibe than most, as it in fact functioned as a surf shack too. Website Click here for location.
Sea Circus, Kuta
If Nalu was only let down by its lack of charm, Instagram phenomenon Sea Circus more than makes up for the loss. If your traveling companions aren't big Smoothie Bowl fans, then the menu also features alternatives to please everyone, such as egg and toast.

The food is both delicious and tantalizing – but the place itself is in a closed, air-conditioned space. Although that might be fine for many, we found it a little claustrophobic. With such beauty all around, who wants to be cooped up inside, after all. Breakfast is served until 12.00. Website Click here for location.
Kynd, Seminyak
This plant-based cafe in Seminyak is my personal favorite of the 3.
It specializes in brunch food and it closes at 5 pm. Website Click here for location.
BONUS: Tukies Coconut Shop, Ubud

Believe me, it will surpass all the coconut ice creams you had in your whole life. It is unbelievably good. They also have other coconut desserts to offer. Also, remember that it is the only place where you can find properly chilled fresh coconut which is interestingly a rare commodity in Ubud. Website Click here for location.
Michelin Star Restaurants
Bali is simply teeming to the brim with Michelin star restaurants.
However, just because you're in Bali, don't for one second assume you can just roll up to a Michelin star restaurant here in shorts straight from the beach. Each of these venues expects boys to arrive all done-up in shirt and shoes (i.e. leave the sandals at home).
Each one is supremely appetizing – and we would recommend making time to visit more than one. However, if you are going to pick only one, check out Locavore in Ubud. As the name hints, this place offers only the finest in gourmet dining using only locally-sourced products. It also has an extremely relaxed vibe, so shorts are fine on this occasion!
Locavore, Ubud
Locavore is without doubt our favorite place for dining in Bali. And not just ours – aside from being a Michelin star hit, the eatery has been featured as TripAdvisor's second best restaurant in the world for the last two years! And yet, the place continues to maintain its humble, simple aesthetic. Its specialty is creating gourmet sensations using only locally-sourced produce – and accompanying your meal with wine is also a great choice. For more details, check out our feature Top Things To Do In Ubud blog. And they don't impose a dress code! Website Click here for location.
Merah Putih, Kerobokan
Merah Putih is located in the Kerobokan area, and is rather a sophisticated affair – so get your heels at the ready. Plus, this is the ideal venue to sample the best of Indonesian food – their babi guling is truly legendary. Website Click here for location.
Mozaic, Ubud
Balinese & French fusion in Ubud. The chef is French and he loved combining French cooking techniques and Balinese recipes and ingredients. If there is any chance you are planning a wedding here, you might be happy to know that they do catering for events. Website Click here for location.
Teatro Bali, Seminyak
Balinese & French fusion in Seminyak. The presentations are a work of art but some people complain about the wine selection and the decoration. With wine and food, it will cost around 250 USD, which is expensive even in US standarts. Most people are happy but some people complain that it is not worth its price. Website Click here for location.
Metis, Kerobokan
Metis has a collection of awards and titles for its restaurant on French cuisine in Kerobokan. However, it is much more than a restaurant. It holds art exhibitions, fancy tea times from 3 to 6 pm and live music sessions at night in its bar. Website Click here for location.
Healthy Food
Almond milk and chia seed toppings are nothing out of the ordinary in Bali. Smoothies and kombucha teas are almost as common as eggs. Since healthy food is pretty much everywhere, here I wanted to write about places that went an extra mile.
Moksa, Ubud

Moksa is our favorite in this category. They make raw vegan dishes that are out of this world. Their menu varies from turnip linguinis to raw lasagnas.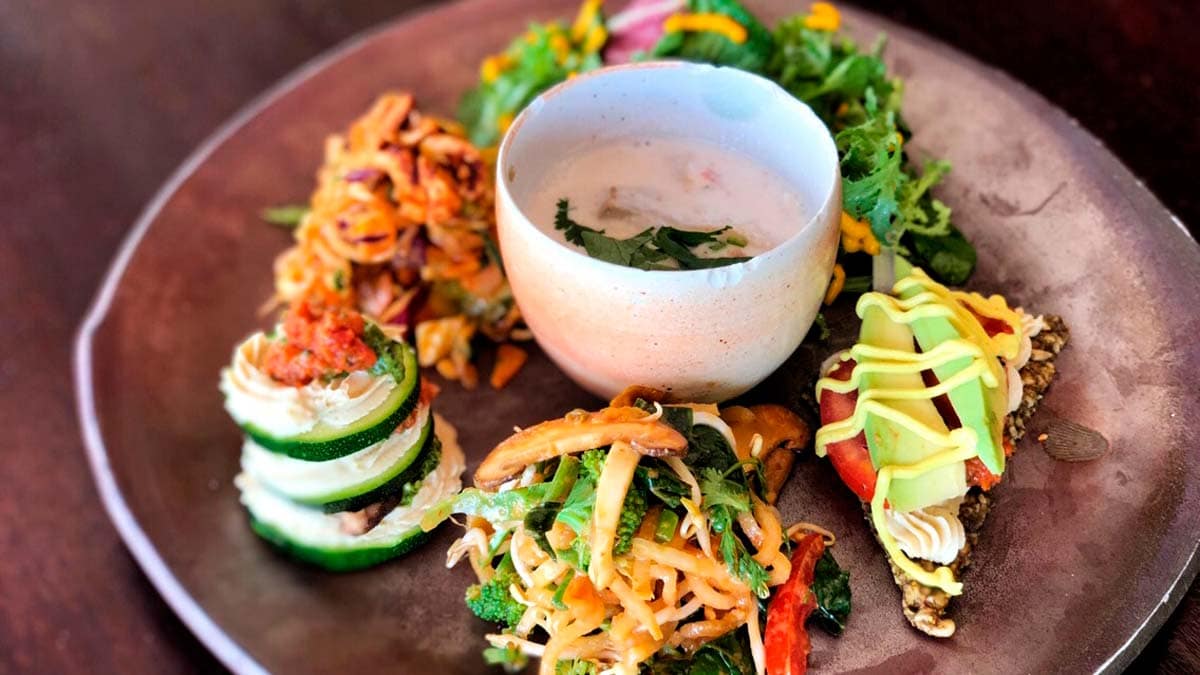 You will want to try everything, so go for the sampling plate. Their ingredients are mostly from their own garden, if not locally sourced. Website Click here for location.
The Elephant, Ubud

The Elephant serves yummy vegan food. It is very nicely decorated and very charming. Other element that sets it apart is its view. You can't tell much from the photo but it has a view of the sacred Campuhan Valley. Hummus dip especially good.  Ask them if them when their brownie was made. If it was made on the day, don't miss it. Website Click here for location.
Floating Breakfasts
Cabina, Canggu
(Update: It's permanently closed) It is no secret that floating breakfast are more about taking photos then food itself. As we mention in our Bali guide, they are mostly available in the hotels. In most cases you will need to rent a villa with a private pool. If you want to try it without having to rent a private villa, you can go to La Cabina in Canggu. Website Click here for location.
Follow Us On Instagram
Bu gönderiyi Instagram'da gör