The north has never been so popular. Many countries are importing policies from their northern piers to improve their social justice and education systems, the demand for nordic design is at its peak and Instagram is flooded with soft-lit photos of anything Scandinavian. And at the heart of it all is Stockholm, where I spent almost every summer and winter breaks while growing up. I still go once every one or two years as I still have family there.
That makes me a cross between a tourist and a local. I am insider enough to know where the best spots are but also outsider enough to still have the excitement to carry around a camera. Equipped with the best of the 2 worlds,  I put together what I think is the best way to explore Stockholm for the first-timers. You will find a 2-day itinerary.
Best Time to Visit Stockholm

Summer: The best time visit Stockholm is in the summer. The city awakens, the streets lively up, and the weather is pleasant. Days are very long, indeed you can expect 18 hours of daylight around midsummer (24 June)! Bear in mind that while Swedes will put on their swimsuits and rush to the parks and beaches, you will find yourself putting on a sweater. So make sure to pack in warm layers. On the upside, it is the perfect sightseeing weather. Also keep in mind that most rain falls in the summer, especially in July.
Fall: Many argue that fall is a good option to visit Stockholm but the weather starts to get unpleasant after September. However, the snow doesn't start falling until December.
Winter: Winters are very cold in Stockholm. On top of that daylight is very limited which makes it gloomy. On the shortest day (21 Dec), the sun sets as early as 14.48 making your days shrink. It feels like the whole city goes into a hibernation state. It is the least favorable time to go there but on the upside, you can go ice-skating at the frozen lakes of the sea.
Spring: The temperatures will gradually warm up but snowfall is still possible in March and early Spring. In May, however, it starts to feel pleasant.
How Many Days In Stockholm
You would need at least 2 days to cover the main attractions in Stockholm. However, you will be on a tight schedule and it won't leave you much time for shopping or getting local. 3 or 4 is better if you are coming in the summer. This way you can even spare time to going island hopping.
Understanding Stockholm
Stockholm is home to 2 million people which is about 20% of Sweden's population. It is one of the most diverse cities you will find in the world.  Thanks to its policies that ensure a work-life balance, it has been attracting some of the brightest minds from around the world. There are also many refugees who take shelter in Stockholm. Standing in a subway car, you may see more foreigners than Swedes. Thus the food in the city is cosmopolitan as well. While I can not say that the food scene is as vibrant as Copenhagen's, you will find some great eats.
The city is built on 14 islands, at the intersection of Lake Mälaren and the Baltic Sea. However, most tourists do not discover further than 3-4 islands where most tourist attractions are accumulated.
Stockholm is very beautiful but some might feel that it is not as delightful as they expected. It takes a while to understand and appreciate the charm of this city as it is not evident from the façade. Glamour does not resonate with Stockholm. Instead, everything is programmed to be cleverly simple. Simplicity is seen as the ultimate form of sophistication. Sweden's mindset of prioritizing a society where everyone is socially & financiallu secure shows itself the fabric of the city. Nothing is sub-standard nor very fancy. Its charm unfolds as you experience the city. The more you understand the fundamentals of the Swedish culture, the more you appreciate Stockholm.
2 Day Stockholm Itinerary
Here are some of the main areas where you  will be spending time:
Gamla Stan: The old town
Sodermalm: Hipster quarter
Djurgarden: Where all the best museums are
Norrmalm: Downtown & shopping street
I think that the best way to plan your 2 days in Stockholm is to spare the first day for exploring the old town and the artsy district of Sodermalm and the next day to see the center and visit some museums.
If shopping is a priority for you, you should know that chain stores such as Zara, H&M, Stadium, and Urban Outfitters are concentrated at Drottninggatan and the area between Sergels Torg and Kungsträdgården (they fall roughly under the circle of Norrmalm). On the other hand, Sodermalm offers design stores and Nordic brands such as Acne and Stutterhaim which are nicer but also more expansive. Finally, there are fewer stores in Sodermalm.
If you want to shop in both areas without rushing, you should consider making the following amendments to our proposed itinerary: Skip the town hall, go directly to the shopping areas, catch a walking tour in Gamla Stan and cross to Sodermalm in the afternoon. A few tips for shopping in Norrmalm: Åhléns City and NK (Nordiska kompaniet) are great department store where you will find a big variety of brands, including Swedish designers. MOOD Stockholm is a popular mall if you prefer to be indoors.
Then you can spend the entire second day museum-hopping on Djurgarden Island.
Where to Stay in Stockholm
It makes the most sense to book a hotel in the areas marked on the map above as that is where you will be spending your time. My favorite neighborhood to stay is  Sodermalm but Norrmalm is the best connected of them all. You can read about where to stay in Stockholm and our specific hotel recommendations here: Where to Stay in Stockholm
Touristic Map of Stockholm
Click to open in GoogleMaps
[column size=one_half position=first ]1. Hötorget
2. Drottninggatan
3. T-centralen
4. Sergel's Square
5. Hobo Hotel
6. Tak
7. Kungsträdgården Station
8. Kungsträdgården
9. Royal Palace
10. Gamla Stan
11. Stockholm City Hall
12. Sjöcafeet[/column][column size=one_half position=last]13. Nordiska Museum
14. Vasa Museum
15. ABBA The Museum
16. Gröna Lund
17. Skansen
18. Rosendals Trädgård
19. Oaxen Slip
20. Fotografiska
21. Meatballs for the People
22. Södermalm
23. Boulebar
24. Trädgården
25. ThaiBoat[/column]
1st Day: Downtown & Old Town
1. Visit the City Hall
In most cities the most gilded building with be the cathedral but in Stockholm, it is the city hall. I think it is very symbolic of the Swedish political model where power truly lies in the hands of people. As it is an actively used state office building visitors are only allowed to visit with guided tours. Sadly you can not buy your tickets online or in advance, it is on show-up basis. The Nobel banquet also takes place here. The guided tour takes you to Gyllene Salen, the Golden Hall, where the guests, winner, and royalties dance after the dinner admiring 18 million gold mosaic tiles. You can check for tour hours here. Duration: 1 hr. Working Hours: 8.30- 16.00. Click for the location.
Note: It is a bit removed from all the main attractions so if it is going to cost you the time you don't have, skip it and start your day with Gamla Stan. 
2. Explore Gamla Stan (Old Town)
Gamla Stan, which means old own in English, is where Stockholm was founded in 1252. It is one of Europe's biggest and best-preserved medieval centers and evidently the heart of tourism in the city.
Join a Free Walking Tour
I highly recommend joining a free walking tour to discover the area. They will take you to all the interesting spots and explain to you how Stockholm evolved to be what it is today. I was pretty shocked to hear that back in the days, the city had no garbage removal system and trash was left to accumulate on the streets. Eventually, the sewage and trash grew so much that it became a hill and part of the old town is built on top of that. On a side note: Today Sweden is leading the world in waste management, recycling 99% of its waste.
Several companies offer free walking tours. They have different start times but I highly recommend catching the 10 am one as you need start early to be able to cover central Stockholm. The duration varies from company to company between 1,5 to 2,5 hours. You need to reserve your spot online. You do not pay for tickets but you are expected to tip around 5-10 euros per person at the end of the trip. Here are some companies:
Nordic Freedom Tours  / Duration: 1,5 – 2 hours
Free Tour Stockholm / Duration: 1,5 – 2 hours
The above two are the most popular. If they are booked out here are the other options:
Free Tour / Duration: 1,5 hours
Discover Gamla Stan On Your Own
Read our Gamla Stan Guide here.
3. Stop for a Fika

Fika is sometimes translated as coffee time but it is an oversimplification. Fika connotes slowing down, making space for quality time over a cup of coffee. And let me say coffee is huge in Sweden. They are among the world's biggest coffee drinkers with an average of 3-4 cups a day. The widely used explanation is the energy it provides to push through the dark and cold  Swedish winters.
For a proper fika open up time in your schedule and go to a feel-good cafe. I would also recommend pairing your coffee with a kanelbullar, which is Sweden's traditional cinnamon roll. It looks like a breakfast pastry but that is not how the Swedes eat it. You are very likely to see more tempting desserts such as fudge cake or healthier options such as chia pudding in the window (Swedes also eat a lot of sweets) but why not give kanelbullar a try while you are here?
4. Changing of The Guard at Kungliga Slottet (The Royal Palace), Gamla Stan
Kungliga Slottet is one of the biggest royal palaces that still serves its intended function today. Sweden is a unitary parliamentary democracy meaning that today the monarchy's role is symbolic and representational. Kunglinga Slottet is their royal palace but they mostly live in te 1981 built Drottningholm Palace just outside Stockholm.
A very popular tourist attraction is to watch the royal changing of the guard ceremony. From April 23 to August 31, it takes place every day at 12.15 at the outer courtyard of the palace, with the exception of Sundays at 13.15. For other seasons you can learn about the change of the guard ceremony hours here.
It is also possible to visit the royal palace. Kungliga Slottet is enormous with 600 rooms and several museums inside. You can buy the entrance tickets which cost 160 Kr online. The guided tours cost another extra 30 Kr but you have to purchase them at the ticket office. You can check for guided tour hours here. Click for the location.
Next it is time to hit the hipsterdom Sodermalm. You can either walk or take a shared scooter.
5. Lunch at Meatballs For The People, Sodermalm
You will be very hungry by the time you make it to Sodermalm so we should first take care of that. There are many nice restaurants in this neighborhood. You will have a range of options from Indian cuisine to oyster bars. If you want to try the Swedish meatballs (no, not IKEA meatballs), head to Meatballs For The People. The classic Swedish meatball are made with mixed minced pork and beef and served with a side of cream sauce, potato purée, lingonberries, and pickled cucumber. If you don't eat pork, you will be happy to hear that they also have ox, moose, and veal meatball varieties. Click for the location.
If you want to eat something else, I would recommend Nytorget Urban Deli. It is a market/restaurant where you will find local & international specialties like fish stews and oyster happy hours as well as plant-based options like quinoa. It has outside seating near the Nytorger Park which great people-watching spot in the summer. Alternatively, you can go to Nytorget6 which is a jazz bar/ restaurant with modern European cuisine.
6. Stroll Around the Hipster Central: Sodermalm

Welcome to my favorite part of Stockholm! Sodermalm is Stockholm's artsy bohemian district where you will find vintage shops, Nordic designer boutiques, record stores, healthy cafes, workshops of artisans and artists and people a unique sense of fashion. Awareness and creativity drive this neighborhood. I tried to cram in all the visit-worthy spots here but it took over the article. So I posted a separate Sodermalm Guide. Just keep in mind that most shops close around 6 pm. You are very lucky if you happen to be there on the last Thursday of the month, which is called the SoFo night, when shops host live music and offer drinks until 8 or 9 pm.
7. Fotografiska

Frequently referred to as the Fotografiska Museum is actually not a museum. Rather it is a lightly selective, very well-curated photography exhibition space. You might be surprised to see that I left it to the end of the day. That's because it stays open as late as 1 am and it has a great restaurant with a great view for dinner.

After having walked around all day you might be getting tired but you should most certainly push yourself to see Fotografiska. Photography Museums rarely excite me but here they put together very creative and powerful exhibits. Many experts say it is the world's leading centers for modern photography.
If you plan to have dinner here, make sure to reserve. It is also a very popular brunch spot on the weekends or to work during the week. Click for the location.
8. Dinner & Party at Thaiboat or at Boulebar or Trädgården

The Thaiboat is a very charming and yummy dinner option. It is considered to be one of the best Thai restaurants in Europe yet the prices are reasonable for Stockholm standards. Try to book in advance on their website, because it gets very crowded.
It has a deck extension with an artificial beach which is a very popular place for late afternoon drinks. In the winter they put 2 igloos on the deck. Although the view isn't great, it is a fun and cozy late night option. On some nights they host electronic music parties which continue until 1 am. Click for the location.
Alternatively, you can go to Boulebar in Sodermalm. It is a laid-back outdoor bar where you can play the French game boules, grab a bite or a drink. It is an epidemic in Sweden with 8 locations in Stockholm alone. If you don't know how the game is played, you can also book a guide to initiate you. Otherwise, you can just go there to chill and watch others play. Do not underestimate the food here, you won't find just deep-fried finger food but proper yummy meals. Open only in the spring and the summer. Make sure to reserve, especially if you want to play boules. Click for the location.
Finally, another great option is Trädgården. This is probably the hottest place in town. It is a big courtyard under the bridge, where there are ping-pong tables, outdoor parties and a few places to grab a bite. If you want to have a proper sit-down kind of dinner, inside there is a vegan restaurant called Växthuset. If you like electronic music, you might end up having a long night out dancing here. In that case, opting for the burger shack might be more filling. Once the weather gets nasty, they scale the venue down to indoor areas and it pretty much becomes an electro club called Under Bron. You can check out the program here. Click for the location.
9. World's Longest Gallery: Subway Art
If you decide to skip on the late night-out option or return home before the subway closes at 1 am (on the weekends it can be later), you can squeeze in a few subway galleries. Similar to Moskow, Stockholm's Tunnelbana is famous for its art displays. When they started building the subway in the 1950s, they decided to make art more accessible by bringing it to public space. Over 90 of the 100 subway stations of the city are decorated with murals, installations, and statues, which became very popular tourist attractions thanks to Instagram.
With that said, I have to admit that the art in some stations is not as striking as some of the others. So here is my personal shortlist of the favorite stations:
– Solna Centrum
– T-Centralen
– Stadion
– Mörby Centrum
– Kungstradgarden
Note: If you are doing our recommendations on your own schedule, keep in mind that taking clean photos is very difficult between 3-6 pm which is the rush hour. 
2nd Day : Djurgarden (Museums) & Norrmalm (Downtown)
If your second day in Stockholm is a Sunday, I have some good and bad news: Sweden doesn't enforce the blue law (closing on Sundays) like most other European countries. So most malls and shops do work on Sundays, but just with shorter hours. So many shops work between 11  or 12 until 4 – 6 pm. Some smaller shops do not open at all. So Stockholm definitely feels less alive on Sundays which makes it a great museum day.
There are 4 major museums and an entertainment park at Djurgarden. If you skip downtown you could potentially see all the museums but if you want to do both, you will have to choose.
My recommendation is to prioritize Vasa and Skansen museums over the others.
10. Check Out Downtown Stockholm
Stockholm's hearth pumps in the southern tip of Norrmalm yet I do not find this area very special. I don't think you will be charmed, it is almost disappointing, but it is still worth a brief visit, just to see what the center of Stockholm looks like. It is also the main shopping area in the city. As I already gave my tips on shopping above, here I will briefly go over the main areas to see:
– Sergels torg is the most central public square of the city. You will see rollerbladers practicing, people chatting on the stairs and so on. But it is mostly a meeting point than a place people spend time at. Click for the location.
– Hötorget, the old hay market, is another major square in the city. It is very vibrant on the weekend thanks to the flea market that has been held here since the 1990s. On Saturdays, you will find  fruits & veggies stalls and on Sundays thrift shops. Click for the location.
– Drottninggatan is the shopping area with the chain stores. Usually, shopping areas are fun and vibrant but it is difficult to say so for Drottninggatan. If you ask me, it is not charming at all. Click for the location.
– Kungsträdgården is the livingroom of Stockholm. When the weather is nice, people come here for picnicking, playing with their kids and mostly to get some sun. Click for the location.
30 mins to 1 hr should be enough to see this area.
11. Lunch at Rosendals Trädgård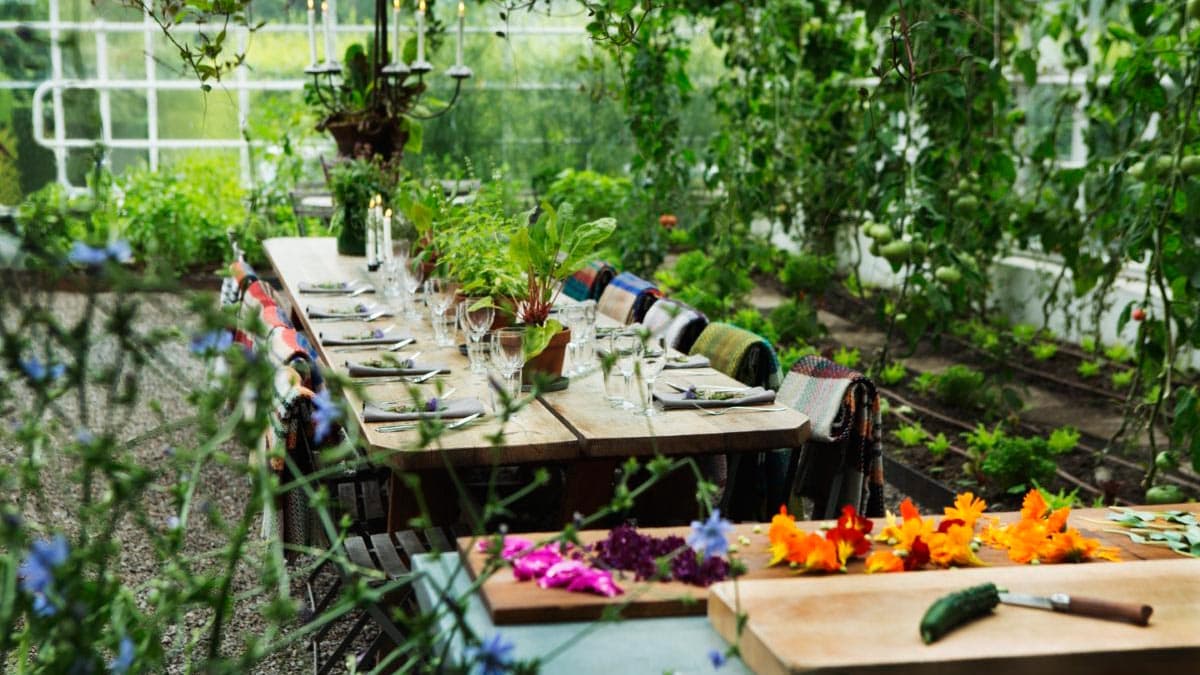 One of the best things about Stockholm is how close it is to nature while being one of the world's leading cities. Located in the midst of a huge park on Djurgarden is Rosendals Trädgård, Stockholm's leading is a wonderful farm to table garden cafe.
They grow their own organic and biodynamic produce on the site which turns into yummy meals, salads, and sandwiches. Even the bread they serve comes from their in-house bakery. You can either eat at the beautiful greenhouse or outside. They also do workshops on biodynamic cooking and gardening. There is a flower garden where you can pick your own flowers for a bouquet arrangement. It is delicious, healthy and very pleasing to the eye. Strongly recommended! Click for the location.
Note: To get there, cross the Djurgårdsbron bridge and follow the canal. There are some signs on the way.
12. See the Open Air Museum of Skansen
Skansen is an open-air museum where they display an impressive collection of around 150 historical Swedish houses from all around the country. The best part is it is a "living" old village. You can go into these houses and interact with the old-time saddlers or pharmacists, and so on. It is equally fun for kids as for adults.
It was brought to life in 1891 by a visionary teacher called Artur Hazelius. He realized that the traditional way of doing things will soon go extinct. Thus he proposed the creation of a theme park where Swedish life is reenacted for the future generations to see. Today it also has a zoo with Nordic animals such as moose, wolf and lynx.
It closes earlier that the other museums on the island, so I recommend that you make it your first stop.
1 January – 28 February: Weekdays from 10:00-15:00, weekends 10:00-16:00.
1 March – 30 April: Everyday from 10:00-16:00
1 May – 19 June: 10:00-20:00
Double-check working hours here.
Click for the location.
13. Scandinavia's Most Visited Museum: The Vasa

Welcome to the most visited museum in Scandinavia. Vasa is a warship that capsized and sunk a few minutes after it started of its maiden voyage in 1628. It stayed underwater until 1961. After some years-long painstaking restoration, they managed to put together the world's only remaining ship of this scale from the 17. century.
King Gustavus Adolphus who made Sweden the biggest power of the north, was at war against Poland-Lithuania. Vasa was one of the 2 ships he ordered his expansion. Sweden, once a great military power, is one of the most pacifist countries today.
Vasa is a must-see in Stockholm regardless of your interest in marine history because it surpasses all expectations. The ship is very impressive but also the museology is also worth a round of applause. There is a free tour with your ticket every half hour if you want to join.
Working hours:
1 September – 31 May: Everyday 10:00-17:00 (Wednesdays until 20:00)
1 June – 31 August: Everyday 8:30-18:00
Expect for holidays:
Click to double-check visiting hours.
Click for the location.
14. If You Have Time Left: Nordiska Museum or ABBA Museum or Kayaking
If you still have some time left before dinner, here are some options:
– Nordiska Museet takes you from a to z about the Swedish culture, ethnography, and history. Click for the location.
– ABBA Museum covers the story of the legendary Swedish band. It has some really features like a piano that is connected to Benny's piano at home and plays whatever he is playing at the moment. Click for the location.
– Paddle or bike around Djurgården Island! Of the 3 recommendations here, this one is favorite (if the weather permits!). You can rent them from Sjöcafeet which is a popular cafe on the island. You can check out the rental fees from the link. Click for the location.
15. Dinner at Oaxen Krog & Slip
Oaxen, one of Stockholm's hippest restaurants, is a great place to end the day, especially in the summer because you get extended daylight. It offers 2 venues; the Oaxen Krog which is a fine dining option with 2 Michelin stars, and the cozy Oaxen Slip if you prefer a more laid-back & cheaper option. The Slip is also a popular brunch choice among the Swedes. Make sure to reserve before you go. Click for the location.
–
That is it for 2 days in Stockholm. Of course, there are a million different ways to plan a 2-day itinerary in Stockholm but this is what we think is the best way to cover the highlights in a time-efficient way. You will have covered a big chunk of Stockholm's best in 2 days but you can easily spend 3-4 days in the city without getting bored. Especially if you are coming in the summer, I would recommend taking 3 days. That way you can take it slow and also make time to enjoy nature which is one of Stockholm's biggest assets.

More Days In Stockholm? Check These Out
16. Quick Photo at Stadsbiblioteket (National Library)

Stadsbiblioteket, a branch of the national library, carries over 1 million books in over 100 languages. It is a typical example of the Nordic Classicism from the 1920s. So it is no Hogwarts, instead, you will find a very clean, peaceful and accessible design which norms pretty much became the pillars of all later Swedish design from furniture to clothing. With that said, we have to note that there is not much to do here for tourists besides taking a quick photo. Click for the location.
As it is a bit off of all the tourist attractions, you might consider skipping it unless you have a special interest in design or Instagrammable spots. The working hours also don't help planning much: Monday – Friday: 10 am – 9 pm (except Tuesday at 12 pm), Saturday – Sunday 11 am to 5 pm, and is closed on holidays.
17. Rooftop Tour
This is a very cool way to explore Stockholm for those who are not afraid of heights. As the name implies, you will be walking on a roof with a beautiful view. Needless to say, you are secured in with climbing gear. The guide explains to you about the history of Stockholm from the rooftop. However, to set your expectations right, I must also warn you that you walk only a short stretch on the Parliament building at Riddarholmen. It costs 65 Euros and it can be booked at Takvandring. Click for the location.
18. Ice Skate Stockholm
One of the coolest activities in the winter is to explore the Baltic Sea in Stockholm's Archipelago or Lake Mälaren (the 5th largest lake in Europe) by ice-skates! It is a full day activity, taking 8-9 hours so it is the hand in hand romantic skidding in Central Park. If that sounds a bit intense, you can take the 3-4 hour beginner package which requires no previous experience. Check out Stockholm Adventure's ice-skating tours before global warming replaces it with scuba diving. Click for the location.
19. Subway Art Tour

As I briefly explained above, the Stockholm subway is famous as the world's longest art gallery. There is a free guided tour you can take which explains you the art, artists, and the "cave station" architecture. You only pay for your subway ride. This is a warm activity for those coming in the winter. Check out meeting times & places here.
20. Island-hopping
One of Stockholmers favorite summer activities is to go island-hopping. The city itself consists of 14 islands but that is nothing compared to the archipelago it is in. Many people own cabins on the water where they go for a peaceful weekend. A day trip will usually suffice but if you need a retreaat you can book a hotel in one of the islands. Thanks to its proximity to Stockholm and its historical castle, Vaxholm is one of the most popular islands. You can learn about the other islands at Stockholm Archipelago, and make sure to check their food recommendations before you head out. Also when you are buying a ticket or a pass, remember to ask for a Waxholmsbolaget's island-hopping map. Click for the location.
21. Drottningholm Palace
Drottningholm Palace is where the royal family resides. It is also one of the only 3 World Heritage Sites in Stockholm. It was built in the 17th century in French style but many refinements and changes were made over the years. The 18th century Palace Theatre is one of the most important highlights. It is still being used for performances. Another big highlight is the Rococo – oriental style Chinese Pavilion. Like many other European nations in the 18th century, Sweden also had an East India Company for trading with Asia which allowed many oriental goods such as the furniture and porcelains in this pavilion to be brought to here. Click here to see work hours or to buy tickets online. Click for the location.
22. Open-air club Trädgården
I really hope that you are coming to Stockholm in the summer because many of the most fun things in the city are available (or at least enjoyable) for from May to September, such as rooftop bars, island-hopping or outdoor entertainment venues.
I already mentioned Trädgården so I will move on to my other recommendations:
– Slakthuset is a rooftop bar and an electronic dance music Nightclub situated in an old slaughterhouse in Stockholm's meatpacking district. Click for the location.
– Tak is another hot restaurant and rooftop bar in Norrmalm. Click for the location.
23. Gröna Lund
Djurgården is also home to Gröna Lund, which is an amusement park with great views. All Stockholmers have teary-eyed childhood memories here, either from excitement or fear. My family and their friends with kids would meet here, sit at a table all day while sipping beer and enjoying the luxury of a kids-free conversation. And us kids would be even happier, jumping from one ride to the other. There are rides for all ages; carousels and teacups for the little ones and state of the art roller coasters and giant drops for the older ones. If you are looking for something to do with kids, I would recommend planning Gröna Lund and Skansen for the same day. Click for the location.
24. Millesgarden
Away from it all is this art-induced zen cacoon of artist Carl Milles and his wife Olga Milles. They wanted to live in an artsy house. So they bought this plot, built a house and a studio on it and made a sculpture garden where you can see Carl Milles's works. Click for the location.
Join Us On Instagram
View this post on Instagram