While Havana usually takes the top spot on places to visit in Cuba, we were blown away by the best-preserved colonial town in the country, Trinidad. This hidden gem took our breath away with its cobblestoned streets lined with tiny, two-story houses. And there are so many things to do in Trinidad!
This slightly more charming, sweet and a welcoming little sister to older sibling Havana, Trinidad helped us get over some of our disappointments in Cuba's capital. This is one city that is coming into its own after falling from its former glory in the 1800s.
We've prepared this article on just what Trinidad has to offer, and broken it up for y'all as follows:
OUR TOP PICKS IN TRINIDAD
1. Roam The Streets (Which Resemble A Film Set More Than A City)
We think one of the best things to do in Trinidad is to take your time wandering the city and absorbing its atmosphere. You could easily walk Trinidad from top to bottom in two hours, but you'll probably find yourself stopping to take photos of every inch of the colonial square – in other words, it'll take you much longer than two hours to explore.
Trinidad is a wonderfully romantic city with colonial houses out of a box of Smarties, painted every color of the rainbow. While there are plenty of things to whine on about about traveling through Cuba (or any other country, for that matter), we have to admit that one of the government's biggest successes is preserving the country's cultural heritage.
The government has paid so much attention to the historical fabric of the city and preserving its aesthetics that they choose which houses will be painted what color. Of course, as with every other place in the country, the state budget is tight, and government services only come every 5-10 years – but that's a different topic. Since making UNESCO's World Heritage List in 1988, Trinidad has truly begun to shine.
A history told through the streets
Trinidad's streets are a particular treat for history buffs. Trinidad was established in the 1500s, making it the oldest settlement in Cuba and all of Latin America. There was no real settlement here until slaves from Haiti working on sugarcane plantations escaped in a significant slave revolt and settled in Trinidad.
Trinidad went through its golden age in the 1800s due to the sugar mills in the area, making up 2/3 of all sugar production on the island. Of course, at the time, only aristocrats were able to afford sugar at their table. Owners of plantations were able to construct mini-palaces with marble from Italy, tiles from France and flooring from Germany.
2. Watch the sunset from a balcony overlooking the city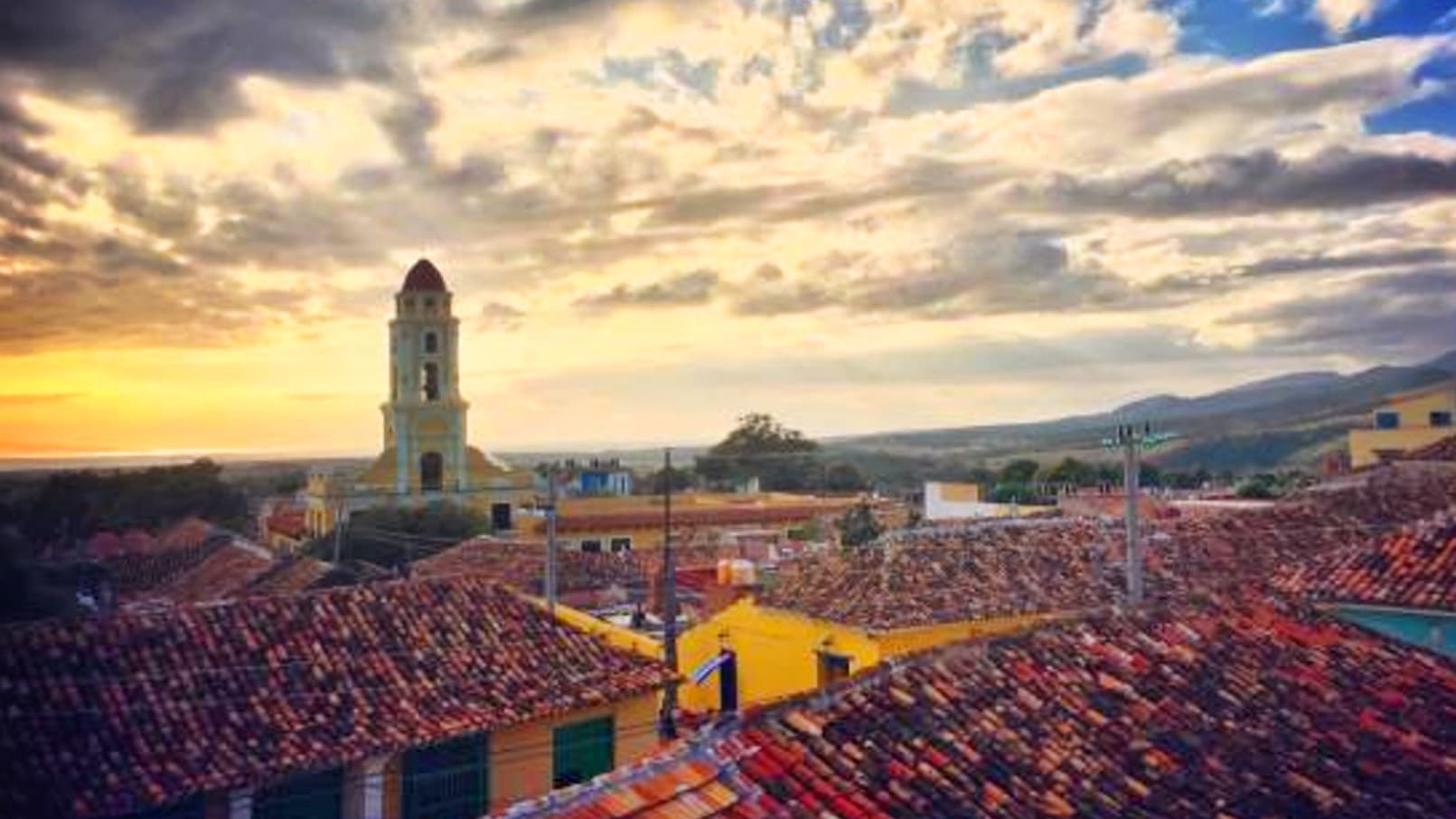 If in Trinidad around dusk, take a moment to notice that certain streets have gone empty, then look up. Many have gone to watch the sunset from their balconies. Trinidad is built on a hill, forcing the sun to set over the red tiles on every roof. If you ask us, one of the best things to do in Trinidad is to watch the sunset with a mojito in hand – this is a major hallmark of the city.
As there aren't many, here are the most popular terrace bars:
– El Rintintin: This is a small terrace bar, meaning that you might have difficulty finding a place to sit. The bar also serves as a casa particular and has two rooms.(The food here is tempting, but don't cave in as we have other plans for you!) Click here for the location.
– El Criollo: If there is no seating at El Rintintin, then you can go next door to El Criollo, where there's live music. Click here for the location.
3. A Dinner must: Dining at Quince Catorce Museum/Restaurant ♡
Fancy dining out like a sugar baron living in Cuba during the 1700s? Well, then this ranks as one of the best things to do in Trinidad.
Quice Catorce is both a museum and restaurant that conjures up a sense of nostalgia in every corner. Take your #tbt to a new level here: the place is covered in antiques from floor to the ceiling – even the waiters wear clothes from the 18th century. Nothing has been overlooked, down to the embroidered tablecloth and tea sets from a bygone era.
This was the most romantic place we went to in all of Cuba and, to exaggerate just a tad more, the most nostalgic meal that we've ever experienced. As we mentioned in Food in Cuba – Where and What to Eat, the local fare hasn't yet caught up to the stellar ambiance of most restaurants. So, while the food at Quice Catorce is lovely, it won't sweep you off your feet like the decor.
Address: Simon Bolivar Sokak, No. 515, Trinidad 62600 Telephone: +53 41 994255. Click here for the location.

4. Other Amazing Restaurants In Trinidad
Sol Ananda
Another restaurant in Trinidad that resembles a museum, Sol Ananda is in a house dating back to the 18th century. They serve a Cuban lamb dish as well as fish patties and South Asian samosas. There are also quite a few vegetarian options. You can come here for dinner without making a reservation, but you might have to wait a bit.
Address: 62600, 45 Calle Real del Jigüe, Trinidad 62600 Click here for the location.
Taberna La Botija
With an eternal line out front, Taberna La Botija serves beer in old-fashioned ceramic wares. There is live jazz/soul music and passably acceptable bar snacks.
Address: 71B Calle Amargura Telephone: +53 5 2830147. Web Site: labotija.trinidadhostales.com Click here for the location.
5. Nightlife in Trinidad
Casa de la Musica
Located in Plaza Mayor, entertainment at Casa de la Musica starts early and ends early, around 1am. The venue is split into three different rooms. When we went, in one room there was live local music and dancing, another that featured reggaeton – a type of music originally from Puerto Rico – and a third room with more relaxed music.
Entrance was 2 CUC at the time of writing. Address: Calle Cristo, Trinidad 62600 Telephone: +53 41 93414. Please click here for the location.

THINGS TO DO IN TRINIDAD
To view the map, click on GoogleMaps.
Streets Wandering
You don't have to be a professional photographer to be able to capture the beauty of the mansions and smaller, colorful homes that line the city's cobblestoned streets. You'd be hard-pressed to find another city as photogenic as Trinidad. Not to hit this one over your head too hard, but meandering down Trinidad's streets is a must as far as things to do in Trinidad.
Plaza Mayor
Discovering Plaza Mayor tops many a list of things to do in Trinidad for its houses that belonged to sugar barons and slave traders in the 18th century. After the revolution, Fidel nationalized these houses and turned them into museums. The most popular restaurants (paladar) and bars are also here. Click here for the location.
Historical places in Plaza Mayor and surrounding areas:
Romantic Museum / Museo Romantico (Palacio Brunet): The house was constructed in 1740 and belonged to Nicolás de la Cruz Brunet, who was a wealthy Spanish earl. The house was turned into a museum in 1974 and has antique furniture from the 19th century. Entrance: 2 CUC. Open 9:00 am – 5:00 pm, Tuesday – Sunday.
Archeology Museum / Museo de Arqueología Guamuhaya: Has unearthed artifacts like bones as well as animal hides that have been preserved and stuffed on display. Entrance: 1 CUC. Open 9:00 am – 5:00 pm, Tuesday – Sunday.
Colonial Architecture Museum / Museo de Arquitectura Colonial (Casa de Los Sánchez Iznaga):
Was a building constructed in the 18th century for the sugar baron Iznaga. Entrance: 1 CUC. Open 9:00 am – 5:00 pm, Tuesday – Sunday.
Teslis Church / Iglesia Parroquial de la Santísima Trinidad: The main church in the square, it was rebuilt in 1892 in the neoclassical style after the original 17th-century construction was destroyed in a storm. There is a wooden statue of Jesus inside the church dating back to the 18th century. Open 11.00 am – 12.30 pm, Monday – Saturday.
Iglesia y Convento de San Francisco: This church dates back to 1813 and is probably the most recognizable building in Trinidad with its pastel yellow tower. There is a spectacular view from the tower, which visitors can go up. The church was made into a museum in 1986, and displays weapons, photos and maps from the revolutionary period. Entrance: 1 CUC, Open 9:00 am – 5:00 pm, Tuesday – Sunday.
Art Gallery / Galeria de Arte (Palacio Ortiz): An art gallery with 19th century objects on display, this used to be the home of the Ortiz family. Entrance is free. Open 9:00 am – 4:30pm, Monday – Saturday.
Museo Historico Municipal
For history buffs, exploring Museo Historico Municipal could be one of the best things to do in Trinidad. The top floor of the neoclassical house boasts a beautiful view of Trinidad. The building used to be a mansion in the 1800s before it was passed on to a German sugar manufacturer.
Locals named this place Cantero, after Dr. Justo Cantero, who, according to local legend, scammed a bunch of wealthy folk. It's said he murdered an old and wealthy merchant and married his widow, inheriting the family's assets in the process.
Address: 423 Calle Desengaño, Trinidad 62600 Telephone: +53 41 994460 Hours of Operation: 9:00 am – 5:00 pm. Open every day except for Monday. Admission fee is around 2 USD.
Plaza Carillo
Plaza Carillo has fewer tourists than Plaza Mayor, but it's much livelier. There is WiFi in the square and an ETECSA building close by where you can buy internet cards. At one corner of the square, you can also buy cigars and rum from state-owned stores.
Cuban Cigar tip – If you are planning to purchase cigars, don't get them from the sellers off the street. Either buy them from here or get them from tobacco farmers in Vinales. Click here for the location.
Casa Templo de Santeria Yemaya
If you're interested in discovering Cuba's rich religious history, then stopping by the Casa Templo de Santeria Yemaya could be a great addition to your list of things to do in Trinidad. African slaves brought with them their own polytheistic religion, called Yoruba. Faced with mounting pressure from the Spanish to convert to Christianity, Yoruba mixed with Catholicism to form Santeria.
About 15% of Cuba's population believes in Yoruba. Casa Templo de Santeria Yemaya is a house of worship for those who practice Santeria. You'll be able to find information about Santeria, as well as watch a religious ceremony that brings together different customs, like dancing. On March 19, there is a ceremony that lasts all day in honor of Yemaya, goddess of the ocean. Click here for the location.
Trinidad Guided Tours
If you opt out of following our list of things to do in Trinidad, taking a guided tour is always a safe bet. Though, perhaps too safe, since we can't ensure that the tour will be a particularly illuminating one. 🙂
– Infotur: This is one of the government-operated tour companies, and they can organize activities and trips in and around the city. A tour of Trinidad lasting a couple of hours costs around 12 CUC per person. (Open 9:00 am – 5:00 pm)
– Cubatur: You'll find this tour agency operating throughout the country no matter where you go. They provide services such as booking hotel rooms. (Open 09:00 am – 8:00 pm)
– Maqueta De Trinidad: While this is a museum that shows Trinidad's history, you can also arrange for a city tour here that lasts 1-2 hours. For the both of us, we only paid 5 CUC. You'll need to ask as they don't always have guides that speak English. (Open 9:00 am – 5:00 pm)
WHERE TO STAY IN TRINIDAD
Hostal El Mirador
This owners of this hostel have made an effort to place colonial style furniture in a living room that will take you back in time. Though decorated in antiques, the rooms are renovated and have a/c units. This had to be the most presentable place we stayed in all of Cuba.
The hostel is located 20 steps from the Viazul bus station in the heart of the old city, and one street down from the Saturday bazaar where you can buy souvenirs.  Since we don't know if all the rooms were created equal: We stayed in room number 5, which had two double beds. (As you're coming up the stairs to the first floor, the room will be behind you.
There is an excellent balcony where you can watch the sunset, the downside being that breakfast is served on the terrace – and it can get quite hot. A night's stay is 35 CUC, and breakfast is an extra 5 CUC per person. Click here for more details.
HOW MANY DAYS TO SET ASIDE FOR TRINIDAD
As the city is quite small, you can check off all the things to do in Trinidad in one day. But if you are staying in Cuba for awhile, then there are activities you can do nearby. There's no need to stay in Trinidad for longer than three days. Spend days two and three exploring the sugar mills and/or the beach.
If Staying for 1 Day: See the City
Our list of things to do in Trinidad above will help fill up an entire day in the city.
If Staying 2 Days: Go Trekking or Head to Valle de Los Ingenios by Tour or Train
Instead of spending your second day in the city, our suggestion is to go on a day trip to Valle de Los Ingenios to see the mansions and sugar mills that used to belong to big-time sugar producers. This is amongst the best things to do in Trinidad for colonial history buffs.
Day 2: By tour
The guided tours organized by Cubatur last for 4 hours. During this trip, you'll ride in a minibus to visit the Guaímaro and San Isidro farms, as well as the home that belonged to the Iznaga family, the wealthiest family of that period. After that, you'll eat lunch at the Manaca Iznaga farm and see the Alfarero Mansion before heading back to Trinidad.
Day 2: By train
With a little luck on your side, you can go to Valle de los Ingenios another way: a steam train from 1906. You'll cross through picturesque greenery, tunnels and bridges into Cuba's sordid past of slave trade and sugar plantations. The trip to get to the sugar factory and the famous Iznaga Mansion stops twice and lasts a total of 2.5 hours.
The train leaves Trinidad at 9:30 am and returns to Trinidad at 2:30 pm. You should be at the station at 8:50 am at the latest to find a ticket and to be able to get a seat on the train. Tickets are 15 USD. Address: Calle Antonio Guiteras Telephone: 419-3348
Day 2: Trekking
Cubatur also offers a tour for the national park Topes de Collantes, where you can swim in El Nicho, a natural spring and waterfall that originates from the Hanabanilla River. An ecotourism guide conducts the 1-km trip. After lunch, the guided tour leads back to the city.
For those who are looking to incorporate a bit more walking and adventure into their trip, there are 8-hour trekking tours that leave from Trinidad, going to different destinations. A guide can take you to the Topes de Collantes National Park on a 3-kilometer walk through the tropical forests and the coffee plantations in the region.
For more information on all the tours, and to learn more about pricing, you can call (537) 838-4597 or email comercial@opcional.cbt.tur.cu.
If Staying for 3 Days: Go Diving or Merely Enjoy the Caribbean Waters
Playa Ancon
You can quickly reach Playa Ancon by taxi in 15 minutes. Ignore the all-inclusive resorts on Playa Ancon and head for the beautiful corners of the peninsula for swimming. The outskirts of the peninsula are home to a range of coral reef, making it an ideal place to also go snorkeling or diving.
Cayo Blanco
Located 25 kilometers from the beach is Cayo Blanco, an island that offers eight different scuba diving locations to show off its coral reef. Marina Trinidad in the diving square offers diving tours that cost around 30 USD. The hotel that offers the most comprehensive tours on the peninsula for diving, fishing and cycling is Hotel Ancon. They have their own boat, but all their trips are full a month in advance.
For those of you interested in deep-sea fishing in the open sea, they catch large bluefin tunas. The tours can be quite pricey at 600 USD for one day. You'll have to arrange the trip 1-2 months in advance from Cubatur or Infotur.
Note: There are sand fleas on the beach, and they get worse when the sun sets.

GETTING TO TRINIDAD
Trinidad by car
From Havana to Trinidad, it's about 315 kilometers or 4 hours.
From Viñales to Trinidad, it's about 419 kilometers or 6 hours.
From Cienfuegos to Trinidad, it's 82 kilometers or 1.5 hours.
If you want to go between cities with a collectivo (shared taxis), you must negotiate that with the driver yourself. An alternative to this is a private service to transfer between cities. There is a price chart on their website, but these prices are much higher than using a collectivo.
Trinidad by bus
There are buses from Havana and Viñales to Trinidad. The only bus company that provides inter-city services is state-owned Viazul. You can buy tickets online. Note: Buses in Cuba can leave around an hour earlier than their designated times. To guarantee that you'll actually get on the bus, you should be at the station at least an hour early.
There are two buses from Havana to Trinidad. One is early in the morning at 7:00 am, and the other is at 10:45 am. The trip lasts around 7 hours. Price for the ticket is 25 USD. There is only one bus daily that goes from Viñales to Trinidad, and it leaves at 6:45 am. The trip lasts around 10 hours and costs 37 USD per ticket.