COMPLETE GUIDE TO BODRUM BY THE LOCALS
Located at the junction of the world's 2 best seas, the Mediterranean and the Aegean, Bodrum offers a mix of both worlds. It has the architecture of the Greek islands with white painted houses but at the same time much like the Costa del Sol, Rhodes, and Majorca, Bodrum has grown into a household name among Mediterranean beach holiday resorts.
Many Turks and foreigners own summer houses in Bodrum. Since a big part of Istanbul's population and wealth migrate here for the summer, it is frequently referred to as "little Istanbul". It is massive, with its size doubling most Turkish cities in the summer which means there is a lot going on but not everything is worth your time.  It can be tricky even for the Turks to find the right spots.
So as your local friend who spent around a dozen of summers in Bodrum, we prepared you Bodrum guide explaining where to stay, how to plan and get around, and the top things to do in Bodrum.
Things to Know Before You Go To Bodrum
Bodrum vs. Bodrum Peninsula

A common confusion is what Bodrum refer to. Bodrum is 2 things:
1. In the map above you see the administrative regions of the city of Muğla. The peninsula marked in yellow is called Bodrum. So it is the name of a grand administrative region.
2. The Bodrum Peninsula takes its name from a town called Bodrum which we commonly refer to as Bodrum merkez, meaning central Bodrum.
Why Go to Bodrum
The obvious answer is the sun & the sea but being a peninsula country Turkey has no shortage of beaches. So why Bodrum?
Back in the 80's when there was nothing but a fishing village here, artists and intellectuals started hanging out in Bodrum. Then its fame spread among the elite. As artists and rich people are the 2 favorite topics of the paparazzi, Bodrum found itself in the spotlight. You know how it goes from here.
It is no longer the modest bohemian town it used to be. Today we can speak of 3 Bodrums:
– The posh Bodrum with marinas where you see boats worth millions, world-famous beach clubs chains like Nikki Beach, and restaurants where a single meal costs about the minimum monthly wage in. (Mostly around Yalıkavak and Türkbükü regions)
– Local's Bodrum. (Spread around the peninsula)
– Cheap tourists' Bodrum, which is nothing like Bodrum. Irish Pubs, tacky bars, and so forth. (Mostly in Gümbet and around Bodrum center)
So the long answer to the question is that it offers everything from some of Turkey's most luxurious hotels & hangouts to simple pensions.
Where To Stay

As you can deduct from above, each region of Bodrum has a different character. Commuting between them can take hours because of the traffic jam. So you do not want to be stuck in the wrong part.
Our recommendation is renting a seaside villa with a pool in a traffic-free region. It is far more pleasurable and affordable than a hotel, especially if you are more than 2 people.
If that sounds good to you, I recommend Nirvana Residence. It is in Güvercinlik which is one of the only few places in Bodrum where you can enjoy both the forest and the sea together. Plus, it is conveniently located halfway between the center and airport which allows you alternative routes to by-pass the traffic. Since it used to be fisherman's village there are plenty of great fish restaurants in the village.
The villa has terrific sea views, a pool, a garden and American style BBQ area. Owners are exceptionally nice people. I say no more, you can check it out for yourself on AirBnB: Nirvana Residence
Best Time to Go
Mid- May to Mid-Sept: This is the best time for Bodrum. As soon as the schools close for the summer vacation (usually in June), Bodrum gets very busy and it stays that way until the schools reopen in the first half of Sept. The obvious high season is the months of July and Aug when there are plenty concerts and parties but it is also very crowded and expansive in this period. Too hot? Yes, but that is the point of going to Bodrum anyways.
April & May: I have swum in April but most Turks would consider it too early. The upside of spring is that is very green and cheap.
Oct – Mid May: Bodrum is clear of tourists and it is a good time to get really local. If you go to Bodrum off-season, make sure to stay in the center which is the liveliest part of the town.
Warning: There are 2 religious holidays when Turks have an extended vacation; Kurban Bayramı and Şeker Bayramı, known as the Eids. Because Islam uses the moon calendar, they fall into a different month every year. Never go to Bodrum during Eid if it is in summer. It gets so packed that traffic jam starts inside the airport.
Getting Around
Bodrum, as a region, is so vast and the things to do here are so spread out that renting a car is the most practical option. Sure, minibusses called dolmuş that shuttle you from one place to the other, but the routes can be so winding and the connection stops so numerous that you will lose a lot of time.
As for taxis, forget it. The taximeters are so merciless that you will lose half your budget. Car rentals, then, are the most practical and affordable option.
Top Things To Do In Bodrum
You can view the map by zooming in.
Places to See
Bodrum Castle
Karakaya Village
Etrim Village
Zeki Müren Art Center
Where to Eat
Doy Doy Balık Restoran
Lagün Fish Restaurant
Limon
Gelato Pioppo
Marmarina Saraylı Restaurant
Xuma Village
Midyeci Şehmus Usta'nın Yeri
Havva Ana Kahvaltı Evi
Toprak Ana Gündoğan
Mahmut Kaptan
Kısmet Lokantası
Katip Cocktail Bar
Savra Bodrum
Zai Bodrum
1. A Trip to the Beach
Although the area is best experienced outside the tourist season, splashing around in typical tourist fashion is still one of the best things to do in Bodrum.
It has with 67 blue-flag beaches, which is a stamp of approval given only to cleanest waters. However, as the temperature starts to rise, the beaches begin to crowd out – but there are plenty of hidden options for you to avoid the chaos.
We go into detail on these in our Bodrum Beaches article. Whether you are looking for a beach club or public beach, some isolated corner or a popular beach, you can find your answers there.
2. Historic Places: Bodrum Castle & Underwater Archaeology and Halikarnas Mausoleum
Don't be fooled into thinking Bodrum is nothing but beaches and clubs. In fact, there are plenty of things to do in Bodrum that are bursting historical intrigue.
Two of the foremost of these are the Halikarnas Mausoleum which is listed as one of the 7 wonders of the world and the world's most important shipwreck.
Halikarnas Mausoleum was destroyed as a result of a catastrophic earthquake. Not much is left of this former wonder of the world, though the artifacts uncovered from the site and the shipwreck made and impressive meseum today. Underwater Archaeology Museum is located in the Bodrum Castle. Click here for location. Number 1 on the map.
3. The Ultimate Fish Dinner at Bargilya or Güvercinlik Towns 🐟
Güvercinlik 💙💚
Güvercinlik is an old fishing village which has managed to retain its character as just that, despite the construction of a number of hotels on the outskirts. It's situated in our favorite bay in the area, as it is one of the few places around Bodrum where you can enjoy the sea as well as lush vegetation. It offers a nice stretch of coastline ideal for walking off dinner over.
As people who have sampled the delights of many sea-food restaurants, we recommend Doy Doy Restaurant if you are going for fish even though there are places whose overall decor is more pleasant and inviting. One of the most relaxing things to do in Bodrum is to watch the sunset over dinner here. Make sure you reserve your seat beforehand, though!
Tel: 02523746230 Click here for location. Number 1 on the map.
The Lagün Restaurant is our favorite fish place in Bodrum. The establishment is situated right next to the lagoon from which it gets its name. This saltwater lake is a natural habitat for flamingos and various mollusks and fish, providing the most peaceful and beautiful setting. It is a bit far from everything else, but very close to the airport. So you can stop by on your way in or out of Bodrum. Note: This place is often confused with another restaurant in Bargilya so make sure you the contact information provided below.
Tel: 0535 768 6426 Click here for location. Number 2 on the map.
4. Watch the Flamingos in Bargilya 👀
Yes, Flamingos. If you've checked out the location of the Lagün Restaurant, you'll see there is a small ford connecting the road to the island in the middle of the lagoon. The beauty of this place is astounding in terms of natural beauty and wildlife. In the winter months, it is a favorite stop-off point for migrating flamingos.
5. Hippies-Gone-Mainstream: Gümüşlük 🌈
Gümüşlük is certainly a part of Bodrum which has earned a reputation as a boho hip and happening get-away location. The only problem is that too many people have discovered it. Although we prefer the place at emptier times of year, it always seems to deliver. In terms of dining options, the fish restaurants along the coast are fine – but they can not beat Lagün nor Doy Doy restaurants.
Gümüşlük, rather, we love for the chance it gives you to have a relaxing walk along the sea, enjoy a beer and a musical showcase at the Jazz Cafe, to check out the sale items at Cadı, and part at Limon in the evening.
Gümüşlük is also ideal for nature walks. A pleasant 40 -45 minutes can be spent heading to Bayraklıtepe enjoying the view of the islands and scent of sage. Gümüşlük also has the MOS (Museum Of Sweets) that has more than earned its reputation for cheesecake. In the evenings, you can also catch good live performances as Off Gümüşlük.
6. Hiding from Pirates in Karakaya Village (Gümüşlük) 🏡
If Karaköy is a little on the quiet side, it's only to evade detection from pirate raids. The village, that lies on the other side of Mount Peksimet near Gümüşlük, was built by locals in the 16th century, thanks to its ideal, hidden location around half a kilometer from the coast on a hill with a commanding view of the bay.
And this was not all they did to secure their location: the locals plastered their hovels in mud and straw camouflage. Although the village was abandoned and left in a state of despair around thirty years ago, life returned as it has welcomed the investment and restoration projects. Around half of the 60-odd homes that make up the village are now once again occupied.
Two signs are visible upon entry forbidding the entry of any vehicles and banning smoking on the site. The main draw is undoubtedly the view, which at sunset is simply magnificent.
Though the town is alive again, there are no cafes or restaurants, not even a gaudy supermarket in sight. So not much to do here but it is nice for a quick visit. Luckily the village makes a great stop-off point on the road from Gümüşlük to Yalıkavak. So you can easily drop by.😀 Click here for location. Number 2 on the map.
7.  Limon (Gümüşlük) 🍴
Turkish writer Ali Rıza Kardüz wonderfully lists off the small pleasures gifted by the natural fruits and vegetation of this region: "Poppy syrup from the garden poppies, fig vodka from the local figs, liquor from the neighbors' strawberries and cherries, and tea mixed with thyme…"
It's such small, natural wonders like these that the Limon restaurant best showcases. This boho garden establishment offers far-off views of the village of Gümüşlük and the Greek isle of Myndos, not to mention some awesome local meat dishes and mezzes.
As visitors are invited to eat in the garden, you should probably leave the high-heels and come in a mood to relax and have fun. The place is an ideal choice for both breakfast and dinner. Don't forget to reserve and to come before the sun is down.
Together with Lagün, they are my 2 favorite restaurants in Bodrum.
Tel: (0252) 394 40 44, (0554) 740 62 60 Click here for location. Number 3 on the map.
8. Dive Down to the Wreckage of a Sunken Plane 🐡
Although diving activities are available all over Bodrum, the experience barely competes with other areas. Diving in Kaş is considerably more exquisite, by far. It's, unfortunately, a sorry state that our seas are in when you can barely see any marine life.
If you are a diving enthusiast looking for things to do in Bodrum, however, you still might get some joy from the wreckages of a C-47 Dakota fighter plane or a SG115 coast guard ship on the sea floor. The set-up is wholly artificial, but still quite impressive. There are a number of tours and courses for beginners available.
Blue Escape specialize in a choice of two types, and come highly recommended.
9. Cycle Around Mumcular 🚲
Physical outdoor pursuits are not recommended under the July heat. But from October until May, visitors to the area have a vast window in which to enjoy the lush hills, mountains, and abandoned villages by bike. Mumcular and Kızılağaç are ideal – as well as Etrim, as we detail at number 16.
– Erkan Şehirli is a biking and trekking expert who we highly recommend renting bikes and trekking guides from. He is based in central Bodrum, but organizes tours throughout the region. Whatsapp him on 05322762574
– If you want to rent a bike in central Bodrum, call or write NeO Bisiklet on: 0533 215 0744.
– Plus, if you want to go along on an organized bike tour with our cyclists, the Bodrum Bike Club is a good group to look up, even for recommendations on where to rent your equipment from.
10. The Posh Side: Yalıkavak and Türkbükü 🎯
As the destination of countless Turkish pop and movie stars, Yalıkavak and Türkbükü have a reputation for being a flashy. Maybe so, but there are some flashy places worth visiting if you have the chance.
Yalıkavak
Yalıkavak is a little far-out, but the view certainly makes the journey worth it.
2. Gelato Pioppo is an ice cream vendor worthy of its reputation. You won't find anything similar elsewhere. Click here for location. Number

4

on the map.
3. Palmarina is the more up-market end of the village with a number of amazing clothing shops selling designer and vintage wears. Marina Saraylı, based in the marina, also specializes in some amazing traditional Ottoman summer treats, like melon ice cream for one. Tel: 0533 510 20 30 Click here for location. Number

5

on the map.
4. The coastline around Yalıkavak is known to be a little choppy, so we recommend Xuma Village's popular Beach Club for a dip. 0 252 385 47 75 Click here for location. Number

6

on the map.
5. Havva Ana. All will be revealed

about

this place below…
Türkbükü
The shoreline around Türkbükü used to be accessible only by boat in my childhood. Although it is now a far cry from that humble fishing village of old, its beaches remain beautiful as ever. The only problem is that none of this is public, and so you'll have to pay to swim or to stay. As you can expect the prices are steep.
Evening Markets– Check out the jewelry on show at the stalls set up along the beach.
Le Kabbak– Our favorite Bodrum-based designer was Le Kabbak, who make home decorations and souvenirs with seashells and natural materials.
Midye Şehmus Usta – This is a hut specializing in midye – or mussels filled with fried rice. This is a favorite street food in Turkish coastal communities and the prices at Şehmus Usta are reasonable. Click here for location. Number

7

on the map.
11. Havva Ana Breakfast (Yalıkavak) 🍳
Time to get local (somewhat). Havva Ana (Mother Havva) is a villager from Bodrum and she turned her cozy garden to a breakfast place. She offers breakfast/ brunch spread in a garden lined with vegetables and herbs and surrounded by orange and lemon groves.
She serves Turkish breakfast and things keep coming to your table from her oven; böreks, pies, bread and so on. The portions are impressive and much of the produce is natural and home-made.
This used to only be known to a special few, but the place has since grown so much in popularity you need to book to reserve a place. The only issue, as might be expected with such popularity in Bodrum, comes with the prices. Click here for location. Number 8 on the map.
If that sounds like a push, then we have heard equally good reviews about Toprak Ana in Gündoğan, which is a similar type of place but more reasonable. Click here for location. Number 9 on the map.
12. Give Captain Mahmut a High Five (Bodrum Center)  🍻
Unfortunately, as Captain Mahmut hits the high seas during the summer months, this rakı and fish restaurant, or meyhane, is closed in the high season. At least this should give you even more reason to enjoy Bodrum during the autumn or spring season.
Mahmut Kaptan Yeri offers the best atmosphere to enjoy a good evening of food, drinking, music, and bonhomie in Bodrum. The cozy, quaint establishment is guaranteed to be full most days of the week. Don't forget to book ahead.
Tel: 252 316 3864 Click here for location. Number 10 on the map.
13. The Mandarin Gardens of Bitez and Ortakent 🍊
Countless visitors come to Bitez and Ortakent every summer hoping to take their pickings of the mandarins that grow here. Unfortunately, they go home empty-handed, because the real pickings are available in October and November. It is around this time of year the fruit ripens and the weather eases up.
14. Free-Diving Activities in Bodrum 💦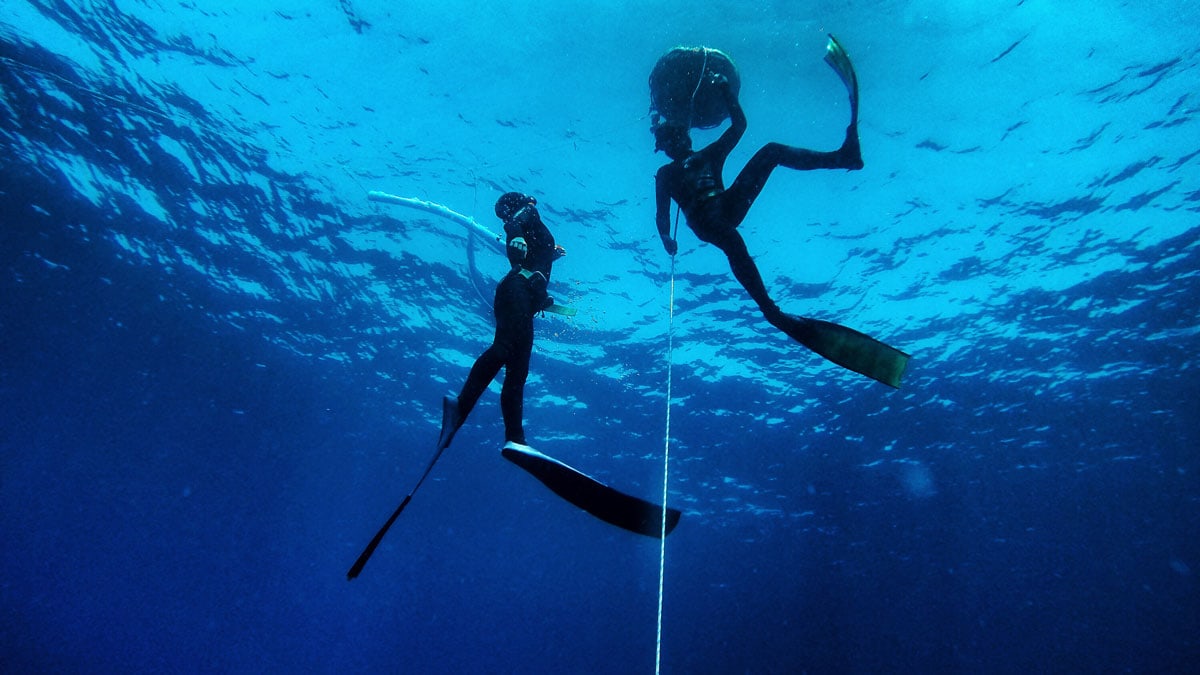 Free-diving is an experience that deepens body and soul in every sense of the word. No other activity seems to focus one's mental sharpness and control in the same way.
We would have never got the same experience, however, if it hadn't been for our instructor, Memo: Possibly one of the most qualified teachers imaginable.
15. Windsurfing  💨🌊
Bodrum's windmill-lined northern shores are especially famous for their winds. For beginners, there are a number of bays where the winds are constant enough that you have time to master your craft.
One of the more professional courses available in the area has been launched by Turkish windsurfing champion Lena Erdil.
16. A Sumptuous All-Day Boat Tour ⛵
Bodrum has a special wooden ship called gulet. You can see it in the above photo. The best way to enjoy the sea in Bodrum is by gulet.
There are boat tours that depart every morning from every town of Bodrum. They are cost-efficient but we don't enjoy them much because 1) they are so packed it is not relaxing, 2) the service quality is mediocre. So consider doing a private boat tour.
Although the cost of an all-day private boat tour might seem extortionate, it's really a question of doing the math. If you gather up 4-5 friends to split the costs it, in fact, comes out reasonable. Also, the smaller the boat, the cheaper it is to hire. You depart around 10 and return around 18, lunch is included.
There are many operators to choose from, but it is best to avoid those working right out of central Bodrum. This is because, with so much demand, they tend to cart travelers off to the same series of nearby bays every time. Some bays start to feel like a bus terminal so it beats the point of a boat trip.
Rather, board one of the operators a little further out for a more tailored experience. We especially recommend boats heading out from Torba and the Yalıçiftlik area. At least find some way of getting out into the pure, open water when planning things to do in Bodrum.
You need to go to the harbor of the town to arrange a deal. Better do 1-2 day in advance.
17. Etrim Village  (Mumcular) 🏡
The village of Etrim is a small hamlet outside Mumcular that specializes in woven rugs and carpets. Traditional life continues much unchanged here. The local women continue to weave their products, and even offer to give you a taster course in their techniques. While here, you definitely also ought to stroll along to Mazı to enjoy the beautiful bay area. Plus, on the return, make sure to have a bit of sea-food at either the Güvercinlik or Bargilya restaurants. Click here for location. Number 3 on the map.
18. Kısmet Restaurant (Center)  🍴
Kısmet in the summer is an experience that deserves a separate article all by itself. It could be the best, casual, decently-priced, cafeteria-style restaurant in the country and diners can pick out portions of what takes their fancy from countless options. The best choices here are Mediterranean and Aegean flavors that give Turkish mothers' secret recipes a run for their money. As it is only open in the day, it's an ideal stop-off for lunch. Click here for location. Number 11 on the map.
19. The Zeki Müren Center  🎤
Zeki Müren was a legend of Turkish "sanat music" – an emotional and elaborate style that has had a huge influence on Turkish songwriting since its hey-day. Müren is remembered not just for his songs, but his elegance, fashion style, and charming persona – not to mention his love of Bodrum. In fact, the artist spent the last six years of his life hiding away in his Bodrum summer house.
The house has since been taken over and managed by the Turkish Ministry of Culture and now serves as a museum and art center. For Turkish music fans, a visit is a veritable pilgrimage and the most sacred of activities in Bodrum. To check out some of his works, click on this link and perhaps you might like to pay homage to the man himself with a visit.
Address: Kumbahçe, 48400 Bodrum/Muğla Tel: (0252) 313 19 39 Click here for location. Number 4 on the map.
Opening Times
Summer opening times: 08.00- 19.00
Winter opening times: 08.00-17.00
20. Festivals & Music Activities in Bodrum🎶
A number of big musical events take place in Bodrum throughout the summer, including the Chill Out Festival, Sun Splash Festival, Ancient Amphitheater Concerts, Bodrum Ballet Festival, Gündağan Sucuk Party, open-air cinema showings, and Bodrum Mandarin Festival. With so many artists and musicians having taken residence in the area, it's little wonder arts and cultural activities in Bodrum are so rampant throughout the year.
21. Walk Along a Stretch of the Karia Round 👣
The Karia Road is one of Turkey's top four walking routes. That said, this should be top of the list for those looking for active things to do in Bodrum. The road spans an 820 km network of routes over the countryside between Muğla and Aydın. Two of routes stretch through Bodrum.
22. Kâtip Cocktail Bar 🍸
As the home of the Sandoz Shot cocktail, many Bodrum activities are capped off with this drink in the evening. Sandoz is a mix of vodka, mandarin, sugar, local orange liquor, and ice. This is the ideal place to sample this before enjoying mojitos and other cocktails. There are bars to be explored and discovered all over town, but our favorites were definitely Katip, Adamik and Gekko. For more recommendations on clubs and night haunts, have a look through our Bodrum Nightlife article. Address: Çarşı Mahallesi, Meyhane Sok. No:23, 48400 Bodrum/Muğla Click here for location. Number 12 on the map.
23. Enjoy Dinner and Live Music at Savra 🎷🍴
Savra is one of Bodrum's most sumptuous boutique hotels. But it is also a successful restaurant in its own right. The menu is rich in olive oil-based mezzes and fruits de mer presented in a fusion of Mediterranean, Aegean, Italian, Spanish, and South American styles. The place also offers an extensive choice of wines and even uses vegetables and herbs sourced from its own garden as a matter of ethics. Dinner here is also usually followed by performances by some rather note-worthy and well-respected Turkish singers and jazz performers.
Address: Bitez Mahallesi, Adliye Cd. No:85 Tel: (0252) 363 04 63 Web Site:www.savrabodrum.com Click here for location. Number 13 on the map.
24. Geek Out on Literature at Zai Bodrum
Last year saw the opening of a different kind of library in Konacık. Zai, (the root form of the term for olives in most Eastern languages) holds regular events ranging from talks and signing days from new authors to concerts and exhibitions. Mostly, however, it's just a great place to enjoy books over a coffee. Address: Çırkan Mahallesi, Halide Edip Adıvar Cad. No:7, 48400 Click here for location. Number 14 on the map.
BONUS 25. A Ballet Summer Camp at Ortakent! 🎼
Source: www.yoncabale.com
Ortakent holds a summer ballet camp hosted by Turkish State Opera and Ballet artist Mutlu Cankup. Accommodation is included for the duration of the eleven-day course. The course is open for all kids who wish to learn ballet who are over the age of nine and studying at private schools or conservatoires. The language of instruction is Turkish, however. For more details, check out www.mutlucankup.com Click here for location.
DINING
We barely had room to fit the best of Bodrum's dining option in this article alone. But fear not! If you want to hear more of our essential culinary advice from this fish-lover-friendly resort town, go on to our Bodrum Restaurants article.
THINGS TO DO IN BODRUM AT NIGHT
We explore Bodrum's famous nightlife options in our Bodrum Nightlife article.