THE COMPLETE BURNING MAN GUIDE FOR FIRST TIMERS – TICKETS, PREPARATIONS & MORE
Hello dear burner-to-be,
Before reading this, I would recommend reading our article titled What Happens At Burning Man.  In order to understand why you need to such preparations, you first need to know how Burning Man works. The preparations explained here are based on the information shared in the other article.
Let's start with the most basic question: How do we find tickets?
1. Burning Man Tickets
In terms of Burning Man preparations, our first order of business was to follow the dates for ticket sales. The tickets go on sale in multiple stages. They try to improve the ticketing system every year, so these stages may vary. Here is how it worked this year–please note that this may be subject to change in the years to come:
1. Directed Group Sale
First, tickets were sold directly to the camps at Burning Man. This is done to give priority to the groups who enrich and give life to this place. Some of them have unbelievably big investments such as art cars, facilities, decorations, etc. Before opening sales to the public, camps were offered priority access to the tickets in order to ensure they weren't left out. Apparently, 50,000 tickets are sold at this stage, for $425 per ticket + service fees, which adds up to roughly $480.
2. Main Sale
– Tickets go on sale in April.
– First you need to open a Burner profile on Burning Man's website. You can't buy a ticket if you don't have a Burner account.
– Each person can buy two tickets at most.
– Tickets cost about $480 at this stage.
– If you plan to arrive by car, you also need to buy a $100 vehicle pass.
– They only accept Mastercard and Visa.
– In addition, you can only pay once using the same credit card.
– Around 23,000 tickets are sold at this stage.
IMPORTANT: Be online & already logged in the minute sales open. It's really a matter of milliseconds. Of course this doesn't guarantee a ticket but at least you are increasing your chances.
3. The OMG Sale 
A bunch of additional tickets are released in July. At this stage the tickets cost $550.
Those who wish enroll in the OMG sale first have to register for the sale on Burning Man's website.  Last BM, the registration period was between July 24-26 and the sale took place on July 31.  If you miss the registration period you can not attend the sale.
4. Ticket Resale
People who bought tickets but aren't able to go can return their tickets to Burning Man. They are put on sale on the BM website. This is the last chance to buy tickets.
Those looking for tickets enter their credit card information in the BM system and the system automatically matchs them with returned tickets on a first-come first-served basis.
IMPORTANT: You buy the tickets online, but unfortunately they don't send them to you digitally; they send them to you via mail. Make sure they are sent to an address where it is unlikely for the tickets to be stolen/lost. Even if you have proof of purchase, you won't be able to enter without the actual tickets.
Other Ways to Find Tickets
Low Income Tickets – There is a discount ticket program to include people from different income levels. Tickets cost $210 each. You can apply in April.

Volunteering – If you volunteer to work for Burning Man for a certain amount of time (60 hours, I think) you get a free ticket.
Black Market – Some people who have no intention of going, buy tickets to sell them on the black market. For instance, a Burner from Berlin whom we met on our flight to the U.S. had paid $1,200 for a ticket. And a friend of his had paid $1,700! This is one of the things that worry Burning Man; they don't want the tickets to turn into commodities, as decommodification is one of its fundamental principles. Don't buy tickets off the black market. You may actually end up with a fake ticket which the scanners at the Burning Man entrance won't recognize.
Well, what other expenses are there? You might want to sit down first because this is only the beginning of the money you are going to spend.
2. The Total Cost of Going to Burning Man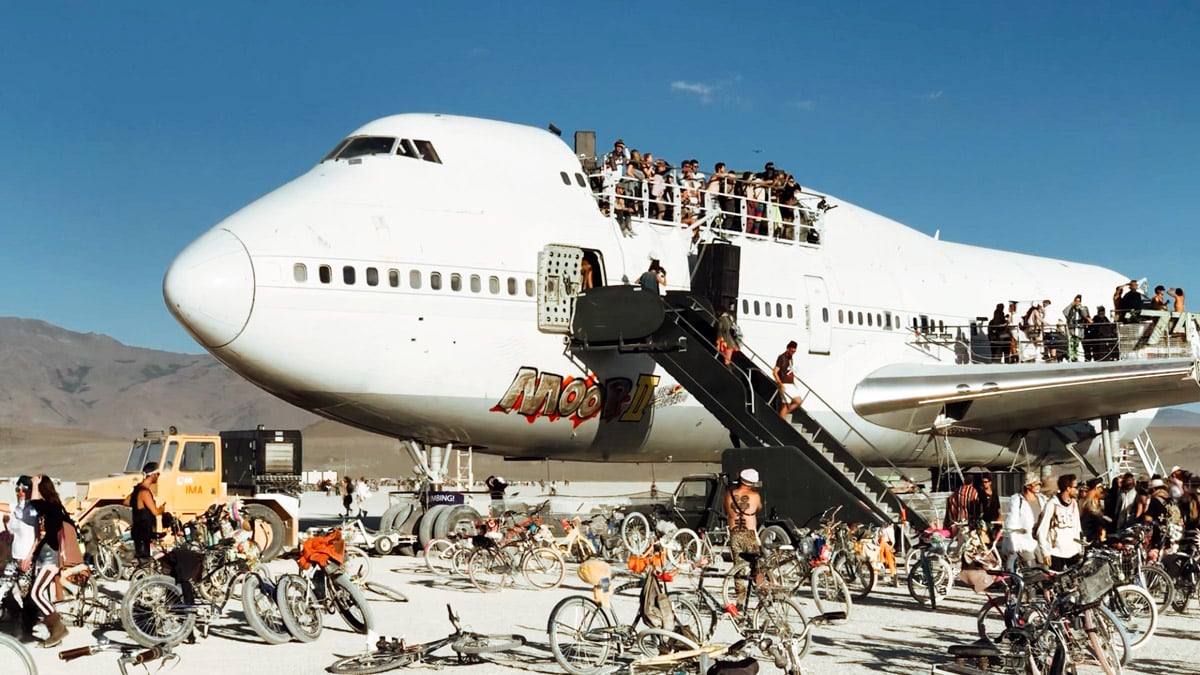 – Standard ticket : $450
– Vehicle pass : $100
– Camp fee :  Assuming you have read our other article mentioned above, I won't explain what the camp fee is again. For those who are too lazy to read, it is your share of your camp's expanses. The cheapest camps cost around $120-150 per person, some go up to $2,000, depending on the scope and contents of the camp. As for plug-and-play camps, they cost $10,000.
– Accommodation: Camper vans start from $5,000 per week, shiftpods cost $800-1,300, and tents start from $40 and go as high as $1,000.
– Airfare : Burning Man is planned to include the Labor Day weekend, a public holiday in the U.S. So, plane tickets are more expensive than usual. The nearest airport is in Reno, Nevada.
– Car rental & gas
– Car wash :  $100
– Outfits : If you plan to rent, they cost about $85. If you plan to buy, there is no limit…
– Food & Drinks : Depends on how much and what you eat. We spent $120 per person on our food for the week.
– Bike: $100
– Gifts: We brought with us 500 evil eye beads from Turkey (the traditional evil eye beads, usually made out of blue glass in the shape of an eye, are believed to protect you from evil and envious eyes and keep negative energy out of your way). We also filled up two water guns with sunscreen to offer to people. This cost about $70. You could do less, or much more.
TOTAL: Usually it costs about $1,300-5,000 per person (excluding airfare).
3. Are You Joining a Theme Camp?
Theme camps are pretty much survival units and your family at Burning Man. You live together, eat together, party together and work together. Joining a camp comes with a lot of benefits and responsibilities. Read about Theme Camps at Burning Man to know what to expect, how things work and how to join them.
Because our friend who invited us to Burning Man has been coming here with the same crew for several years, so we were able to join their camp. This provided us with a shared kitchen and a lounge, a shared meal we cooked together every evening, a bar where we served pickle juice and whiskey as a gift to the community, and a facial mask party but our camp didn't have an art car.
Of course all of these preparations cost something. On top of the evident costs such as food, there are other less visible costs such as transport and storage of the camp's items. All costs are summed up and then divided among members. At our camp it cost about $190 per person which is very low for BM's standarts. Our other friends at another camp were paying $2000 per person.
Ours was one of the more minimalistic camps. We had 1 shared meal a day with usually something simple like pasta and salad while some camps had 3 shared meals with extensive buffets. We had no generator, thus no fridge. There are camps that prefer to set up a generator, provide a fridge and even air-conditioning. Some bring their own toilets and set up shared showers, set up fresh and wastewater tanks, etc. The larger the package, the more expenses you have.
You don't have to join a camp to attend Burning Man. You can come on your own and set up a tent, but it would be much more challenging to survive. Also it is really beautiful to share this experience with the camp members.
4. Year-Long Preparations by Camps
If you are in a camp, a year-long preparation process awaits you. As you know, at Burning Man the performances and events are organized by the participants, mostly by the camps. It is a part of the gifting culture here.
The camps start working months in advance to plan & craft their gifts. They build art cars and lounges, prepare shows or games, etc… I think art cars are among the best gifts the camps offer. It has a huge impact on making Burning Man a magical place. But it is a very costly gift. Most art cars are modified from vehicles. So they invest in a vehicle, in a work-shop for the modification of the vehicle, and also in the modification itself. Much money and time is spent preparing these gifts.
But don't be overwhelmed, a gift could be as large as building an ice castle in the middle of the desert, or as simple as teaching chess or braiding someone's hair.
To generate funds to cover these expenses, camp members organize fundraising activities such as parties, BBQs or garage sales throughout the year. As a member of the camp you are expected to contribute to these events. If you live overseas like us, evidently that's not possible. But instead, you may offer a monetary contribution to your camp or offer to contribute by working more than other members during Burning Man.
In addition to these collective efforts, the following are the preparations you must do on your own:
5. Are You Ready for Burning Man?
5.1 Accommodation
Camper Van – Without a doubt, the most comfortable option is staying in a camper van. It has a bathroom and a kitchen, a wastewater management system… You can also use its built-in air conditioning if you bring a generator. 30% of Burning Man participants prefer camper vans. But rental companies tend to jack up their prices around the time of Burning Man. So rental fees start from $5,000 per week.
Shiftpod – The second best alternative is the shiftpod, a huge yurt made of materials produced by NASA. It's so tall that you can easily stand up inside it and its insulation is a thousand times better compared to a regular tent. It's super easy to set up, too. Inside we put an inflatable bed. It was very comfortable. We highly recommend it.
Tent – The least comfortable and the cheapest option is staying in a regular tent. In desert conditions, a tent may be somewhat challenging, but it is still a very popular option.
Please note that the nights are pretty cold at the desert. You definitely need a comforter or a good sleeping bag to keep warm.
5.2 Water & Water Containers
– You have to bring all the water you need for drinking, cleaning, etc your very self. It is recommended to bring a gallon (6 liters) of water per person per day, but that wasn't enough for us. I think you should bring minimum 8 liters of water per person per day.
– Don't forget that you will need to bring back all your wastewater, as well as all unused clean water. Those who don't have shared showers or wastewater storage systems at their camps usually bring inflatable pools and take showers in them. The water shouldn't touch the soil. Some of the water evaporates from the pool, but most of it remains. You put the remaining water in containers and take it back home with you. To have warm water for shower, you can simply leave your water bins outside, it will warm up in a few hours. So, finding hot water will not be a problem.
– When you leave the camp to go the playa or anywhere, you should take 2-3 liters of water with you. We used a CamelBack, which was very convenient, but you can also use other kinds of water containers.
– You should also have a shatterproof (e.g. metal) cup in your bag at all times. There will be free drinks and beverages served all around you, but you'll need to bring your own cup.
– If you run out of water while at the playa, no matter how far you are, you must go back to your camp for a refill. The sand at the playa sucks up the water in your body. You may get dehydrated without even realizing it.
5.3 Food
– You have to bring all your meals with you. We usually brought easy-to-prepare meals like instant soups and chili. But aside from that, pretty much any time of the day, you will find some camp offering free food.
– If you are arriving from the direction of SFO, we would recommend buying your food in Reno, the closest major city. This way your food will stay fresh and you can also delay putting ice in the cooler to save yourself sometime.
– If your camp does not have a shared kitchen, you should also bring your own stove, pots, pans and dishwashing equipment.
IMPORTANT: Usually there is a lot of traffic at the entrance and exit of Burning Man. Sometimes you spend an entire day waiting in line. We suggest adding 2 extra days when planning for your food and water. Make sure to have some food and water ready to consume in the car.
5.4 Cooler & Ice
– 10 days is a long time to live on canned food. So you'll sometimes want to have some fresh vegetables and fruits to eat. If you fill up a good cooler with ice, it lasts for about 5 days. You can find packs of ice at any supermarket in the U.S. In our experience, it works the best to put the ice bags into the cooler unopened. They last a little bit longer this way.
– There are only three things you can buy at Burning Man: Ice, coffee and tea. If your ice melts you can buy new ice.
5.5 Bike / Segway / Scooter / Boosted Board
Black Rock City is an immense place. It might take about 1-2 hours to walk from one end to the other. That's why everyone brings their own vehicle. Bikes are by far the most common vehicle. Electrical scooters, boosted boards, etc. are also preferred. But you would also need a generator to charge these.
Usually the dust of the playa eats up bikes (and everything else for that matter). So, you need a bike that can survive in the desert:
– Beach cruiser is the best option. Mountain bikes are OK, too, but I wouldn't prefer them as the sand/dust tends to eat up the mechanism and wiring.
– Don't take a good bike, because you'll end up destroying it. And don't take a flimsy bike, because it will break. Burning Man warns to stay away from bikes from department stores or anywhere else that sells white labeled bikes because in their experience those are the ones that break down most often. Get your bike from a company that actually produces bikes.
If you are looking to buy, these are the options they recommend:
a) A new $100 3-speed beach cruiser.
b) A used $100 beach cruiser, mountain bike or electrical scooter that was originally $500 when new.
c) Craigslist and Facebook are commonly used to find used bikes.
If you are looking to rent:
If you are planning to rent, do it well in advance and secure your ride. Don't wait until the last minute and think you'll figure it out on the way, because places may run out of bikes. Even if you have a reservation for a rental, make sure to get there early so will have options to choose from.
– Reno Bike Project : Reno, the closest major city, is a 2-hour drive from Burning Man. Here you can find second-hand bikes designed for Burning Man. If you buy a new bike, you have to assemble it yourself, like a piece of Ikea furniture, or you can have it sent and assembled here.
– Playa Bike Repair: A camp within Burning Man. They generate funds to rent out bikes and repair bikes at the playa. You can make reservations online. Make your reservations early; because either they run out of places, or their prices skyrocket like last-minute flights.
– Hammer and Cyclery is another organization that rents out bikes and offers free repairs at the playa. If you don't want to take your bike back with you, you may donate it to them. They have an initiative called More Than a Bicycle and they ship donated bikes to Africa.
–  Burner Bikes LLC – An affordable bike rental place located at 12 km from the playa. burnerbikesllc@icloud.com
– Of course, there are also shared bikes at the playa. But it's so important to have a bike, we don't recommend leaving it up to chance.
Personalizing Your Bike
Your vehicle should also be a part of your BM personality. You should radically express yourself through your vehicle, just like you do through your outfit. This is why everyone adorns and personalizes their vehicles. While dressing your bikes with lights is an absolute necessity, I highly recommend going the extra mile to decorate your bike more creatively.
Lights are a must for your safety, but if you only have lights and nothing else, your bike will look stark naked in the daytime. Believe us, we felt pretty lame out there. 🙂Also the bikes get mixed up all the time! Personalizing is also useful to prevent that, but you should still write your name on your bike just in case!
I also highly recommend using a bike basket, it's very handy for carrying your stuff.
Repairs – There are free repair stations at the playa. But you may want to be prepared just in case they run out of materials or your bike needs special parts. It turns out every year 4,000 bikes, which is one in every 18 bikes, break down at the playa.
5.6 Lights
In addition to the lighting your camp, you should definitely bring lights to illuminate yourself and your bike, otherwise you will get hit by someone. For bikes, I love monkey lights (they're very cute and even though they're attached to the wheels they also light the way ahead) but anything works. The more lighting you have, the better. Because you won't always be on a bike, you should definitely illuminate yourself as well.
I would also recommend accessories like LED gloves, capes or strings. It's so much fun to play with them in the deep dark desert. Make sure to bring extra batteries! They run out fast!
5.7 Outfits
You may have noticed that people at Burning Man look like they just popped out of a video game or Mad Max. You would feel absolutely bland and boring in your everyday clothes. Outfits are the most essential elements of self-expression and people allocate serious amounts of time and money to dress creatively.
Finding an outfit – It's quite easy to find outfits for those who reside in the U.S. There are numerous options available online. You can always find unusual pieces at thrift stores as well.
If you live in a country where self-expression is very limited, you can order online from the US. Dolls Kill was my favorite; they have great stuff for both women and men.
Things to consider when picking an outfit – The nights are pretty cold and it gets too hot during the daytime. You end up wearing a swimsuit and a fur coat on the same day. Which means, you need two outfits per day, one for hot weather, one for cold. We found that while it is possible to wear the night outfits are several times, daytime outfits are wearable once or twice because you sweat so much throughout the day. Keep this in mind when you are planning for outfits.
There is obviously no limit to self-expression, you can also wander around naked if you want to.
When I was there, I personally wished I had brought more sparkly or illuminated things to wear. That would be my suggestion for both men and women.
Gloves – Your hands get very cold when riding a bike at night. It's a good idea to wear gloves.
Shoes – Don't even think about wearing flip flops or sandals because the dust of the playa is unlike anything you have seen before. It is impossible to rinse the dust off with water. It sticks to your skin and it dries it up. If you walk around in flip flops, there is a good chance that in a few days the skin of your feet will crack and bleed. So, definitely pick shoes that will protect your feet. We chose to wear boots day and night because they are durable. Also make sure to pick something that is easy to put on and take off, otherwise, it will drive you nuts each time you go in and out of your tent.
Backpacks – You will need a backpack to carry the essentials you want to have with you at all times, such as water, sunscreen, lip balm, snacks, goggles, flashlight, and a cup. Take a good look at this list, as you will want to have these things with you at all times.
Burner Bazaar – We flew to San Francisco, took a friend's car and drove to Burning Man via Reno. Because most participants arrive from the direction of San Francisco, there are small bazaars set up along the way. Pack all your essentials before you leave, but you can check out these bazaars for the additional fun stuff.
Important – Ethnic outfits would fit the Burning Man atmosphere very well, but appropriating other cultures' clothes or symbols as accessories may be offensive and perceived as disrespect for that culture.
Costume Theme Days
There are 3 theme days if you want to dress accordingly:
Billion Bunny March – As you can tell from the name, everyone dresses up as bunnies.
Tutu Tuesday – On Tuesday, men, women, everyone wears colorful tutus.
White Wednesday – Everyone dresses in white.
Costume theme days are fun but it is not something everyone strictly adheres to. So, don't stress out if you don't have something to wear, but it's fun if you do. New Burners tend to be more into these. Some of the themes may sound "feminine", but Burning Man is not a gender-normative place, everyone goes along with the themes regardless of gender.
5.8 Gas/Fuel
– If you are driving from the direction of SFO, your safest bet is to fill up your tank at the gas station in Fernley, which is about a 2-2.5 hour drive to Burning Man. If you can, also fill up an extra container. There's also a closer gas station in Nixon, but it's not always open. If it is open, fill up your tank there as well.
– The reason we insist on filling up the tank whenever you get a chance is that the heavy traffic at the Burning Man entrance and exit eats up the gas. Entering/exiting the area alone may take up to 12 hours.
5.9 Get Ready for the Sandstorm
The dust is unavoidable. Sometimes the storms get so bad that you can't see beyond your nose. You should bring a pair of goggles and a scarf to wrap around your face. The playa dust contains hazardous, cancerogenic substances. When storms break out, it's a good idea to wear a carbon filter mask. We bought ours on Amazon. I'd say pack two per person.
5.10 Personal Care
The sun and the dust are your biggest enemies at the playa. Together they really dry up your skin. The playa dust is really weird, it doesn't come off with wet wipes or water. Vinegar is the most effective solution. It is recommended to pour some vinegar into the box of wet wipes to clean both your body and your stuff. If you have shower facilities, soap water also helps.
All in all, your skin will get very dry. You should apply lip balms and moisturizers every day. Also, make sure to wear a hat and lots of sunscreen.
5.11 There is No Cell Phone Reception
Before you arrive notify your office, tell your mom and dad: THERE IS NO CELL PHONE RECEPTION AT BURNING MAN!
In the previous years, they used to set up base stations and the cellular network worked just fine. They no longer do to make sure people stay in the moment. This is actually very liberating. You will feel as light as a feather, but you should take care of all your communication needs before you arrive.
In case of an emergency, go to Burning Man staff, they have Internet for certain staff members. They will help you out. Your other option is to exit Burning Man and get away to a 10-20 minute distance, where you'll have reception again. But they charge $20 per person for each entry and exits to avoid unnecessary traffic with people going in and out just to post stuff on social media.
5.12 Download "Time to Burn" Before You Arrive
They give you a booklet upon entry. It usually covers the major events such as "sunrise set at Mayan Warrior." But it is not a very detailed guide and you can't find some essential information such as the places that give out food and drinks in there. The Burning Man app is the most comprehensive source of information, but because there is no Internet inside, you should download it on your phone before you arrive.
5.13 Other
Rake – When you leave Burning Man, you are supposed to remove all MOOP from your campsite, including even the tiniest piece of glitter. To do that, you first rake the sand, sort out the stones and pebbles, and then you inspect them to see whether there is anything else among them. Everyone has rakes, you can easily borrow one, but it takes forever for your turn to come! Bringing along the widest rake you can find will save you a lot of time. You will get done as soon as possible and be on your way to avoid the traffic.
Lots and lots of XXL size trash bags.
Gorilla tape – the fix all your problems.
Powerbank.
Write your name and camp address on all your stuff. If you lose them, they magically find their way back to you! Burning Man also recommends setting your name and camp address as your phone's wallpaper. A clever thing to do.
Where Is Burning Man At and How to Get There
Where Do We Fly To?
Black Rock City (BRC) – Where Burning Man takes place. A private temporary airport set up in the desert, but there are no international flights. The information for local flights can be found here.
Reno –  The closest major city, about a 2-hour drive from BRC. There is an airport here (Reno -Tahoe). There are no international flights, but you can find connecting flights via other U.S. cities.
You can rent a car in Reno to drive to BRC, or you may take the Burner Express.
San Francisco (SFO) – SFO is the closest international airport to BRC. We chose to fly here. From there you can get to BRC via the Burner Express or your private vehicle.
Burner Express
Buses from San Francisco and Reno to Burning Man are pretty expensive. Moreover, it's impossible to fit into them the tons of stuff that you need to take with you to Burning Man. Consider them only if you have someone who is bringing your stuff for you. The upside is, they directly enter Burning Man without waiting for the long lines forming at the entrance.
Renting a Vehicle or a Camper Van
You need to take a lot of stuff to Burning Man. Because it's impossible to fit two people and their stuff into a standard passenger vehicle, people usually rent a pick-up truck or a U-Haul truck. Another option is getting a trailer to pull with your car.
The most comfortable option is the camper van for sure. If you plan to rent a camper van, or any other type of vehicle for that matter, you should be expecting to pay beyond the regular rental fees. Because;
1) Burning Man overlaps with Labor Day;
2) The Burning Man dust is unlike any other you have seen before. It has a sticky, lime dust-like quality and it doesn't come off with water. When they hear you are renting for Burning Man, cleaning fees instantly pile up. Don't try to hide it when you are renting, because no matter how much you clean up, that dust will reveal itself.
Don't forget to buy a vehicle pass.
Entering Burning Man
The gates open on Sunday. The first few days, you might be facing an extremely long line at the entrance. And by extremely long, I mean waiting for 12-15 hours. So, you should come with your lunch, etc. prepared. They set up a couple of porta-potties along the way, but not that many. So use them whenever you see one. While you are waiting, tune in to Burning Man Information Radio (94.5 FM). It provides you with a constant flow of information on waiting times and procedures.
Because we entered the area on Wednesday, we didn't experience any traffic.
Orientation & Finding Addresses
How do you find your camp, friends, events in a temporary city with a population of 80,000 set up in the middle of the desert? Burning Man has its own address system. For instance, our camp's address 8.45 & C.
The Man in the center of the playa and the Temple, which I have indicated with a star above, are the two biggest and most visible things at the playa. You draw a mental line that passes through them. The end that extends towards the camps is at 6 o'clock; the other end extending towards deep playa is at 12. This way, you can tell directions. The streets of the camp are formed in concentric crescents, which are named alphabetically from A to Z, starting in the middle and progressing outwards. To avoid any miscommunication, people usually spell them out with words, C as in Cupid, E as in Echo, so on and so forth.
Most of the points of reference you see at the playa are mobile. When you stop, try to lock your bike at a stationary installation and pay attention to the time slice it is located at.
Burning Man Rituals
The Man Burn
There is no doubt that burning of The Man is the best known Burning Man ritual. It happens on Saturday, the night before the last day. 70,000-80,000 people form a gigantic circle around it to watch. Artcars form another circle around the people sitting on the ground. As lights and music emanate from all of them, The Man is burned accompanied by fireworks.
Temple Burn
The Temple is the most emotional place at Burning Man. A friend of ours had told us he started crying when he entered, and at the time it didn't make much sense to us. But once I was there, my eyes welled up with tears, too. When you enter the Temple, you leave the joyful atmosphere of BM and face how much pain there is in the world.
The temple is a place dedicated to loved ones people have lost. People prepare remembrances for those they miss and leave them here. Some made photo collages for lost spouses, some brought their father's hat, and they have written long letters to them. They have expressed how they miss them, their regrets, all that is left unfinished. This is also a place to bury the pain you want to eliminate from your life. For example someone who is fighting with cancer brought the apparatus she has to wear, another whose wife has cheated on him brought her underwear, another who can't forgive himself for what he did to his loved ones brought their photos and wrote he's sorry on them, and there are many other examples.
On Sunday, the last day of Burning Man, they burn the Temple to symbolically end all the pain. Once again, all burners make a 70,000-80,000 person circle around it and art cars line up behind them. This time there is no music or talking. You listen to the crackling of the wood in the deep silence of the desert. And to those who are softly weeping and sniffling after their loved ones.
Lamplighters
The road to "The Man" needs to be illuminated with lanterns every night. In 1993, this turned into a tradition. Every year 1,000 people volunteer to for this task. It has a symbolic meaning, just like the Olympic torch. If it is your first time at Burning Man and you don't know what to volunteer for, this is the right place to start. You can find the information for volunteering here.
Post-Burning Man : Decompression
If you fly back right after you leave Burning Man, you will be so depressed. So people have come up with rituals to gently ease into real life after Burning Man, which is known as "decompression".
Before we get into these rituals, let's quickly talk about the hustle and bustle of leaving BRC: After the burning of the Temple on Sunday evening, Burning Man starts closing down. But the exit traffic begins earlier, on Saturday. Despite hitting the road early Sunday morning, it took us 6.5 hours to get to Reno, which is normally a 2-hour drive. So, we would recommend getting on the road in the early hours of the morning to avoid the exit traffic.
Once you get in line, tune into Burning Man Information Radio (94.5 FM) at once. They announce  the expected waiting times so you can guess how long you'll be waiting in traffic for.
Arriving In Reno: The first decompression ritual is staying in one of the burner friendly hotels in Reno. Here is what burner friendly means:
– They take all the trash you have brought with you (You can not dispose your trash anywhere, you have to take them to specific locations and pay. So this is a huge service that they are providing)
– They have high-pressure air nozzles at the hotel entrance to remove your dust (true story)
– They have burner pool parties.
But of course, the best part is that while you get to enjoy the comforts of returning to the civilization like the warm showers and spring mattresses, you are still not completely detached from the Burning Man community. On the streets, in the hotel, everyone still keeps wearing their Burning Man outfits. People usually stay for two nights, on Monday and Tuesday, but one day was enough for us, because Reno is like a small version of Las Vegas and to be honest I'm not a big fan of these factory-like casino hotels. Nevertheless, it felt so good because Burning Man had kicked my butt. The two most preferred hotels are Grand Sierra Resort and Sands. Try to get a room in one of these.
Lake Tahoe: The second decompression ritual is to go to heaven on earth, Lake Tahoe after a night in Reno. Tahoe is so beautiful and serene that many other natural wonders would pale in comparison.
If you can go to Reno and stay in the Grand Sierra Resort or Sands for a day. Get cleaned up, eat out, get your trash taken care of, hang out with fellow Burners another day.  The next day go to Tahoe either on a day trip or for an extended stay.
Few skip Reno altogether and go to Tahoe right away after Burning Man. In my opinion, Reno is a much-needed pitstop but everyone has different priorities. Withthat siad if you end up having to choose between the two, go to Tahoe. It's a gorgeous place. We couldn't get enough of swimming in the lake and taking walks in the forest. If you go there, make sure to rent a canoe from Sand Harbor. Secret Bay is the most beautiful bay, but if nudity is not your thing, it may not be the right choice for you.
You can book a house on Airbnb here. It makes more sense if you are a crowded group because the houses are quite huge and expensive to rent on your own.
I guess that's all the Burning Man advice we have to offer! Happy burn!