BÜYÜKADA RESTAURANTS – WHERE & WHAT TO EAT
In terms of where and what to eat in Büyükada, visitors might want some assistance, as the most popular Buyukada restaurants aren't necessarily the best ones.
Buyukada was historically where the non-muslim minorities owned summer houses. Over centuries it became the melting pot of Jewish, Italian, Greek, Armenian and Turkish heritages and it developed a culture of its own. It has its own rhythm, habits, and specialties.
So following the crowds will take you to the touristy restaurants on the shore, which is always a bad idea but it is especially worse in the case of Buyukada. Why trade Buyukada experiences for disappointing food?
Here are the 4 best Büyükada eating experiences we will talk about:
– Our Favorite Büyükada Restaurants: Places off the tourist trail
– Büyükada Classics: Where Islanders hangout
– Büyükada "Meyhane"s : Best places to enjoy a fish & raki
– Büyükada Breakfast Bites
OUR FAVORITE BUYUKADA RESTAURANTS
Yücetepe Kır Gazinosu
The Yücetepe Kır Gazinosu, has been up and running in the garden of the Aya Yorgi church since 1978 and is the highest and most breath-taking on the island. Its cheap and cheery style and bare, wooden table-and-chair set-up make it cozy and cool, with a fantastic view. Our favorite dish is the place's own famous köfte (meatballs) with a side portion of fries and an ice cold beer. The establishment is open all year round – but keep in mind, the best time to go is on a full moon night. Click here for location.
Eskibağ Terrace Restaurant

If you fancy fleeing the crowds and dining at a nice, quiet place along the sea, look no further than the Eskibağ Terrace Restaurant. This simple and cozy Buyukada restaurant lies right at the isolated side of the island. This is a great choice if you feel like spoiling yourself for breakfast or in the evening would like to enjoy some freshly caught fruits du mer, kebabs, tasty mezes, or a simple salad for lunch or dinner, this is the place for you. Click here for location.
BUYUKADA RITUALS
While visitors like take the occasion to go to a nice restaurant on Buyukada, the Islanders usually stick to their modest rituals like going out on an afternoon walk to buy some ice-cream or street food. Here, we'll list some island rituals. Let's warn you from the beginning – this is list is not for everyone.
Altın Fıçı
If you're feeling adventurous and don't mind eating fried things, then you can head over to Altın Fıçı in Büyükada's market to eat fried mussels (midye tava), grilled sheep's intestines (kokoreç), french fries as well as a beer to go along with it. Click here for the location.
Yalovalı
Also located inside the bazaar is the deli market (şarküteri) called Yalovalı. Their signature dish here is potatoes croquette. This specialty is an island classic. Click here for the location.
Büyükada Pastanesi
Büyükada Pastanesi is one of the island's most established businesses. You can come here for breakfast to nibble on some pastries with powdered sugar while sipping on some çay (tea). This bakery is also famous for its other baked goods such as its Turkish delight and flour cookies (un kurabiyesi). While you're here, you might as well get some cookies for the road. Click here for the location.
Büyükada Ice Cream
By far, one of the most famed tourist activities on the island is to enjoy one of the island's famous ice creams topped with whatever you fancy, or perhaps on a cone covered in hazelnuts and pistachio. But remember when you arrive, this is not one of those many ice cream parlors you encounter as soon as you get off the boat (and which usually require wasting time waiting around in a lengthy queue). The real deal when it comes to Büyükada ice cream is Yunus, who goes around with a cart of ice cream made from fresh daily milk and seasonal vegetables.
Yunus has been at his profession for many a year. You'll normally see him passing by Anadolu Klübü. As he makes his ice cream only with seasonal vegetables using classic pulverizing method, don't expect the 20-odd flavors you'd find in the big chains by the harbor. Also, anyone whose only a fan of "gelato" style Italian ice cream should be warned that this might not be the kind of ice cream you are looking for, as all ice cream apart from the creamy "kaymaklı" variety comes in a sort of sorbet form.
Lale Büfe
Up until a couple of years ago, one of the best things to do on Büyükada was to go see a movie at the Lale Open Air Cinema– but unfortunately, it closed. But right next to the cinema is Lale Büfe. They are known for making incredible toast that blends salt and sweet. They make a grilled sandwich that has both chocolate and kashar cheese that is oddly good. Click here for the location.
Watermelon Jam
Another favorite food item in Büyükada is watermelon jam. You can taste and/or buy watermelon jam at Ada Kahvaltı.
Street Food: Pickle & Pişmaniye
We know that you've probably stuffed yourself, but hang in there a little longer. After 5 pm, you can find a guy selling pickles (Turşu) near the clock tower. Turkey has a long history of pickling different vegetables, and you can pick your favorite combo. Our suggestion is to drink some pickle juice before leaving – if you can stomach it.
You'll also be able to find someone who sells pişmaniye, which is the Turkish version of cotton candy. If you happen to see the guy selling it, then definitely buy some from him to taste it if you haven't already.
Rakı – Fish & Mezes in Buyukada Taverns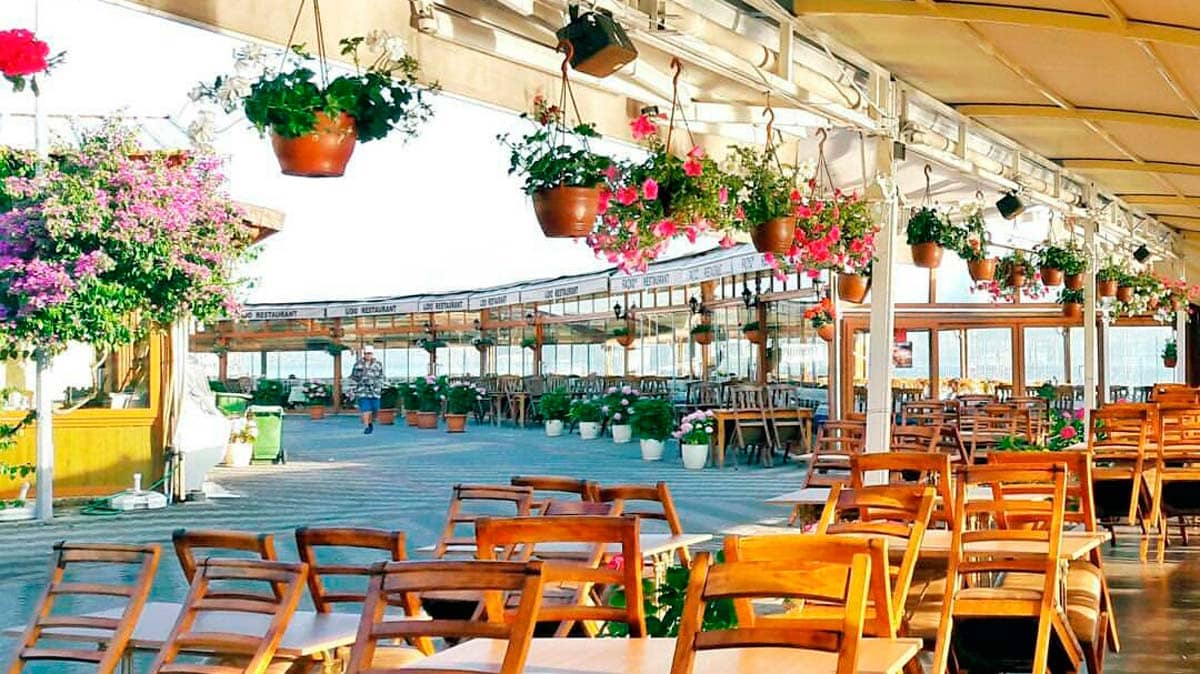 If you like seafood and are interested in taste testing Aegean food – which can be incredibly refreshing if you've spent the whole day in the sun – then you have three options on Büyükada island.
Eskibağ Teras Restaurant
Our top pick for rakı-fish and mezes is the Eskibağ Teras Restaurant that we mentioned before.
Fıstık Ahmet's Place Prinkipo Restaurant
This place is known as being an island class and is located after you pass the line of restaurants on the coast and is owned by Fıstık Ahmet. This is a great place to come to have some appetizers and drink some rakı. There's also live music on Fridays and Saturdays. Click here for the location.
Milto
Most of the Buyukada restaurants lined up on the coast are quite touristy and all about the same regarding price and quality. So you can head to any of your choice. But if you asj us, we like Milto slightly better. Here, you can try the grilled meats, calamari, octopus, and fish, which are all lovely but might be a bit more expensive compared to the other places we've listed in this post since this is a touristy place. Click here for the location.