There are plenty of places to see and things to do in Montenegro so coming up with an itinerary can be complicated. But don't worry, we are here to help you plan the perfect Montenegro itinerary.
Time to grab a cup of something hot, sit down with a notepad and pen, and jot down some of the pearls of wisedom we have acquired on our many forays to this wonderful Adriatic country. We'll show you all the things to do in Montenegro, where to go, where to stay, how to get there, and how long to give each location to get the best out of your trip.
So let's get straight down to it. Montenegro's biggest tourist areas include; Budva, Kotor Bay (Kotor + Perast + Dobrata), Tivat, Lovcen, Herceg Novi, Bar, and Podgorica. The best of these is undoubtedly Kotor Bay. The country has incredible national parks in the north, but we decided, as beach lovers, to focus our attention on the shore. So if you are looking for things to do in Montenegro, but mostly hope they take place somewhere near the beach, then you are in for a treat.
Why Montenegro
Here are a couple of great reasons to see Montenegro:
– The sea, architecture, nature and cuisine – all are are wonderful.
– It feels European but it is cheaper than most European beach destinations.
– Montenegro, along with Croatia and Romania, is one of the most beautiful destinations on the Balkan Peninsula.
– The country has really opened up to tourism in the last few years, and it quickly became a popular stop-off for cruise-liners, leading it to be gaining a reputation as the new Dubrovnik.
– It's a must for anyone who enjoys scenic views and there are plenty of things to do in Montenegro if you are a nature-lover who enjoys the great outdoors.
But…
Expectations count for a lot – so here are some other things to keep in mind…
– Montenegro is not a luxury destination. It has lovely, beautiful scenery – and you'll love its simple charm, but don't expect extravagance. So if you are looking for things to do in Montenegro that provide a good excuse to get out the stilettoes, you are limited to Porto Montenegro, in Tivat, probably the classiest place in the country. But even this only has 3-5 posh restaurants and 1-2 haute-couture stores.
– As a fairly new destination on the tourist trail, service might not always be up to standard.
– For those of you looking for a big city get away, Montenegro can feel rather limited. There aren't many galleries, museums, activities or nightlife venues – and the country's population is only 622,5 K, less than many cities.. 🙂 🙂
---
Things to Do in Montenegro
Click here to view this on GoogleMaps.
[column size=one_half position=first ]1. Durmitor National Park and Black Lake
2. Ostrog Monastery
3. Podgorica
4. Herceg Novi
5. Rose
6. Our Lady of the Rocks
7. Perast
8. Dobrota
9. Tivat[/column][column size=one_half position=last ]10. Kotor
11. Lovćen
12. Budva
13. Pržno
14. Sveti Stefan
15. Petrovac
16. Bar
17. Stari Bar
18. Skadar Lake
19. Ulcinj[/column]
Before composing your Montenegro itinerary, it is a good idea to take a look at all the places to see in Montenegro.
1. Budva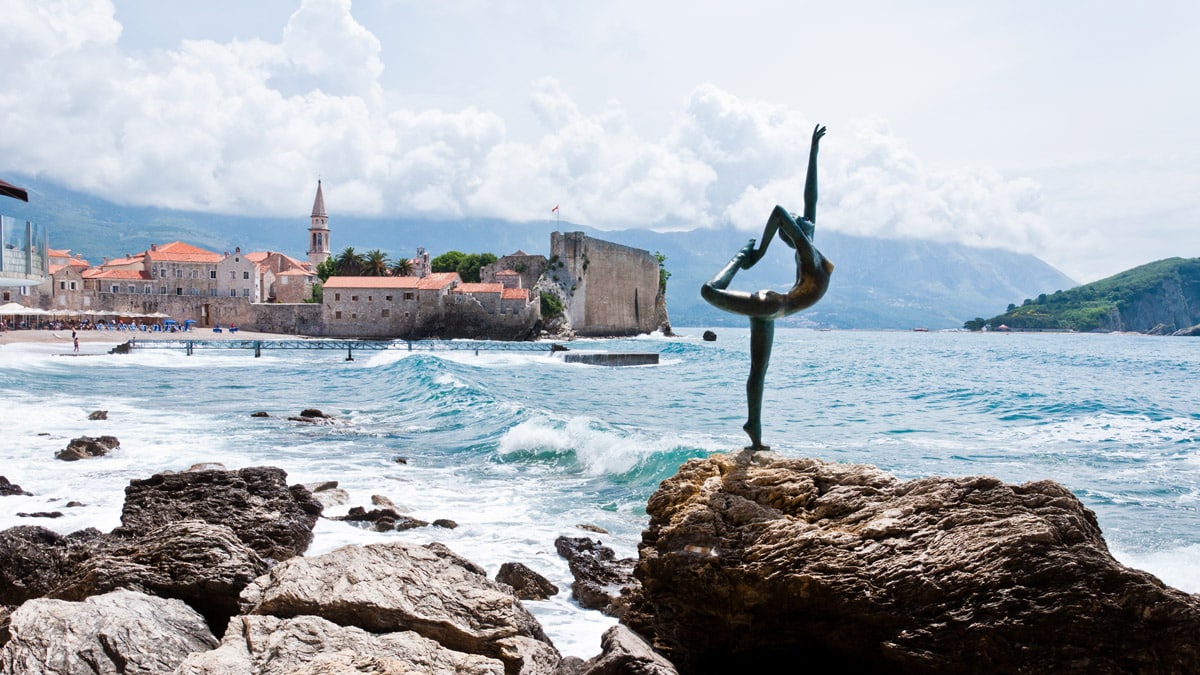 Budva is by far the biggest draw for visitors heading to Montenegro – but make no mistake, that doesn't mean it's the prettiest of places. There was once a time when this area was part of a collection of humble fishing villages with their own age-old charm, but unfortunately, this has been bulldozed to make way for a number of modern obscenities
Then again, Budva is still a must for any Montenegro itinerary. Sveti Stefan and Budva's Old Town have certainly managed to retain their charm with impressive integrity. Plus, Budva still boasts the best beaches in the country, located as it is, right on the Adriatic, after all. A steady flow of tourists, mostly Russians, make their way here every year just for the beaches – and the casinos, of course.
2. Sveti Stefan
Sveti Stefan, after Perast, is probably the most picture "postcard-esque" place in Montenegro. The place was founded as a simple fishing village in the 15th century, but in 1442, under immense pressure from the ever-encroaching Ottomans, villagers decided to surround their town with the fortifications still visible today.
The island is currently run by one of the chicest boutique hotel chains in the world, Aman, and is probably the flashiest hotel in the country, with a star-studded list of previous guests that includes Hollywood stars, politicians, and world-famous sportspeople. The island is unfortunately exclusive to hotel guests, but you can have a nose around by at least dining at one of the hotel restaurants. Click here to find out more and see if you'd like to book yourself in.
Sveti Stefan can be reached easily, just a fifteen-minute drive through lush forests from Budva city center. Before you get to the island, though, you'll come to the Villa Milocer, a little hotel along the coast. This was constructed in 1934 for Queen Marija Karadordevic, but was later converted into a holiday home for Yugoslav leader Josip Broz Tito. The villa is also owned by Aman, but the surrounding wooded area and bay are all open to the public. The island is a brisk stroll from Milocer.
One bridge that extends out to the island is for guest-use only, while the other gets you to the public beach – which gets pretty packed during the summer.
3. Exploring Kotor Bay
Montenegro is one of the best place beach vacation destination in the Balkans with its coast on the Adriatic Sea. However even that is blend in comparison to  Kotor Bay's fine scenery. Kotor Boy is one of the finest settlements in the Adriatic, with Venetian architecture, Italian cuisine, awesome views, and hospitable residents.


Kotor Bay should be a top priority on Montenegro itinerary. To learn more on things to do, what to see, where to stay, how, and for how long, we recommend you check out our Top Things To Do In Kotor Bay & Useful Tips list.
Below, you'll find a run-down of the best small villages and inlets along the bay, which we highly recommend exploring better by renting a bike, car, or motorcycle. Ferries frequently cross between Tivat and the Adriatica restaurant on the other side of the bay.
4. Kotor
Kotor Old Town, also known as Kotor Stari Grad, is the cultural center of the whole region. It's no exaggeration to say that this place might have some of the most beautiful medieval architecture in the world. You'll never have taken enough photos. You can tour the whole city, and check out the postcard view available from the castle on the hilltop above.
If you want to know the best place to enjoy a bite and have some fun in Kotor Bay, click to find out more in Kotor Old Town – Places To See & How To Plan
5. Dobrota
6. Perast and Our Lady Of The Rocks