MONTENEGRO ITINERARY – TOP THINGS TO DO & HOW TO PLAN
There are plenty of places to see and things to do in Montenegro so coming up with an itinerary can be complicated. But don't worry, we are here to help you plan the perfect Montenegro itinerary.
Time to grab a cup of something hot, sit down with a notepad and pen, and jot down some of the pearls of wisedom we have acquired on our many forays to this wonderful Adriatic country. We'll show you all the things to do in Montenegro, where to go, where to stay, how to get there, and how long to give each location to get the best out of your trip.
So let's get straight down to it. Montenegro's biggest tourist areas include; Budva, Kotor Bay (Kotor + Perast + Dobrota), Tivat, Lovcen, Herceg Novi, Bar, and Podgorica. The best of these is undoubtedly Kotor Bay. The country has incredible national parks in the north, but we decided, as beach lovers, to focus our attention on the shore. So if you are looking for things to do in Montenegro, but mostly hope they take place somewhere near the beach, then you are in for a treat.
Why Montenegro
Here are a couple of great reasons to see Montenegro:
– The sea, architecture, nature and cuisine – all are are wonderful.
– It feels European but it is cheaper than most European beach destinations.
– Montenegro, along with Croatia and Romania, is one of the most beautiful destinations on the Balkan Peninsula.
– The country has really opened up to tourism in the last few years, and it quickly became a popular stop-off for cruise-liners, leading it to be gaining a reputation as the new Dubrovnik.
– It's a must for anyone who enjoys scenic views and there are plenty of things to do in Montenegro if you are a nature-lover who enjoys the great outdoors.
But…
Expectations count for a lot – so here are some other things to keep in mind…
– Montenegro is not a luxury destination. It has lovely, beautiful scenery – and you'll love its simple charm, but don't expect extravagance. So if you are looking for things to do in Montenegro that provide a good excuse to get out the stilettoes, you are limited to Porto Montenegro, in Tivat, probably the classiest place in the country. But even this only has 3-5 posh restaurants and 1-2 haute-couture stores.
– As a fairly new destination on the tourist trail, service might not always be up to standard.
– For those of you looking for a big city get away, Montenegro can feel rather limited. There aren't many galleries, museums, activities or nightlife venues – and the country's population is only 622,5 K, less than many cities.. 🙂 🙂
---
Things to Do in Montenegro
Click here to view this on GoogleMaps.
[column size=one_half position=first ]1. Durmitor National Park and Black Lake
2. Ostrog Monastery
3. Podgorica
4. Herceg Novi
5. Rose
6. Our Lady of the Rocks
7. Perast
8. Dobrota
9. Tivat[/column][column size=one_half position=last ]10. Kotor
11. Lovćen
12. Budva
13. Pržno
14. Sveti Stefan
15. Petrovac
16. Bar
17. Stari Bar
18. Skadar Lake
19. Ulcinj[/column]
Before composing your Montenegro itinerary, it is a good idea to take a look at all the places to see in Montenegro.
1. Budva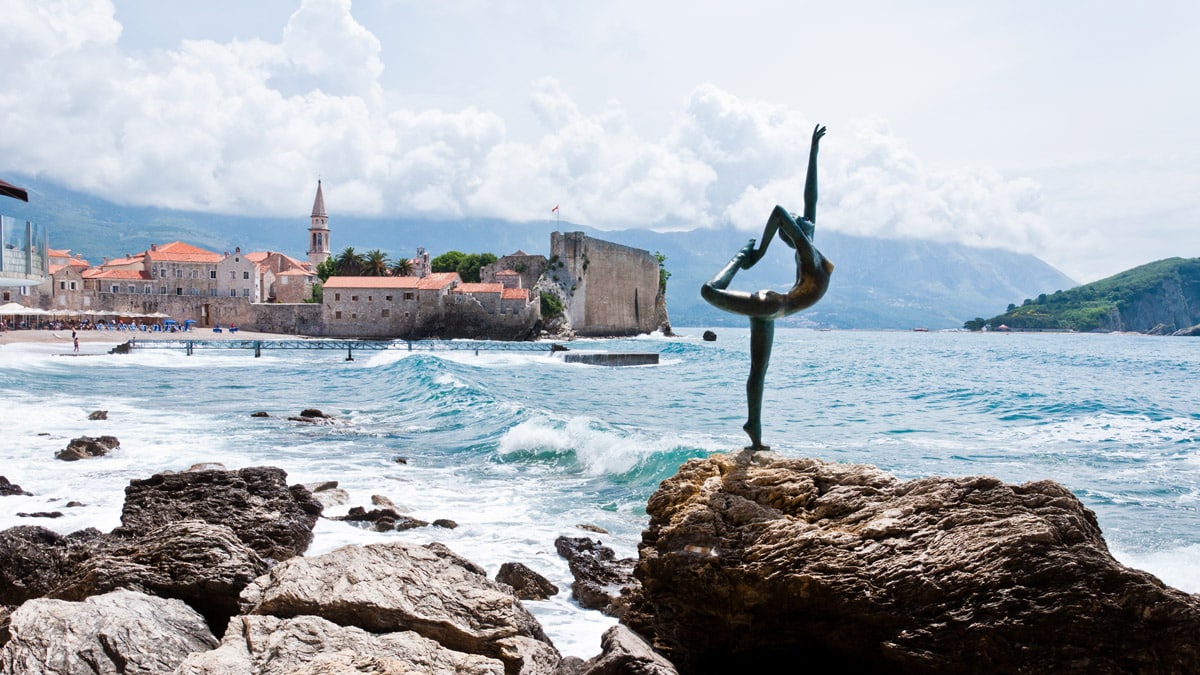 Budva is by far the biggest draw for visitors heading to Montenegro – but make no mistake, that doesn't mean it's the prettiest of places. There was once a time when this area was part of a collection of humble fishing villages with their own age-old charm, but unfortunately, this has been bulldozed to make way for a number of modern obscenities
Then again, Budva is still a must for any Montenegro itinerary. Sveti Stefan and Budva's Old Town have certainly managed to retain their charm with impressive integrity. Plus, Budva still boasts the best beaches in the country, located as it is, right on the Adriatic, after all. A steady flow of tourists, mostly Russians, make their way here every year just for the beaches – and the casinos, of course.
2. Sveti Stefan
Sveti Stefan, after Perast, is probably the most picture "postcard-esque" place in Montenegro. The place was founded as a simple fishing village in the 15th century, but in 1442, under immense pressure from the ever-encroaching Ottomans, villagers decided to surround their town with the fortifications still visible today.
The island is currently run by one of the chicest boutique hotel chains in the world, Aman, and is probably the flashiest hotel in the country, with a star-studded list of previous guests that includes Hollywood stars, politicians, and world-famous sportspeople. The island is unfortunately exclusive to hotel guests, but you can have a nose around by at least dining at one of the hotel restaurants. Click here to find out more and see if you'd like to book yourself in.
Sveti Stefan can be reached easily, just a fifteen-minute drive through lush forests from Budva city center. Before you get to the island, though, you'll come to the Villa Milocer, a little hotel along the coast. This was constructed in 1934 for Queen Marija Karadordevic, but was later converted into a holiday home for Yugoslav leader Josip Broz Tito. The villa is also owned by Aman, but the surrounding wooded area and bay are all open to the public. The island is a brisk stroll from Milocer.
One bridge that extends out to the island is for guest-use only, while the other gets you to the public beach – which gets pretty packed during the summer.
3. Exploring Kotor Bay
Montenegro is one of the best place beach vacation destination in the Balkans with its coast on the Adriatic Sea. However even that is blend in comparison to  Kotor Bay's fine scenery. Kotor Boy is one of the finest settlements in the Adriatic, with Venetian architecture, Italian cuisine, awesome views, and hospitable residents.

Kotor Bay should be a top priority on Montenegro itinerary. To learn more on things to do, what to see, where to stay, how, and for how long, we recommend you check out our Top Things To Do In Kotor Bay & Useful Tips list. Below, you'll find a run-down of the best small villages and inlets along the bay, which we highly recommend exploring better by renting a bike, car, or motorcycle. Ferries frequently cross between Tivat and the Adriatica restaurant on the other side of the bay.
4. Kotor
Kotor Old Town, also known as Kotor Stari Grad, is the cultural center of the whole region. It's no exaggeration to say that this place might have some of the most beautiful medieval architecture in the world. You'll never have taken enough photos. You can tour the whole city, and check out the postcard view available from the castle on the hilltop above.
If you want to know the best place to enjoy a bite and have some fun in Kotor Bay, click to find out more in Kotor Old Town – Places To See & How To Plan
5. Dobrota
With so many tourists packing out the streets in Kotor, you may find yourself wonder what happened to all the locals. Well, they smartly head to the less touristy Dobrota to hang out. This is a wise place to visit while you're in the area, as:
– Its Italian architecture makes it a classy environment.
– It is ideally located right in the middle of the bay.
– As Kotor Bay already lies within the larger Boka Bay, the water doesn't circulate so well, so Dobrota is a cleaner place to swim.
– It has the country's top restaurant, the Konoba Portun.
For more information on Dobrota, and some tips on the best place to rent a home, check out Top Things To Do In Kotor Bay & Useful Tips
This article really does hold some excellent tips for you to get your trip off to a flying start.
6. Perast and Our Lady Of The Rocks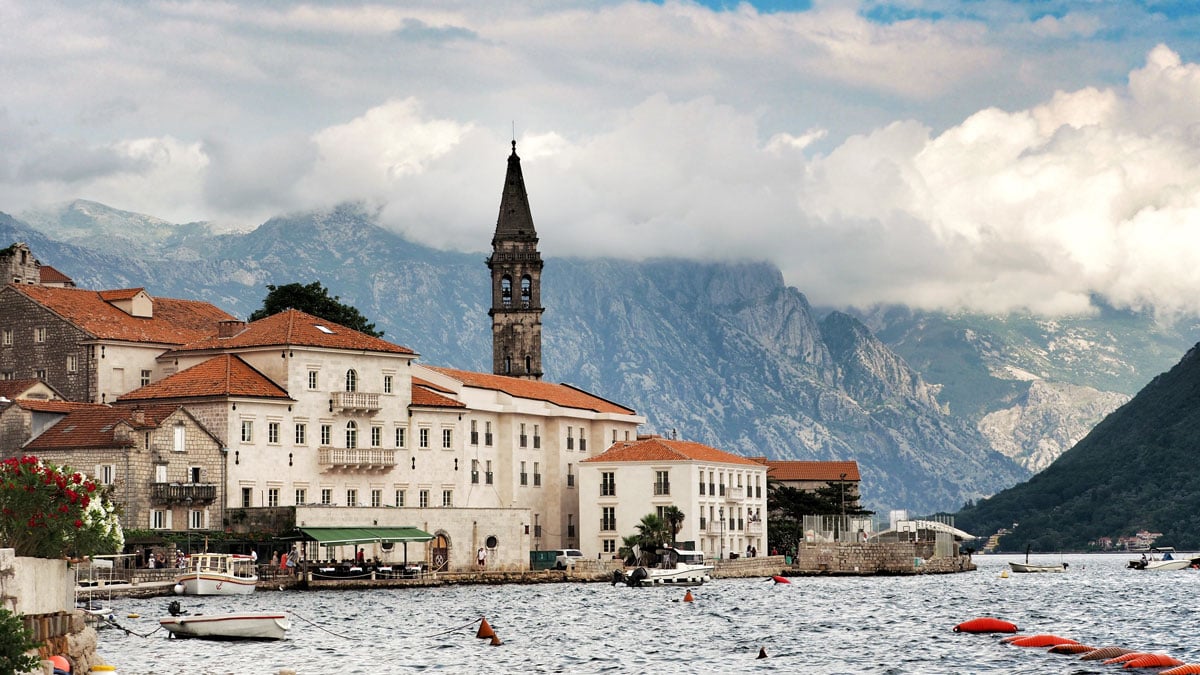 Perast, and its two islands – Our Lady of the Rocks and Sveti Djordje – are perhaps the most photographed places in Montenegro. They are absolutely indispesible for your Montenegro itinerary.
Perast is a simply incredible Medieval village just a fifteen minute drive from Kotor. In terms of both the architecture and landscape, this is most probably the best loved place in the entire country.
Click here to find out what we discovered to see and do in Perast.
7. Tivat
Quality of life is generally the same all over Montenegro. The cafes, shops, and hotels are clean, well kept, and come together to create a pleasant, modest vibe. Porto Montenegro is Montenegro's most luxurious and sumptuous marina complex. So if you want something  a little more fancy, you should add Tivat to your Montenegro itinerary.
Located a short walk to the beach, the Canadian-designed structure houses 3-5 restaurants serving everything from sushi to Italian cuisine.
The marina is architecturally impressive, but quite small in size, and is definitely worth heading to for an evening meal. So if you are done with exploring more active things to do in Montenegro, treat yourself to a classier night out here. Some of the eateries turn into bars when night falls, providing a cool place to hang out. Our best recommends for food here include:
– The central Al Posto Giusto. The food is not amazing, but it's certainly the most popular place in the port.
– Porto Montenegro Yacht Club Pool is highly frequented in the daytime, and located ideally for those of you who enjoy posing in front of yachts (this seems to be surprisingly many people).
– The Clubhouse a slick, cool bar that has DJs playing smooth tunes into the evening.
– Platinum a decent night club.
– If you prefer a more inviting bar atmosphere for the evening, Propella is located right outside the marina, and is a good choice in terms of atmosphere.
– This has one of the poshest hotels in the country, La Roche. The restaurant is certainly worth a try.
– For swimming, the place to be is undoubtedly Waikiki Beach.
8. Herceg Novi
Herceg Novi is a historical seaside town on the way north from Kotor heading toward Croatia. It's not quite Perast or Kotor but the views and architecture are very competitive. There is also something similar to a Porto Montenegro. Although overshadowed by Kotor, Tivat, and Budva for years, it's guaranteed to become the hippest place in the country in no time – and is also a great place for yachting lessons given its position closer out to sea.
Kotor Bay is undoubtedly best in terms of scenery, but Herceg Novi is better suited for getting out on a boat and exploring the sea, including some of the country's biggest tourist sites, the island fortress of Mamula and the Blue Cave. If you grab a private boat rental, Forte Rose, Ribarsko Selo, and Mirista Restaurant are also good to grab a bite.
9. Rose
Forte Rose takes its name from a small, nearby, fishing village. It really is a tiny, very sweet place. It's nothing but Montenegrin summer houses and 2-3 restaurants. If your ideal holiday involves swimming, fancy, historic buildings, and lounging around whilst dipping into your summer read, then Rose is for you. If this doesn't sound like you at all, though, you might find yourself bored after half an hour.
10. Ulcinj
Montenegro has hosted a number of great civilizations; the Romans, the Byzantines, the Venecians, and the Ottomans, to name but a few. The Italians were long dominant to the West, while the Ottomans were the supreme power in the East, as can be seen from the change in architectural styles as you travel the breadth of the country. So if you're looking for things to do in Montenegro that will awaken your sense of wonder in history, Ulcinj,  is most impressive. One or two hours should be more than enough to see everything.
11. Bar & Stari Bar
Although the Ottomans tried and failed to take Kotor many a time, they controlled the nearby area of Bar for around 500 years. It is possible to still see traces of their rule today in a town inhabited by a rich mixture of Orthodox and Protestant Christians. Historic Bar, or Stari Bar is pleasant, but not an absolute must-visit. If you're not into kite surfing, you may not need to add it to your Montenegro itinerary. But if you do add, you had better try the Kula restaurant while you're at it. It's also possible to get to the Italian city of Bari by boat from here.
12. Lovcen
Lovcen is an incredible national park where you can cast down on the Kotor Bay from its peaks. From high-up, behind the Njegoš Mausoleum, you can not only see a fantastic panorama of Kotor, but the entire Boka Bay, and on the other side, Lake Skadar Gölü and the Southern Montenegrin peaks of Durmitor, Komovi, and Prokletije. So, if you are looking for things to do in Montenegro that will give you an inspiring and breathtaking experience, this is the place.
There is a village which is known for gastronomy called Njeguši. It is famous for its:
prosciutto & sausages
cheese
kastradina (smoked mutton)
Medovina (mead which is a spirit made from honey)
13. Podgorica
Wondering if you should make space for Podgorica on your Montenegro itinerary?
If you are in Montenegro over the summer, don't lose any time at the nation's capital. There truly is nothing much to see about the place, and locals would nod in agreement from their beach beds on the coast. 🙂 It's not the prettiest of cities – but in the winter, however, it has the most events and activity in the country. Sure, there are plenty of cafes, bars, and restaurants, but aside from having an insanely yummy meat restaurant right next to the airport, there's not much in the way of excitement.
Grab a Legendary Meal on the Way to the Airport
Although there aren't so many direct flights from Tivat, the good thing is that taking the flight out of the capital, Podgorica, takes you by an incredible butcher's and charcuterie. Whether to stop for a bite way back, or to sample some of the country's delightful cuisine directly upon landing, the Pecenjara restaurant will serve you up a treat. The restaurant is both cheap and tasty to the point it will drive you wild. The jury is still out on whether Montenegrins are just good at cooking or there is something in the water that makes their livestock taste so delicious. We recommend the tandoori, or "meat under a baking lid" as it is known on the menu. Lamb is the most popular dish, but their beef game is just as strong. Click here for the location.
Vranjina Island is also on the way to the airport. The island, that has an accessible link to the land, has the country's biggest wine producers, Plantaze. Just don't forget you can't take it as hand luggage! The wine here is also available at duty free (but at twice the price, so plan ahead if you want a bargain). The Jezero restaurant the lies just opposite also serves exquisite fish dishes. The krap is the most famous fish around. Click here for location
14. Skadar Lake
Between Podgorica Airport and Budva you'll find a huge lake, İşkodra Lake, forming the natural border between Montenegro and Albania. Hiking, canoeing, and boat tours are all available here. You can also stop off to sample the local wine produce. It is a delightful place, but you can afford to miss it for the country's other wonderful locations if you are staying for less than ten days.
15. And the rest…
Rafting in the Tara River Canyon: , If you are looking for something exciting among things to do in Montenegro, Tara River rafting is probably the most adrenaline-pumping activity in the country. The river runs through Europe, and probably the world's deepest canyon and is a draw for rafting junkies from across the world.
Hiking in Durmitor National Park: This UNESCO-protected national park is one of Montenegro's, if not one of the world's best hiking, trekking, mountain climbing and rafting locations. The park contains 18 glacial lakes, incredible fauna, and peaks that reach 1523 meters in height.
Black Lake (Crno Jezero): Black Lake is located in the Durmitor National Park and is one of 18 glacial lakes, but is the most visited due to the stunning scenery it is nestled between.
Ostrog Monastery: This 17th century monastery is a site of pilgrimage that draws faithful from around the country. Carved into the rocks of the surrounding hills, this is a remarkable site and well worth viewing.
Plan Your Montenegro Itinerary
How much time do you have?
What to See
Notes
1 Day
Kotor Bay Tour (Perast, Dobrota, Kotor)
Click for our guide to Kotor Bay
2 Days
Kotor Bay + Budva
Kotor can take up a whole day of exploring and you can visit Budva Old Town + Sveti Stefan.

Budva is just 30 minutes' drive from Kotor, meaning you can visit both from the same hotel.

3 Days
Kotor Bay + Tivat + Budva
Kotor Körfezi + Budva Old Town + Sveti Stefan + Przno

Budva – Kotor is only 30 minutes drive. Alternatively, spend two days in Kotor + one night in Budva.

Kotor – Tivat 20 minutes.

4 Days
Kotor Bay + Tivat + Budva
Kotor Bay + Budva Old Town + Sveti Stefan + Przno + Hawai Island

2 days in Kotor Bay + 2 days in Budva.

5 Day
Kotor Bay + Tivat + Budva + Herceg Novi
Herceg Novi is also a great place for a boat tour
6 Days and Over
A great idea to check out Croatia too.
There are plenty of places to see all over Montenegro, but nowhere near as much as Croatia. From Herceg Novi to Dubrovnik takes one hour –traffic along the border can extend the trip.
Where Is Montenegro and How To Get There
– Montenegro is a fledgling country, founded only in 2006, and is located on the Adriatic coast between Albania and Croatia.
– The country has two airports. Tivat is closer to touristy areas, but direct flights aren't available here from everywhere.
– The main airport is in the capital, Podgorica. From here, you can get to Kotor via private transfer, bus, or by renting a car.
Alternative Routes
–With more flights, Dubrovnik, in nearby Croatia, may offer better deals. It's just a case of getting a bus or car from here over the border.
– Tirana in Albania is 3.5 hours away to the south, and this is also checking out in terms of deals.
– There is a burgeoning trend in hiring a vehicle from Turkey and setting off on a tour of the entire Balkans from Istanbul.
Budget
| | | | |
| --- | --- | --- | --- |
| | Accommodation | Food | Daily Budget/Person |
| Low Budget | -Hostel bunk or shared guesthouse: 12–21 Euro | -One slice of pizza: 2.50 Euro | Less than 85 Euro |
| Mid Budget | -Twin bed in mid-ranged hotel: 45–100 Euro | -Food at a traditional restaurant: 10–30 Euro | Between 85–185 Euro |
| Luxury | -Nice hotel with double bed: 100–600 Euro | -Fish dish at a nice restaurant: 25–50 Euro | Over 185 Euro |
Prices
Things to do in Montenegro are generally cheaper than elsewhere in Europe, but pricier than the rest of the Balkans.
– 1.5 liters of water 0.6€ (at the shop)
– Main meal 10-15€ for two people, and the portions are great
– Accommodation varies. If it's not so important, then rent a home for around 50 euro a day. If you want a nice view, this starts at 100€. Hotels are pricier, of course.
Language
– "Montenegrin" is the dialect of Serbian spoken in the country, but Italian has influenced not only the cooking but the language too. The easiest example of this is how everyone says "Ciao" to each other.
– Everyone speaks English – especially younger folk.
As the roads around Kotor are only single lane, getting around can prove quite the task. It's more practical to rent a motorbike than a car in July and August. Or if you are in Dobrota, you can always get to Perast or Kotor by bike.
Local Phone Line
You can get a contract phone from Telenor. They sell them at the airport from a corner store, but don't buy from here as you'll have activation issues. Definitely figure out your GSM at the store you buy from. We registered in the Telenor shop at a shopping mall called Kamelija near Kotor, but there is also one in the center of Budva.
Car Rental
Renting a car is not a must for this Montenegro itinerary but it sure helps!
Traffic Warning
As the roads around Kotor are only single lane, getting around can prove quite the task. It's more practical to rent a motorbike than a car in July and August. Or if you are in Dobrota, you can always get to Perast or Kotor by bike.
Vehicle Hire
One of the first things to do in Montenegro is book a car hire service. We thought it would be a case of simply arriving at a car rental office, but there weren't enough cars left for us! We had to wait two days, in fact. So it's a question of luck if you leave it till you arrive. Then again, the cheapest hires begin at around five Euros, so it's swings and roundabouts! Travelzoo Travel was the agency we used. You can try writing ahead of your visit or ask at the hotel you are going to stay at if they can help sort you out ahead of your arrival. A valid driving license is a must.
Airport Transfer
One of the first things to do in Montenegro is get to your hotel from the airport. We always work with Miraslav on our visits. Aside from air transfer, they can also offer to drive you around all day. Definitely say hi from us if you contact them! +382 68 508 873