COMPLETE GUIDE TO THE BUYUKADA ISLAND, ISTANBUL
There are a couple of hidden gems on the island, and this article will give you information on the best places to see & things to do on Büyükada Island.
Without a doubt, the Princes' Islands, formerly known as the Prinkipos Islands, is the most beautiful place in Istanbul (especially during the spring). Well, it's located off Istanbul in the Sea of Marmara only about an hour ferry ride away. And the ride is worth it. The islands that make up Princes' Islands are dotted with historic villas nestled among the pine trees. You can easily ride a bike only five minutes to get to a beach, as well as experience the island culture – all within a short ferry ride from the center of Istanbul!
The islands remind me of the old Istanbul which is slowly disappearing. My heart hurts a bit whenever I go to Princes' Islands because I see just how beautiful Istanbul used to be. Both the architecture and nature of the island are breath-taking. It's also why, if you're in Istanbul, then you should take advantage of checking out the islands. The island's local culture is also slowly starting to disappear as so many tourists come – too many for an island like Büyükada to handle. With quantity goes quality.
It's possible to feel two very different things while on Büyükada. You can either feel like you're visiting an charming Aegean island or a crowded bus station. In this post, you'll be able to find tips that help you distinguish between heaven and hell on Büyükada.
Buyukada Island In The Summer
Our first tip – and it hurts us to say this – is to avoid going during the summer. Unfortunately, it's the time where you'll want to go the most. Even if you've only been in Istanbul a short time, it can be a great way to escape the chaos of the city, even if only for a day. But you'll find that it's so crowded during the summer – even during the week – that it might be hard to enjoy yourself. Of course, if your trip to Istanbul happens to fall on the summer, then you could still go, but keep the crowds in mind. If you can, wait until September to go to Büyükada or go in May before the crowds set in.
Ok, now that we've addressed the potential problem of crowds, let's start talking about the tips & things to do on Buyukada we mentioned earlier.
You can view the map by zooming in.
Places to See
Aya Yorgi Church
Anadolu Club
Splendid Palace Hotel
Reşat Nuri Güntekin House
Büyükada Greek Orphanage
Hamidiye Mosque
Anastasia Meziki Hotel
Trotsky's House
Museum of the Princes' Islands
Sedef Island
Where to Eat
Yücetepe Restaurant
Eskibağ Terrace Restaurant
Roma Dondurma
Prinkipo Dondurma Waffle
Fıçı
Yalovalı
Büyükada Pastanesi
Lale Büfe
Ada Kahvaltı
Milto
Prinkipo Meyhanesi Fıstık Ahmet'in Yeri
TOP 11 THINGS TO DO BÜYÜKADA IN 1 DAY
We prepared an itinerary for you to experience the best side of Büyükada in the course of only one day. Everything is listed in the order we think you should do them.
1. Island Brunches That Make You Feel Like You're On an Island Vacation
Come to the island hungry, and you'll be able to start your day off with an island breakfast. By "island breakfast," it's not anything too special, particularly if you've already adjusted to Turkish breakfast. But even just eating bread and cheese on the island will feel different. It's hard to explain. Eat breakfast on the island, so you can feel like you're taking a vacation on an island, not visiting Turkey's biggest metropolis. If you're not sure where to go, then you can head over to our Breakfast on Büyükada post for all our recommendations.
2. Decide Whether or Not You Want to Swim or Sightsee. For Swimming:

If you don't want to go swimming, then you can skip down to number three.
Is Buyukada island safe to swim? Most Istanbulites refrain from swimming in the Marmara Sea, except for the locals of Buyukada who pretty much swim everyday and it is pretty much their favorite thing to do.
If you want to swim on Büyükada, then the best thing to do is to take a boat and go out swimming that day. When you get off the ferry onto the island, you'll be able to get on one of the boats in the harbor. If you decide to go on a boat ride, then you can skip down to number five. If you don't want to be tied to a boat during your Büyükada visit, then you can check out our articles on the most popular beaches: Beaches on Büyükada.
3. Rent a Bike and Make Your Way to the Top
We suggest that you rent a bike as soon as you set foot on Büyükada island and escape from the crowds along the shore and in the bazaar. Ride to the top without losing much time. Along the way, you'll pass through streets full of enchanting beauty, and you'll be able to breathe in the sweet air among the pine trees. We can guarantee you that the best way of touring around Büyükada is by cycling. This is best tip we can give you for things to do in Buyukada.
While there are cafes and restaurants throughout the island, you can also have a picnic if you want. So make sure to pack a picnic blanket or towel and get some snacks and drinks, and you'll be able to find a quiet corner of the island away from the rest of the crowd.
You'll be able to see places to rent bikes near the bazaar on almost every street, but some of the bikes can be quite old and neglected. Be careful.
A few important warnings
– Don't forget to check your brakes before renting your bike; Büyükada is quite hilly, and you'll be going downhill a lot.
– Although bicycle tourism has developed on the island, there are no routes aside from the 14-km big tour and the 12-km small tour. The smaller route is called the Aşıklar Road. You can also easily do this on foot.
– You have to go to the center of Lunapark to start this tour. This is the starting point for both the big and small tour. Don't worry, there are signs that will point you in the right direction.
– Nizam Road is nice, but it is quite crowded with tourists and cyclists. The way there is much calmer if you walk or cycle down Maden. It lasts for about 75 minutes, and the small tour lasts 1 hour.
– Also, there is no bicycle path. Vehicles and bikes all use the same road. Just be aware.
Make sure to make a note of these magnificent mansions while pedaling
4. Navigate the Nostalgic Streets Full of Magnificent Mansions
If you're cycling, then you can navigate the island as you please. The main appeal of Büyükada island is the historical and ornately decorated mansions made out of wood. You're likely to come across a mini palace on every street. Hop on your bike and go mansion hunting. The most beautiful mansions on the island are concentrated in the Nizam region, but there are also some beautiful structures in the Maden neighborhood. Don't worry; you'll find these places in our Places to See in Büyükada section.
You can wander around aimlessly until you reach your final destination of Aya Yorgi Hill. It's important that you come here before the sunset.
5. Our Favorite Place is the Aya Yorgi Church on the Aya Yorgi Hill
Ok, so we've rented bikes to reach the hills of the island to bypass the unpleasant crowds, and now we are headed to Aya Yorgi hill. To get to Aya Yorgi, you first have to pedal to the Lunapark area located about three kilometers from the pier. As we mentioned earlier, Lunapark is the starting point for both the small and large routes. Park your bikes there as you'll have to up a steep slope, and you'll have a difficult time with your bike – and also, they don't allow for bikes or any vehicles up to the church. You don't have to be in shape to go up the hill, but it lasts about 25 minutes. At this stage, most of the tourists will have been gone, and you'll be left to your own devices on the delightful hill above. There are three great things here: one is the Aya Yorgi Church, the other is the Yücetepe Kır Gazinosu, and the last is the sunset.
Aya Yorgi Church
When you get to the church, then you can light a candle and make a wish. The original name is the Agios Georgios Greek Orthodox Monastery and was built for St. George in 1751. There are two days in the year when the church is full – April 23rd and September 24th with people from all walks of life who come here to make wishes.
The most valuable thing in this church is the Saint George icon, which has a story. According to popular belief, during the Byzantine period, priests of the church buried the icon and other sacred relics so they wouldn't be destroyed while during times of occupation. Years later, Aya Yorgi began dreaming of a shepherd. The shepherd told him to dig, and so he listened to this prophecy and found the icons buried under the church.
This church is considered as an important pilgrimage place for Christians – similar to the Virgin Mary's House near Ephesus – on April 23 to celebrate the coming of spring and on September 24 to commemorate Saint Thekla. They go up the church without wearing shoes or speaking, and they tie pieces of cloth to the branches of trees and make wishes as they go up to the church. When they get to the church, they get a key or a bell from the church. If you want your wish to come true, then you have to bring back the key or the bell for the church. But let's warn you ahead of time that the island is insanely crowded during these two days. If you want to visit the church as a tourist, then definitely don't come during these two days. Of course, it's a different story if you come here to experience those religious days. Click here for the location. Number 1 on the map.
6. Eat Turkish Meatballs While Enjoying the View from Aya Yorgi Hill 👉 Yücetepe Kır Gazinosu
The view is worth it to bike three kilometers and climb uphill half an hour. Yucetepe Kır Gazinosu, which has been in operation next to Aya Yorgi Church since 1978, has never lost its soul. You'll understand what I mean as soon as you walk in. It's a shabby, family-run restaurant with wooden tables and chairs. But of course, it serves up one of Turkey's staples: meatballs, or köfte.
You'll also be able to find a special type of sausage, homemade stuffed grape leaves, and cheese filled pastry. Our favorite is eating meatballs while sipping on a beer. If you have to come here during a full moon, we guarantee you that your moon will be incredible. This is a great place to eat lunch – but be forewarned that it's not one of the places right on the beach. Save dinner for later. The business is open all year, and we think it's one of Istanbul's best-kept secrets. Click here for the location. Number 1 on the map.
7. Watch the Sunset at Aya Yorgi, One of the Most Beautiful Views in Istanbul
Be careful who you bring with you. If you haven't already fallen in love with them while doing one of the first seven items on this list, then you definitely will while watching the sunset. 🙂Kır Gazososu has the best view on the island. The sunset is spectacular. We think it's on the top five of best sunset spots in Istanbul. And what's so great about it is that it's a place that not many people have discovered: when you leave Aya Yorgi, go to the rocks behind the restaurant. The view is just…terrific. There's a great rock where you can sit and watch the sunset. If no one is there, grab it for yourself!
8. Eat Dinner at the Eskibağ Terrace Restaurant
When you're walking around the island, you'll see a ton of restaurants on the shore. But the restaurant that we recommend is located in the back at the furthermost point of the island. At this restaurant, you'll be able to eat by ordering from a simple menu and sitting on wooden chairs. But if you're looking for something nicer or more adventurous, then you can check out our What and Where to Eat in Büyükada post. Click here for the location. Number 2 on the map.
9. A Büyükada Island Classic: Eating Ice Cream (But at a Local Favorite)
As soon as you get off the ferry, you'll see people eating ice cream on a cone stacked five scoops high. These massive ice cream cones have become a tourist attraction in themselves on Büyükada.
But we wanted to go to a place that is preferred by the local islanders – so save your sweet tooth for an ice cream maker named Yunus. He makes his ice cream from whatever fruit is the freshest and in season. This is a family-run business, and the family prepares the ice cream fresh every day, and they sell them from wheelbarrows. Often, the cart is parked in front of the Anadolu Club – there aren't that many varieties – lemon, cherry, peach, chocolate, and cream. The process of making this ice cream in crushing the fruit means the flavors are intense. Also, the ice cream is less creamy and has more of a sorbet consistency. Another characteristic of Yunus' ice cream is that when he scoops it to put it on the cone, it's in the shape of a rose, not a ball.
If you can not find Yunus
– The head to Sariyer Dondurmacısı. The milk ice cream (sütlü dondurması) is delicious.
– And if you want another option, then you can go to Roma Dondurma on the left when you're leaving the square. Their signature flavor is melon, but they have a lot of other options. Click here for the location. Number 3 on the map.
Tarihi Prinkipo Dondurma & Waffle is known for their waffles and different types of cones covered in chocolate, nuts, and other sweets. But this is the most touristic place out of the options we've provided, so don't be surprised if you have to wait in line. Click here for the location. Number 4 on the map.
10. Eat Sunflower Seeds in a Tea Garden and Mix with the Locals 😀
Well, to be honest, it doesn't appeal to us very much, BUT the classic thing that locals do here is to go to a tea garden on the shore with friends after a meal. Here, they play games such as backgammon and dominoes and munch on sunflower seeds. If you want to hang out with the locals for a bit, this is the place for you.
PLACES TO SEE IN BÜYÜKADA
1. See the magnificent mansions of Büyükada
With a bike, you'll easily be able to reach every corner of the island. There are tons of wonderfully ornate historical buildings on the island, and you're guaranteed to see one on every street you ride down. But there are different neighborhoods on the island:
On Yirmiüç Nisan Street
– This street is full of mansions right on the beach. These are the mansion you'll see when you approach the island by ferry.
– 2 icons of Buyukada, Splendid Hotel and Anatolian Club, are on this street. Anatolian Club is a very populer posh hang out amongst the elders of the island. Both its historical atmosphere and clients give it a very cozy and nostalgic vibe. Unfortunately, only offers affordable prices for its members. Click here for the location. Number 2 on the map.
The other icon of the island Splendid Palas Hotel is unfortunately not the most hospitable place. So we would not suggest staying over night but you should stop by a visit. As soon as you walk into the lobby, you'll be transported back to the 1920s with its grand piano, red curtains, and an elegant lobby full of art. The hotel, which has been passed down six generations, is a serious historical artifact.
The hotel was built in 1908 by Kazim Pasha after he retired from the Ottoman army to recreate European hospitality. Even though it has some French influences, it also has eastern influences in its architecture like its domes. Although the hotel was not open for customers, Atatürk liked to come here when he was in Büyükada to have dinner. Click here for the location. Number 3 on the map.
In The Nizam Area
– Çankaya Street is home to some of the most beautiful and historic mansion on the island. On this street, you'll see the Fabiato Pavilion, Izzet Pasha Pavilion, Con Pasha Pavilion, Mizzi Pavilion (which is also known as Al Palas), and the Yalman Mansion, which is the set for a famous soap opera in Turkey. On this street, there are now Adalar Cultural Center. 
– You'll see the Azaryan (Seferoğlu) Mansion on Nizam Street and Kuyumcuyan Mansion, which is also known as the Mazlum Bey Mansion.
– The house of Reşat Nuri Güntekin, who is a famous Turkish writer, is located on Yılmaz Türk Street. Click here for the location. Number 4 on the map.
On The Road To The Forest
– The Greek Orphanage, which is the second-largest wooden structure in Europe, is located on the road that goes to the Hagios Sotiros Christou Monastery. It's a dilapidated building that has not been in use since 1964 and has suffered a lot of weather damage since then. They've closed most of it off, so there's not much you can see. Because of this, we don't recommend that you come here in vain. The Greek Orphanage was selected as one of the seven endangered cultural heritage sites in Europe so it's currently under renovation. Great news! So be on the lookout in the next couple of years to see if it's been renovated. Click here for the location. Number 5 on the map.
In The Maden Area
– Check out Hamidiye Mosque and Meziki Mansion (Click here for the location) Number 6 on the map. on Malul Gazi Street. The mansion is now used as a hotel and a film set. Click here for the location. Number 7 on the map.
On the side of the is the Trotsky house, which was the house of the famous Russian politician while he was exiled. Even if it's not in good condition and you can't make it inside, you can still stop by and see it from the outside. Click here for the location. Number 8 on the map.
2. If You Have Time, Check out Adakule for a Great View
Büyükada has a lesser-known hill called the Hızır İlyas Hill in addition to the Aya Yorgi hill. On the Hızır hill, there is a fire tower named Adakule, and all of the island can be seen from here. If you're used to climbing up hills, then go for it. It's much more secluded than Aya Yorgi. You don't need me to tell you, but I will anyway – wonderful views await you here. To get here, walk only 700 meters from Lunapark.
3. Explore the Adalar Museum
Nikola Hangari's permanent exhibition called "Princes Islands in 10 Minutes" provides a comprehensive history of the formation of the islands to life today. It is open every day except Monday. Website Click here for the location. Number 9 on the map.
HOTELS ON BÜYÜKADA ISLAND
If you can fit it into your Istanbul itinerary, we strongly advise that you stay in Büyükada one night. It'll do you some good, believe me. This way, you won't have to worry about getting in all the attractions the same day and running to catch the ferry on the way back to Istanbul. Our dream has always been to rent a place on the island for the summer, but we haven't yet. We'll have to settle for staying one night. 🙂 And the great news is that the island provides accommodation options for people on all budgets. I can not tell you so well.
**Important Reminder **
Turkey has complicated relationships with Booking.com:
– If you are abroad, you can book a hotel in Turkey on Booking. It is best to do your bookings while you are away.
– If you are in Turkey, you can no longer book on Booking.com. So you need to connect with VPN in order to use Booking or you can switch to Agoda which is also owned by Booking.com.
Aya Nikola Boutique Hotel
Click here for more details and to make a reservation: Its not available on Booking or Agoda
Çenar Konak
Located just 200 meters from the shore, the Çenar Konak, with its lush gardens, is a small hotel with 7 rooms to let. The home, which contains its own cafe/bar, has a terrace that overlooks the island and the Marmara Sea. The establishment also offers breakfast. Click here for more details and to make a reservation: Agoda / Booking
Sergüzeşt Otel
Just 600 meters from the shore, the Sergüzeşt Otel is equipped with gardens and rooms with a sea-view. Breakfast service is provided for each room, the wifi works, but pets are not allowed. Click here for more details and to make a reservation:  Agoda / Booking
Ada Palas Hotel Buyukada
Click here for more details and to make a reservation: Agoda / Booking
WHAT & WHERE TO EAT ON BÜYÜKADA
Relax, if you've finished our one-day itinerary that we recommended for you, then you won't miss much. But because some people reading this might come back to the island several times, we wanted to add more for some variety. And we also realize that people might want to go to some popular places even if they are a bit touristy so we inclueded those too. For more options, check out our Büyükada Restaurants post.
1. Popular Places to Eat on Büyükada
Here, we'll list some other signature places. Let's warn you from the beginning – this is list is not for everyone.
If you're feeling adventurous and don't mind eating fried things, then you can head over to Altın Fıçı in Büyükada's market to eat fried mussels (midye tava), grilled sheep's intestines (kokoreç), french fries as well as a beer to go along with it. Click here for the location. Number

5

on the map.
Also located inside the bazaar is the deli market (sarküteri) called Yalovalı. Their signature dish here is potatoes croquette. This specialty is an island classic. Click here for the location. Number

6

on the map.
Büyükada Pastanesi is one of the island's most established businesses. You can come here for breakfast to nibble on some pastries with powdered sugar while sipping on some çay (tea). This bakery is also famous for its other baked goods such as its Turkish delight and flour cookies. While you're here, you might as well get some cookies for the road. Click here for the location.Number

7

on the map.
Eat some famous Büyükada ice cream. You can find our favorite ice cream makers in number 10.
Taste some seafood such as sardines and mackerel widely consumed on Büyükada. You can find the restaurants lined up on the beach. We've listed our favorites down below.
Up until a couple of years ago, one of the best things to do on Büyükada was to go see a movie at the Lale Open Air Cinema– but unfortunately, it closed. But right next to the cinema is Lale Büfe. They are known for making incredible toast that blends salt and sweet. They make a grilled sandwich that has both chocolate and kashar cheese that is oddly good. Click here for the location.Number

8

on the map.
Another favorite food item in Büyükada is watermelon jam. You can taste and/or buy watermelon jam at Ada Kahvaltı. Click here for the location.Number

9

on the map.
We know that you've probably stuffed yourself, but hang in there a little longer. After 5 pm, you can find a guy selling pickles near the clock tower. Turkey has a long history of pickling different vegetables, and you can pick your favorite combo. Our suggestion is to drink some pickle juice before leaving – if you can stomach it.
You'll also be able to find someone who sells pişmaniye, which is the Turkish version of cotton candy. If you happen to see the guy selling it, then definitely buy some from him to taste it if you haven't already.
2. Eat Appetizers and Fish and Drink Raki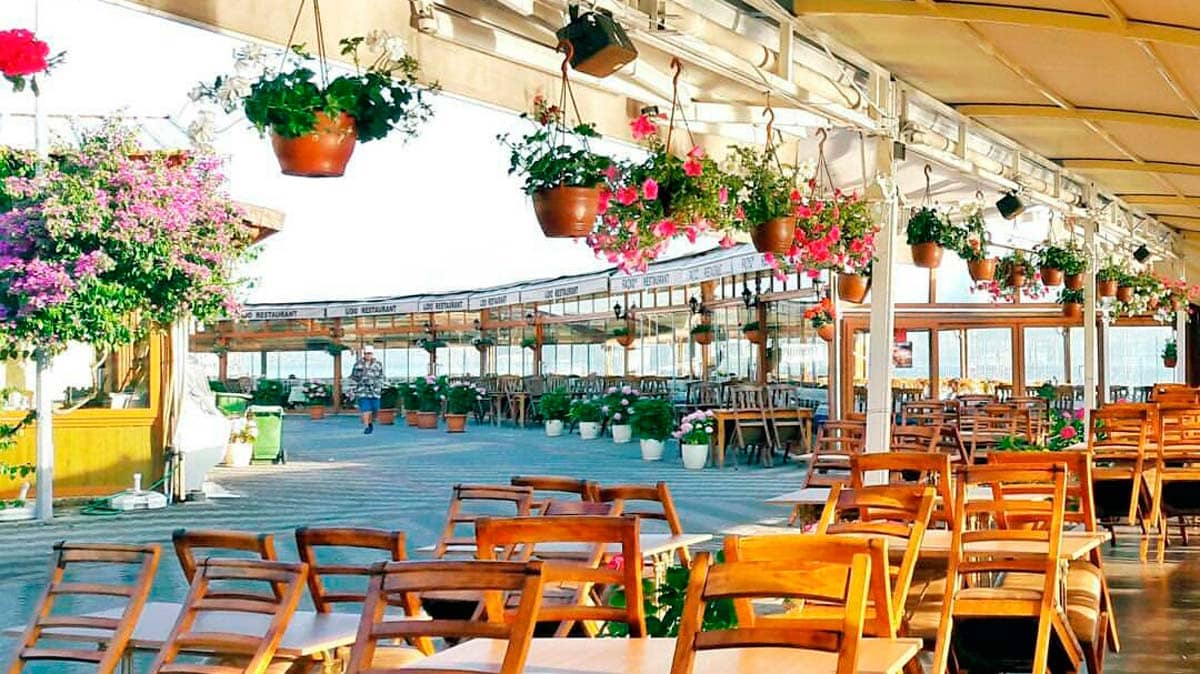 If you like seafood and are interested in taste testing Aegean food – which can be incredibly refreshing if you've spent the whole day in the sun – then you have two options on Büyükada island.
1. If you don't mind intermingling with the tourist crowd, then you can eat at one of the restaurants right on the shore. All of Büyükada's restaurants that serve appetizers, fish, and raki (a Turkish spirit flavored with anise) are lined up one after another on the coast. In terms of quality and cost, they are all about the same. But we've gone ahead and chosen one for you: Milto. 
2. But of course our top picks are located far away. One is the Eskibağ Teras Restaurant that we mentioned in the section about breakfast, and the other is Fıstık Ahmet's Place (Fıstık Ahmet'in Yeri) Prinkipo Restaurant that we talk about down below.
Fıstık Ahmet's Place Prinkipo Restaurant
This place is known as being an island class and is located after you pass the line of restaurants on the coast and is owned by Fıstık Ahmet. This is a great place to come to have some appetizers and drink some rakı. There's also live music on Fridays and Saturdays. Click here for the location. Number 10 on the map.
Milto
As we said before, most of those restaurants that are lined up on the coast on Büyükada are all about the same regarding price and quality. But if you were to ask us for the best option out of all of them, then we would have to say Milto. Here, you can try the grilled meats, calamari, octopus, and fish, which are all lovely but might be a bit more expensive compared to the other places we've listed in this post since this is a touristy place. Click here for the location. Number 11 on the map.
BEACHES ON BÜYÜKADA ISLAND
There are several places where you can swim on Büyükada. For a list of the cleanest and most well-maintained places, then check out our Beaches on Büyükada post.
IF YOU STAY ON BÜYÜKADA OVERNIGHT, HEAD TO SEDEF ADA THE NEXT DAY
This is a great traveler's tip we have for you: Sedef Island is a paradise that is little known to tourists and locals alike. The island is just composed of a couple of places to swim and a couple of restaurants. The best thing to do here is to go swimming during the day and to have a meal at Elio Sedef Restaurant.
As we said, there aren't that many places to choose from. One is Elio Sedef Restaurant that owns that beach in front of it, and the other is Liya which also provides services for the beach. There is also a public beach where you'd have to pay to get in, but we don't recommend it. If you've come all this way and are going to spend money, then it should be at Elio Sedef Restaurant or Liya.
There isn't frequent transportation to Sedef Island, but you can find boats that leave from Büyükada that provide transportation for Elio and Liya customers. The other option is that if you're with a group of people, then you have the option of renting a boat or taking a sea taxi. Click here for the location. Number 10 on the map.
HOW DO I GET TO BÜYÜKADA?
There are two ways to get to Büyükada: by boats operated by private firms and state-owned ferry boats (Şehir Hatlar).
Boat To Buyukada
You'll be able to find plenty of options if you go with a private company. A company called Mavi Marmara (it'll say it on the boats) go to Büyükada from Beşiktaş, Kabataş, Eminönü, Yeşilköy, Kadıköy, and Bostancı. If you're staying close to Sultanahmet, then you'll want to leave from Eminönü. Click here to find the timetable for both the winter and summer seasons.
Prens Tur also has some boats leaving from Kartal going to the island. Click here to find the timetable.
Turyol'un also has some boats going to the islands. Click here to find the timetable.
Ferry To Buyukada
You can find ferries run by Şehir Hatları going to Büyükada from Eminönü, Kadıköy, and Bostancı. From the European side, the trip there lasts 1 hour and 20 minutes. It's shorter from the Asian side – it's half an hour from Bostancı and 1 hour from Kadıköy. Click here for prices and times.
Also İDO has some ferries going to the islands. Click here for prices and times.