One of the biggest travel tips we can give for Cuba is to let you know that it is tremendously romanticized.
Cuba is the type of place that has you running for the door one second and feeling like you never want to leave the next. It's true, Cuba's laid-back culture and nostalgic beauty,  the charming colonial-era buildings, the vintage cars – make it a waking dream. But it can also be an incredibly restless one for the well-intentioned traveler. For this reason, setting the right budget and knowing the best Cuba travel tips are important for ensuring a smooth trip!
Let's just clarify one thing before we continue: This article is intended to prepare you for the hustle of traveling to Cuba so we focused more on the negatives and that positives. But otherwise, Cuba is legendary. Its 60 years of revolutionary history living under the watchful gaze of the US has made it one badass little island nation.
Other Articles To Get You Ready For Cuba
We have a series of articles full of Cuba travel tips:
Things To Do In Cuba & Cuba Itinerary
Cuba Travel Guide
WHY CUBA IS DIFFICULT TO TRAVEL TO
Socialist Cuba
As you know that Cuba is a communist country and it has been Cuba's blessing & curse. The Revolution, Che, Fidel, and communism are often the main reasons tourists want to take a trip to Cuba. A major selling point for tourists is the way that a small island has stood up to a superpower like the US.
Tourists are also attracted to the nostalgic feel of the country, which was frozen in time after it was economically isolated from the rest of the world in the 1960s. Everything in Cuba is from a bygone era: home furnishings and decorations, the vintage cars that patrol the streets, even the pace of life. Cuba opening up to change led tourism to skyrocket 15% in one year. So communism blessed Cuba with booming tourism but it also cursed the country with a bad economy.
Living in Cuba on $25 a Month
Once Cuba became a communist country, the US implemented a severe and heavy-handed embargo, which led to many economic hardships. Yes, communism ensures that everyone has a place in society, free education, and healthcare, with staples such as milk, rice, beans and meat.
However, in reality, present-day government assistance only accounts for 40% of the basic requirements needed for one family. Furthermore, people in full-time positions are expected to work five days one week and six days the next.
Like anywhere else in the world, doctors make the highest salaries – but unlike in many other places, this only comes out to $25-$30 a month. People are forced to find alternatives to make ends meet. No matter how much the Cuban government subsidizes products, life in Cuba can be just as expensive as life in European countries.
How much do everyday items cost in Cuba?
Everything, down to cookies, has to be imported, as Cuba has yet to undergo industrialization. Under these circumstances, you can expect to find deodorant for 2-3 euro, baby food for 2.5 euro, and 1 liter of fuel at around 1 euro. With these prices, it's impossible to live off of $25 per month.
Locals have turned to tourists, who they view as walking ATMs – especially when they see that a foreigner can easily afford a 7 euro meal in a restaurant.
Raul Castro Brings Cuba into a New Era after Fidel's Death
In 2011, Raul replaced his brother Fidel Castro and became known for his more moderate communist leanings – which, to be fair, wasn't super hard post-Fidel. Raul brought about more economic freedom, something that had a significant impact on the quality of life among ordinary citizens. Under these newfound freedoms, people are now allowed to rent their houses as homestays, use their homes as restaurants and run private businesses.
This type of homestay in Cuba is called a "casa particular" and costs between 25-45 euro a night. Here's another of our Cuba travel tips: Breakfast is the same everywhere, and homestay owners usually charge 5 euro per person. No need to seek out trendy brunch spots here. 😉
Why are Cubans turning their homes into Casa Particulars?
Because locals realized they could make one month's salary from renting a room in their home for one night – surprise, surprise – almost every house on every street has turned into a casa particular. But this economic opening led the teachers, doctors, and engineers to leave their jobs and pick up tourism.
So it's very possible your taxi driver could be a cardiologist. During your trip to Cuba, people will constantly try to sell you services like a room in their house, a ride in a taxi or a massage, or anything they can make a commission from. This is especially true in Havana. Just see what happens when you make eye contact with a person.
Tourists = Walking ATM
Though not only specific to Cuba, it can be quite tiring ambling down the street knowing that you are being viewed as a walking banknote. This can be particularly hard as people sometimes ask you where you're from, as if to make conversation, all the while leading you to a "nice bar."
You will casually be invited for a beer, and though you might feel happy to have made a local friend after you finish your drink you'll see the bill. It's then you'll realize that each drink is ridiculously overpriced, and your new friend was just trying to get you to pay up at the bar, where he's sure to get a nice commission.
Understandably, these types of hijinks can make people defensive. You might be sad that someone needs to go to such lengths to make a bit of extra money, but you'll also be upset that you're nothing more to them than an ATM with legs and feet. The best way to deal with this is to keep walking without making eye contact and say "No, gracias."
SHOULD I BOOK MY TRIP TO CUBA THROUGH A TOURISM AGENCY?
Benefits of Going on a Guided Trip to Cuba
Language barriers
If you are curious about Cuba's revolutionary history, you're in for an unpleasant surprise. Dear amateur history buffs, consider this one of our most valuable Cuba travel tips: Learn the Cuban Revolution before you land in Cuba.
You won't learn anything in the museums if you don't speak the language. Almost everything is in Spanish and whatever is translated to English doesn't explain much. For example, you'll see placards saying: "This is Celia Sanchez's apron." You won't find any other information about Celia, who she was or what she did in the revolution that made her important. Nor will you find a guided tour, nor an audio guide or written explanations in Museum of the Revolution in Havana or in the mausoleums that contain the graves of Che and his comrades.
Unless you go with a tour guide who can explain everything you're seeing, you'll wind up disappointed. Because tour operators pair up with tour guides who have expertise, they can explain everything to you.
All-inclusive planning
Arguably the biggest advantage of going on a guided tour is that the company arranges everything, such as transportation, accommodation and on your behalf. This becomes especially important in Cuba because it is extra hard to arrange these things due to lack of infrastructure & order.  There is no widespread internet access so you can't arrange things from afar.
Avoiding transportation hassles
On the topic of transportation, let's touch on the sporadic bus schedule. One of our general Cuba travel tips – inter-city buses only run twice daily: in the morning around 7 or 8, and in the afternoon around 2 or 3. Because there are no buses at night, that means that you can only commute from one place to the other during the day.
If you have arranged a private tour, then the company's cars can take you to another city overnight, and you'll be to make better use of your time during the day by sightseeing or doing other things. Of course, you are not only limited to traveling between cities by bus or by a tour company. If you choose, you can always get a taxi to take you to another city at any time.
Freedom from cash
Credit cards are not accepted everywhere in Cuba. You'll have to bring cash wherever you go. If you are on a guided tour, then you'll only carry what you're going to spend. But don't worry, we'll provide you with information here about budget and costs, so you'll get a good idea of how much you'll need to bring.
Disadvantages of Going on a Guided Tour
○ If it's not a private tour, then you have no say in the schedule (or your travel companions…)
○ On trips that offer nights out for entertainment, guides will take you to more touristy places. On "Havana Nights" outings offered by tour operators, you'll drink champagne at cabarets and watch dancers decked out in peacock feathers. Some of these nights are held in normal venues and some are held on exclusive islands where everything is included – except for the Cubans.
Unfortunately, locals are not able to enter these types of businesses. In other words, these places are "sterilized" and far removed from the more authentic version of Cuba. We think that by going on that kind of guided tours it's impossible for you to be able to understand Cuba and to interact with the locals. On the other hand, if you decide to brave Cuba by yourself, you might be forced to constantly follow local expectations.
CUBA TRAVEL TIPS
As with any new culture, there are upsides and downsides to experiencing Cuba, as the people can be both charming and tiring. To prevent you from leaving Cuba disappointed, we decided to write about who Cuba is for and what to expect from your trip.
A Tropical Fantasy?
Cuba has amazing beaches. But one of the most earnest Cuba travel tips that we can give you is that you should go elsewhere if you're wanting to live out a tropical fantasy. Other countries have better developed infrastructure and facilities that are cheaper.
However, there are certainly fabulous beach destinations in Cuba, and one we recommend is Varadero – even though it doesn't quite provide an authentic experience. If you can fall in love with a place just from looking at a map, Varadero's 20 kilometers of beach will have you entranced – and the sand, sea and beach will do your passions justice. There are resorts along the coast (yes, unfortunately, there are resorts even in Cuba), but you'll find plenty of quieter places along the 20-kilometer strip.
On the plus side, there are tons of different activities like kite surfing and fly fishing, since Varadero is a top tourist attraction. Likewise, you'll have a wide selection of food and entertainment at night. The other upside is that Varadero is located close to Havana and other places to see in Cuba.
You'll probably find that other articles spouting Cuba travel tips say that there are stunning beaches all around the country. Well, they are right! If you want to head out to a beach with nothing but yourself and a book, then you can check out our Ultimate Things to Do in Vinales and Ultimate Things to do in Trinidad posts.
Another good contender amongst our Cuba travel tips: The water becomes choppy around 4 pm.
Budget & Costs: Performance for Price
There are resorts and luxury restaurants that are off-limits to Cubans. So it's no wonder that at these fancy establishments, where everything is so synthetic, you'll have a hard time distinguishing if you're in Cuba or any other tropical locale. It's an expensive bell jar, and chances are you can find a more enjoyable experience in another country for far better bang for your buck.
If you're cut off from the rest of the world, then you'll be caught off guard when you venture out into the real Cuba. While there are beautiful houses, most are shabby. Things that we take for granted, such as soap and toilet paper, are considered luxury goods in Cuba, and you'll have to go without in some places.
You would probably be shocked to see the standard of living that Cubans have gotten used to. You might also be caught off guard by the number of times you will be asked for money on the street or the constant negotiating for every. single. thing.
There is not much in the way of accommodation such as boutique businesses – only resorts/hotels and casa particulars, the latter of which will be lighter on your pocketbook. The stark difference between the two worlds can leave a bitter taste in your mouth.
Honeymoon in Cuba?
We loved our trip to Cuba, but we would not have gone there for our honeymoon. Even though Cuba might possess a romantic atmosphere, doing day-to-day things is a bit of a hassle. Also, scrambling to make your way down the street without being harassed is kind of a mood killer. But don't worry if you have already bought your tickets to Cuba for your honeymoon! We've got travel tips to help keep every step of the way smooth.
If we unwittingly scared you away and you're thinking, "I changed my mind, where do you recommend instead of Cuba?," then head on over to our Suggestions For Honeymoon Getaways.
Photography
If photography is one of your hobbies, then Cuba's backdrop is the perfect place for you. There are so many stunning things about the country that will allow for great photos: colonial architecture, houses in various states of disrepair, colorful streets and, for some reason we have yet to figure out, the amazing natural light. Prepare to live the #chasinglight dream. To top it off, locals are far from camera shy.
This is one of our Cuba travel tips that pains me to write: The best way to learn about the Cuban Revolution is at home. You'll learn way more by watching documentaries on YouTube than by visiting any of the museums in the country.
Unfortunately, there is not much information at the two most important places that are supposed to preserve the country's revolutionary history: the Museum of the Revolution in Havana and Che Guevara's mausoleum in Santa Clara.
Scuba Diving
To make the most out of your trip to Cuba, you'll want to plan your days carefully, particularly if you're planning to go diving. Locals claim that the best diving spot in the Caribbean is in Cuba. But before you get excited, you'll need to set aside at least one day, as the places where you'll be able to do serious diving are located far out of the cities.
If you've traveled to Cuba just for the diving experience, then you can go around the islands and islets that make up Jardin De La Reina. This is undoubtedly the best place for diving. You even have the option of going aboard diving ships for a 5-10 day tour. These cost about $2,000-3,000 per week.
Professional underwater photographers agreed that it was expensive, but told us it was very much worth the money. We've also heard that shark diving is a dream come true.
The second-best place for diving is a small town located near the forest, called Maria La Gorda. Finding transportation and accommodation is a bit rough, but it's cheaper than Jardin De La Reina. Aside from this, Playa Santa, which is connected to Camaguey, also offers shark diving trips.
IDEAL CUBA ITINERARY – 7 TO 10 DAYS
For even more Cuba travel tips, such as where you should go and where you should stay, check out our Things to do in Cuba & Ideal Itinerary article.
ACCOMMODATION IN CUBA
Casa Particular (Homestay)
If you don't think that your trip to Cuba will be more of a resort-like vacation, then you should consider booking your accommodation in houses while seeing the country. It is one of our most cost-effective Cuba travel tips. Staying in locals' houses allows you to have a sneak peek into the life of ordinary citizens, as well as the state of things in the country.
You'll be able to gain a different perspective in understanding the dynamics that run your own life. Though it might go without saying, Cuba is a communist country, and that fact shouldn't be forgotten if you're looking for a luxurious tropical vacation.
More bang for your buck
Casa particulars, which are also known as homestays, are the best and most economical way to get to know Cuba. One of our major Cuba travel tips in terms of accommodation is that you make reservations to stay at a casa particular, unless you'd like to end up like us: wandering around in the heat for 1.5 hours, lugging our bags door to door inquiring about accommodation.
So, let our mistake be a learning experience for you. There are a lot of tourists, and places get booked up beforehand. The casa particulars that are left over are, well, let's just say they are probably not the type of place you'd like to stay if you're the kind of person who usually books ahead. This is especially true for busier times of the year, such as New Year's and Easter. You'll probably have the most difficulty in Havana and Varadero.
You can read everything you need to know regarding casa particulars for your trip to Cuba, such as what you should expect and how you can go about arranging your stay, in our Casa Particular – Where to Stay in Cuba article.
You can find our favorite casa particulars here: Things to Do in Cuba & Ideal Itinerary
Resorts & Hotels
Rooms at hotels will be reserved more quickly than rooms at casa particulars. People who don't make reservations beforehand might be left on the streets.
Before, tourism was monopolized by the government, but now there is foreign investment in the sector. The resorts on the coast are Canadian businesses, and the French and Spanish dominate the hotel sector.
We'll let you in on another of our Cuba travel tips: There is a difference in quality between staying at a 200 euro per night hotel in Asia and Europe versus one in Cuba. Trust us, your money does not go as far as you'd think here.
TRANSPORTATION
While horses are still a common way of getting around, our Cuba travel tips focus more on transportation with engines 😉  There are some horse and buggies for tourists, but they are a main form of transport in more rural places like Santa Clara.
Inter-city Buses
State-owned Viazul is the only bus company that offers transportation services between cities. Just be forewarned that the buses leave whenever they want. You'll need to arrive at the bus station one hour before the scheduled time. Unfortunately, we know this from personal, painful experience.
You can buy Viazul tickets online.
Collectivo (Shared Taxis)
Most of the time, you'll be able to arrange collectivos, or shared taxis, and pay an extra 3-5 euro for the service during your trip. You'll be able to find collectivos in whichever city you're in. You can ask one of the many people who will approach you on the street asking if you need a taxi. Just ask, "Collectivo?" and more likely than not, they will say "Si."
It's unlikely that anyone will turn you down, since they all know collectivos and will receive a commission for bringing you to them. You can ask "Cuánto cuesta de La Habana a Viñales?" which means "How much is it from Havana to Vinales?"
Collectivos won't have signs on their cars. There are some that do, but there are a lot of illegal ones, as people use their private vehicles as collectivos. Owners of collectivos are required to give money to the state.
The vintage cars also operate as collectivos, but they might be more expensive. They'll probably send a car that is between 10 to 30 years old to come get you. Just don't expect air conditioning.
You can arrange for a private transfer before coming to Cuba. Pro Cuba travel tips: Check out the company's website to get a sense of their rates, but know they are at least twice as expensive as collectivos.
WHAT TO EAT IN CUBA
We won't try to squeeze in here which local spots we've found for you to feast on during your trip to Cuba. Click here to read: FOOD IN CUBA – WHERE AND WHAT TO EAT
CUBA TRAVEL TIPS, BEFORE YOU GO
Cuban Tourist Visa/Card
Before the rapprochement with the US, tourists would simply ask customs officers at the border not to stamp their passports. Though travel restrictions have eased, tensions are constantly waxing and waning and the USA's Cuban ban still exists on paper. We didn't get our passport stamped. Just in case.
You can read all about the visa requirements in our Cuban Visa post. 

Money
Some more Cuba travel tips: Be aware that there are two different currencies. One is the CUC used by tourists, and the other is the peso. The reason for this is the government subsidizes so many products, which has created two different economies. As tourists, we can't benefit from government subsidies (you probably won't see these items for sale or you probably won't use pesos anyway). 1 CUC = about 24 peso.
Make sure to carefully plan your costs and budget and bring enough money in cash to cover your entire vacation, unless you are willing to pay ATM fees. However, nothing is reliable in Cuba, and the ATMs might not accept your cards. Cash is best.
You should bring euro instead of US dollars, as they're more widely accepted and the commission is lower.
Nicer hotels and restaurants will take credit cards. However, the commission is also pretty steep.
Learn About the Revolution Before Going
If you leave it up to museums to provide you with information on the revolution, you'll wind up pretty dissatisfied. (If you go with a guide, you'll have no problem.) You can start with our guide on the Cuban Revolution – Fidel Castro & Che Guevara & Communism!
Work on Your Spanish
Another of our Cuba travel tips: You'll need to know a little Spanish. Write down a few clutch phrases like "I (don't) want …" or "Do you have a room?" or "Can I get another mojito?" before you go.
Be Prepared for Jet Lag
The toll that changing time zones and jet lag takes can turn you into a zombie once you get to Havana. To go from Walking Dead to Walking ATM, give yourself at least two days to recover. If you are coming from a radically different time zone, we recommend that you sleep on the plane.
GSM
Some mobile operators might work in Cuba, but you should make sure that your phone's settings have enabled roaming.
Internet in Cuba
This is probably the most valuable of our Cuba travel tips we can give you, as having an internet card might be the only way you can reach the outside world, much less update your Instagram followers. You can buy a card that allows you to access the internet for five hours, but be warned! Wifi is only available in specific hotels and parks. Don't worry about tracking them down though, just look for the hoards of people sitting on the curb on their phones, getting their social media fix.
Beyond those bright, shining moments on the curb, get ready for a life without internet. If you have anything you need to do for work or anything else that relies on a reliable internet connection, we recommend that you take care of everything before going to Cuba.
You can purchase these cards from hotel reception or in one of the branches of Etecsa, which is Cuba's telecommunications company. The prices vary. At Etecsa, you can find a one-hour internet card for 1.5 CUC, but the hotels sell them for 4.5 CUC. In Cuban fashion, you'll likely have to wait at the Etecsa office, so you're best bet is to buy 4 or 5 cards in one go. You can use the same card in any of the Wifi spots around the country, including the airport. If you haven't used the entire allotment of your card in one sitting, that's ok, it'll keep track of your remaining credit.
Is it safe?
We didn't encounter any security problems, and we didn't hear about anyone who did. Compared to Europe, the crime rate is quite low. No one will steal your phone using petty lures like in Italy; however, if you leave it on the table, someone just might "nationalize" it for everyone to have. 😀
Is it safe for women?
Women can travel alone, much like any other place, men will bother them. If you go without a male in the group, you'll probably hear catcalls and comments, but they won't make you feel threatened.
Click here for City Tour Guides
Havana– Places to See in Havana, What to Eat in Havana, Accommodation
Trinidad – Places to See in Trinidad, What to Eat, Accommodation
Vinales – Places to See in Vinales, What to Eat, Accommodation
Tour Operators for City and Activity Trips in Cuba
Two state-owned tour agencies can organize your trip to Cuba.
Infotur – For city trips and activities in the nearby areas (for example: guided city tour or deep-sea fishing).
Cubatur – Tour agency for services such as finding transportation and booking hotel rooms. Should you choose to stay at a state-run hotel, then you can get a discount by booking through Cubatur.
BUDGET
An article on Cuba travel tips is useless without the scoop on how much you're likely spend. Well, the bad news is that Cuba is not a cheap place, despite how modest its buildings and infrastructure might seem. So, you might want to adjust your budget and costs accordingly. In fact, taking a vacation in Spain costs roughly the same price.
You can expect to spend about 150 euro for two people per day for food and accomodation at decent places during your trip. These costs take into account souvenirs, transportation within and between cities, tours, museum admission fees and diving.
If you decide to stay and eat at cheaper places, it's possible that you can go under this limit. However, the standards fall steeply as the prices drop, and you might find yourself staying somewhere you don't like.
For your reference, 1 CUC is about 1 euro.
Accommodation Prices
Just about the cheapest thing in Cuba is accommodation, but that's only if you stay at casa particulars. The best casa particulars are around 45 CUC per night. This price decreases as you get further out into the countryside, but it'll still be around 30 CUC per night. Breakfast is 5 CUC extra per person.
Prices of rooms in resorts and hotels change according to their ratings. Generally, the prices of rooms hover at 80 Euro per night. If you are looking to pay any less than this, just stay at a casa particular and you'll be glad that you did.
Prices for Food and Drinks
A meal at a cheap restaurant is 5 CUC and  7-8 CUC at a standard place. A nice place that isn't too fancy is around 10-12 euro. A big bottle of water is 1.5 euro, and mojitos are 2 euro.
Prices for Renting Vehicles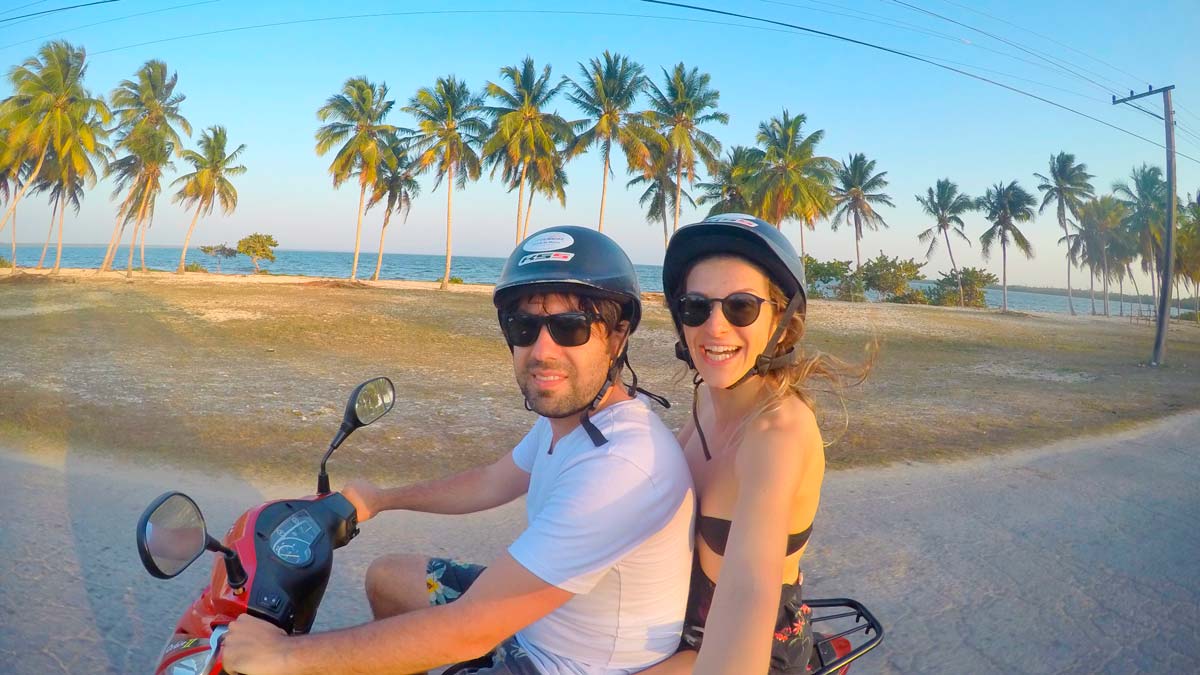 The only company that rents out vehicles is state-owned Cubacar, but one of our Cuba travel tips for renting, it's both expensive and service is poor. In our case, no one was at the office between 12-3 pm, when it was supposed to be open until 4 pm!
Apparently, the guys working there decided to go home and take a siesta – no matter that we needed to return our motorbike, pick up our deposit and catch a 2pm bus. Sadly, that bus only runs twice per day and we had to decide between catching it and getting back our deposit. On top of that, maintenance was pretty shoddy. Our motorbike broke down twice in one day.
Renting Cars – The cheapest rate to rent a car is 60 CUC per day, but any added expenses can easily push this price up to 75 CUC.
Renting Motorbikes – Prices for places that are less frequented by tourists are around 25 CUC. Expect to pay 35 CUC in more popular places, such as Varadero and Havana.
Trip in a Vintage Car
We are of the opinion that taking a trip in a vintage car is the third-best thing you can in Cuba. To plan for your budget, a one-hour tour around Havana in a vintage car is 35 CUC.
Cost of Transportation
The most expensive thing about Cuba is transportation.
A taxi from the airport for Havana costs 25 CUC.
An inter-city busy generally costs between 15-25 CUC.
WHAT TO PACK
Summer Outfits
No matter what you pack for your trip to Cuba,  summer outfits are necessary. You'll also want to bring something with long sleeves as nights tend to get chilly. Bring some comfortable walking shoes as you'll walk around Havana quite a bit. You'll also need a good pair of tennis shoes for activities like horse riding or trekking.
If you plan to eat a nice meal in a fancy restaurant, make sure to bring trousers and a jacket (for men). Bear in mind that there are a couple of nice places that don't let men in without trousers and jacket. If possible, try to bring makeup and accessories you wouldn't mind parting with – the locals will ask for your things as a gift, and it's a nice gesture.
Other Items to Pack
Plastic Bags – This is one of our Cuba travel tips that you'll thank us for. Cubans barely use any plastic bags, so make sure you bring some if you use them to hold laundry and shoes or for quick shopping trips.
Snacks – Because Cuba manufactures very few products, common snacks like cookies are imported, and it's hard to find much else. Mexican and Spanish cookies cost 3.5 CUC, and they are only sold in bigger markets. Bring something along to nibble on while you are traveling between cities, trekking or at the beach.
Insecticide – Having some mosquito spray or pluggable insecticide will come in handy so you won't be eaten alive.
Adapter – Most places have American sockets. However, some of the new houses being renovated are compatible with European wall sockets. Be prepared for both.
Medicine – Whatever you usually pack in your standard traveling medical kit, bring it. Medicine in Cuba is expensive.
Batteries – If you need to use batteries during your trip to Cuba, you should bring along however many you may need to use. It's not impossible to find batteries in Cuba, but you might have a hard time doing so.
SEASONAL CUBA TRAVEL TIPS – BEST TIME TO GO
Best time: April and October. It's not as hot or as crowded, and the prices and costs are lower. Try to avoid Easter in April if you can!
Worst time: May, June, September. Cuba is hot and humid during these months. Also, take note that hurricane season runs from June to October, and there's a greater chance of rain during this time. Some tourist areas completely shut down during this time.
Peak season: October – March. The weather is cooler and less humid. Europeans seem to come en mass for their annual leave in July and August. Likewise, there are lots of tourists for Easter and New Years. Prices in Cuba go up 30% during this period.
WHAT TO GET FROM YOUR TRIP TO CUBA
As you may have guessed by now, Havana isn't exactly the place to go shopping. But here are a few helpful Cuba travel tips on what you can purchase on your trip to Cuba, any any travel restrictions they may have:
Rum – You are allowed to buy up to five bottles of rum per person at the airport's Duty-Free.
Cigars – You are allowed to take 25 cigars that are packaged and marked per person out of the country. There's no limit to the unmarked cigars that you can find rolled at the tobacco farms. The most famous brand is Cohiba.
Colonial style tablecloth – This is the classic tablecloth in the picture. For one that can fit on a table made for six people, it costs 35-40 CUC.
Alicia Cream – This is a face cream made with placenta and aloe. Also, Jardin De Aromos is available for 12 CUC at the bazaar under the Sevilla hotel.
VISIT OUR INSTAGRAM ACCOUNT