THINGS TO DO IN DELHI & IDEAL ITINERARY
In terms of things to do in Delhi and in Mumbai, which has the best options?
Before visiting, I pondered this question for a while. As the capital of India, I assumed Delhi might be typically dull and bureaucratic. Plus, it's distance far from the sea didn't look appealing. Mumbai, on the other hand, is by water and has excellent weather. Mumbai also acts as the headquarters for many foreign companies and is the business hub of the entire region. That being the case, my answer was clear.
Well, I was wrong. Delhi is India's most modern and stylish city. Although it falls behind Mumbai concerning wealth, Delhi is better-kept in comparison – purely as it is constantly under the watch of the country's presidents and prime ministers who live here. At the same time, all the best fashion designers, the most stylish places, and the best galleries are located in Delhi.
Delhi is an exciting place that dispels the notion of India as a place simply "steeped in tradition". As we traveled around the country and saw the living standard among the population, we couldn't stop wondering comparatively about the lives of the country's rich and famous. So we dug into it and shared findings on Delhi glamour with you below.
Equally interesting to us, is that Delhi also has an unusual amount of  Turkishness in its DNA. Turks came here for the first time in the 1200s before the city fell under the control of the Afghans. Years later, the Mughals, a Turkic-Mongol empire, ruled here and made Delhi their capital between 1649-1857. It soon became a center of Sufism, the dominant strand of Muslim belief in India.
The Big Smoke
There is something else we should mention before going forward: when you're in Delhi, you'll experience the worst traffic of your life, and you'll have no choice but to breathe in the toxic air. Pollution is so severe that planes are sometimes redirected for poor visibility. Air pollution here is some of the worst in the world, and if you're sensitive, you'll probably experience chronic headaches. As we mentioned in our Life In India article, spending one day in Delhi is the same as smoking 50 cigarettes.
So we recommend that you stay in Delhi for only a day and then move on to your next location. Of course, there are countless things to do in Delhi, but it's wiser to spare as many days as possible for Rajasthan at large. We would even venture to say that if you don't have a lot of time, then you can skip Delhi altogether, although there is still much fun to be had.
Important Note:
Before departing for your trip to India, we recommend reading the following two articles:
– Life In India (What kind of place is it, is it dirty, religion, caste system, and everything you need to know before you go)
– India Travel Guide (budget, route, alerts, as well as suggestions and preparation before you go)
For those of you who don't have a lot of time in India, we recommend doing the Golden Triangle tourism circuit, which includes Jaipur & Agra.

KNOW YOUR GEOGRAPHY
New Delhi and Delhi are not the same things. New Delhi is the capital of the country and where the parliament is located. Delhi is the general name of the large metropolitan zone that covers New Delhi and other areas.
Important places in New Delhi:
– India Gate (India Gate)
– Humayun's Tomb
– Connaught Place
– Janpath Market
– Khan Market
– Gandhi Samadhi (Gandhi's Mausoleum)
Old Delhi was founded by the Mughals in 1639 and was the old center of the city. Old Delhi is cramped and chaotic while New Delhi is clean and spacious. 🙂 Things here:
– Red Fort (Red Fort)
– Chandni Chowk Market
– Friday Masjid (Jama Masjid)
– Raj Ghat
The modern face of the city is south of Delhi:
– Hauz Khas Village
– Lotus Temple
– Kutup Minare
Delhi has many, many other districts, but we don't know much about them.
TOP THINGS TO DO IN DELHI
1. Go Rickshaw Crazy
Rickshaws are carriages pulled along by bicycle peddles. I cannot think of a better introduction to India than by riding in a rickshaw. The experience of riding in one gives you a strong impression of the chaos and noise of Indian cities.
Traffic is so backed up in the streets of Old Delhi that it's not like the cars are bumper to bumper, but the cars move forward while touching each other on four sides. And this is no exaggeration. You'll find that it's hard to walk across the street as a pedestrian as the cars don't leave enough room between them. We swear we saw people pressing against cars to get by.
The chaos is incredible and definitely something to experience. The scene is this: monkeys are crossing the street climbing over cars, a cow also stuck in the middle of traffic, and us sitting in a rickshaw directly below electric wires hanging down like spaghetti. It's exhilarating for the tourists but we hate to be stuck in such traffic every day. Still, you will inevitably understand yourself, as you use them to scoot between things to do in Delhi.
2. Eye-Popping Indian Fashion (And Price Tags!)

Photos don't do justice to showing exactly how intricate these garments are. I've never seen such beautiful dresses and gowns.
Let me put it this way: If I were going somewhere like the Oscars, then I would probably head to the DLF Emporium to buy a dress from an Indian designer from the top floor. Especially from Tarun Tahilliani, who is known for applying his knowledge of Indian weaving to Western-type clothing. To be honest, I don't particularly like the two-piece traditional Indian gear, but I would suggest Kotwara for daily attire.
3. Become Indian Coquette in Delhi
There are four Indians on Forbes' list of the 100 richest people in the world. In Delhi alone, there are 18 billionaires and 23,000 millionaires, meaning you'll be able to find golf clubs, posh restaurants & bars, and expensive shopping centers.
– DLF Emporium – a shopping center with brands like LV and Chanel. There is another shopping mall with brands in the Zara setting.
– Some of the country's finest restaurants are in Delhi. Our recommendation is to try Indian Accent, which blends Indian cuisine with other flavors from around the world. You must make a reservation. If you feel like you need a breather from Indian food, then you can look at the other stylish restaurants we've listed here.
– The elite of the city go to run and walk their dogs in Lodi Gardens near Khan Market.
– Connaught Place – The business center of Delhi. Offices of all the major companies are located here.
– Golf Link neighborhood and Aurangzeb Road/APJ Abdul Kalam Road are the places where all the top-level businessmen and diplomats live, however, there's nothing much to see here.
4. Tour Delhi's Hipster Locations
Ok, so now we're getting into the stuff we enjoy the most.
– Our favorite place was Shahpur Jat, which is somewhat the Delhi equivalent of  London's Shoreditch or New York's Greenwich Village. Before this district became popular, rents were low so it became home to many artists and designers. Since, it has become one of the most frequented places for the city's Y generation.
The South Delhi Kitchen Community Cafe – Come here if you want to make friends with the locals. The concept here is set up so you can eat with people you don't know.
Kunzum Travel Cafe – This is an excellent place to meet other travelers.
Social Co-working space – Come here to turn on your computer and work.
Kanelle, Sahiba Singh, Collart, and Nimai – Small designer shops
House of Blondie – For vintage enthusiasts
Wishing Chair decoration and Anand Prakash stationery
– Haus Khas Village is located half an hour by walking from Shahpur Jat and is the center of nightlife. There are restaurants, ruin bars and graffiti made by local artists. You can come here to have dinner then explore the shops around.
The most famous restaurant is Yeti, but it's too spicy even for Indians. So while ordering, don't forget to say "mild" or "not spicy." The most popular bar is Hauz Khas Social. It's a charming place.
Imperfecto is well known among locals, but we didn't like it very much. Downstair at Zo is a decent live music venue.
5. See India's Most Admired Art Centers
Delhi has a burgeoning art scene. Art galleries and museums keep popping up and Delhi became one of the places the westerners come to hunt for talent. There are a number of galleries, but the two most prestigious are Gallery Espace and Delhi Art Gallery. You can visit both quite quickly as they are located in Hauz Khas.
If you're keen on things to do in Delhi that highlight local street art, we suggest that you see the works at the ST + art India Foundation. The most critical piece is the Mahatma Gandhi police – which is the biggest mural in all of India – located at the Delhi Police Headquarters. We didn't see it, but the Lodhi Colony was transformed into the first open-air art area in India.
National Gallery of Modern Art is the most recommended modern art museum in India.
6. Watch Cricket Live
Cricket is a BIG deal in India. From September til March, Indian men live and breathe cricket. I didn't care for the game, but if your trip happens to coincide with a big match, then you can catch a whiff of what it's like to be a cricket supporter in India. Click here for the list of Where to Watch Cricket in Delhi. As you can expect, the matches between India and Pakistan are off the charts. If you happen to have plenty of time for things to do in Delhi, then soak in a game between the two, if only for the atmosphere.
7. Go on a Guided Walking Tour
If you think that you don't have a lot of time to wander aimlessly around Delhi but want to get a tour guide to show you the most important parts, then there are options for you. But if you just want things to do in Delhi to help stretch your legs, here are some great walking areas:
1. Click here to travel around Old Delhi by taking a rickshaw and walking.
2. If you want to do something that packs more meaning, then you can participate in a tour set up by the Salaam Baalak Trust, which helps young homeless people earn a living.
3. Click here to learn more about tours offered by Slums Old Delhi to tour around the more impoverished neighborhoods.
8. See the Heritage Left Behind by the Brits in Delhi
For a time, Britain ruled over 600 million Indians with a presence of only 25 thousand British officers, meaning that imposing buildings would make it seem like they were a much stronger force. When the British decided to move the capital from Kolkata to Delhi in 1911, British architects Edwin Lutyens and Herbert Baker were assigned to make it the architectural capital of England's power.
Start from Rashtrapati Bhawan on Raisina Hill, and continue down Rajpath Boulevard. Along the way, you'll see the General Secretariat where the prime minister's office and parliament are located. Save the India Gate and the Connaught Place for last as we recommend that you see the place at night. It looks much nicer.
9. Attend a Sufi Dergah
I've read tons of accounts from tourists who have said that Nizamettin Dergah's session every Thursday from 6 pm – 7:30 pm is very impressive. Nizamettin Evliya is an incredibly influential Sufi in India, and people come together to commemorate him and make music. Unfortunately, we didn't have time to go.
Very Useful Information
1. "Delhi Belly" – Don't Let it Get You 🙂
"Delhi Belly," also less delicately known as "traveler's diarrhea," and is very common in Delhi. If you're not careful, then you too will have Delhi Belly, and it'll be a shame that you'll have rest and not see what Delhi has to offer.
Some things you'll read will make it seem as if the Delhi Belly is inevitable, but you can avoid it by following simple rules that you can find here: Indian Travel Guide.
We were able to travel around for three weeks without any problems, but we have heard from many that they were inable to engage in any things to do in Delhi, or anywhere else, for that matter, thanks to being bed-bound. Take our advice, and you won't be so ill-fated!
2. Don't Get Worn Down by the "Foreign Tax"
Let's face it; tourists are always charged more than locals. It happened to us as well. Just accept and make peace with it, and your trip will go smoother. Don't wear yourself or a shop owner out by bargaining to get a discount on some item. Just think of the "tourist tax" as a way of helping the local people help their family like sending their kids to school.
3. Clothing
Dressing conservatively is advantageous. How much so? Looking at what Indians wear is a good point of reference: keep shoulders and legs covered. You will also find information regarding how to dress in our Indian Travel Guide post.
4. When to Come to Delhi
The best time to go to Delhi is in late autumn and during the winter months. But during the winter, it gets cold in the evenings, so definitely bring a jacket.
ONE- AND TWO- DAY ITINERARIES IN DELHI
Here is a quick list of all things to do in Delhi, although you won't have time for all!
So, below, you'll be able to find a classic one-day tour of Delhi:
– As soon as you leave in the morning, head over to the Friday Mesjid. If you leave it for later in the day, then it'll be really crowded and hot. Also, make sure you put your shoes in a plastic bag so they won't get stolen. Women don't have to cover their heads, but they will make you wear something like a robe.
– From there, you can go to Chandi Chowk for shopping and see a variety of religions existing together.
– Set aside one hour for the Red Fort
– Food
– Hop in a rickshaw and head over to the National Gallery of Modern Art. As you're going there, you'll pass under the Gate of India.
– Go to Humayun Tomb, which is worthy of being an opera house.
– Qutb Minar (We say you can skip this depending on how tired you are)
– As I mentioned above, you'll be able to see heritage left behind by the Brits at Lutyen's Delhi (We went there for better lighting during the night, but you might find it's easier for you to go during the day.)
– Hauz Khas Village
The places recommended for a single day are always the same, but you can change around when you'd like to see what. If you'd like to see an alternative route, then click here.
If you have two days
If you're planning to spend two days in Delhi, then you can spread the same itinerary over two days and add the Lodi Gardens and the Jantar Mantar. Set aside one evening for Shahpurjat. And you should go on a walking tour.
THINGS TO DO IN DELHI
In order to open the map, click on GoogleMaps
[column size=one_half position=first ]1.Red Castle
2 Shri Digambar Jain Lal Mandir
3 Jama Mosque
4. Chandni Chowk
5. The Prime Balaji Deluxe
6. Hotel City Star
7. Raj Ghat
8. National Gandhi Museum and Library
9. Jantar Mantar
10. Gurudwara Bangla Sahib
11 Le Méridien New Delhi
12. Rashtrapati Bhavan
13. Rajpath
14. National Museum
15. India Gate and National Gallery of Modern Art
16. National Handicrafts & Handlooms Museum[/column][column size=one_half position=last ]17. Akshardham Temple
18. Humayun Tomb
19. Dargah Nizamuddin Auliya
20. Gandhi Smriti
21. Lodhi Garden
22. Indira Gandhi Memorial Museum
23. The Leela Palace and Le Cirque
24. Bukhara Restaurants in New Delhi
25. Taj Diplomatic Enclave, New Delhi
26. Holiday Inn New Delhi International Airport
27. Olive Bar and Kitchen Restaurant
28. Qutb Minar
29. Shree Adya Katyayani Shaktipeeth Mandir
30. Lotus Temple Road
31. Lakshmi Narayan Mandir[/column]
Red Fort
One of the most historical things to do in Delhi is to visit the Red Fort, a relic left by the Mughals. This magnificent castle has walls that are 18 meters high and was built between 1638 and 1648 by Shah Jahan. He also constructed the Taj Mahal. It's said that the dead bodies of prisoners were used in the foundation of this building to bring good luck. Although Shah Jahan built this fort, he was never able to stay here as his son imprisoned him in Agra Castle.
The fortress became the administrative center and the site of residence for the Mughal Empire. The last emperor to stay here was Shah Bahadur II, who was exiled to Burma during the Indian Revolution. Afterward, the British destroyed the buildings and gardens within the fort's walls and used it as army barracks for their troops. The Iranian National Museum of Jewelry has the Peacock Throne, which has 26,733 precious stones. In 1739, Nadir Shah, the king of Persia, took this valuable piece with him when he conquered Delhi.
The best way to experience the Red Fort is by watching the music and light show by the famous Indian artist Amitabh Bachchan. Click here for tickets, show dates, and other information. Entrance fee of Red Castle: 500 Rupee and 25 Rupee for an audio guide.
Working Hours: Tuesday – Sunday 10 am – 5 pm. Closed on Mondays. Address: Netaji Subhash Marg, Lal Qila, Chandni Chowk, New Delhi, Delhi 110006, Tel: +91 11 2327 7705 Website Click here for the location.
Digambara Jain Temple
Opposite the Red Fort, you'll see the Digambara Jain Temple of Jainism, which is also made of red sandstone. One of the basic tenets of Jainism is that every living creature is valuable, so part of the temple has served as a bird hospital since 1956. This hospital treats an average of 30,000 birds per year. They help not only birds that fly but also chickens and roosters.
Working Hours: It is open every day between 11 am – 11 pm. Address: Chandni Chowk, Opposite Red Fort, Netaji Subhash Marg, New Delhi, Delhi 110006, Tel: +91 11 2328 0942 Click here for the location.
Jama Masjid
The Jama Masjid is one of the most beautiful historical monuments in the region and is left over from the Mughals. It's the most magnificent mosque in all of India and is the last piece of poetry left by Shah Jahan. Built between 1644-1658, the building is eye-catching as it's made from marble and red sandstone. The four surveillance towers were built for security purposes. Three main gates serve as an entrance and two meters, both of which measures 40 meters in height. You can even go to the top of one of these minarets by climbing 121 steps.
You'll have to take off your shoes like in every mosque, but there's no entrance fee; however, you will have to pay extra if you want to take photos. 100 Rupees to go to the top of the minaret and 200 Rupees to take pictures. The minaret is open between 9 am and 5:30 pm. Address: Meena Bazaar, Jama Masjid, Chandni Chowk, New Delhi, Delhi 110006, Click here for the location.
Humayun Tomb
This structure, which is 60 years older than the Taj Mahal, is thought to be the building that inspired the Taj Mahal. The widow of Humayan, who was a Mughal Emperor, had this tomb built for him nine years after his death. His widow was of Persian descent and was called Bega Begüm (Begüm was the title given to Indian princesses). For this reason, this structure has both Persian and Mughal influences in its architecture. The building has an arched facade, white marble, and red sandstone walls. In 1993, it was put onto UNESCO's World Heritage List. This was also the last place Shah Bahadur took refuge before being exiled to Burma. Entrance is 500 Rupees, and it's open every day from sunrise to sunset.
Address: Opposite Dargah Nizamuddin, Mathura Road, Nizamuddin, Nizamuddin East, New Delhi, Delhi 110013, Tel: +91 11 2435 5275 Click here for the location.
Lotus Temple
This is a work of modern design built in 1986. Iranian-Canadian architecture Farbuz Sahba designed it. As its name implies, the temple is in the shape of a lotus flower and consists of 25 white, marble slabs that make it look like a flower. The temple is open for people from all types of faiths to worship. If you're interested, you can get information about Bahâîlik, which is a monotheistic religion that focuses on the spiritual unity of all humanity, in the visitor center located next to the temple.
You're not allowed to take photos or videos in the area for worship.  Working Hours: April to September 9 am – 5:30 pm (Last reception is at 5 pm), October to March 9 am – 7 pm (Last reception is at 6:30 pm) Address: Lotus Temple Rd, Bahapur, Shambhu Dayal Bagh, Kalkaji, New Delhi, Delhi 110019 Website: +91 11 2644 4029 Click here for the location.
Qutb Minar
If you have limited time in Delhi and need to narrow down places to see, then this should be in the top three. This minaret is one of the rarest pieces in the Mehrauli ruins. This minaret was built in the 13th century as a monument of victory by Kutbiddin Aybek, the conquering ruler of Delhi. According to what has been said, this place is considered a masterpiece of Indian-Islamic architecture. In fact, until the Taj Mahal was built in the 14th century, it was the most massive structure in the country measuring 72.5 meters. Other structures surrounding the minaret such as the Islamic school, tomb, and mausoleum are under UNESCO protection.
Every year in October-November, the Qatb festival takes place where you'll be able to see classic Indian music and dances. If you're hungry, then you can head over to Nizam's Kathi Kebabs to eat Indian-style kebabs.
You can check your bags into the coatroom. The best time to come is during sunrise, as it gets more crowded throughout the day, so add other things to do in Delhi to later on in your itinerary. Also, make note that there are light and music shows every night from 7 pm – 9 pm.
Entry: 500 Rupees. Show: 200 Rupees, and 100 Rupees for an audio guide. Tel: 02663271521 Click here for the location.
Indira Gandhi Monument Museum
This is dedicated to the life of Indira Gandhi, the country's only female prime minister. Indira Gandhi doesn't have blood ties with Mahatma Gandi as is commonly believed. Here, you'll be able to find photos, documents, as well as info on the family and daily life of Indira Gandhi, who has been referred to as India's Kennedy. She was assassinated in 1984.
Working Hours: Closed on Mondays. Open 9 am – 5:30 pm Tuesday-Sunday. Tel: 02663271521 Click here for the location.
Gandhi Smriti
This is a museum house dedicated to Mahatma Gandhi, who was the political and spiritual leader of the Indian Independence Movement. This is where he spent his last 144 days before he was killed. This was once the home of the wealthy Birla Family and was turned into a museum in 1973. The room where Gandhi spent his last day days has never been touched and has been preserved just as it was. Here, you'll be able to see his famous glasses and sandals. The museum also has multimedia works and animation that deal with his life and the last 24 hours in detail. Gandhi was killed during his peaceful protest on January 30, 1948, and a monument was built where he died.
Working Hours: Closed on Mondays. Open 9 am – 5 pm Tuesday-Sunday. Multimedia shows are held every day between 1 pm – 1:30 pm. Website  Tel: +43 1 521510 Click here for the location.
Gandhi Monument

This is a monument erected in the Raj Gate area where the cremation of Mahatma Gandhi took place along the Yamuna River. It's a simple black marble monument that has Gandhi's last words on it – "Hai Ram" or "Oh, God." If you don't have enough time, then you can skip it as there are many other places to visit in Delhi.
Tel: 02663271521 Click here for the location.
National Gandhi Museum and Library
This museum has several galleries that showcase Gandhi's life with archival photos and displays his personal objects. There are also voice recordings of Gandhi's speeches.
Working Hours:
Open every day from 9:30 am to 5:30 pm, except for on Mondays. The library section is open from 10 am to 5 pm.
Website
Tel:
+43 1 521510 Click
here
for the location.
New Delhi National Museum
This is a museum where you can see archeological riches and the national heritage of India. Here, you'll be able to see 5,000 years of artifacts, royal jewelry, ceramics, and wooden objects from the Middle Ages. There is also a cafeteria in the museum.
Working hours: Open from 10 am to 6 pm except on Mondays. Entrance fee is 650 Rupees, which includes an audio guide. If you'd like to take pictures, then it's another 300 Rupees. Website Tel: 011-23019272, Ext-243 Click here for the location.
National Handicraft Museum
This is a museum that exhibits ethnic handicrafts made from traditional materials such as textile products and pots. This is an impressive collection of textiles for being a museum operated by the Indian Textile Ministry. You can also find a sweet souvenir shop and cafe.
Working Hours: 10 am – 5 pm, except on Mondays. Website  Tel: +43 1 521510 Click here for the location.
National Modern Art Gallery
This modern art gallery is the most comprehensive place for you to get an idea of the contemporary art scene in India. The gallery opened in 1954 and was formerly the home of the King of Jaipur. There are collections of oil paintings of Indian and British artists spanning the 19th and 20th centuries. Especially the famous English painter Thomas Danielle's noble paintings are worth seeing.
Working Hours:  The gallery is closed on Mondays. Other days are open from 8 am to 5 pm. Website Tel: +43 1 521510 Click here for the location.
Evliya Nizamuddin Dervish Lodge
This is a small marble quarry that has been inherited from the Sufi tradition back to the time when the Mughals, which were from Central Asia and Iran, reigned. Since Delhi is part of a broader region where Islam has been dominant since the 12th century, it is home to trends of Islamic thought.
This lodge offers live music on Thursday nights in the courtyard. If you've ever been to a dervish performance, then you'll be able to grasp that this is the number one place in the city for Sufi tourism. It's naturally quite crowded as it is located on the point of intersection and a quite touristy area, as well as a few markets. Not least, it draws visitors from around the country and the world as one of the most spiritually enriching of things to do in Delhi.
Working Hours: Open 24 hours a day and is free. Website Tel: +43 1 521510 Click here for the location.
Akshardham Temple
Built in 2005, this is Delhi's most famous and largest Hindu temple in India. Located on the eastern side of the city, it's quite a magnificent structure and carved from red sandstone, similar to the Red Fort. But here you'll be able to find the addition of about 20,000 Indian gods, goddesses, and mythological depictions in detailed reliefs.
There is a giant golden Swaminarayan sculpture in the center of the temple that measures three meters in height. This enormous complex sheds light on the 10,000-year-old Indian history.
There is also a boat tour that has a light show on the water. If you're planning on doing this, then you'll have to set aside at least half a day.
They don't allow you to take your cameras inside. The entrance into the temple is free, but the water show is 80 Rupees, and the exhibits are 170 Rupees. Regarding dress, go with the mindset that you'll be entering a church, so make sure that your shoulders and legs aren't showing.
We suggest you read about Religion in India and What Hinduism is here.
Working Hours: Tuesday-Sunday 9:30 am – 6:30 pm Website Tel: +91 11 4344 2344 Click here for the location.
Gurudwara Bangla Sahib
This is a "gurdwara," or Sikhs temple. There is more than one gurdwara in Delhi, but this is the most significant. The structure is made from white marble and has an onion-domed structure and was built for the 8th of 10 Sikh Gurus.
It was built for Harkrishan Dev, who was a six-year-old guru who died of smallpox at the age of 8 in 1664. Before he died, he apparently put healing powers in the water for smallpox and cholera. Today, the water held in the tank is said to be good for the diseases.
It is one of the pilgrimage points as part of the Sikh belief. They also hold live music performances and rituals here. As with every gurdwara, there is also free daily food service for those who visit it as part of the pilgrimage.
Tel: 02663271521 Click here for the location.
Rajpath Boulevard
This is the name given to the road that connects Rajpath, the Gate of India, and the Rashtrapati Bhavan Presidential Palace. The Brits called it King's Roads. Between 1914 and 1931, it was built by Edwin Lutyens, an English architect in Delhi under British rule. Click here for the location.
India Gate
A visit to the India Gate is one of the top things to do in Delhi, especially if you only have a day. It is one of the biggest gates on Rajpath Street. It's 42 meters high and was designed by British architect Lutyens. It was built in 1919 in honor of the 90,000 Indian soldiers who died in northwestern India and the Anglo-Afghan war. Click here for the location.
Rashtrapati Bhavan Presidential Palace
Rashtrapati Bhavan Presidential Palace is located at the end of Rajpath Street. This vast palace was completed in 1929 and functioned as the residence for the governor of English. It has 340 rooms, and all the corridors together measure 2.5 kilometers. The library and grand halls are worth seeing. This palace's gardens, which were designed in Mughal style, are also worth seeing.
Working Hours: Open from Friday to Sunday from 9 am to 4 pm. Only online booking is possible. Entrance is 50 Rupees. Tel: 02663271521 Click here for the location.
Chattarpur Temple
After Akshardham, Chattarpur Temple is the second-largest Hindu shrine in all of India. This building, which dates back to 1974 is a gigantic worship complex devoted to the goddess Katyayani and is made of sandstone and marble. It's less crowded during the week than on the weekends and easier to navigate.
Website Tel: +43 1 521510 Click here for the location.
Jantar Mantar Observation House
This is one of the five observatory houses during the reign of Jai Singh, who was the King of Maharaja and ruled in the 1700s. This building consists of a series of oval and geometric structures to observe the movements of the stars and planets.
The Misra Yantra, the Samrat Yantra, and the Jayprakash yantra are all tools used in the observatory. The Samrat Yantra is a giant triangle that is used as a sundial. The Misra Yantra was used to determine the shortest and longest days of the year, and the Jayaprakash was used to observe the distance between the stars.
Entry is 200 Rupees. Tel: 02663271521 Click here for the location.
Lakshmi Narayan Temple
This is a temple designed in the Orissa style and built in 1939 by Baldeo Das Birla, who was a wealthy industrialist. Thus, it's known as the Birla Temple. The temple was built for the fertility goddess Lakshmi and guardian Narayana. This temple was made so everyone could come, and there is a phrase on the door saying, "Everyone is welcome."
Working Hours: Open from 4:30 am – 1:30 pm and 2 pm – 9 pm. Tel: 02663271521 Click here for the location.
Lodi Gardens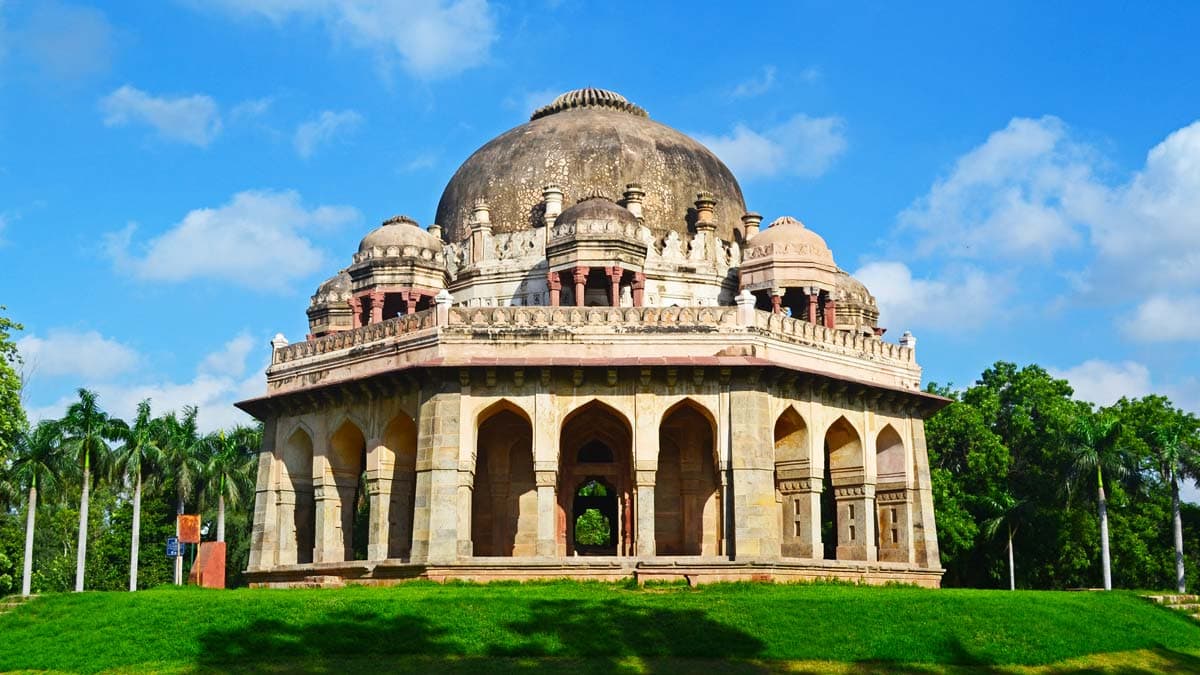 This garden, which is just around the corner from Khan Market, is the most beautiful getaway spot in all of Delhi. The garden was made by Lady Willingdon, who was the wife of the governor of India and lived in Delhi in 1936.
Working Hours: Hours are 6 am – 8 pm October – March and 5 am – 8 pm April – September.  Tel: 02663271521 Click here for the location.
Transportation in the City
Metro
– There is a large underground network in the city, you can get nearly anywhere in the city. Female travelers can easily use the metro as well. There is a wagon for women who want to travel in women-only compartments.
– A ride from the airport is 100 Rupees, and other metro rides vary between 10 and 60 Rupees depending on the distance between stops.
– Get a Smart Card, because otherwise, you'll have to wait in line for half an hour to get tokens. Plus, not all tokens are accepted everywhere. Smart Cards cost 200 Rupees, and 150 Rupees is immediately put on there as credit.
– There is something called a Tourist Card – it's 200 Rupees for one day or 500 Rupees for three days, but it's not worth it.
– India changed the names of places to remove the traces of its colonial past and to build a national identity. The following stops are named as follows:
Connaught Place- Rajiv Chowk
Old Delhi Railway Station – Chandni Chowk
ISBT – Kashmere Gate
Taxi and Uber
– You'll be happy to know that Uber operates here. Use Uber instead of a taxi.
Bus
– Avoid the buses unless you enjoy being crowded in.
– But if you are intent on riding the bus, then use the JTC, which is run by the state. They are red and green and have big windows. The oranges buses belong to private companies.
Eating and Drinking in Delhi
Le Cirque
Dining is one of the essential things to do in Delhi and this is one of the city's most popular restaurants. It's famous for its menu blending French and Italian cuisine. At the same time, it's a great place to come to have a sneak peek into the past.
You can find different options here such as codfish paupiette, goose chowder, lobster risotto, and creme brulee. This place is frequented by the city's posh and elite. There are over 100 options on the wine menu. Children under the age of 12 are not accepted into the restaurant. The restaurant is only open for dinner, and the kitchen operates between 7 pm and midnight.
Address: The Leela Palace Hotel, 10th Floor, Diplomatic Enclave, Chanakyapuri Diplomatic Enclave, Chanakyapuri Phone: +91 11 3933 1390 Click here for the location.
Olive Bar & Kitchen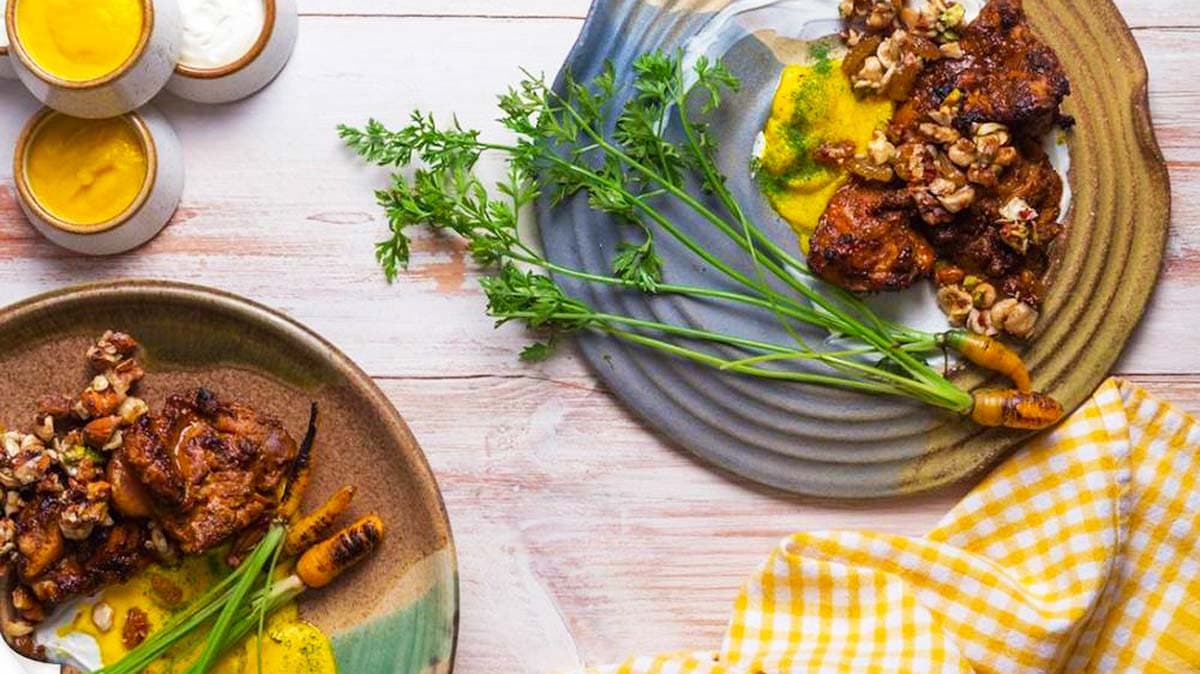 This restaurant is located in a restored Mughal mansion close to Qutb Minar. The menu is mainly composed of Italian, French, and Mediterranean dishes. There are plenty of options for vegetarians, such as its asparagus and fennel risotto. Their thin pizza cooked in a wood fire is exceptionally good.
Address: Olive Bar & Kitchen, 6/8, One Style Mile, Kalka Das Marg Website Tel: +91 98102 35472 Click here for the location.
Bukhara
Bukhara is known for having hosted Bill Clinton and Vladimir Putin and has become a source of pride for the city's eating and drinking industry. Since 1977, the menu, which features cuisine from India's northwest, has remained virtually unchanged over the years. You can also find options here such as lamb tandoor and kebab. In other words, this place is more ideal for non-vegetarians.
Address: Bukhara, Hotel ITC Maurya, Lobby Level, Sardar Patel Marg, Akhaura Block, Diplomatic Enclave Website Tel: +91 11 4621 5124 Click here for the location.
Chandni Chowk Market
This is one of India's oldest and busiest markets, and it's a great place to taste street food. It's located in Old Delhi, and spicy yogurt, chaat, papri chaat, and jalebi are some of the things you can try. You should try Paranthe Wale Gulli, which is famous for its deep-fried bread. The 200-year-old Ghantewala is the oldest dessert maker in the market. Chandni Chowk is closed on Sundays, and open every other day between 9:30 am and 8 pm. Click here for the location.
Where to Stay in Delhi
One of the most important recommendations we have to give you about Delhi is that you should stay in one of its nicer neighborhoods. The subway system is good, which means that you won't have to stay in the heart of the city in order to have easy access to things to do in Delhi. Our other suggestion is that you should stay in good hotels not only in Delhi but also throughout your travels to India. India's service and hygienic standards are a bit different from ours, so you'll want to keep that in mind as you're booking.
The Leela Palace New Delhi ($$$)
This is one option for a luxurious stay in New Delhi with its six different restaurants and carefully decorated rooms. They even have a pillow menu that allows you to choose which pillow to sleep on. It's located 15 kilometers from the airport.  Click here for detailed information and to make a reservation.
Holiday Inn New Delhi International Airport ($$)
This Holiday Inn hotel is comfortable and clean. This is probably the best choice for people who want to stay close to the airport. There is also a free shuttle service to and from the airport. The disadvantage is that it's pretty far from other places in the city. Click here for detailed information and to make a reservation.
Taj Diplomatic Enclave, New Delhi (Formerly Taj Palace, New Delhi) ($$)
This is one of the most popular places to stay in Delhi as it has a great location, and it's immaculate and comfortable. The hotel has a restaurant called Blue Ginger that serves Vietnamese food and a nice coffee shop. Click here for detailed information and to make a reservation.
Le Méridien New Delhi ($$)
If you want to stay in clean and spacious rooms, then this is a great place to stay. It's near the Royal Palace, Parliament, Connaught Place, and the India Gate. The hotel has a number of restaurants inside such as The One, where you can choose from world cuisine or Eau de Monsoon where you can find local Indian cuisine. There's also Le Belvedere for a beautiful view of the city. But be forewarned that the restaurants here are two times more expensive than what you'll pay anywhere else in the city. Click here for detailed information and to make a reservation.
The Prime Balaji Deluxe ($)
It's hard to find such a clean hotel at the prices they offer. If you arrange it beforehand, they can pick you up at the airport free of charge. Also, if you're considering buying a tour package or want to see the area, make sure to ask someone from the hotel. The hotel has a deal with the taxi drivers, so you'll probably get a better fare going with them than by trying to arrange everything yourself. Click here for detailed information and to make a reservation.
Hotel City Star ($)
Although the hotel is not very practical, the place is clean and offer comfortable rooms at an affordable price. The staff working here are very attentive, and you get a lot for what you pay for. Click here for detailed information and to make a reservation.
Backpackers usually stay near the Paharganj Market opposite Delhi Railway Station. Here, you'll be able to find hotels, cafes, and shopping places on the lower end of your budget. Backpackers frequent places like My Bar, Diamond Café, and The Shim Tour Korean Café.
What to Buy from Delhi
People often claim Delhi is the best place to shop in the whole country as it's got the best products.
If you want to get more modern things, then head to Khan Market, Connaught Place, and Shahpur Jat, which we mentioned above. Good Earth in Khan Market does not have house items, but it's expensive.
If you are looking for more traditional things, get your bargaining face on and go here:
Dilli Haat – You will find handicrafts here from all over India. There are shawls, tribal ethnic jewelry, and paintings.
Chandni Chowk – Oldest bazaar in India. Here, you'll be able to find spices, jewelry made from silver, and textiles. It's also an ideal place to taste street food.
Janpath Market – This place has decorative objects that include pashmina textiles and antique goods.
Sarojini Market – A bazaar where local people often come to shop.
If you want to buy designer clothes, then look at the places I mentioned above.
 _ . _
Hope you enjoyed our list of things to do in Delhi. For our other city guides, you can check our India Travel Guide.