TOP THINGS TO DO IN ANTALYA – TAKE A LOCAL'S ADVICE
Hi everyone! We are Turkey's award-winning travel bloggers and we have some great tips for your Antalya trip.
With its cypress-covered cliffs dropping into jewel-toned waters and visibly ancient history Antalya is the pearl of Turkey's glittering Mediterranean coast. It is Turkey's biggest beach destination and a big people-pleaser. No matter what type of vacation you want – sitting on the beach, visiting historic ruins, extreme sports or nights out – you'll be able to find all kinds of things to do in Antalya. From the most finicky to the most laid-back.
Antalya is a big people-pleaser however, we would be leading you sorely amiss if we didn't make this one disclaimer: Antalya is hot as hell during the summer. So hot, that your enthusiasm for Antalya might easily evaporate in the summer heat. Still, it seems to be the Brits', Germans's and Russians' favorite time to be here.
HOW TO PLAN YOUR TRIP TO ANTALYA
Choose which town of Antalya is for you
It has many holiday towns, each with their own distinctive character – and all catering to different kinds of tourists:
– Geyikbayiri is a world-renowned rock-climbing spot attracting nature-lovers
– Kas is popular among the bohemian crowd
– Olympos among backpackers
– Belek among the elite
– Alanya among low-budget travelers
– Cirali (Çıralı) for a calm beach getaway, etc…
So, In this article, we'll help you determine which town is for you by explaining to you what each town offers.
Focus
Antalya city is a quick 1-hour flight from Istanbul but these towns are spread over a large geographical area. In some cases, it will take 2-3 hours to get from one to the other.
Therefore, the best way to approach your trip to Antalya is to choose a town or maybe 2 and spend time exploring it thoroughly. Trying to experience all the little things to do in Antalya province will take weeks.
Our top choice
If you don't have a lot of time and want to know our top recommendation, we'll tell you straight to go to Kas (May to Oct).
BEST TIME TO VISIT ANTALYA
Antalya is popular through mid-April to late October. And in this Antalya travel guide, we will give our advice for those who are coming to Antalya in this window.
It gets the most tourists from June to the beginning of Sept. It gets packed with tourist during the summer although it is hot as hell. So it is not the ultimate time to be there but it is when most people can use vacation time. Also, people from northern countries seem to really enjoy spending time getting baked.
We think spring and fall are fantastic. Late September is my personal favorite. The weather is neither cold nor hot (27-30 degrees celcius), and the streets & beaches are free of tourists.
But both seasons offer its own advantages. While spring won't allow you to enjoy swimming in the fall sea, still warm from summer, it does offer the smell of oranges as well as gushing river waters resulting in lush mountain air and foliage.
BEST VACATION TOWNS IN ANTALYA
First, let's make this clear: Antalya's most known towns aren't necessarily the best ones. Some are too touristy and industrialized. We would say some Antalya towns have no spirit. So we made 2 lists for you: the towns we recommend you consider and everything else.
Here you will find our top recommendation from Antalya but in no specific order.
Important: If you are traveling to Antalya during the low season, better stay in downtown Antalya. Beach towns aren't fun when they are empty. Kaleici would be our best bet.
1. OLYMPOS & CIRALI
Olympos and Cirali share one spectacular beach. This makes it people assume they can easily commute between the two but it is not the case. There is a river that divides the 2 towns (you can slightly see at the bottom of the photo) and it takes 30-40 mins to walk or drive from one the other.
Nature wise they are the same, it looks like a post-card from Thailand with its white beach and lush forest. You can swim the crystal clear sea and watch Caretta turtles nest. So the area is under strict protection. No construction is allowed in the ara. That is why you will only see shacks and cottages but no hotel developments. So far, both towns sound alike but indeed they have different characters.
Olympos is mostly popular among backpackers. You can stay in tree houses, hang out at its few rock bars, make friends from around the world… Its crowd is younger than Cirali's. Cirali, on the other hand, is the kind of place you go to read your book. It is a bit more expensive, has a few luxury accommodation choices.
From both you can go to enjoy wine at the summit of the Olympos mountain, where there is an undying fire of legend breathing from the rock. It literally won't go out.
While you're there, you can also hop on over to Adrasan Bay, which is located only 20-25 minutes away. There are plenty of hotels where you can stay, and cafes where you eat and have a good time along the coast. For all other details of what there is to do in Olympos and its surroundings, read our article on Olympos. Click here for the location. Number 1 on the map.
2. KAS
Facts are facts: Kas is the most beautiful town in the region and is our favorite of things to do in Antalya. Fabulous beaches, cute cafes and bars and hip people. The best time to go is April-May and October-November as everywhere else in Antalya. If you are going there on high season, because it's such a small place, it can't take the big crowds you might encounter in other places in Antalya.
There are also fine dining and great fish restaurants that appeal to the English tourists who frequent Kas as well as the expat crowd there. If you're able to enter Greece, then a great option is to hop over to Meis Island. Click here for the location. Number 2 on the map.
The good news is that the next 2 recommendations we have for you are very close to Kas and you can easily hop from one to the other.
If you want to learn more about:
– Swimming spots in Kas, then head over to our Best Kas Beaches
– Things to do & Places to see: Places To See In Kas and 24 Epic Things To Do In Kas
– Food and lodging recommendations: Kas Restaurants & Specialties
3. KALKAN
Kalkan is located 25 km from Kas, and it was founded by Greek sailors more than 200 years ago. It bears the traces of the Lycian civilization. If you're British and looking for a new home, buying property here might be on your list of things to do in Antalya :). The majority of the population is made up of Brits! Yes, you read that correctly. The English, who own villas in Kalkan, make up nearly 80% of the population. It might as well be a Commonwealth country. 😀
Kalkan is calmer compared to Kas and was made to cater to the Brits who live there, which means that there are more luxurious boutique hotels and villas. There are some nice venues such as Salonika, Villa Mahal and Aubergine. Click here for the location. Number 3 on the map.
4. KALEKOY & DEMRE
We think that Demre and Kalekoy might be the region's most unique places, and they include some unique things to do in Antalya too. Demre has both the Santa Claus church as well as the Sunken City, which was devastated by an earthquake in the 2nd century. And, right across from it is Kalekoy, which has incredible natural and historical features, as well as nice places for eating and drinking.
Since it's not easy to get here by land, you can hop on a tour boat from Kas or Antalya. You can rent a canoe from Kalekoy and discover the treasures of the sunken city. You can also walk through the remains of Kalekoy's port area and swim amongst a deeply rooted history. There is also a small amphitheater located at the top of Kalekoy, which is an ideal spot for viewing the scenery. Click here for the location. Number 4 on the map.
If you are based in Kaş or Kalkan, you can easily make a day trip to here.
How much time should I spare for these towns?
3-5 days for around  Kas/ Kalkan
2-3 days for  Olympos / Cirali
OTHER POPULAR VACATION TOWNS WE DON'T LIKE AS MUCH
Belek, Kemer and Alanya are the three places in Antalya where there are a lot of resort hotels. During the summer, this is where a lot of tourists – mainly Germans and Russians – come for a holiday. We can say that we wouldn't prefer these locations; however, it might be easier for families with children to stay at a resort-like place where everything is included.
1. KONYAALTI
Konyaalti used to be one of the most popular places in Antalya, but no longer. At one point, Lara Beach – a blue-flagged beach – was one of the most popular beaches in the center of Antalya. The sands here would become really crowded during the summer, so people started preferring other beaches and things to do in Antalya. Click here for the location. Number 5 on the map.
2. BELEK
Belek, a town that is part of Antalya's Serik district, is one of Antalya's most-preferred places for foreign tourists. It became a place where 5-star, all-inclusive resort houses were built in the 1990s. In addition to this, it also became a name all over the world for its golf tourism. Nearly every 5-star resort here has a golf course.
Most places here are open during the winter because this is where corporations come from all over to have meetings and hold events. There are tons of halls where companies can have congresses and business fairs. Click here for the location. Number 6 on the map.
3. ALANYA
Alanya became popular in the 1990s, and the place is now full of resort hotels. We can say that this is now a city in and of itself. If you're going to stay here, then it would make more sense to stay at a resort hotel located on the outskirts of the center, and then go down the square where the Alanya Castle is located in the evening.
Since the humidity is quite high compared to other regions, it's often unbearable in the summer months. If you don't want to stay at a resort, there are two beautiful beaches next to Cleopatra and Damlatas. Still, we prefer other bits of sea in Antalya. Click here for the location. Number 7 on the map.
4. KEMER
Kemer is also another place that has a high concentration of Antalya's resort hotels. If you ask us, this is not really the scene for most travelers who read our site, and isn't amongst our top things to do in Antalya. But we wanted to mention it, and let you know that if you're going to stay here, definitely rent a boat and go down a little further south to Çıralı and Kaş. Click here for the location. Number 8 on the map.
 PLACES TO SEE & THINGS TO DO IN ANTALYA
If you take a look at the map below, you will see that our recommended towns are actually quite far from central Antalya. So, if you decide to take our recommendation and focus around Kas/ Kalkan or Olympos / Cirali regions, you might not be able see & do these things. If that makes you might wonder if it is a good idea to be so far, we can assure you that it is not a tradeoff you need to worry about.
Kaleici is the only place we would recommend you try to make time for. You should consider checking it out on the way to ot from the airport.
You can view the map by zooming in.
Places to See
Olympos
Kaş
Kalkan
Kaleköy
Konyaaltı
Belek
Alanya
Kemer
Kaleiçi Antalya Old Town
Düden Waterfall
Kurşunlu Waterfall
Hip-Notics
Perge
Antalya Museum
Köprülü Canyon
Tazı Canyon
Ridocamp
Josito Camp
Manavgat Waterfall
Tahtalı Cable Car
Aspendos
Patara
Termessos
Sandland
Where to Eat
7 Mehmet Restaurant
Piyazcı Ahmet
Dondurma Dukkanı
Akdeniz Dondurma
1. KALEICI
Kaleici is Antalya's most picturesque place when it comes to the city. No matter which town of Antalya you are planning to visit, with its wonderfully cute historical streets and vibrant nightlife Kaleici is a must. The historical houses inside the old city walls are the center of Antalya's social life today. Locals com here to drink and let loose a bit. The tourists who come here can see some amazing historical remains, and there's a beach for children to swim.
If you're in Antalya during the summer, then we recommend you don't come here during the day, as you won't be able to enjoy it under the heat. Come around sunset, and you can sit somewhere and sip on a cold beer while listening to live music. We have some suggestions for wonderful spots for you to eat and drink in Kaleici, as well as places to visit. Number 9 on the map.
2. DUDEN AND KURSUNLU WATERFALLS
Antalya also has two famous waterfalls: Duden and Kursunlu. The cool thing about Duden? It cascades through the middle of the city! Of all the well-planned things to do in Antalya, imagine passing by a waterfall on your way to the market. It is in such an unexpected spot that you'll wonder if you're in the wrong place when you go to park your car or get off the bus. There's even a cave that you can visit.
Duden's water eventually falls from Antalya's cliffs into the sea, and if you take a boat trip from Kaleici you can see it from the aboard ship. But you'll have a better view of it if you go by car. Click here for the location (it's the place in the photo). Number 10 on the map.
While Duden was quite lovely, we liked Kursunlu Waterfall the most. If you don't have time for both, then we recommend that you go to Kursunlu. The color of the water is quite beautiful and makes you feel as if you're in an exotic, tropical location like Bali. There is a pleasant hiking trail where you'll be able to see its water flowing downhill, and a charming cafe for a picturesque pit-stop. Do keep in mind that it's much easier to get to Duden than it is to get to Kursunlu.
We heard that it was crowded during the summer, but when we went in the spring we had the falls and trail to ourselves. There were signs warning against swimming, so don't expect to take a dip under these falls. Click here for the location. Number 11 on the map.
3. HIP-NOTICS
Located in Burunucu Mevkii Cakis Village, Hip-notics is a cable ski park. Cable skiing is a type of wakeboarding where the skier's rope and handle are pulled along by a cable system. A motorboat pulls a traditional waterskier. Cable skiing is a safer and more economical way to wakeboard – and it's easier for beginners.
It's also environmentally friendly, as the cable uses electricity, and there's no pollution from the boat in traditional water skiing. Hip-notics also offers other water activities such as waterskiing, kneeboarding and fly boarding. There are also facilities where you can play basketball, volleyball and other sports, as well as eat. Click here for the location. Number 12 on the map.
4. ANCIENT CITY OF PERGE
The ancient city of Perge is located 18 km (or 15 minutes by car) away from Kursunlu Waterfall. It is one of the most important cities of the Pamphili civilization, and lies 4 km away from the Aksu River. The entrance of the city has a magnificent Hellenistic gate, one of the world's best-preserved stadiums, as well as a Greek-Roman amphitheater. This ancient city  is on UNESCO's World Cultural Heritage List, though most of the statues uncovered in this area have been moved to the Antalya museum.
The site opens at 8 am throughout the year, but closes at 7 pm in the summer and 5 pm in the winter. Click here for the location. Number 13 on the map.
5. ANTALYA MUSEUM
The Antalya Museum was founded in 1922 after the First World War to protect the historical artifacts found in the area from being looted. The museum was first in the Alaaddin Mosque in Kaleici before it was moved to the Donard Yivli Mosque and then moved into its current building.
Inside the museum, you'll be able to see historical monuments dating back to the three ancient cities of Lykia, Pamphylia and Pisidia. The most valuable pieces in the museum are sculptures that date back to the Roman period, particularly from those found in the ancient city of Perge.
The museum was awarded the "Council of Europe Museum of the Year" prize in 1988. For history buffs, this should definitely be included on your list of things to do in Antalya. Website. Visiting Times: 8:30 am – 7:30 pm. Click here for the location. Number 14 on the map.
6. KOPRULU CANYON
Koprulu Canyon is a national park that goes from Koprucay to the sea, and is great for outdoor activities like hiking, camping and nature walks, as well as rafting during the summer. There are also two bridges that date back to the Roman period. Click here for the location. Number 15 on the map.
7. RAFTING
One of the best things to do in Antalya – and the best part about the region – is rafting due its abundance of rivers. One of the best spots to go rafting is the Koprulu Canyon, which we mentioned above. If you decide to go, then you'll be paired with an experienced guide and share a raft with 8-10 people over a distance of 14 km. This will take you about 2.5 hours, and the company provides helmets, paddles and life vests.
The most ideal months for rafting are July, August and September, and many companies offer tours in this area. Some companies offer package tours that take you from where you're staying and included in the price are transportation, rafting and lunch.
8. TAZI CANYON
A local newspaper declared some startling news to Antalya residents: A canyon had been discovered. In 2017.
How a canyon could for so long go undetected is perplexing to many, especially one as spectacular as Tazi. The canyon is located only 10-15 minutes away from Koprulu Canyon by car. You won't be able to see the canyon while on the road, so don't think we've given you the wrong address. You'll need to park your car and walk two km through the forest. At first glance, you might not see the path immediately, but not to worry either, it's not a challenging walk. Click here for the location. Number 16 on the map.
9. CLIMB IN GEYIKBAYIRI
Geyikbayiri in Antalya is the best place for rock climbing in all of Turkey. It's one of the top 10 places to climb in the world, making it a definite must among the things to do in Antalya for any outdoor enthusiasts. Geyikbayiri is part of the Taurus Mountains, and people from all over the world will come here to practice climbing.
Some courses have various difficulty levels, and the rocks are predominantly limestone. The height of the rocks can range from 15 to 50 meters. Because of this, this is an excellent place for climbers of all experience levels.
Geyikbayiri also has places for camping. Rido Camping has climbing areas and beaches. There is wifi, showers, and a laundry room. Click here for the location. Number 17 on the map.Another option from Geyikbayiri is JoSiTo Guesthouse and Camp, which is run by three Germans. Click here for the location. Number 18 on the map.
10. MANAVGAT WATERFALL
The Manavgat Waterfall is one of Turkey's most famous waterfalls. Its waters come from the Manavgat River, and fall from a height of 4-5 meters. At the falls you can find a cafe, a restaurant, tea garden, picnic area and a place for camping. You might be able to go rafting here, but as we mentioned above, the best place to raft in Turkey is in Koprulu Canyon.
You'll also have to pay something extra to park your car here. Click here for the location. Number 19 on the map.
11. CABLE CAR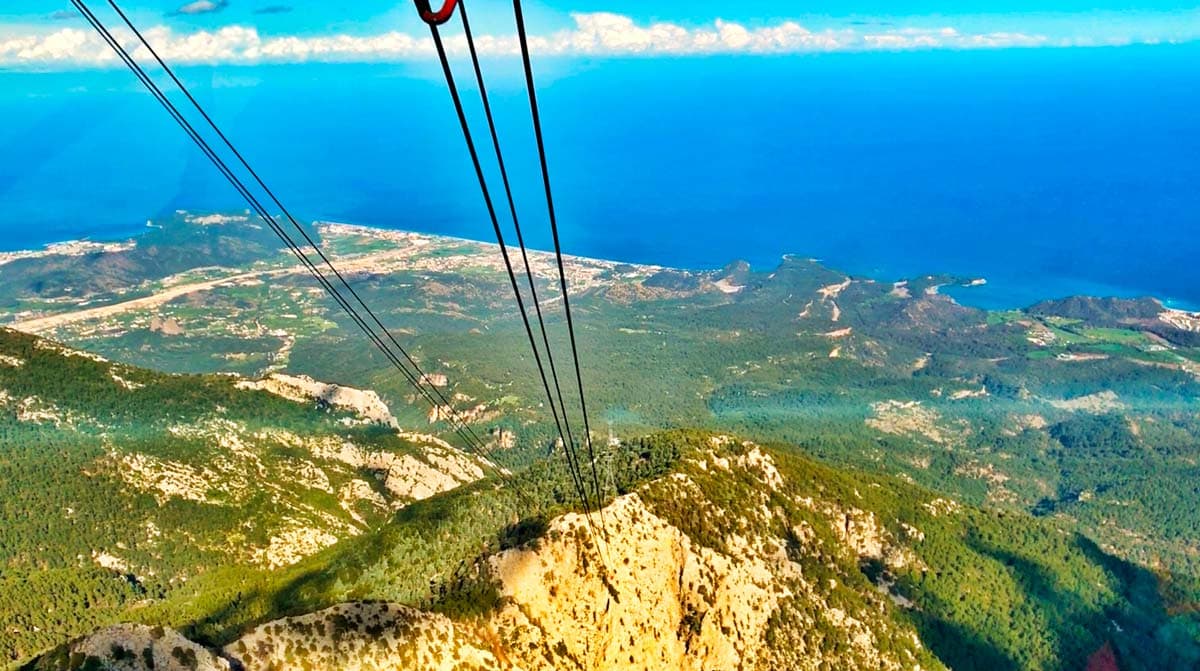 I struggled with including this here because the construction of cable cars in this country generally means that a ton of trees have been destroyed. However, we didn't want to bypass one of the more popular things to do in Antalya, which is ascending to the top of Tahtali Mountain by cable car for a bird's eye view of Antalya.
There are two cable cars in Antalya, but this is the better option. There are daily transportation services from Beldibi, Goynuk, Kemer, Kiris, Camyuva, Kundu and Antalya. The place at the top is open until 7 pm, and there is a cafe inside, but the prices, like the view, are quite steep. Click here for the location. Number 20 on the map.
12. ASPENDOS
The ancient city of Aspendos, which was founded by the Achaeans in the 10th century BC, has the best-preserved Roman theatre in the Mediterranean geography. This theatre can hold 12,000 people and was built in the 2nd century AD. This was built during the height of the Roman Empire. As you might have guessed, the theatre has excellent acoustics. From mid-August to mid-September, there are concerts and ballets here.
But there's more to Aspendos than just the theatre. Here, you'll also be able to see the city's arena, stadium, agora, basilica, fountain, parliament building, aqueducts, streets, temples, baths and cisterns. Aspendos survived during the Byzantine period, and was used as a caravanserai during the time of the Seljuks. It was left idle afterward but, in 1930, Mustafa Kemal Ataturk (the founder of modern Turkey) wanted this area to be restored and opened again.
Visiting hours are 8 am – 7 pm between April and October, and 8 am – 5 pm between November and March. Click here for the location. Number 21 on the map.
13. LYCIAN WAY

Hiking or camping the Lycian Way are not just popular things to do in Antalya, because the massive 535-km route starts from Fethiye and crosses through Antalya. Most of Antalya falls somewhere on the Lycian Way, but the 13-km portion from Adrasan to Olympos is one of the most popular trails.
If you're interested, you can join trekking groups based wherever you're staying in Antalya, and you can choose from a variety of different paths.
14. PATARA ANCIENT CITY
Amongst the things to do in Antalya, you'll never run out of beautiful, historic ruins to wander. The ancient city of Patara is located about 40 km from Kas, and served as the capital city of the Lycian Union. During that time, important union meetings were held in the parliament, the remains of which you can see. Patara, which was one of six cities that had voting rights in the Lycian Union, was an important center during several periods of history.
Open 8 am – 7 pm every day of the week from April 15th – October 2nd and from 8 am – 5 pm from October 3rd to April 14th. Click here for the location. Number 22 on the map.
15. ANCIENT CITY OF TERMESSOS
Termessos, a plateau on top of Gulluk Mountain, is one of the ancient cities in the Psidia region – and it's one of the best-preserved ancient cities in Turkey. This place is located in such a strategic position that Alexander the Great was not able to surround and conquer it in 333 BC. The city was besieged later in 71 BC during the period of the Ptolemaic Dynasty.
According to documents approved by the Roman senate, Termessos was independent of Rome and had its own laws and internal affairs – in other words, it was independent. Unfortunately, there are no records about the status of the city during the Byzantine and Ottoman times. Click here for the location. Number 23 on the map.
16. SANDLAND
On Antalya's Lara beach, there are huge sculptures that have been made only with water and sand. The International Antalya Sand Sculpture Festival (Sandland) is an open-air museum where hundreds of massive sand sculptures are displayed. This is one of the most impressive displays considering the area it covers (10,000 sq meters) and the material used (10,000 tons of river sand), as well as the artists who participate.
Of course, these works are not permanent. They are destroyed when the exhibition is over – inherent in the art of sand sculpting. But that also makes it an art that is constantly updated. There are workshops, concerts and even video mapping. Certainly they're unusual, but they're also worthwhile things to do in Antalya. The sand works can be seen between 9:30 am – 11 pm. Click here for the location. Number 24 on the map.
*A REQUEST: DO NOT GO TO THE DOLPHINARIUM
You are a better person than that. And certainly do not take your child to this dolphin prison, as you want to pass on good morals and a clear conscience, not cruelty. Dolphins are extremely emotional and intelligent beings and they suffer deeply in captivity. Do not be fooled into thinking that they enjoy meeting people or performing tricks.
Their faces naturally make it seem like they are always smiling, but they are not happy. Indeed they are trained through starvation. Trainers keep food away from them to make sure they obey orders. In the wild, dolphins live amongst family. When they are abducted and torn from their families, they suffer deeply from depression.
Due to all the stress they are under, dolphins die early in captivity. We hope you will find it your heart not to take part in this cruelty. If every person goes just ones, it creates a huge demand for these parks, and new ones are incentivised to open. No 2 hours of entertainment is worth making another creature suffer a lifetime. There are better things to do in Antalya.
WHERE AND WHAT TO EAT IN ANTALYA
1. Eat at 7 Mehmet
This restaurant is a favorite in Antalya with its white tablecloths, linen napkins, quality service and delicious food. The menu changes as the sea does, and the fish and meat here are delicious. You should also try their olive oil dishes, pilaf (rice) with pumpkin seeds and almonds, lamb and duck tandoori, and candied pumpkin dessert.
Address: Meltem Mahallesi, Atatürk Cultural Park, Dumlupınar Bulvarı No: 201, 07030 Muratpaşa Click here for the location. Number 1 on the map.
2. Turkish "Meatballs," Beans & Fresh Pumpkin Dessert with Tahini
Piyazci Ahmet is famous for its cold bean dish, which is typically a dish eaten alongside Turkish meatballs, called kofte. While you're here, for dessert, you can try the pumpkin dessert. It's candied pumpkin that is typically soaked in syrup, drizzled with tahini and served alongside creme. Address: Altındağ Mh., 166. Street 29 / A, 07050 Muratpaşa Click here for the location. Number 2 on the map.
3. Burnt Ice Cream
Burnt ice cream is one of Antalya's signature flavors, especially in the Kas/Kalkan/Demre region. Most people end up not liking it, but you must give it a try anyway. This ice cream is made from goat's milk that has been burned while cooking.
You can find it nearly anywhere in the city center at portable ice cream stalls or at Nur Patisserie on Bankas Street. They have been making it for years. If you're in the square, then you can try it at Dondurma Dükkanı. (Click here for the location.) Number 3 on the map. or at Akdeniz Dondurma. It's also lovely alongside profiterole. Click here for the location. Number 4 on the map.
MOST BEAUTIFUL ANTALYA BEACHES
While planning what things to do in Antalya, there's no doubt you're wondering about the best places to go swimming. Head on over to our Antalya Beaches post.
WHERE IS ANTALYA?
Antalya is located in Turkey's Mediterranean region, and it's Turkey's southernmost point. It's the sixth-biggest city in terms of size and the fifth-largest in terms of population.
Distance to Antalya by city
Istanbul: 700 km, or 8 hours
Ankara: 490 km, or 6 hours
Izmir: 470 km,or about 6 hours
Konya: 300 km, or about 4 hours and 30 minutes
Adana: 560 km, or about 8 hours
HOW TO GET TO ANTALYA
Antalya is a massive place. For this reason, you'll need to plan out first what things to do in Antalya, and how to get where you'll want to go. All airlines and bus companies in Turkey have flights to Antalya Airport.
From the airport, you can rent a car or get on a shuttle to reach the city center. If you want to go to the different towns within Antalya and you've come by bus or plane, then we recommend that you not go to the center of Antalya and just rent a car. This way, you'll be able to navigate more freely. For those of you who want to go to Kas, it's more practical to fly into the Dalaman Airport.