TOP 28 THINGS TO DO IN BALI
There are so many amazing things to do in Bali that it makes your head spin. Here you will find a short list of Bali's highlights.
It is not easy to plan a trip to such packed destinations. Which attractions to prioritize? When to go? How much time you should spare? What is the optimum itinerary? Our How To Plan The Perfect Bali Trip – Itinerary & Costs article will help you plan the best itinerary for the time you have.
In order to open the map on GoogleMaps, click on here.
[column size=one_half position=first ]1. Menjangan
2. Pemuteran
3. Aling-Aling Waterfall
4. Sekumpul Waterfall
5. Git Git Waterfall
6. Banyumala Twin Waterfalls
7. Wanagiri Selfie Park
8. Handara Gate
9. Ulun Danu Beratan
10. Jatiluwih Rice Terrace
11. Hanging Gardens of Bali
12. Tegallalang Rice Terrace
13. Alila
14. Jungle Fish
15. Ubud Palace
16. Monkey Forest
17. The Yoga Barn
18. Bambu Indah Resort
19. Permata Ayung Private Estate
20. Tegenungan Waterfall[/column][column size=one_half position=last ]21. Keramas
22. Tanah Lot Temple
23. Canggu
24. The Practice
25. The Lawn
26. Finns Beach Club
27. Cabina
28. Potato Head Beach Club
29. Kuta
30. Padang Padang
31. Single Fin
32. Uluwatu Tample
33. Crystal Bay Beach
34. Nusa Penida
35. Tukad Cepung Waterfall
36. Mount Batur
37. Tulamben
38. Amed Beach Resort
39. Temple Of Lempuyang Luhur
40. Taman Tirtagangga
[/column]
1. Tegalallang & Jatiluwih Rice Terraces

If there is one thing that is synonymous with Bali, it is these rice terraces. There are rice fields all around Bali as it is the main source of nutrition. But if you want to see the famous UNESCO World Heritage rice terraces, you need to head to Ubud. Tegalallang and Jatiluwih Rice Terraces are tourist magnets where you will also find the Instagram-famous Bali swing. See our Ubud blog for more information: Top 21 Things To Do In Ubud 
2. Ubud's Infinity Pools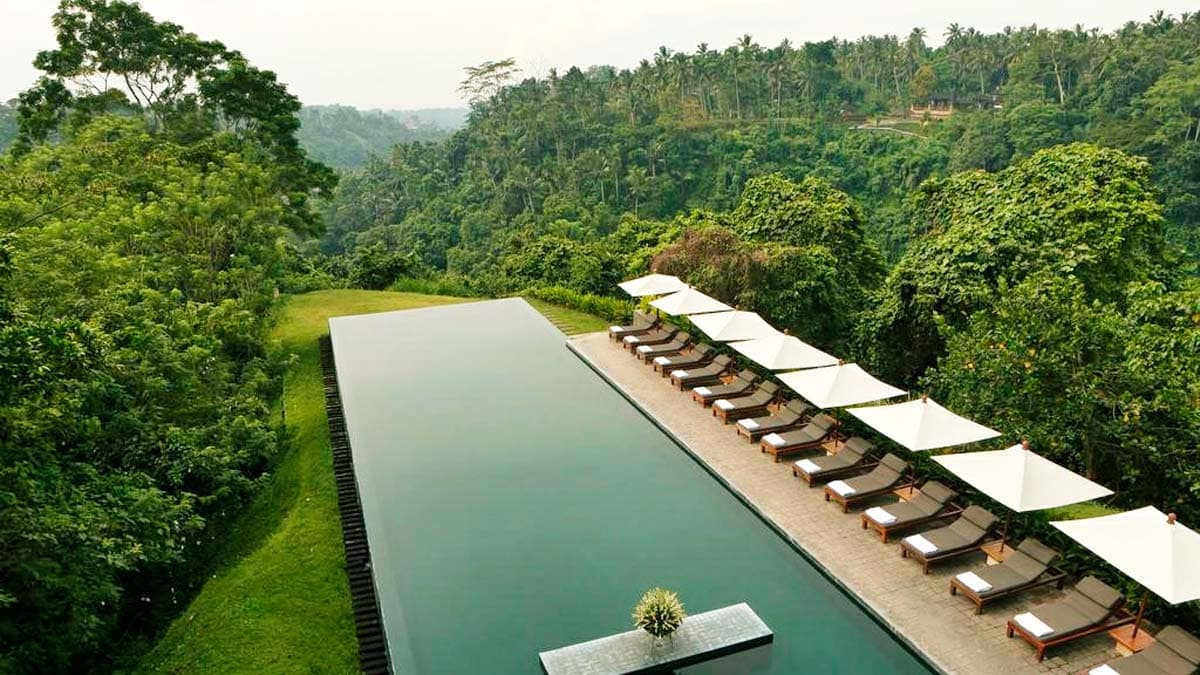 There are a lot of gorgeous infinity pools in Bali but nothing beats the peace of mind and view of those of Ubud's. Most infinity pools with such jungle views are in luxurious hotels. If you can afford it, it is indeed the best way to experience Ubud. It is an extremely busy and congested town, you will you thankful to yourself for having such a hideaway. Our top picks are Alila and Hanging Gardens. See our full list here: Best Honeymoon Honeymoon Hotels In Bali.
If it is not within your budget, don't be sad. There is a great beach bar called Jungle Fish with no beach but with a wonderful infinity pool overlooking the lush forest.
3. Lempuyang Temple
http://instagram.com/p/BpwU-rlnqfp/
Lempuyang Temple is one of the most sacred points in Bali, also one of the most Insta-famous. As these the Balinese got more and discontent with the tourist's disrespectful behaviors (including yoga poses), they banned all tourists from entering the temples and Lempuyang is no exception. Despite the fact that it is not open to visit and that it is far on the Eastern side of Bali, tourist still flock here to take a photo at these scenic gates. On a clear da,y you can see the peak of a mountain in the distance which makes the photos even more impressive. We shocked to find out that actually there is no pool as the photos promise. Instead, there are a few guys with mirrors taking these reflection photos in exchange of tips! Entering the site is quick, you just make a mandatory donation and borrow a sarong, but photo cues can be hours long. For the best shots and fewer crowds aim for the early morning hours.
4. Tirta Gangga (Water Palace)

Tirta Gangga, aka Water Palace, makes a nice day trip together with Lempuyang which is only 10 km away. It used to be the royal residence of the Karangsem dynasty until the volcanic eruption of 1948 destroyed it entirely. It was rebuilt with the same royal splendor. Its gardens and pool mazes dotted with statues are definitely worth a visit. One of the funnest things to do is to feed the koi fish. You can buy a large pack of fishmeal from the stalls in front of the gates. There is also a swimming pool if you want to take a dip.
5. Nusa Penida
Nusa Penida is a small island of the coast of Bali. If you want to see real natural beauty, this is the right place. Its beaches are out of a postcard. They are pristine and quite. It is also prefered spot for divers as you can see real big fish like the manta rays and mola molas. It is not developed like Bali, making it a more adventurous experience.  However, the bells are ringing for Nusa Penida too as it made its way to most opinion leaders top things to do in Bali list. We strongly recommend sparing 3 days for Nusa Penida. Go to our Nusa Penida article to see for yourself why you can not, must not, miss it: Top Things To Do In Nusa Penida
6. Pura Ulun Danu Bratan

Ulun Danu, also known as Pura Bratan is one of the most scenic temples in Bali. It is located in Lake Bratan in the mountains near Bedugul. Due to its elevation, the climate is different there than the rest of Bali. Make sure to have warm layers on. Using the altitude of the fresh water sources in the mountains the Balinese where able to built an irrigation system that transports water to the lower fields. This centuries old system is called subak. Pura Bratan is one of the many water temples in the subak, serving both as a place of worship and outflow management.
7. Waterfalls
Taking a dip in a waterfall is pretty much on every bloggers top 10 things to do in Bali list. You will hear different people recommending different waterfalls as there is no shortage of magnificent waterfalls in Bali. Don't let that confuse you. They are all stunning so just pick the one that fits best into your plans. Bedugul area has the most waterfalls so that's where most tour operators do the day trips to. Aling Aling, Git Git, Sekumpul, Tukad Cepung, Banyumala Tegenungan are the most popular ones, be prepared to tackle big crowds if you are heading for these.
8. Handara Gate

These monumental gates are very common in Balinese architecture. You will find them at the entrance of very temple and palace. One golf resort called Handara built these gates for its property and it quickly got Insta-famous. They were quick to turn it into a business model. As silly as it may sound you need to pay to take a photo of the gates of this resort. They even offer packages such as photo + lunch packages or you can simply pay for the photo.
9. Selfie Parks On Wanagiri Road
A selfie park is pretty much what the name implies: a park with decorative props such as giant bird nests or bamboo swings to take photographs with. Wanagiri Road is home to a bunch them thanks to the wonderful background the twin lakes provide for the photos. The tickets cost 50,000 IDR to enter, and you pay another 100,000 IDR if you want to to ride the swing. After the Handara gates and the selfie parks you are probably wondering how Instagram-crazy is too crazy. Than let me add to you surprise by telling you that it is not uncommon to hire a photographer to drive you around and take your photos.
10. Tanah Lot

Tanah Lot is one of the many sea temples dotting the shoreline of Tabanan. It is fair to say that Tanah Lot is Bali's most iconic temple. In most photos it looks like an island but actually it is built on an offshore rock which becomes sea-locked every night as the high tide takes over. The sea retreats by 9.30 am making it possible to walk to the temple. However, as the tourist are denied entry to the temple, there isn't much point in visiting during low tide. Indeed, it looks much more impressive early morning when it appeards as an island. So make sure to arrive before 9.30 the latest, ideally at sunrise.
11. Uluwatu Temple & Sunset At Single Fin

Uluwatu Temple is also among Bali's popular icons. It is located on a cliff with wonderful views. To be honest, we can't say it was among the most impressive temples we have seen in Bali but since Uluwatu is worth a visit, we recommend you visit the temple too. It is also the best place to watch the traditional Balinese Kacak dance. It is performed every night at 19.00. However, if you have only one night in Uluwatu, spare it for Bali's epic sunset bar Single Fin. Check out our Uluwatu guide for more.
12. Marvels Of Ecological Architecture
If you are into ecological design Bali is quite an inspiring place. Once the local know-how of using natural materials and excellent craftsmanship met the west's modern aesthetics, it gave birth to a new  marvelous tropi-cool style.
The most famous are the bamboo constructions of Elora Hardy and her father John's. If you are into sustainable architecture, or just architecture, here are some amazing places by Elora's design firm Ibuku. The Instagram-famous Bambu Indah hotel (Further information & reservation), Permata Ayung Private Estate (Further information & reservation) spa. You will find plenty more if you dig in further these are the epitomes anyways.
13. Ubud Monkey Forest
 As you know one of Hinduism important principles is the harmony between the nature and humans. Monkey Forest is a sacred place with 4 temples in the middle of Ubud and it is home to around 1000 monkeys. The forest itself, the temples and the monkeys make it a very pleasant place to visit. Monkeys are very cute but they do harrass humans if provoked. Do not feed them. Avoid eye contact. Put away your hats & glasses.
14. Trendy Cafes & Bars
I have never seen so many cafe & restaurant Instagram accounts with so many followers in my life. They are so cool, so pleasant to look at that they are setting the trends for the whole globe from this tiny island. One of your biggest challenges will be choosing which ones to go to because the more you see, the hungrier you get for more though I must confess in some cases their Instagram accounts are prettier then themselves. They are yummy but less than what you would expect of such spectacular places. There is a sea of them. Here are the ones you should not miss: Where To Eat In Bali 
15. Renting A Private Villa

Another great way to treat yourself is to rent a private villa. Of course, not all private villas are the same. What we mean is the spacious tropical houses with a sense of design and a private pool. Some are managed, meaning they provide is daily cleaning service, a cook to prepare you breakfast while you sleep in your own kitchen, you can even order a masseuse to your room or get yourself dropped off with a buggy. Others operate pretty much the same as any other AirBnB.
Serviced villas are obviously the more luxurious way to do it but either way it is a great experience. As we were going to Bali for our own honeymoon we made a good research on the best villas to hire. We listed our best findings in Best Honeymoon Hotels in Bali.
Tip: When you rent a nice place, you want to make sure you have the time to enjoy it. We felt that in made more sense for us to rent these villas in places like Seminyak and Canggu where daytime attractions are limited or totally removed destinations. In places like Ubud and Nusa Penida the days are spent going to places or doing things.
16. Worlds's Best Sunset Beach Bars
In Bali the peak time is when the sun sets. Everyone rushes to a place with a view, mostly sunset bars where they beachside infinity pools with swim up bars and great DJs. May I just say Bali has some of the world's best sunset bars. It is not party crazy like its equivalents in Ibiza or Mykonos, indeed much cooler and cozier. You feel so good, so at peace & happy that you make sure to try a different bar every day. There are a bunch of them, you should start with the best ones:
– The Lawn, Canggu
– Finns, Canggu
– Potato Head, Kerobokan
– Single Fin, Uluwatu (cliff bar, no pool)
Some of the others popular ones are La Brisa, Como Beach, Ulu Cliffhouse, Como Beach Club and Omnia Dayclub. Check out our Bali's Best Beach Clubs & Sunset Bars for more options.
17. Floating Breakfast
Let me tell you, it is nothing more than a chance to show off your beach body and your luxurious life on Instagram. Most of the time the food pretty much the same as your standart Bali breakfast with eggs and a fruit platter. Sometimes if you are lucky, it is slightly better presented. It is hard to eat from and there are a lot of stories of knocking it off into the pool. So the hygiene of the pools that are offering floating breakfasts is questionable and that is why most hotels don't offer it although it is a very profitable business (around 70 USD per couple). Yet, you might still want to try it to get it out of your system. Some hotels offer it for an extra fee if you are staying with them. You can some of the best ones on our Best Honeymoon Hotels in Bali list. I personally prefer to pay for a villa in the pool of which I feel comfortable swimming in. If you feel the same, you can try it at Cabina which is a funky pool restaurant in Kerobokan. They offer 3 different floating breakfast packages, you can choose according to your budget. Do not sleep in, they stop serving breakfast at 15.00. Make sure to book online in advance.
18. Yoga & Spirituality
I will just quote from our Bali Guide How To Plan The Perfect Bali Trip
Whether you are looking for spiritual awakening or just exercise, Bali is a heaven for yoga lovers. Spirituality is in the fabric of Bali thanks to Hinduism. It is also why there is such an amazing variety of vegan options all over the island. You will find yoga pretty much anywhere you go but without doubt Ubud is the Mecca of yoga. It has the biggest yoga crowd and widest array of yoga & healing centers and is said to have a special transformative energy (which I didn't really get). Yoga Barn in Ubud is a world-famous yoga center and the best place to get a teachers training. However, if you are more of a casual yogi like myself whose main purpose of coming to Bali isn't yoga but you like it on the side, you might want to consider The Practice in Canggu. Canggu is a more fun & lifting than Ubud overall. The Practice is also great yoga center.
19. Hiking Up A Volcano
One of the very popular excursions is to hike up Mount Batur to watch the sunrise. It used to be Mount Agung before it got too risky to hike. As you know Bali is a high risk area for volcanic activity. That is why even for Mount Batur you need a local with you who can read the signs. Streets of Seminyak and Ubud are full of agencies that sells volcano treks. When booking make sure to check their ratings on Tripadvisor. The tours pick you up from your hotel (1.45 am for Seminyak, 2.15 for Ubud), drive around 1,5 – 2 hours to the mountain. You hike up for 2 hours in the dark with a flashlight, watch the sunrise around 5.30 and hike back for 1,5 hours. I couldn't do it because my ankle was hurt but the view is supposed to be great with a sea of clouds beneath your feet and Mt Agong piercing it in the distance. The hike isn't very challenging but hiking boots or terrain shoes are a must.
20. World Class Scuba Diving

Diving in Bali is a must even if you don't have your license yet. You can get a discovery dive or if you have enough time you can even get your training here. There are plenty of dive centers with good equipment and good instructors. The 5 most famous dive spots are Tulamben, Amed, Pemuteran, Menjangan and Nusa Penida.  Menjangan is an island of the coast of Bali West National Park, far removed from everything and difficult to fit in your program. Although it is not as far, Pemutaran isn't easy either. So most divers prefer Tulamben and Amed. However, our favorite is Nusa Penida where you get to have the once-in-lifetime experience swimming with the manta rays.
21. Diving With Manta Rays

Manta rays are one of the biggest creatures in the sea. Their wings can reach up to 8 meters long. They are regulars at Nusa Penida's Crystal Bay and Manta Point as it is their cleaning station. There is a 90% chance of seeing them. You don't need to be a certified diver. You can also get a discovery dive. See your Nusa Penida guide for more info.
22. Kecak Dance (Fire Dance)

In Bali religion and myths frequently find embodiment in art. Kecak Dance is Bali's traditional dance which is a theatrical performance of the Ramayana epic and it is assisted by a priest. Before watching it you must read on what the epic is about or you won't be able to relate to it. It is a very good opportunity to understand more about the local culture and it is especially interesting to see how Balinese aesthetics is so unique it is slow moving and some people get bored after 10 minutes. If you think about leaving early, keep in mind that the finale is the best part and there is also a fire walking ceremony at the end. You can watch it in Ubud, Uluwatu or Tanah Lot.
23. Massages

As you all know Bali is world famous for its massages. Even in shabby street spas, you will get massages that will melt you away for only 5-7 USD. However, if you are in the mood to spoil yourself, here you will find some of the worlds best luxury spas. Having tried both multiple times, I can assure you that the quality of the massage isn't any better in the luxury spas. However, the experience of having a private villa overlooking the forest where you get first massaged and then washed in a flower bath with wine is just not comparable to bed separated by old curtains.
24. Luwak Coffee Aka "Poop Coffee"
It is not actually a Sumatran and Javan thing but also found here. Civets, an animal from the Asian cat family, eats the cherries of the coffee tree. As cherries pass through the civet's digestive system, the beans get fermented giving it a special taste. Later the beans are collected from the animal's poop and made into world's most expensive coffee. If you are going to try it please make sure the coffee is sourced from an ethical farm. Since luwak became gold, many producers have been forcing the beans down the civet's throats.
25. Surfer Heaven

Bali is a very popular surf holiday spot, some of the most popular places like Canggu and Uluwatu feel more products of surf culture then Balinese towns, you can easily find rental motorbikes with built in surf racks and every surf brand you can think of has a huge store in Bali. If you are an experienced surfer, you should be very excited. And if you are not a surfer, well, since Bali's shore aren't really swimmable, you might as well get wet learning to surf, right? There are a lot of locations both on Bali and on the Nusas but to keep things simple, we will mention only the most famous ones.
– Kuta is by far the best spot for beginners.
– Canggu is more beginner to intermediate.
– Uluwatu and Keramas are for those with more experience.
– Finally, Padang Padang is for experts. Each spot has its pros and cons, make sure to do your reading before deciding.
26. Shopping

Bali makes you want to shop 'till drop.
– One of the best value purchases you can do here is buy art. Most stuff sold in the markets are replicas of famous Balinese paintings but if you head to the galleries you can buy unique pieces. Also if you go strait to the artist you can commission your own painting.
– If you are into decoration and interior design, you might just lose your mind here. The craftmanship is excellent. You can even buy furniture and have it shipped to you. The road from Ubud to Tegalalang Rice Terraces is a good place to go shopping for such things. If you are looking for decorative things that you can fit into your luggage you can go to Sukwati Market where you will find the most variety and best price.
– If you are looking for fashion items, shops in Canggu and Seminyak are pretty awesome. Most are Australian-owned, so the selection of goods are quite trendy. Don't expect it to be cheap.
– If you want to renew your surf gear, you will find plenty of shops in Canggu, Seminyak, Kuta and Uluwatu. You can even get your custom board made.
27. Bali Swing

Last but not the least the Bali swing. For those who don't know; it is a primitive swing with very long ropes. It can be quite scary in a fun way depending on where to and how hard they are swinging you. You are secured on with a harness. It is one of the funnest things to do in Bali if you are not scared of heights. They can be found in several places in the island but the most popular two are the ones in Tegalallang Rice Fields and Wanagiri Road. Check out our Bali Swing article for further information.
28. Sky Bike
Flying over the Tegalallang Rice Terraces, Bali's newest favorite. This is not in the center of the rice terraces, you have to go a little bit further, so make sure you take advantage of the location here. And plus, you can also go to the rice fields from here. So, you do not need to go back to the main entrance again which means, you can shoot two birds with one stone. Click for the location.
Follow Us On Instagram
Bu gönderiyi Instagram'da gör